The cryptocurrency sector experienced an overall price drop as Bitcoin pushed down towards sub-$13,500 levels. Most cryptocurrencies ended in the red as they lost quite a bit more than Bitcoin itself. The largest cryptocurrency by market cap is currently trading for $13,411, representing a decrease of 1.88% on the day. Meanwhile, Ethereum lost 5.68% on the day, while XRP lost 3.96%.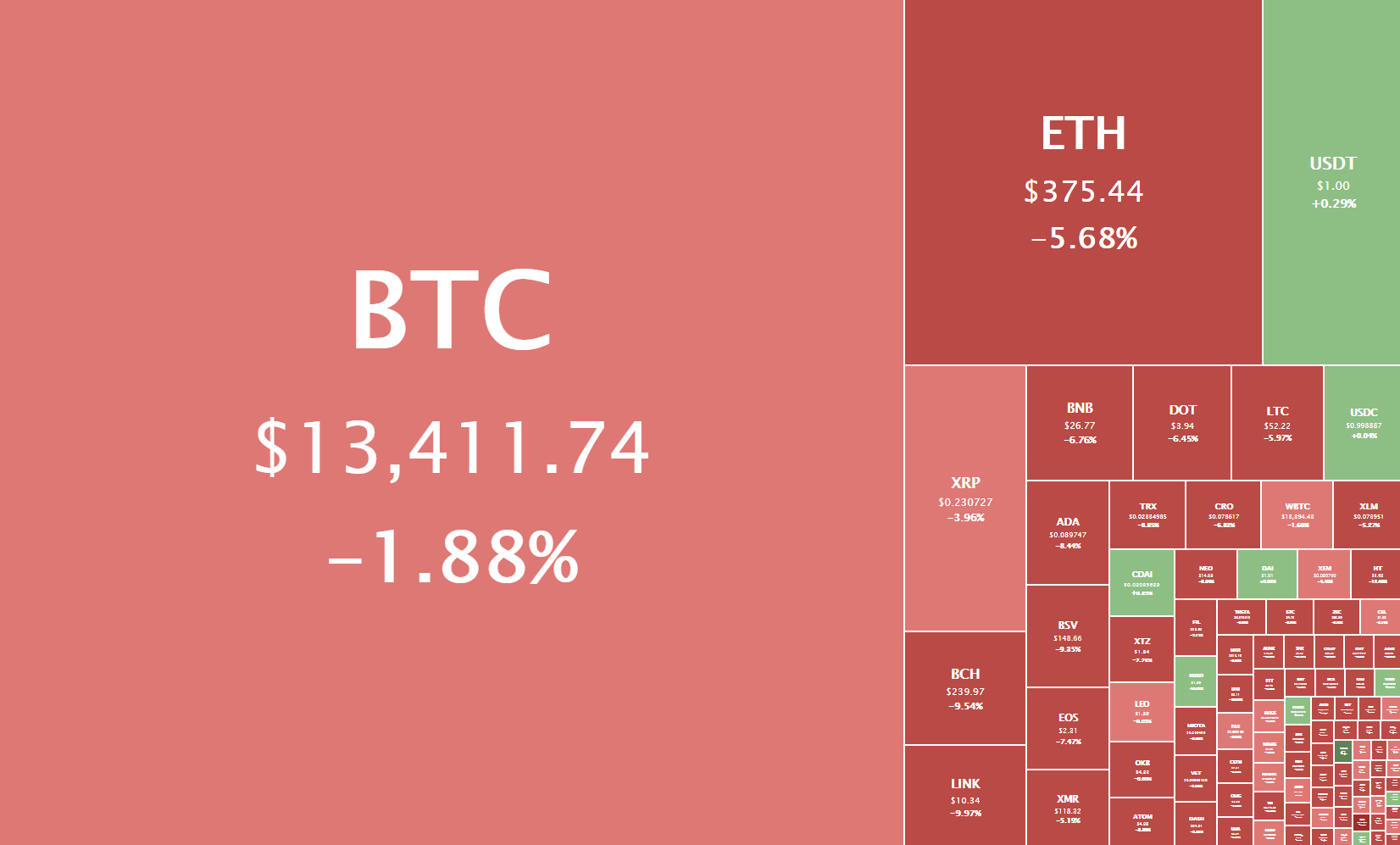 Daily Crypto Sector Heat Map
The Midas Touch Gold gained 8.44% in the past 24 hours, making it the cryptocurrency to gain the most in a day (out of the top100 cryptos by market capitalization). The rest of the cryptocurrencies experienced close to no gains. On the other hand, Reserve Rights lost 17.14%, making it the most prominent daily loser. It is followed by SushiSwap's loss of 14.07% and Compound's loss of 12.86%.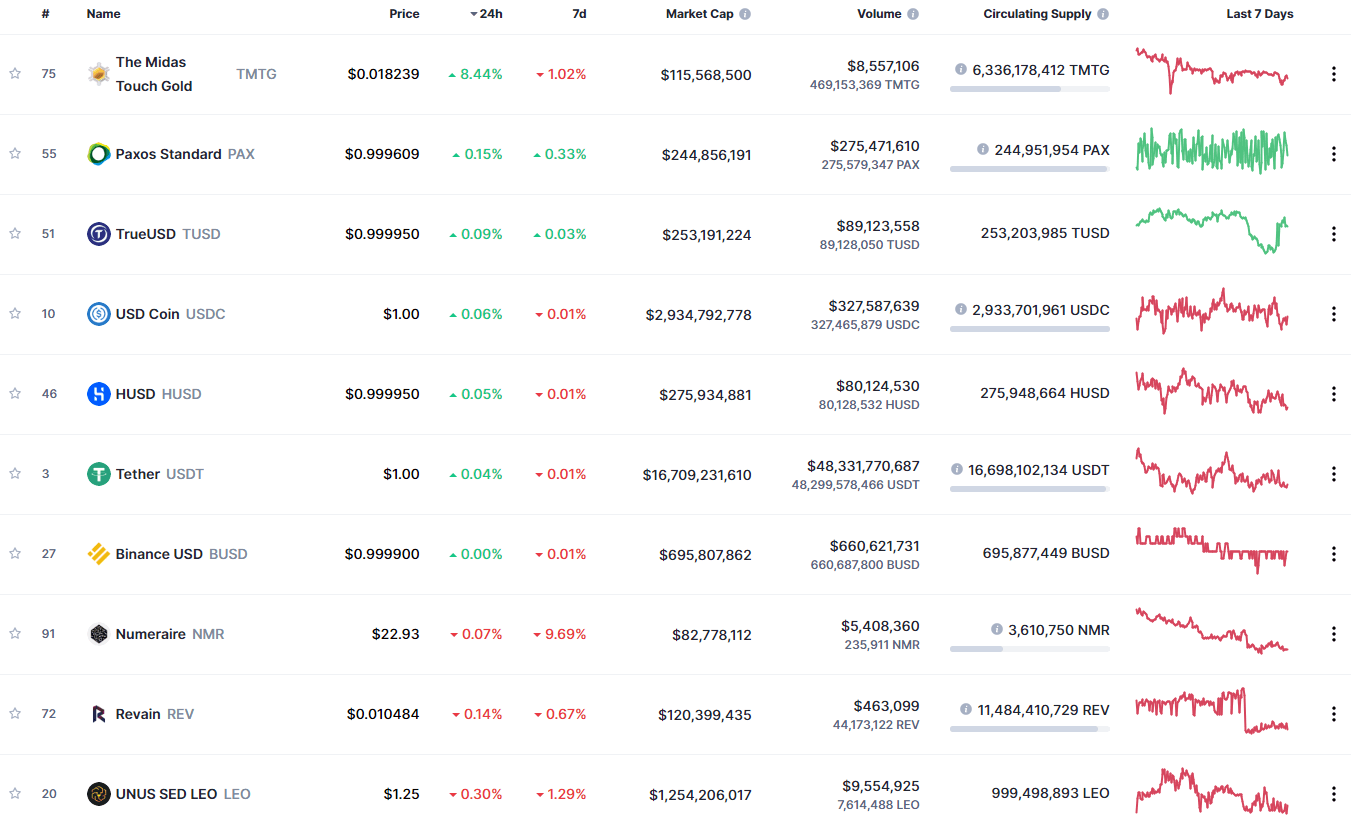 Top 10 24-hour Performers (Click to enlarge)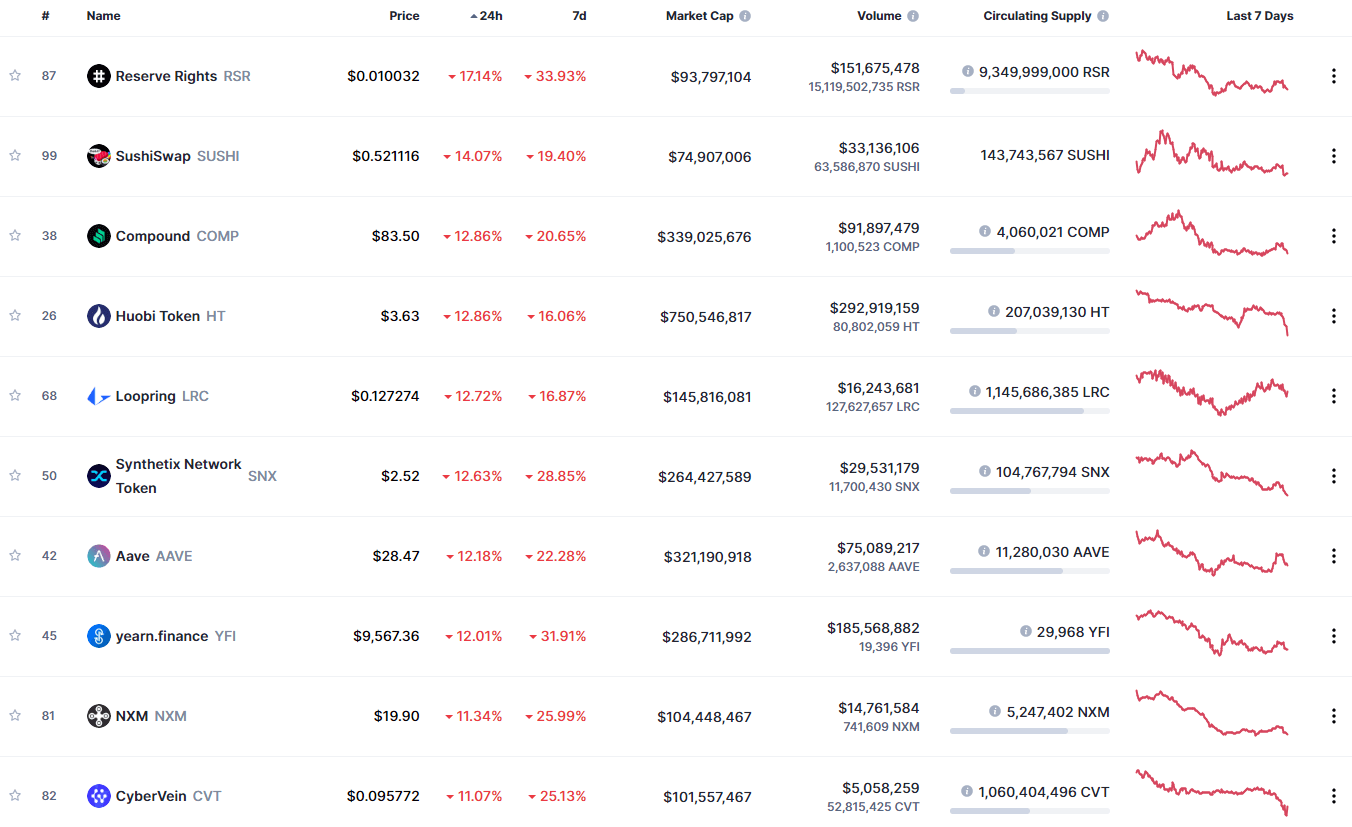 Bottom 10 24-hour Performers (Click to enlarge)
Bitcoin's market dominance level has increased since we last reported, with its value is currently staying at 64%. This value represents a 0.9% difference to the upside when compared to the value it had yesterday.
Daily Crypto Market Cap Chart
The crypto sector capitalization has decreased over the course of the day. Its current value is $388.84 404.52 billion, representing a $5.32 million decrease when compared to our previous report.
_______________________________________________________________________
What happened in the past 24 hours?
_______________________________________________________________________
_______________________________________________________________________
Technical analysis
_______________________________________________________________________
Bitcoin

The largest cryptocurrency by market cap has (as said in our previous article) moved away from the sideways trading as it could not stand trading in such a narrow range. Bitcoin pulled back below $13,570 and even went as low as ~13,200 before bouncing back to ~$13,400 (where it is currently consolidating).
The recent days have brought us a lot of support/resistance hopping, which is what we may expect in the near future as well. Traders should focus on capitalizing on these movements as they almost always overextend. The trades can be made both while Bitcoin is creating overextension (riskier but a bigger profit potential) or during the pullback (safer but less profit potential).

BTC/USD 4-hour Chart
Bitcoin's 4-hour technicals are showing a bear tilt, while its longer time-frames are tilted towards the buy-side (longer time-frames have less neutrality and more of a buy-tilt than the shorter ones).
BTC/USD 1-day Technicals
Technical factors (4-hour Chart):
Price is far at its 50-period EMA and below its 21-period EMA
Price below its middle Bollinger band
RSI is neutral (43.90)
Volume is average
Key levels to the upside          Key levels to the downside
1: $13,570                                 1: $13,180
2: $13,900                                 2: $13,000
3: $14,000                                  3: $12,870
Ethereum
Ethereum has plummeted after failing to break the $400 mark, and losing all the most recent gains in the process. The second-largest cryptocurrency by market cap has left the ascending channel since the end of September. Its price drop was stopped at the $371 resistance level, which has held up quite well.
Ethereum is now trading in a narrow range bound by $371 to the downside and $378 to the upside. Traders should look for any breakouts to enter trades, while the ones that want to trade the sideways action should wait and see if Ethereum is likely to stay within this range.

ETH/USD 4-hour Chart
Ethereum's 4-hour and daily technicals are tilted towards the sell-side, while its weekly and monthly overviews remain bullish.

ETH/USD 1-day Technicals
Technical Factors (4-hour Chart):
The price is far below both its 50-period and its 21-period EMA
Price is at its bottom Bollinger band
RSI is close to being overbought (35.83)
Volume is slightly above average
Key levels to the upside          Key levels to the downside
1: $378                                     1: $371
2: $400                                     2: $361
3: $415                                      3: $358
Ripple

The fourth-largest cryptocurrency by market cap has had a red day as well, with its price falling through major support levels. A failed attempt to break the $0.2454 level has triggered a pullback, which pushed XRP's price below $0.235 and even attempted to break $0.227. However, this support level held up, and XRP is now trading slightly above it.
If not fueled by Bitcoin's explosive move towards either side, XRP will most likely trade sideways between $0.227 and $0.235. While traders could trade the sideways action without much problem, the lack of intra-range volatility is low, which brings the profit potential way down.


XRP/USD 4-hour Chart
XRP's daily, weekly, and monthly technicals are all showing a strong tilt towards the sell-side, while its 4-hour overview is slightly bullish with hints of neutrality.

XRP/USD 1-day Technicals
Technical factors (4-hour Chart):
The price far below both its 50-period EMA and its 21-period EMA
Price is at its bottom Bollinger band
RSI is close to the oversold territory (31.89)
Volume is slightly above average
Key levels to the upside          Key levels to the downside
1: $0.235                                   1: $0.227
2: $0.2454                                 2: $0.221
3: $0.26                                    3: $0.217