The cryptocurrency market had a pretty slow day when compared to the past couple of days. Bitcoin is currently trading for $7,838, which represents a 1% decrease on the day. Meanwhile, Ethereum lost 0.88 % on the day, while XRP managed to gain 1.78%.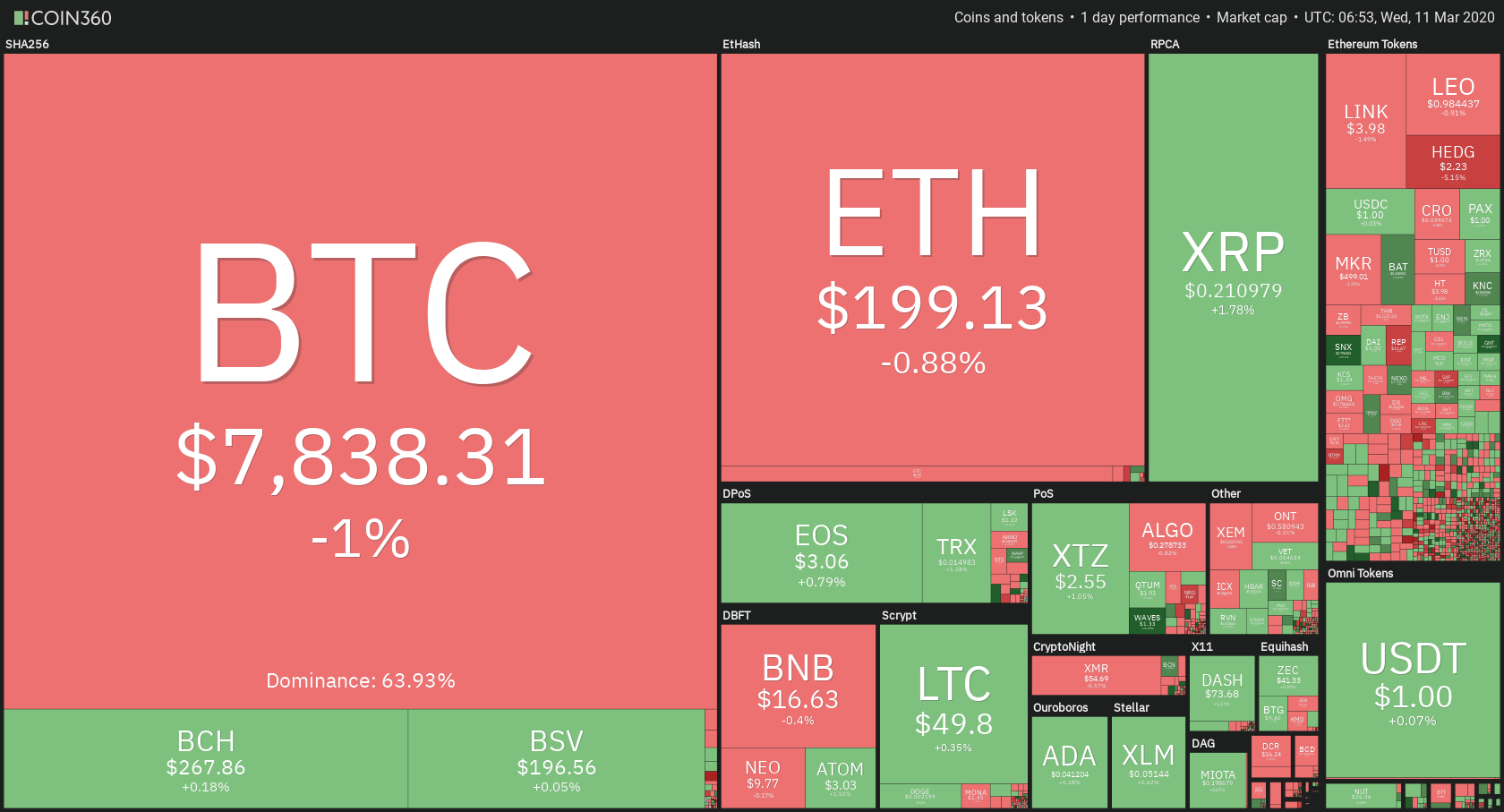 Contentos took the position of today's most prominent daily gainer, with whopping gains of 330.4%. On the other side, Swipe lost 6.49% on the day, making it the most prominent daily loser.
Bitcoin's dominance managed to decrease slightly over the past 24 hours. Its value is now 63.93%, which represents a 0.63% difference to the downside when compared to yesterday's value.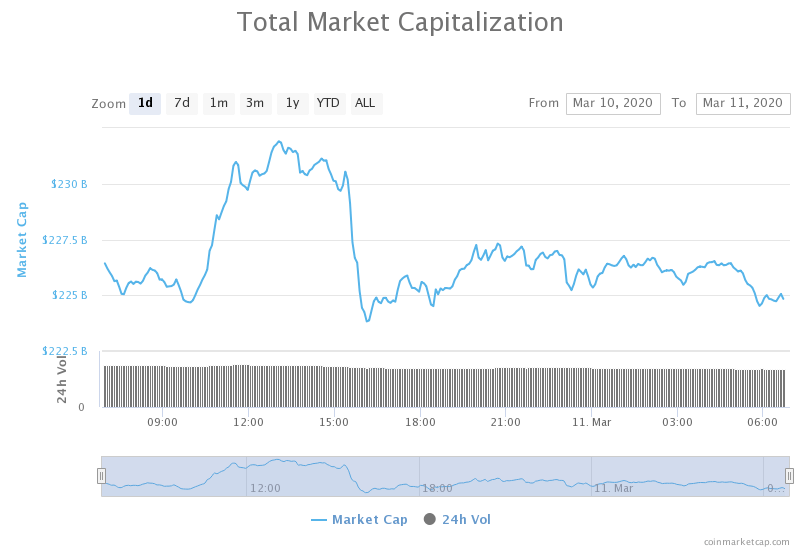 The cryptocurrency market capitalization maintained its levels over the past 24 hours. It is currently valued at $225.06 billion, which represents a decrease of $0.47 billion when its value is compared to the value it had yesterday.
What happened in the past 24 hours
In another attempt of censorship, social media giant YouTube has deleted two posted videos form two crypto channels.
Ivan on Tech, a crypto reporter and programmer, posted a tweet about YouTube deleting one of his videos on Mar 9. The Moon, a (mostly) cryptocurrency technical analyst and news reporter, also told that the content platform deleted one of his videos on Mar 10.
Honorable mention
Ethereum (Synthetix)
Ethereum-based asset issuance platform is currently adding new features, which even include derivatives trading.
In a Mar 10 blog post, the Synthetix platform announced plans for trading binary options in Q3 of this year. Binary options are a form of derivatives where the buyer is down to two outcomes: they either receive a payout or they lose their investment.
_______________________________________________________________________
Technical analysis
_______________________________________________________________________
Bitcoin
Bitcoin's spent the day mainly trading between the support of $7,760 and $8,000. The price managed to break $8,000 at one point, even reaching $8,150, but quickly dwindling back below $8,000. The $7,760 level has proven to be quite stable and the bears are not able to break it at the moment.
Bitcoin's volume is slowly declining while its RSI level has risen above oversold levels.
Key levels to the upside                    Key levels to the downside
1: $8,000                                           1: $7,760
2: $8,650                                           2: $7,420
3: $8,825                                            3: $7,085
---
Ethereum
Ethereum, just like Bitcoin, had a pretty slow day. The second-largest cryptocurrency found a strong support near the$198 level, which held up quite well. Its current price moves are narrowing down and might form a triangle pattern in the near future.
Ethereum's volume is quite low at the moment, while its RSI level is just below the oversold line.
Key levels to the upside                    Key levels to the downside
1: $217.7                                             1: $198
2: $225.5                                            2: $193.6  
3: $240                                                3: $185
---
Ripple
Unlike Bitcoin and Ethereum, who mostly consolidated, XRP ended up gaining some value in the past 24 hours. The third-largest cryptocurrency bounced off of the $0.2 support and tried to move its price up, which it succeeded. The price slowly moved up over the past day and reached $0.216, where it stopped and started consolidating. XRP is currently trading near the $0.21 level.
XRP's volume is extremely low, while its RSI level is in the 40's range.
Key levels to the upside                    Key levels to the downside
1: $0.221                                            1: $0.2
2: $0.227                                            2: $0.1985
3: $0.235                                             3: $0.19