The cryptocurrency market attempted another push towards new highs as Bitcoin bulls tried to get its price above $6,640. Even though most cryptos are in the green, the push was not successful, which may pose a problem in the short term. Bitcoin is currently trading for $6,595, which represents an increase of 4.63% on the day. Meanwhile, Ethereum gained 3.12% on the day, while XRP gained 1.95%.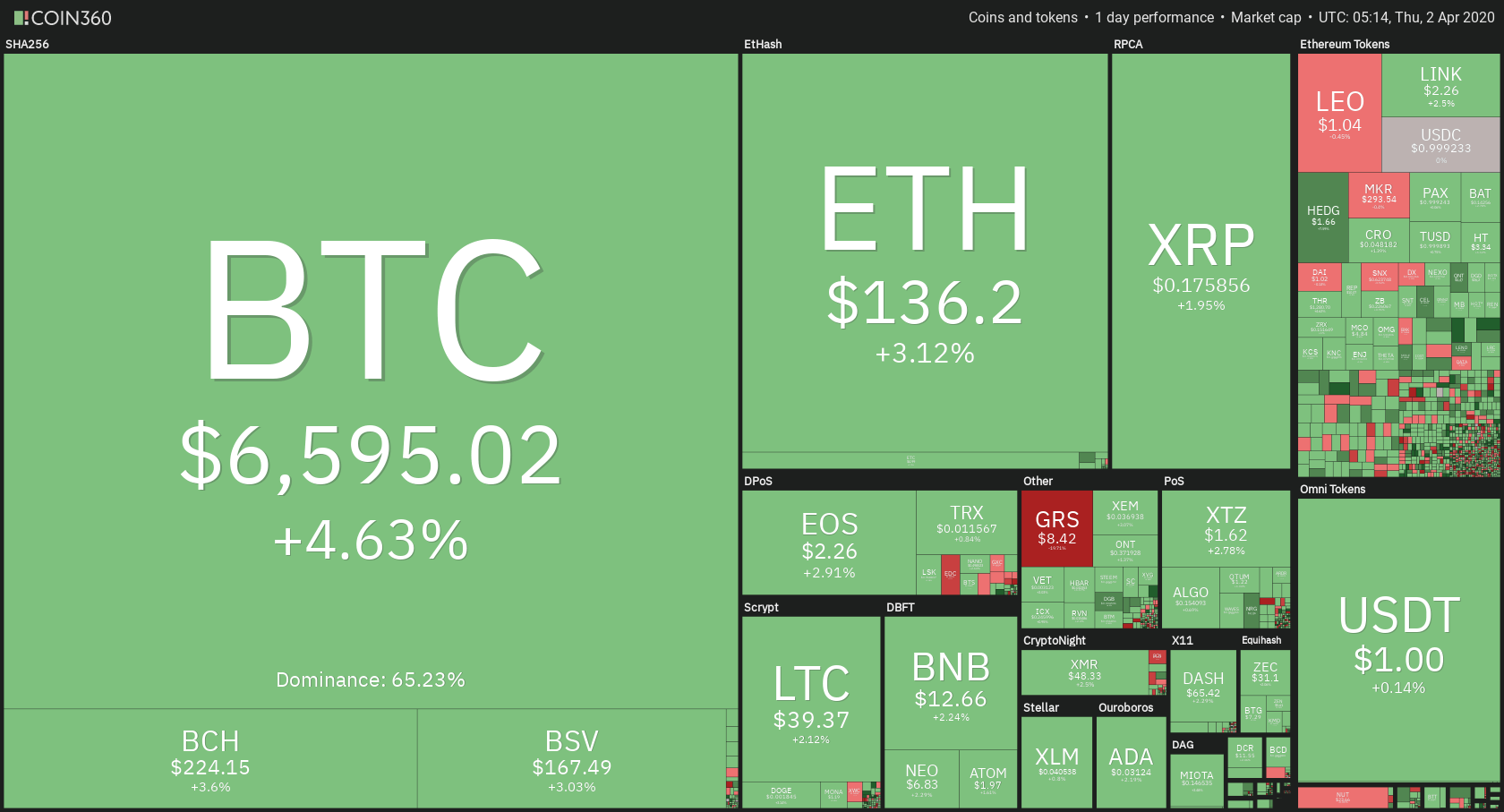 Digitex Futures took the position of today's most prominent daily gainer, with gains of 26.06%. IOTA lost 4.53% on the day, making it the most prominent daily loser.
Bitcoin's dominance increased over half a percent over the past 24 hours as it was the one leading the push and gaining the most in value. Its value is now 65.23%, which represents a 0.54% difference to the upside when compared to yesterday.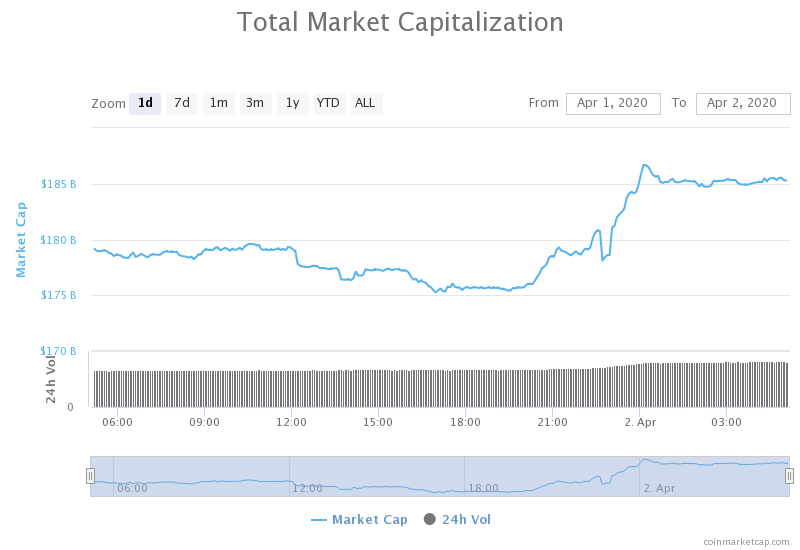 The cryptocurrency market capitalization increased in the past 24 hours. Its current value is $185.3 billion. This value represents an increase of $5.8 billion when compared to the value it had yesterday.
What happened in the past 24 hours
Statistics on crypto adoption came out recently, showing that online purchases using Bitcoin went down during Q1 of 2020. However, the same goes for Visa and some other apps. However, crypto exchanges saw a major increase in new accounts in 2020, showing that people are responding to the price drop opportunistically.
What seems to be the case here is that people recognize crypto as a way to hedge their portfolios, so they are investing. However, due to the economic crisis knocking at our doors, people that do not have enough funds simply can't spend it on online purchases, which is reducing the real-world use cases significantly.
Honorable mention
Ripple
The class-action lawsuit against Ripple had an amendment which includes additional claims of false advertising as well as unfair competition, now claiming that XRP might not be a security."
The investors' sixth and seventh claims would appear to be a direct hedge for the event that the judge rules "against" the original suit, basically saying that XRP was an unregistered security, and therefore sold as such.
_______________________________________________________________________
Technical analysis
_______________________________________________________________________
Bitcoin
After a steady day of consolidating, Bitcoin attempted another swift push towards the $6,640 resistance level. Even though the price reached over the level, it was quickly pushed down, announcing the fail of the push. Bitcoin is currently trading just under this key level. If the trend of Bitcoin failing to break the immediate resistances continues, we may expect a retest of the lows very soon.
Bitcoin's volume almost tripled during the push, but quickly normalized. Its RSI level is now descending and is currently at the value of 59.
Key levels to the upside                    Key levels to the downside
1: $6,640                                           1: $5,960
2: $6,850                                           2: $5,000
3: $7,085                                            3: $4,300
---
Ethereum
We said yesterday that Ethereum would most likely not move without Bitcoin moving first, therefore deciding its direction. This is exactly what happened today. Ethereum followed Bitcoin to the upside, but only managing to reach its $139 resistance level before stopping the move. This key level held up strong, and ETH did not even manage to go above it.
Ethereum's volume increased during the upswing but quickly dwindled to its usual low levels. Its RSI level is currently at 60.5.
Key levels to the upside                    Key levels to the downside
1: $168                                                1: $128
2: $178.6                                            2: $122.5 
3: $185                                                3: $100
---
Ripple
XRP didn't have as good a day as BTC or ETH did, as its price didn't increase as much. However, the fact that XRP didn't go back under the descending trend seems to be good enough. XRP seems to be responding to a level between $0.1765 and $0.1785.


XRP's volume increased each time the cryptocurrency retested the descending trend line. Its RSI is currently sitting at the value of 56.
Key levels to the upside                    Key levels to the downside
1: $0.19                                             1: $0.165
2: $0.2                                               2: $0.147
3: $0.205                                             3: $0.1