The crypto market has spent the day gaining some more value, with Ethereum performing the best out of the top10 cryptos.  Bitcoin is currently trading for $9,512, which represents an increase of 4.15% on the day. Meanwhile, Ethereum gained 7.92% on the day, while XRP gained 2.24%.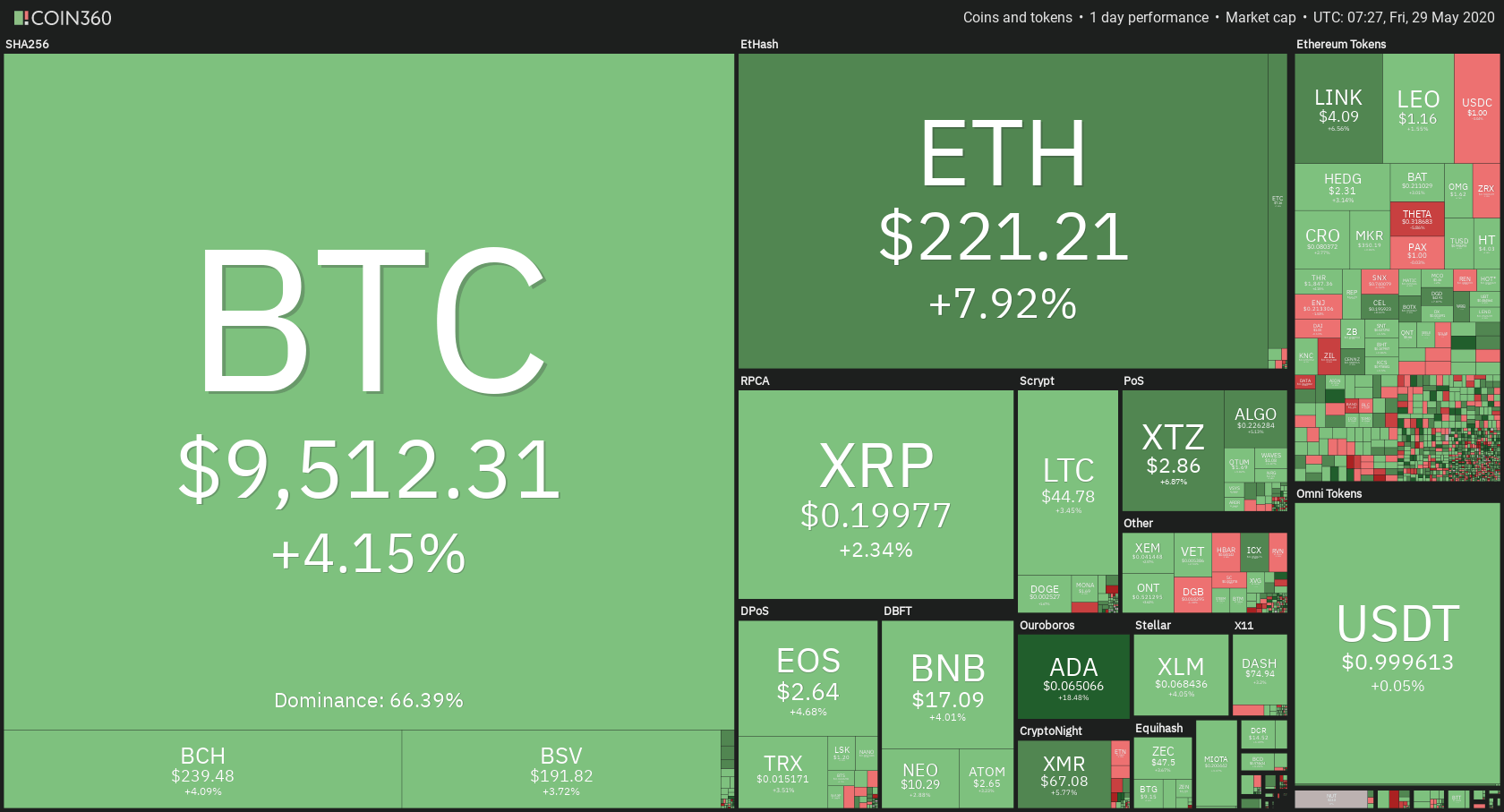 Bancor took the position of today's biggest daily gainer, with gains of 33.09%. Theta lost 6.56% of its daily value, making it the most prominent daily loser.
Bitcoin's dominance stayed at the same place since we last reported, with its value currently at 66.39%. This value represents a 0.02% difference to the downside when compared to yesterday's value.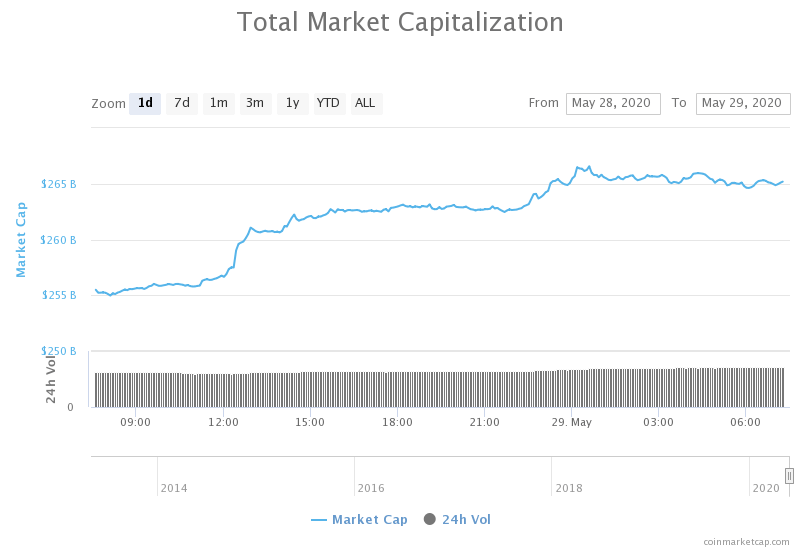 The cryptocurrency market capitalization increased when compared to yesterday's value, with its current value being $265.5 billion. This value represents an increase of $9.18 billion when compared to the value it had yesterday.
What happened in the past 24 hours
Goldman Sachs vs. Bitcoin investors
Goldman Sachs announced in its most recent conference call with investors that Bitcoin is not an asset class and that people shouldn't invest in it. However, Bitcoin investors seem to not follow this advice, as the largest crypto by market cap increased from $8,800 to over $9,500 since then.
The rise may be somewhat related to recent news from Grayscale, a financial institution that believes in Bitcoin. Grayscale Bitcoin Trust analysis has shown that Grayscale has bought 150% of the newly-mined Bitcoin since the halving.
_______________________________________________________________________
Technical analysis
_______________________________________________________________________
Bitcoin
The largest cryptocurrency by market capitalization came back above $9,000 yesterday, only to break out again and push for $9,500 today. The move was stopped by $9,580 and Bitcoin went down slightly since. However, the outlook seems quite bullish and the possibility of breaking $10,000 in the short-term is incredibly high.
Bitcoin's volume is returning to normal after a surge during the big price increase, while its RSI on the 4-hour chart approaches 66.
Key levels to the upside                    Key levels to the downside
1: $9,580                                           1: $9,250
2: $9,735                                           2: $9,120
3: $9,870                                            3: $8,980
Ethereum
Ethereum has finally gathered enough bullish pressure to attempt a break of a long-time resistance of $217.6. The push was successful and Ethereum is now trading at $220 after being stopped by the $225.4 resistance. This move is very important for Ethereum as it shows that its moves do not fully rely on Bitcoin's initiative (or that even if they do, they can do better than Bitcoin).
Ethereum's volume is above average for the whole day, while its RSI level on the 4-hour chart is at 72.3.
Key levels to the upside                    Key levels to the downside
1: $225.4                                            1: $217.6
2: $240                                              2: $198
3: $251.4                                            3: $193.6
Ripple
XRP's chart shows that the third-largest cryptocurrency (XRP retook the third place from USDT with its most recent move) by market cap is in a pretty important stage. While the most recent move broke it from the loop of constantly making new lower highs, the move got stopped by the horizontal $0.2 resistance level.
XRP's volume is higher than average for the whole day, while its RSI level is just under 60.
Key levels to the upside                    Key levels to the downside
1: $0.2                                               1: $0.19
2: $0.205                                           2: $0.1785
3: $0.214