The crypto market has spent the weekend retracing as Bitcoin fell under $9,000.  Bitcoin is currently trading for $8,790, which represents a decrease of 5.05% on the day. Meanwhile, Ethereum lost 3.15% on the day, while XRP lost 3.4%.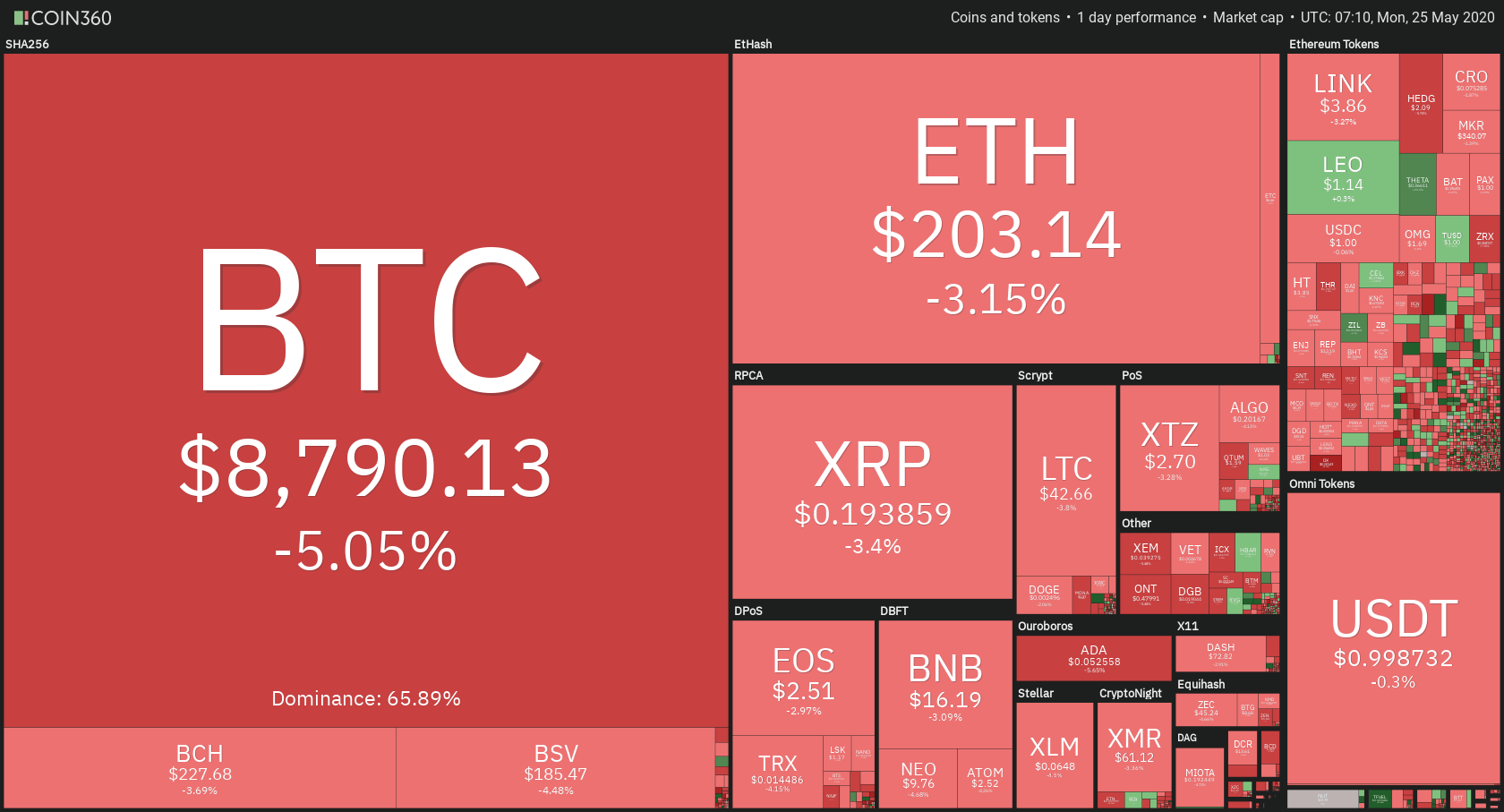 Theta Fuel took the position of today's biggest daily gainer, with gains of 59.67%. DxChain Token lost 19.32% of its daily value, making it the most prominent daily loser.
Bitcoin's dominance decreased quite a bit since we last reported, with its value currently at 65.89%. This value represents a 1.16% difference to the downside.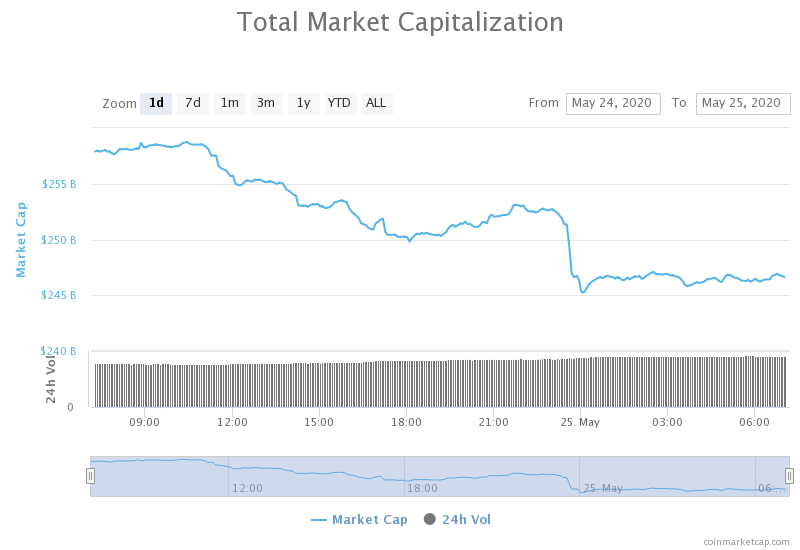 The cryptocurrency market capitalization decreased when compared to Friday's value, with its current value being $256.67 billion. This value represents a decrease of $5 billion when compared to the value it had on Friday.
What happened in the past 24 hours
Goldman Sachs hosting a conference on crypto 
Goldman Sachs, the largest investment bank in the world, will host a conference call titled US Economic Outlook & Implications of Current Policies for Gold, Inflation, and Bitcoin on May 27.
The event will be hosted by Sharmin Mossavar-Rahmani, the Chief Investment Officer of Goldman Sachs' Investment Strategy Group, Harvard economics professor Jason Furman, as well as Goldman Sachs' chief economist Jan Hatzius.
_______________________________________________________________________
Technical analysis
_______________________________________________________________________
Bitcoin
The largest cryptocurrency by market capitalization had quite turbulent weekend as its price dropped below $9,000. The 4th failed attempt of going above $10,000 on May 20 confirmed the appearance of another bearish turn for Bitcoin. However, the most recent events regarding Bitcoin mining, Satoshi Nakamoto and many more made bulls scared and bears more eager to sell their Bitcoin.
The price found support at the $8,650 level, with it currently pushing towards $8,820.
Key levels to the upside                    Key levels to the downside
1: $8,980                                           1: $8,820
2: $9,120                                           2: $8,650
3: $9,250                                            3: $8,000
Ethereum
While Ethereum did follow Bitcoin in its move towards the downside, it did not quite match its intensity. The second-largest cryptocurrency by market cap retraced as bears took over the market, but only fell in price up to the $198 support level. It has consolidated since and even made moves towards regaining previous highs.
Ethereum's volume increased greatly during the price drop but normalized as the price found support.
Key levels to the upside                    Key levels to the downside
1: $217.6                                            1: $198
2: $225.4                                           2: $193.6
3: $240                                               3: $185
Ripple
XRP was, just like the aforementioned Ethereum, matching Bitcoin in price direction, but not in intensity. The third-largest cryptocurrency by market cap entered a short bull period, which brought it to $0.19 levels before recovering to a price closer to $0.195.
XRP's volume was normal throughout the price drop, while its RSI level bounced from the oversold territory to (at the time of writing) 37.7.
Key levels to the upside                    Key levels to the downside
1: $0.2                                               1: $0.19
2: $0.205                                           2: $0.1785
3: $0.214