IC Finance is an international forex broker based out of Vanuatu. They aim to provide a trading platform that gives you access to a wide range of tools and services. Offering over 200 trading tools indicators and charts. They don't offer much more information about themselves so we will use this review to find out more info and to see what services really are on offer and so you can decide if they are the right broker for you.
Account Types
There are three different accounts available that are based around the type of instrument that you wish to trade.
Standard Account: The standard account requires a deposit of at least $250, it comes with a floating spreads starting at 0.3 points and has no added commission. The leverage on the account goes up to 1:500 and the base currency must be in USD, EUR or GBP. The account also has negative balance protection as well as using market execution. The minimum trade size for this account is 0.01 lots.
Gold Account: This account also requires $250 as a minimum first deposit, it comes with spreads starting from 0.3 pions and they are variable spreads. There is no commission on this account and the base currency must be in XAU (Gold). The account comes with negative balance protection and uses market execution as its execution type. Leverage on the account can go as high as 1:500.
Bitcoin Account: This account has a minimum deposit requirement of 0.01 BTC, and so the base currency must be in BTC. The account can be leveraged up to 1:500 and it comes with no commission and a spread starting from 0.03 pips which is a floating spread. It uses market execution and has negative balance protection.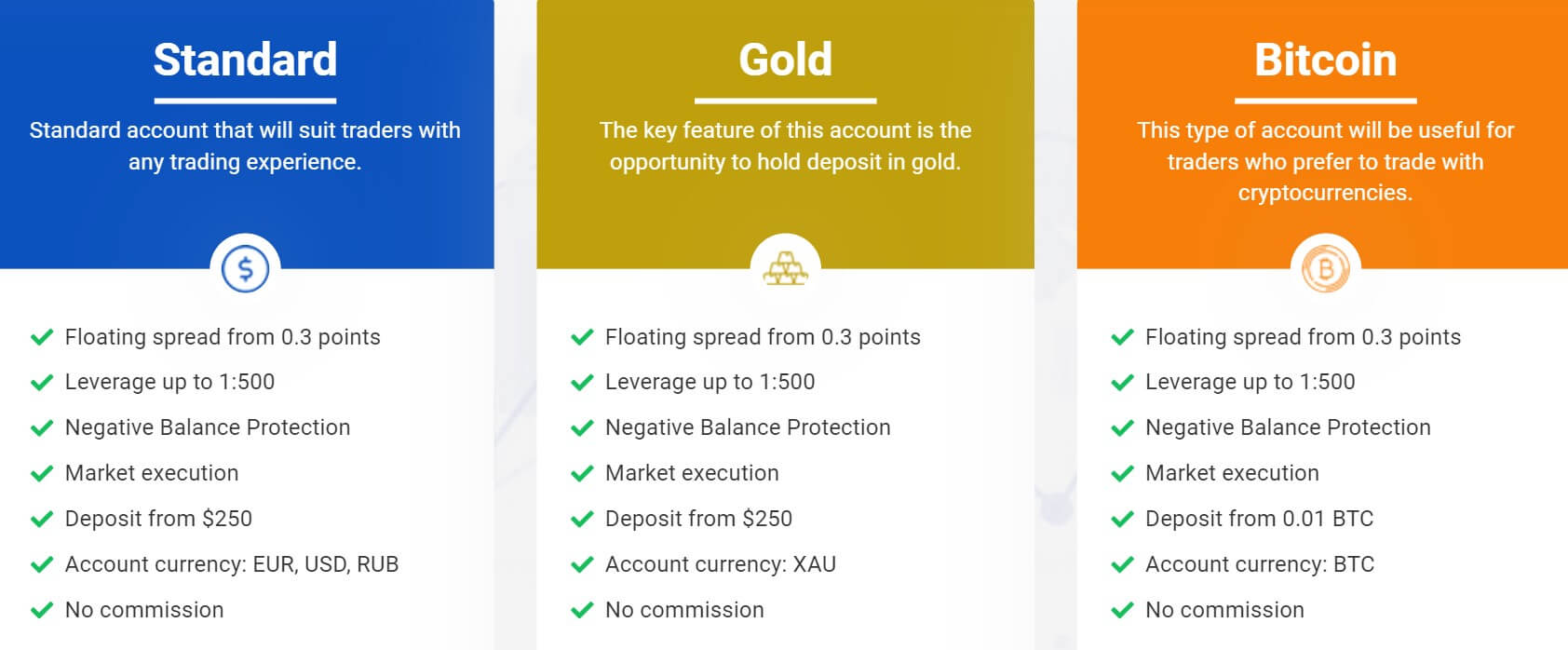 Platforms
It is hard to tell what platform they are offering, a lot the information makes us think it is either MetaTrader 4 or MetaTrader 5 however we are not entirely sure as it is not stated anywhere, the information that we do know is that the platform comes with over 200 trading tools, 70 trading indicators and, 130 tools for working with charts. It is accessible as a desktop download, a mobile application or as a web trader. It sounds very much like one of the MetaQuotes software, but as we said, we cannot be 100% sure.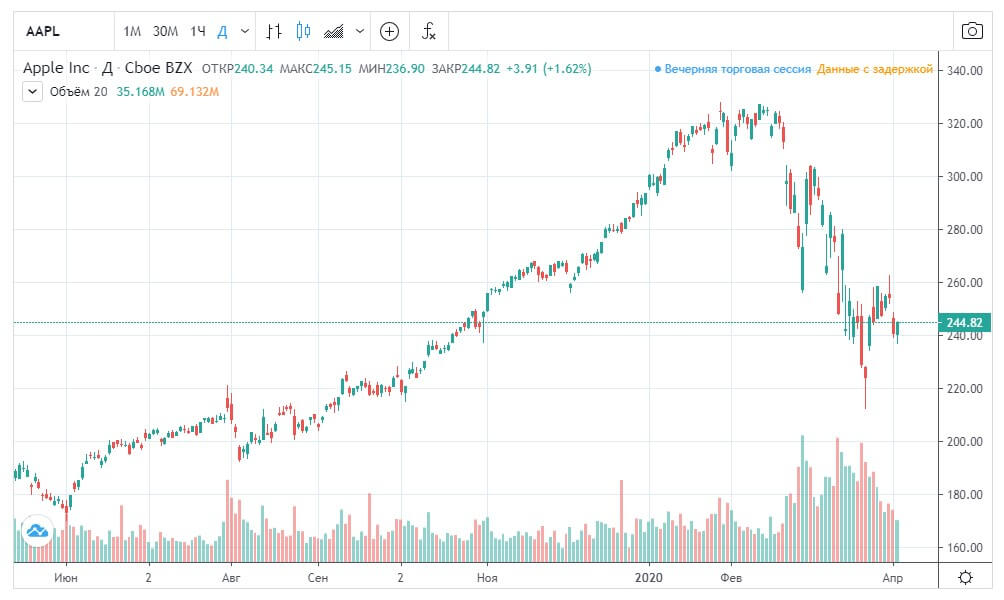 Leverage
The maximum leverage available on the accounts is 1:500 which is applicable to all accounts. The product specification states 1:1000 but we will stick to the 1:500 suggested by the accounts themselves. Leverage can be selected when opening up a new account and the customer service team will need to be contacted should you wish to change it on an already open account.
Different instruments also have different maximum leverages, we have outlined them below:
Forex: 1:500
Metals: 1:500
Stocks: 1:50
Commodities: 1:100
Indices: 1:100
ETFs: 1:50
Crypto: 1:2

Trade Sizes
Trade sizes start as low as 0.01 lots and go all the way up to 1000 lots in increments of 0.01 lots. 1000 lots is far too high and we would recommend not trading over 50 lots in a single trade due to execution times and slippage. Different instruments have different minimum and maximum trade sizes so we have listed them below for easy understanding.
Forex: 0.01 lots / 1000 lots
Metals: 0.1 lots / 1000 lots
Stocks: 1 lots / 10,000 lots
Commodities: 1 lot / 10,000 lots
Indices: 1 lot / 10,000 lots
ETFs: 1 lot / 10,000 lots
Crypto: 1 lot / 100 lots
Trading Costs
There is no added commission on any of the accounts available from IN finance, instead, they all use a spread bases structure that we will look at later in this review. It seems like there are swap charges, these are an interest fee for holding trades overnight. They can be both positive or negative and are normally viewable within the trading platform you are using.

Assets
IC Finance has broken down its assets into a number of categories which we will now look at.
Forex: AUDCAD, AUDCHF, AUDJPY, AUDNZD, AUDUSD, CADCHF, CADJPY, CHFJPY, EURAUD, EURCAD, EURCHF, EURGBP, EURJPY, EURNOK, EURNZD, EURPLN, EURSEK, EURTRY, EURUSD, GBPAUD, GBPCHF, GBP CAD, GBPJPY, GBPNZD, GBPSEK, GBPUSD, NOKSEK, NZDCAD, NZDCHF, NZDJPY, NZSUSD, USDCAD, USDCHF, USDCNH, USDJPY, USDMXN, USDNOK, USDPLN, USDRUB, USDSEK, USDSGD, USDTRY and, USDZAR.
Metals: Gold is available to trade against USD.
Stocks: Plenty of stocks available including Barclays, Adidas, BMW, Peugeot, Amazon, Apple, and Facebook.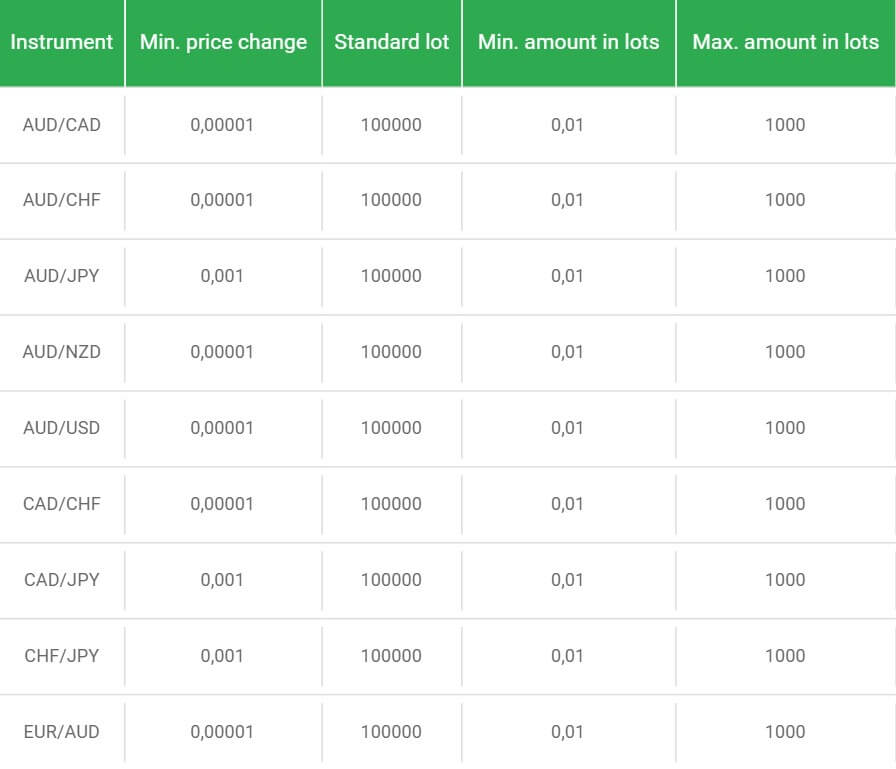 Commodities: Brent Crude Oil, WTI Crude Oil and Natural Gas.
Indices: CAC 40, DAX 30, FTSE 100, DJI 30, Nasdaq 100, S&P 500, Nikkei 225, MICES and, RTS.
EFTs: iPatd S&P 500 and, Samsung.
Cryptocurrencies: BTCUSD, XRPUSD, LTCUSD, BCHUSD, ZECUSD, XMRUSD and, ETHUSD.
Spreads
All three accounts state that their spreads are starting from 0.3 pips which is very low for a commission-based account, unfortunately, actual examples of them are not present on the site. As the spreads are variable (which means they move with the marketS) we would expect them all to be a little higher than 0.3 pips. Different instruments will also have different spreads, so the spread for EUR/USD will be different from that of USDZAR.

Minimum Deposit
The minimum deposit required to open up an account is $250, if you want to deposit via Bitcoin then the minimum deposit requirement is 0.01 BTC. It is unknown if the minimum deposit amount reduces for any further top-up deposits.

Deposit Methods & Costs
Unfortunately, there isn't any information on deposit methods which is a real shame as it is very important for potential clients to know how they can get their money into the broker and how much it will cost them. We understand that Bitcoin will be an option due to one of the accounts being a Bitcoin account, but nothing else is known.
Withdrawal Methods & Costs
Just like with the deposits, there is no relevant information for withdrawals, again this is vital information, not knowing how you can get your money back or if it will cost you to do so is not a good way to build trust with potential new clients, this information needs to be added as soon as possible.
Withdrawal Processing & Wait Time
As you may have guessed there is no information regarding this either, we would hope that any requests would be fully processed between 1 to 7 business days from the request being made depending on the methods that are available.
Bonuses & Promotions
It does not look like there are any active promotions or bonuses at the time of writing this review, if you are interested in them, we would suggest contacting the customer service team to see if there are any upcoming promotions you could take part in.
Educational & Trading Tools
The website states that there are lots of trading tools available, however, we believe that this is just referring to the tools that come with the trading platform, there doesn't appear to be any additional education or trading tools on the site. Many modern brokers are looking to help their clients improve their trading with education, so it would be good to see IC Finance do something similar.
Customer Service
The customer support team is available 24 hours a day, 5 days a week, they are closed over the weekends and on bank holidays. You can get in contact using the online submission form, the other option is to use the available email. Unfortunately, there doesn't seem to be any further ways to get in contact with them such as telephone.

Demo Account
We could not locate any information about demo accounts so unless we just missed them they do not seem to be available, this is a shame as demo accounts allow potential new clients to test out the markets and trading conditions while allowing existing clients to test new strategies without risking any of their capital.
Countries Accepted
There is not a list of accepted countries, so if you are thinking of signing up for an account, get in contact with the customer service team prior to signing up, just to be sure you are eligible for an account.
Conclusion
The trading conditions on offer form IC Finance seem very good on paper, however, the spreads are not stated on the site, they simply say that they start from 0.3 pips, however, we believe they will be a lot higher than this. There are plenty of assets and instruments to trade and the trading platform, while we do not know which one it is, seems accessible. There is a distinct lack of ways to contact the customer service team which can be a little concerning, what is even more concerning though is the complete lack of information surrounding deposits and withdrawals.
Not knowing how you can get your money in or out and how much it will cost you will instantly make it impossible to build trust with new clients, so simply for not having that information available we find it hard to recommend IC FInance as a broker to sue at this present time.