The cryptocurrency market had a slow day price-wise, which might not be a bad thing. Most of the cryptocurrencies' prices remained near yesterday's levels even though their volume is slowly dropping. The past 24 hours were quite uneventful as far as the price of top cryptocurrencies is concerned. Most cryptocurrencies ended up being in the slight red. Bitcoin went down 1.14%, and it is now trading at $9,109. Ethereum lost 2.02%, while XRP lost 1.43%.
Out of the top100 cryptocurrencies by market cap, the biggest gainer is Molecular Future, with 66.88% daily gain followed by Seele and IOST with 11.91% gain for both. The biggest loser of the day was Swipe, which lost 42.05% of its value.
Bitcoin's dominance remained the same over the past 24 hours. Its dominance now sits at 67.22%, which is almost exactly where it was 24 hours ago.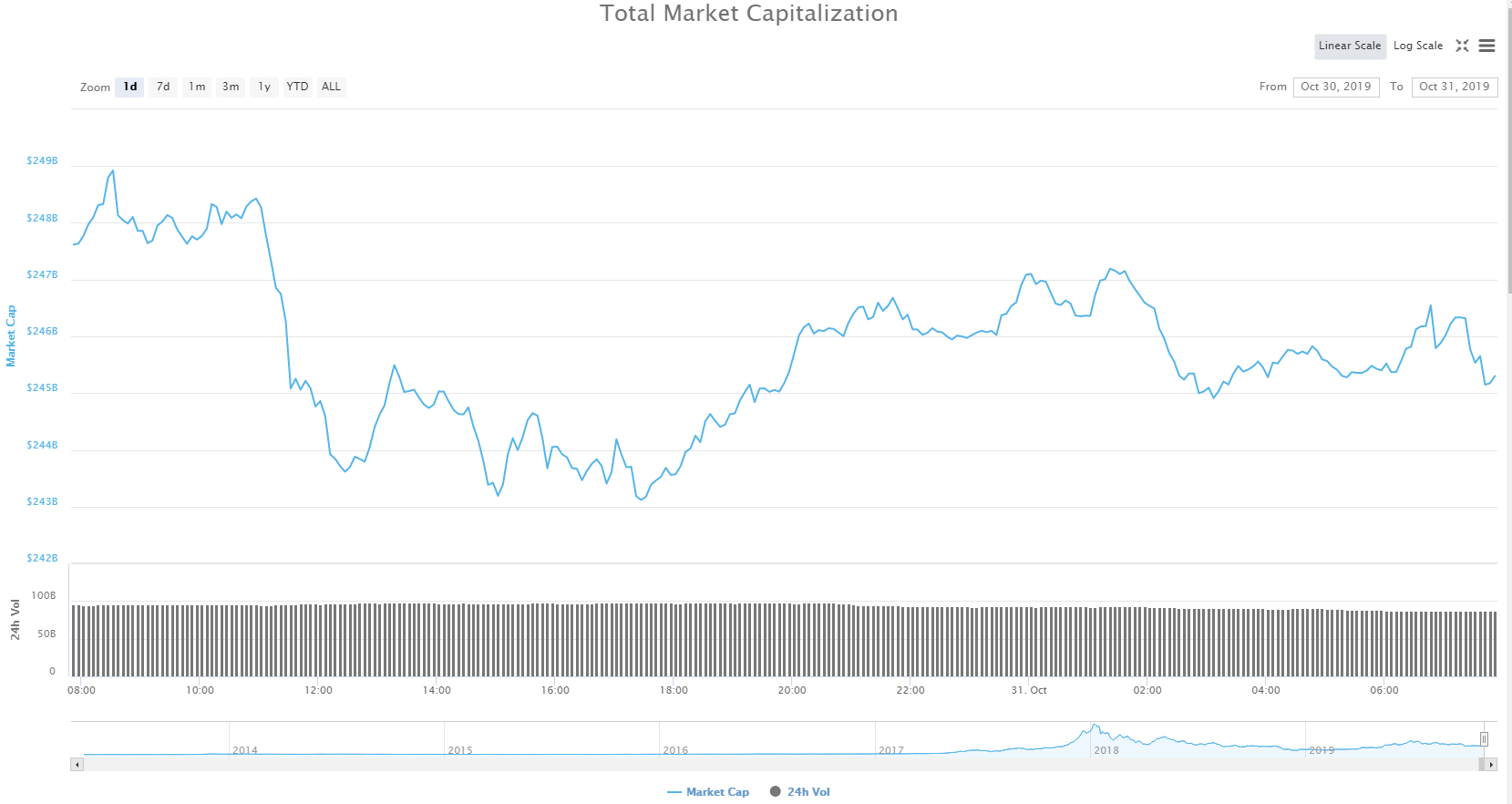 Cryptocurrencies ended up being divided between being in the green or red in the past 24 hours. The industry's market capitalization fell slightly when compared to yesterday's value. It now has a market capitalization of $245.9 billion, which represents a $2.7 billion decrease when compared to the previous day.
What happened in the past 24 hours
It has been announced that China is preparing for the launch of its cryptocurrency. The initiative is quickly gaining traction as China is removing online posts that claim blockchain technology is a scam. China's President Xi Jinping called launching their state-backed cryptocurrency an "important breakthrough" that should be developed.
Taking a look at the crypto data-tracker BitInfoCharts shows that XRP's daily transactions now account for more than 50% of all the cryptocurrency transactions in the past 24 hours.  In the same time period, Ethereum came in second while Bitcoin and Bitcoin SV shared the third place. The last time we've seen XRP's daily transactions being this high was the middle of the December 2017 bull run.
_____________________________________________________________________
Technical analysis
_______________________________________________________________________
Bitcoin
Bitcoin's price was pretty stable in the past 24 hours. The $9,110 price level that it's at currently indicates Bitcoin's struggle, as it is sitting right on top of the support line. With declining volume and dropping RSI, Bitcoin looks like it's getting ready for a bounce or a drop very soon. If the $9,110 line gets broken, its support will be at the $8,800 levels.
As mentioned before, Bitcoin's RSI is slowly dropping along with its volume. This indicates a lack of buying pressure and preparation of a move (to the upside or downside – depending on the situation).
Key levels to the upside                   Key levels to the downside
1: $9,580                                          1: $8,820
2: $9,740                                          2: $8,640
_______________________________________________________________________
Ethereum
Ethereum spent another day almost mirroring Bitcoin. After the big price surge, a consolidation needed to happen to make this move healthy. However, the dropping volume and RSI levels show the lack of strength to keep at these levels. Ethereum dropped below the $185 level which is now its immediate resistance. It is hovering right below this line and has made several attempts of breaking it, but failed every single time. If Ethereum breaks $185 it might be possible to see another swing upwards. However, this seems unlikely at this point.
Key levels to the upside                   Key levels to the downside
1: $185                                             1: $178.6
2: $193.5                                          2: $167.8
3: $198                                             3: $163.5
_______________________________________________________________________
XRP
XRP has proven to be a separate currency with not much influence from Bitcoin. On top of that, its transaction volume has been skyrocketing. While it has been following the upward-facing trend line until today, it seems to have stopped doing that. The steepness of the line was too much for XRP to handle. However, XRP did not lose any of its value, it just stopped climbing up along with the trend line. It is now trading in between its immediate support (which is at $0.285) and resistance ($0.31)
XRP's volume, as well as RSI value, seems to be quite stable and without any significant fluctuations.
Key levels to the upside                   Key levels to the downside
1: $0.31                                            1: $0.285
2: $0.325                                          2: $0.266 (major support)
3: $0.333                                          3: $0.245