The cryptocurrency market had a pretty steady day when it comes to price movements. Most cryptos remained at their levels of 1 day ago. Bitcoin is currently trading for $6,652, which represents a decrease of 0.78% on the day. Meanwhile, Ethereum lost 2.75% on the day, while XRP lost 1.17%.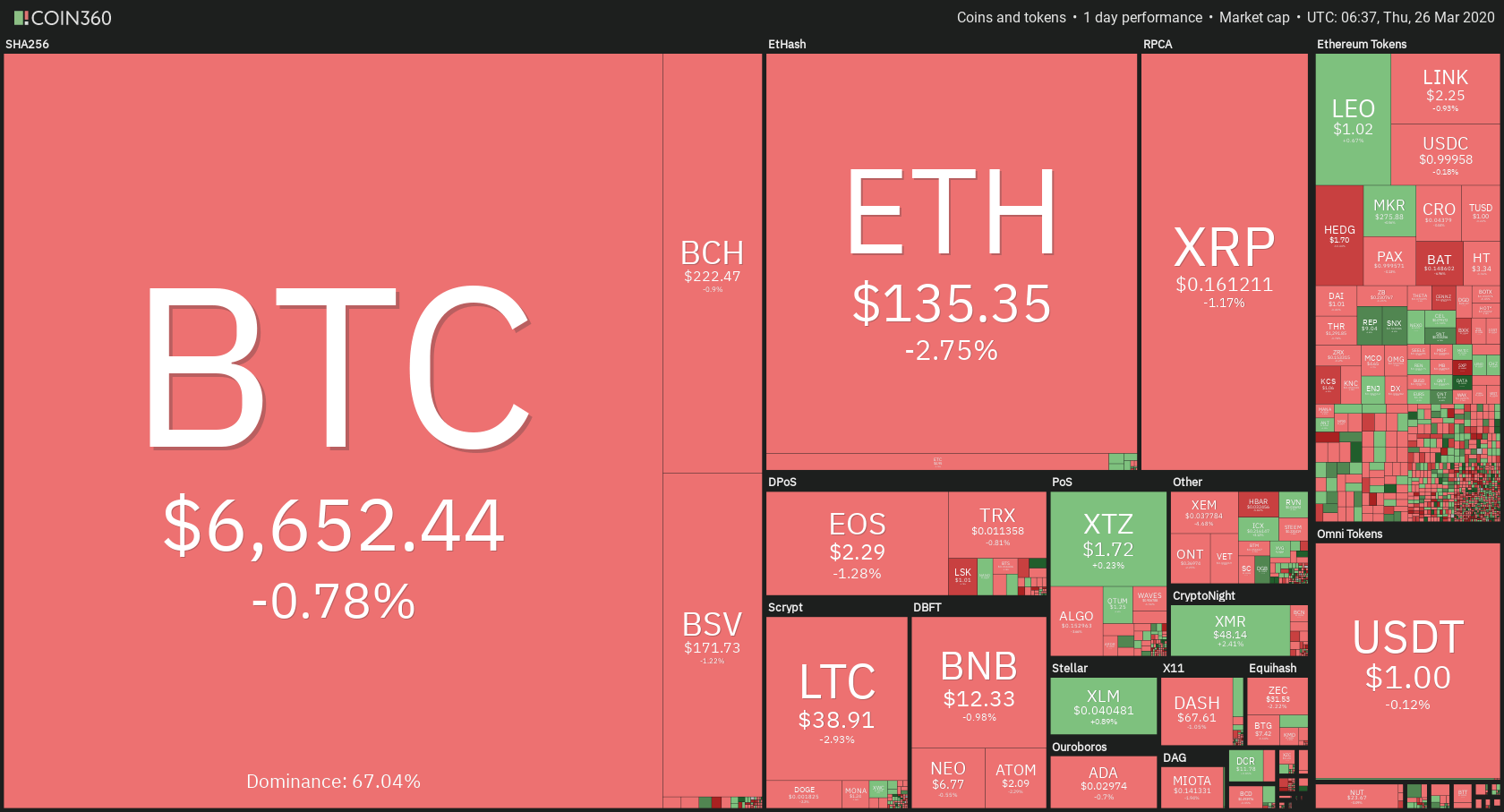 EDC Blockchain took the position of today's most prominent daily gainer, with gains of 871.81%. On the other side, Swipe lost 12.67% on the day, making it the most prominent daily loser.
Bitcoin's dominance has increased over the past 24 hours. Its value is now 67.04%, which represents a 0.39% difference to the upside when compared to yesterday's value.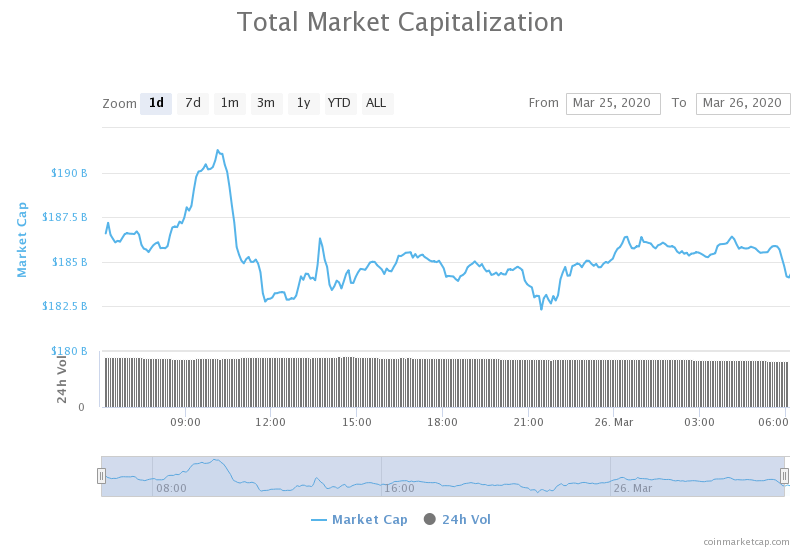 The cryptocurrency market capitalization did not move much in the past 24 hours. Its current value is $184.21 billion. This value represents a decrease of $0.14 billion when compared to the value it had yesterday.
What happened in the past 24 hours
Bitcoin mining difficulty dropped by 15.95% in the past 24 hours. This is the second-largest decline in its history. Bitcoin price plummeted more than 50% percent last time a decline like this happened.
Though this is not a surefire way to determine the price direction, it is very much possible that Bitcoin will go down some more in the short-term.
Honorable mention
GRAM
Cardano launched Ouroboros Hydra, its off-chain scalability protocol on Mar 25. This protocol has gone live after five years of development.
The protocol increased scalability greatly for the Cardano blockchain. On top of that, it is using very little storage on the network's nodes. Hydra could theoretically scale to 1,000,000 transactions per second.
_______________________________________________________________________
Technical analysis
_______________________________________________________________________
Bitcoin
Bitcoin had a pretty stale day price-wise, as it did not move almost at all from yesterday. The largest digital currency by market cap is still trading just below the $6,850 resistance level without much fluctuation. While its price is above the weekly 200-period moving average, if the price doesn't move to the upsidein the next couple of days, we can expect a leg down towards lower $6,000's, or even lower.
Bitcoin's volume drastically reduced from yesterday, while its RSI level dropped slightly towards the middle of the value range, currently being at the value of 56.
Key levels to the upside                    Key levels to the downside
1: $6,850                                           1: $6,640
2: $7,085                                           2: $5,960
3: $7,420                                            3: $5,000
---
Ethereum
Ethereum has almost mirrored the movements of Bitcoin for the past 24 hours. The second-largest cryptocurrency had close to no movement on the day, with its price being right below the $139 resistance line. However, the only change from yesterday is exactly the $139 level. While it was undecided whether the price will end up below or above it yesterday, it is quite clear that Ethereum will trade below this level for the time being.
Ethereum's volume also dropped severely from yesterday, while its RSI level is currently at the value of 51.
Key levels to the upside                    Key levels to the downside
1: $168                                                1: $128
2: $178.6                                            2: $122.5 
3: $185                                                3: $100
---
Ripple
XRP had a bit more movement than Bitcoin and Ethereum in the past 24 hours. Namely, its price moved down to $0.157 but quickly recovered to its previous level of around $0.16. XRP is trading between the resistance of $0.165 and support of $0.147 for five days now, without any signs of going up or down.
XRP's volume decreased slightly over the past 24 hours, while its RSI level dropped to 53.
Key levels to the upside                    Key levels to the downside
1: $0.165                                            1: $0.147
2: $0.19                                              2: $0.1
3: $0.2