The cryptocurrency market had a meltdown of epic proportions today. Almost every single cryptocurrency dropped over 20% in value. However, almost all the other markets are bleeding heavily as well due to the halt of the economy, which is caused by the Coronavirus outbreak. Bitcoin is currently trading for $5.025, which represents a staggering 34.29% decrease on the day. Meanwhile, Ethereum lost 29.15 % on the day, while XRP lost 24.74%.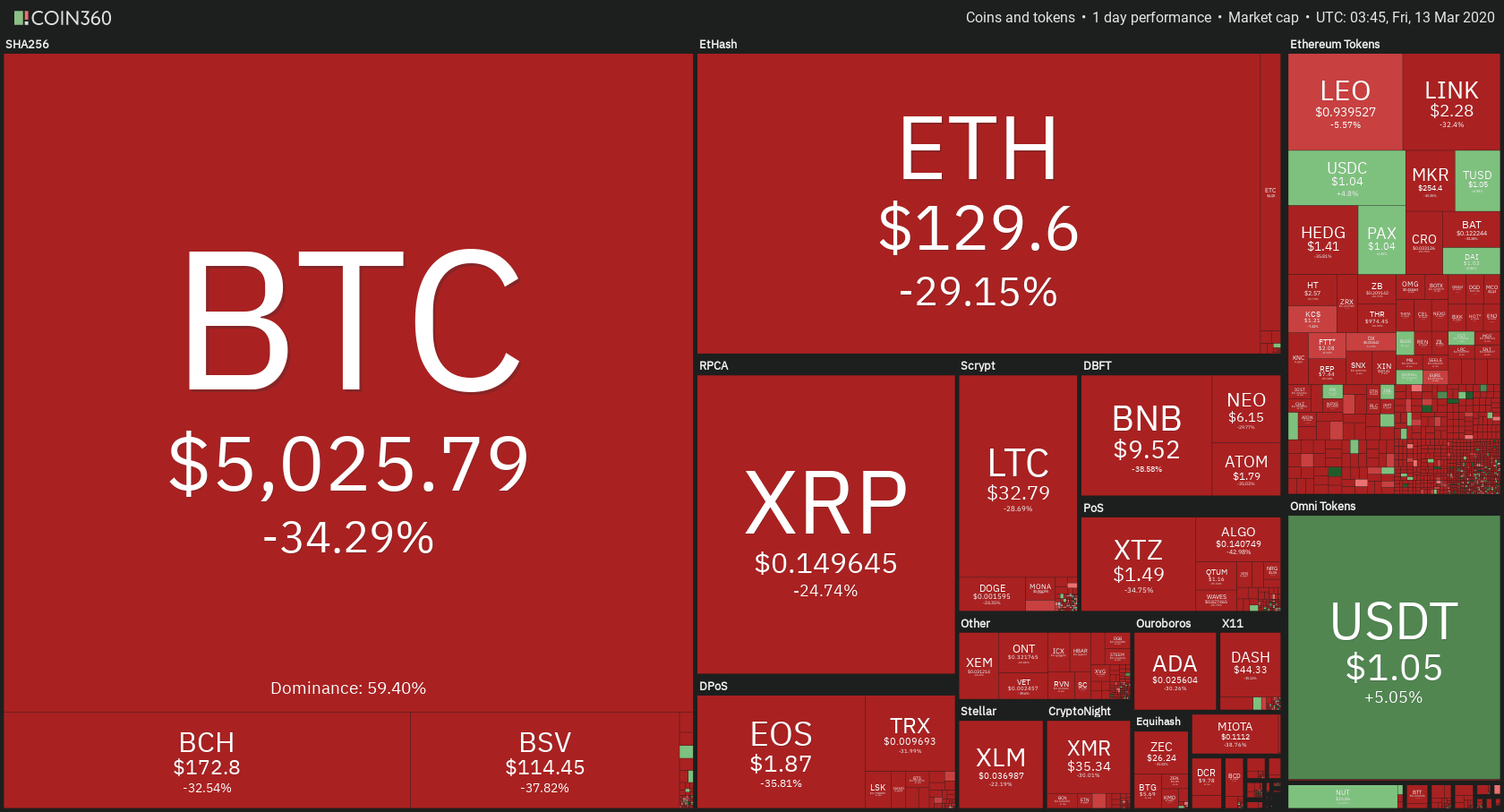 Multi-collateral DAI took the position of today's most prominent daily gainer, with gains of 7%. On the other side, Synthetix Network lost 49.74% on the day, making it the most prominent daily loser.
Bitcoin's dominance decreased greatly over the past 24 hours. Its value is now 59.4%, which represents a 5.95% difference to the downside when compared to yesterday's value.
The cryptocurrency market capitalization melted down, with a current value of $153.59 billion. This value represents a decrease of a whopping $63.64 billion when compared to the value it had yesterday.
What happened in the past 24 hours
The European Central Bank (ECB) announced that it would provide a $135 billion stimulus to the market. This number certainly dwarfs Bitcoin's entire market cap. This move is not unique, as similar efforts have been shown from the US Federal Reserve on Mar 10.
In an effort to combat currently struggling markets, The European Central Bank made a decision to not cut interest rates any further, but to rather allocate 120 billion Euros to its asset purchase program.
Honorable mention
Enjin (ENJ)
Blockchain-based gaming ecosystem Enjin has just launched its Multiverse Program. The platform is now seeking applications coming from interested developers.
The Multiverse program is designed to attract developers to enter and explore Enjin's Multiverse platform, which is a gaming platform supporting the creation of in-game digital assets. These assets can be transferred as well as used across multiple games that are hosted in the multiverse.
_______________________________________________________________________
Technical analysis
_______________________________________________________________________
Bitcoin
Bitcoin's price had quite a meltdown in the past 24 hours. All technical analysis seems to be out of the game as BTC's price went down from $7,400 to $3,830 in a matter of hours. The price broke every possible line and anchor it could hang onto and dropped to the lows of $3,830. However, the price quickly moved back up to just over $5,000 which is where it is at the moment.
Bitcoin's volume increased greatly due to the selloff, while its RSI is deep in the oversold territory on every chart except for the weekly chart.
Key levels to the upside                    Key levels to the downside
1: $6,640                                           1: $5,000
2: $6,850                                           2: $4,300
3: $7,060                                            3: $3,100
---
Ethereum
Ethereum took a big hit as well, alongside other altcoins. In a price drop led by Bitcoin, Ethereum lost over 20% of its value in the past 24 hours. Its price fell to a staggering $90 all the way up from above $185 levels. The price has stabilized since and is trading at around $125. Unlike Bitcoin, though, Ethereum found resistance closeby, which is at the $122.5 level.
Ethereum's volume increased due to the selloff, while its RSI level is oversold on every single chart except for the weekly chart.
Key levels to the upside                    Key levels to the downside
1: $128                                                1: $122.5
2: $168                                              2: $100 
3: $178.6                                            3: $80
---
Ripple
XRP was no different than other altcoins in terms of price development over the past 24 hours. Its price dumped as well, dropping to lows of $0.1. The price has recovered since and is now trading and consolidating near $0.14. However, XRP might be in the worst position out of the top3 cryptocurrencies as it does not have an anchor point to the downside.
XRP's volume increased greatly, while its RSI level dropped to deeply oversold levels except for the weekly chart, where it is nearing the oversold area as well.
Key levels to the upside                    Key levels to the downside
1: $0.165                                            1: $0.1
2: $0.19
3: $0.2