The crypto market has declined and lost all the gains it made yesterday. This was all due to, allegedly, a large unknown Bitcoin miner moving and selling his coins.  Bitcoin is currently trading for $9,514, which represents a decrease of 6.12% on the day. Meanwhile, Ethereum lost 3.99% on the day, while XRP lost 4.09%.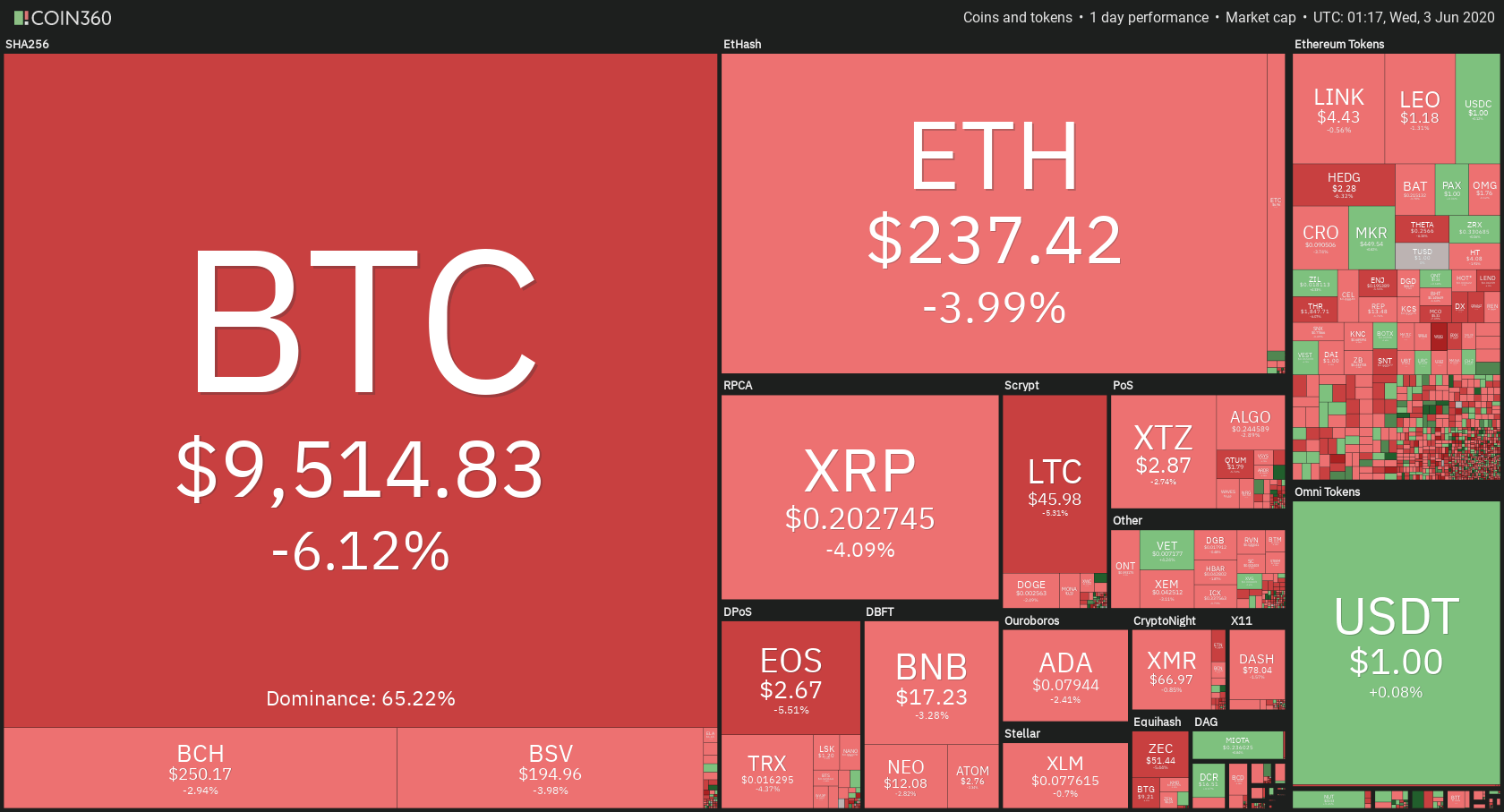 Flexacoin took the position of today's biggest daily gainer, with gains of 13.68%. Nexo lost 17.32% of its daily value, making it the most prominent daily loser.
Bitcoin's dominance decreased slightly since we last reported, with its value currently at 65.22%. This value represents a 0.64% difference to the downside when compared to yesterday's value.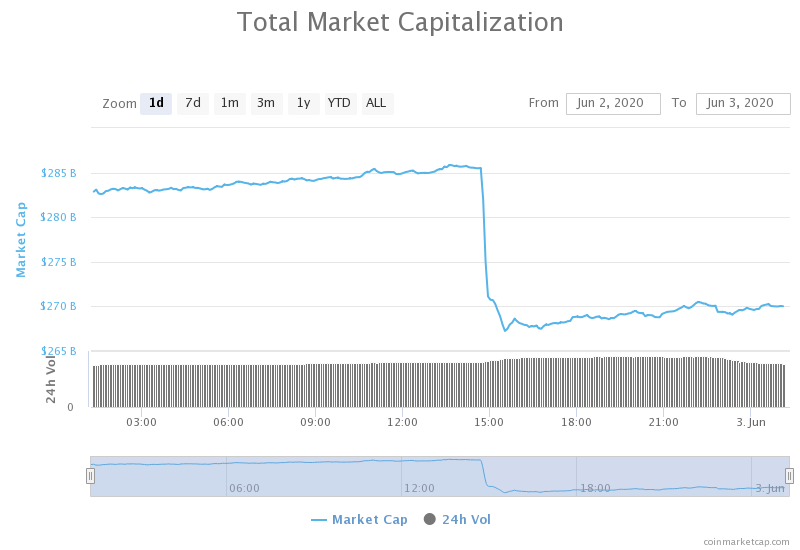 The cryptocurrency market capitalization decreased drastically as most cryptos went back down in price when compared to yesterday's value. The market's current value is $269.53 billion. This value represents a decrease of $14 billion when compared to the value it had yesterday.
What happened in the past 24 hours
Miners selling more BTC than they created
One of the largest unknown mining pools moved and sold thousands of Bitcoin, which allegedly triggered the price crash. This miner has produced 51 blocks over the past four days, earning 637.5 BTC in that period (this represents 9% of the total rewards mined in that period).
While some speculate that this mining pool is capitulating, it might be that it is only moving and selling Bitcoin as it reached the price point they want to sell at.
_______________________________________________________________________
Technical analysis
_______________________________________________________________________
Bitcoin
The largest cryptocurrency by market capitalization lost all of the gains it made just a day after breaking $10,000. The move towards the downside was just as sharp as the one to the upside and with even greater volume. While the price fell to $9,120 at one point, it stabilized just below the $9,580 resistance level.
Bitcoin's volume is still elevated from the bearish move, while its RSI fell to 46.
Key levels to the upside                    Key levels to the downside
1: $9,580                                           1: $9,250
2: $9,735                                           2: $9,120
3: $9,870                                            3: $8,980
Ethereum
Ethereum followed Bitcoin's spike yesterday as well as its collapse today. The second-largest cryptocurrency by market cap fell down to the $225.4 level before bouncing back and consolidating at above-$235 levels. Ethereum's move towards the downside also managed to surpass the upswing in terms of magnitude as well as volume.
Ethereum's volume came back to normal after the downswing, while its RSI level is at 52.5.
Key levels to the upside                    Key levels to the downside
1: $240                                               1: $225.4
2: $251.4                                           2: $217.6
3: $260                                               3: $198
Ripple
XRP also had quite a violent day in terms of price movement. The third-largest cryptocurrency by market cap lost all its gains in a matter of minutes as its price fell from $0.215 all the way down to $0.197. However, the price went up slightly and started consolidating at the $0.202 level, right in between the support of $0.2 and resistance of $0.205.
Key levels to the upside                    Key levels to the downside
1: $0.205                                           1: $0.2
2: $0.214                                           2: $0.19
3: $0.227