The Moving Averages EA is an expert advisor currently found on the QUIVOfx website, there are a few different versions of it, the basic and advanced versions are currently on version 2.02, while the Pro version is currently on version 2.03. There are multiple expert advisors with very similar names, we are focusing on the one found on the QUIVOfx site.
Overview
This expert advisor focusses on moving averages to make its trades, a simple moving average is calculated on the Average of the desired closed price of each candle. The Moving Average indicator has 4 different methods of calculation. Simple, Exponential, Smoothed, and LinearWeighted. The default period setting is 14. There are various functions to allow you to slightly alter the way the expert advisor works, this way you can adapt it to suit your own style of trading.
The expert advisor is currently designed to work with MetaTrader 4 and does not currently work with any other trading platform, there are three versions of the expert advisor, the basic, advanced and pro versions, each one comes with slightly different features that we have outlined below.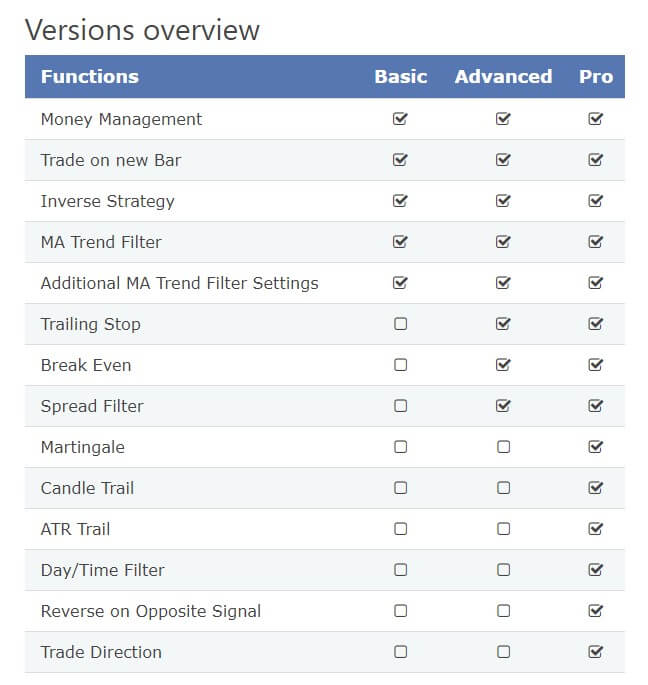 The basic version comes with a money management system, the ability to trade on a new bar, an inverse strategy, MA trend filters, and additional ma trend filter settings.
The advanced version comes with everything tat the basic version does, as well as the ability to use a trailing stop, a break-even system, and spread filters.
The Pro version comes with everything that the basic and advanced versions do as well as a martingale strategy, candle trail, STR trails, a da/time filter, the ability to reverse on opposite signals, and a trade direction feature.
Service Cost
The basic version of this expert advisor is free, which the advanced version costs CHF 29.90 and the Pro version costs CHF 39.90. There isn't a specific demo version of the top tier versions, but as the basic version is free to use, this can be used as a way to test out the expert advisor.
Conclusion
The website doesn't provide any written reviews from their clients, however, there is a rating system that currently has 201 different ratings, the average rating is 3 ½ stars which is ok. This shows that some clients are enjoying the expert advisor while others are not getting the full functions out of them. We could not locate any written reviews around the internet for this specific expert advisor due to there being multiple with similar names.
This Forex service is currently available on the following website: https://quivofx.com/expert-advisor/moving-average-ea