The crypto market pretty much stayed at the same place price-wise in the past 24 hours. Bitcoin is currently trading for $8,758, which represents a 0.41% decrease on the day. Meanwhile, Ethereum lost 0.77% on the day, while XRP lost 0.11%.
Swipe took the position of today's most prominent daily gainer, with gains of 19.28%. On the other side, DxChain Token lost 9.85% on the day, making it the most prominent daily loser.
Bitcoin's dominance increased in the past 24 hours as some altcoins dropped in price more than it did. Its value is now 64.53%, which represents a 0.45 difference to the upside when compared to the value from when we last reported.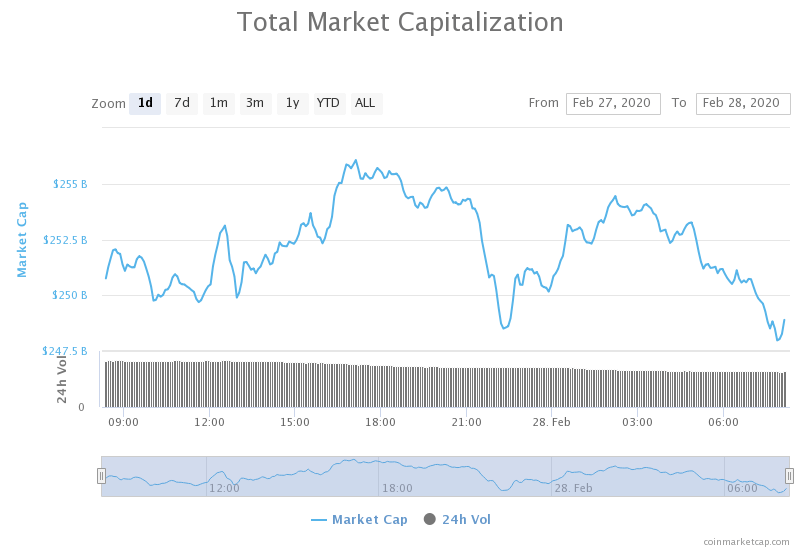 The cryptocurrency market capitalization stayed in pretty much the same place in the past 24 hours. It is currently valued at $249.09 billion, which represents a decrease of $0.92 billion when its value is compared to the value it had yesterday.
What happened in the past 24 hours
One of Switzerland's biggest stock exchanges, SIX Swiss Exchange, announced a partnership with Omniex, a US-based firm that specializes in developing trading platforms for institutional investors, mainly targeting the cryptocurrency market.
The partnership will provide SIX and its clients with a way to include crypto to their business.
Honorable mention
Stablecoins 
American financial regulators had a sitdown with three major stablecoin projects in an effort for them to better understand the industry.
The CFTC Advisory Committee organized and held a public meeting in hopes of learning more about stablecoins, crypto insurance, custody practices as well as cybersecurity. JPM Coin, MarkerDao and Paxo had their representatives attend the event, discussing different aspects of stablecoins.
_______________________________________________________________________
Technical analysis
_______________________________________________________________________
Bitcoin
Bitcoin spent the past 24 hours trading at pretty much the same level. However, while there was seemingly not much price movement, Bitcoin made one attempt of breaking $8,825, which it did for a while. However, the price quickly pulled back and Bitcoin is almost exactly where it's at 24 hours ago.
Bitcoin's volume dropped to average levels after yesterday's spike. It's RSI level is currently on the line the oversold territory and regular value range.
Key levels to the upside                    Key levels to the downside
1: $8,825                                           1: $8,650
2: $9,115                                           2: $$8,535
3: $9,250                                            3: $8,250
---
Ethereum
Ethereum's was also pretty stagnant over the past 24 hours. Its price attempted to reach the $240 mark but did not manage to get to it before bears took over again and put an end to the move. Ethereum fell to its previous prices and even attempted to break $225.5 to the downside. While its price is currently above this support level, it is unknown how long that will hold.
Ethereum's volume is extremely low at the moment, while its RSI level is in the lower part of the value range.
Key levels to the upside                    Key levels to the downside
1: $240                                                1: $225.5
2: $251.3                                            2: $217.7  
3: $259.5                                             3: $198
---
Ripple
XRP performed the best out of the three biggest cryptos once again. However, this time, it was not by much. Its price tried to move above the $2454 level but failed to do so. As a result, XRP started dropping in price and pulled back to the $0.235 support. It is currently trading just above this support level.
XRP's volume is slightly elevated, but nothing compared to yesterday's volume. Its RSI level is in the lower part of the value spectrum.
Key levels to the upside                    Key levels to the downside
1: $0.2454                                          1: $0.235
2: $0.266                                            2: $0.227
3: $0.285                                             3: $0.221