Cryptocurrency bulls returned to make another push towards new yearly highs. Bitcoin went back above $10,000. It was not the only crypto to gain, as almost every single cryptocurrency in the top100 is green on the day. Bitcoin is currently trading for $10,344, which represents a 5.74% increase on the day. Meanwhile, Ethereum gained an astonishing 12.03% on the day, while XRP gained 7.28%.
Hedera Hashgraph took the position of today's most prominent daily gainer, with gains of 151.1%. On the other side, Kick Token lost 35.99% on the day, which made it the most prominent daily loser. Kick Token is holding this position for the second day in a row.
Bitcoin's dominance fell in the past 24 hours as most of the market moved up more than Bitcoin itself. It is now at 62.79%, which represents a decrease of 0.74% when compared to the value it had yesterday.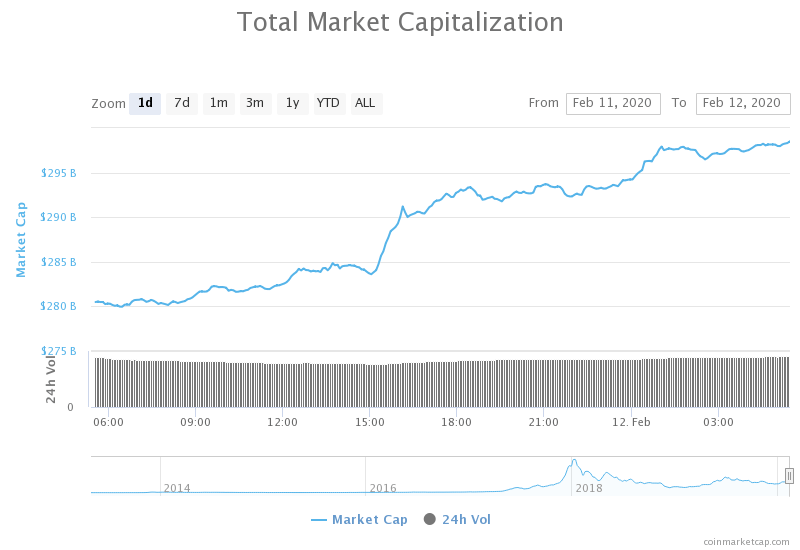 The cryptocurrency market capitalization gained a great amount of value on the day. It is currently valued at $299.45 billion, which represents an increase of $19.03 billion when compared to yesterday's value.
What happened in the past 24 hours
Mainstream financial entities are starting to look at Bitcoin as a non-correlated asset that could be used as a hedge. Morgan Creek Digital Co-founder Anthony Pompliano promoted this concept/viewpoint on Bitcoin for over a year.
"If Bitcoin is unlikely to correlate to economic factors, or other traditional equities and fixed income securities, then it (Bitcoin) could serve as a tool for portfolio diversification," said Bluford Putnam, the chief economist at the CME.
Honorable mention
Bitcoin (And how Coronavirus affects mining) 
The slowdown in the growth of mining difficulty shows that miners had to pause upgrading their equipment as the epidemic prompted Chinese authorities to put certain areas into quarantine. This caused mining equipment makers to delay production as well as shipments.
Mining difficulty is adjusted on Feb. 11 to a level of 0.52% higher than 14 days earlier. While still an increase, this is a significant drop from the growth rates of 4.67% and 7.08%, which were recorded during the 2 adjustments prior to the ones listed.
_______________________________________________________________________
Technical analysis
_______________________________________________________________________
Bitcoin
The first bull wave that took Bitcoin over $10,000 failed after the bulls couldn't push the price above $10,200. After some time spent in a downwards trend, Bitcoin spiked up yet again. This time, the price broke $10,200 and went all the way to the $10,360 resistance. Bitcoin bulls and bears are currently fighting to push the largest crypto above this resistance level or to keep it under.
Bitcoin's volume is currently quite high, while its RSI level is dangerously close to the overbought territory.
Key levels to the upside                    Key levels to the downside
1: $10,360                                         1: $10,010
2: $10,460                                         2: $9,872
3: $10,855                                         3: $9,732
---
Ethereum
After a short term downside correction, Ethereum (just like Bitcoin) found support near the $217.5 area. Bulls came to the market aggressively and pushed the price above the $240 resistance. It is currently stabilizing between the $240 support and the $251 resistance level.
Ethereum's volume is on nearly the same level it was at over the whole uptrend that started on Feb 4. Its RSI on the 4-hour time frame has entered the overbought territory.
Key levels to the upside                    Key levels to the downside
1: $251.3                                             1: $240
2: $259.5                                            2: $225.5 
3: $279                                               3: $217.5
---
Ripple
XRP finally joined other top cryptocurrencies and went into the bull mode, at least for a short while. Its price, after many failed attempts, broke the $0.285 resistance and is now consolidating right above it. The upwards price move was not steep, but rather gradual and strong. It was not accompanied by a big volume increase.
XRP's volume is average at best, while its RSI level is approaching the overbought territory.
Key levels to the upside                    Key levels to the downside
1: $0.31                                              1: $0.285
2: $0.324                                            2: $0.266
3: $0.3328                                          3: $0.2454