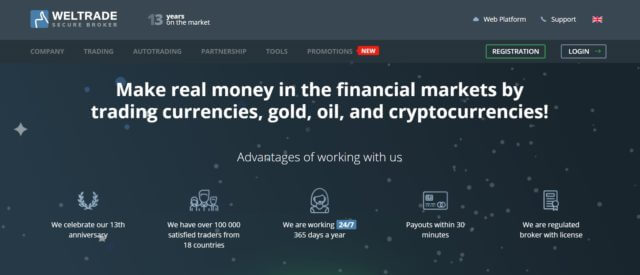 WELTRADE is an online Forex and CFD broker that has been in business for more than 13 years. The company has certainly managed to stay afloat long enough to prove that they're headed in the right direction, especially with so many competitors in the field. This broker has offices in several different countries, with their primary headquarters being located in St. Vincent & the Grenadines. If you're interested in opening an account with them, you'll have five options to choose from, so it is important to be educated about that choice. Making the right choice is vital when it comes to making a profit.
Account Types
WELTRADE offers five different account types: Micro, Premium, Pro, ZuluTrade, and Crypto. Accounts seem to share more differences than similarities. Note that the Micro account was designed for training purposes and familiarization with trading conditions. The company has the right to limit trading activity on this account type and may propose that clients transfer their funds to a new account type once they seem to be qualified. It is free to transfer funds and open another account type, so this should not be too much of a hassle.
One of the main things to consider when looking at all of the account types would be trading costs since some accounts are commission-free with higher spreads and others charge commissions with lower spreads. Leverage options are very high on all account types, although the options are predictably lower on the Crypto account type. Tradable instruments can also vary, so be sure to check those options on each account type. We've provided an overview of all of the account types below for comparison.

Micro Account
Minimum Deposit: $25 USD
Leverage: 1:33 – 1:1000
Spread: From 1.9 pips
Commission: Zero
Assets: Forex, Metals
Premium Account
Minimum Deposit: $200
Leverage: 1:33 – 1:1000
Spread: From 1.9 pips
Commission: Zero
Assets: Forex, Metals, Commodities
Pro Account
Minimum Deposit: $500 USD
Leverage: 1:1 – 1:1000
Spread: From 0.5 pips
Commission: Zero
Assets: Forex, Metals, Commodities
ZuluTrade Account
Minimum Deposit: $200 USD
Leverage: 1:33 – 1:500
Spread: From 2.9 pips
Commission: 1.5 points
Assets: Forex, Metals, Commodities
Crypto Account
Minimum Deposit: $50 USD
Leverage: 1:3 – 1:20
Spread: From 0 pips
Commission: 0.5%
Assets: Cryptocurrencies
The company claims that the longer clients work with them, they will receive more benefits and higher status. We couldn't find any more information on this claim on the website, so it's unclear what type of benefits would be received if any at all. Clients are required to provide a copy of their passport and a proof of residence document in order to confirm their identity.
Platform
Micro, Premium, Pro, and Crypto account holders will have the option to choose between the MetaTrader 4 and MetaTrader 5 platforms. Those with the ZuluTrade account type will only be able to trade on the MT4 platform. The MT4 platform is a free online trading program that comes with more than 50 built-in indicators and tools. MT5 is a multi-asset platform that has built-upon the success of its predecessor. The program also enables the use of automated trading systems, robots, and copy trading. Both platforms are available on mobile, tablets, desktop, and through the web platform. Investors or clients that work with many accounts simultaneously can do so on the MT4 MultiTerminal.

Leverage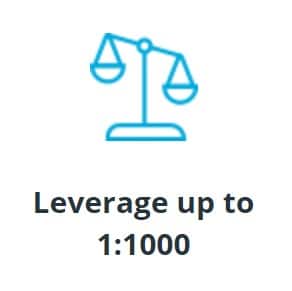 For Pro account holders, the smallest leverage option is 1:1. On Crypto accounts, clients can start with leverage of 1:3. Note that choosing leverage of 1:1 would simply mean that one is trading with the exact amount of funds that are available in their account. The Crypto account type allows for maximum leverage of 1:20, which is not surprising for an account that focuses on trading cryptocurrencies. The ZuluTrade account offers a higher than average cap of 1:500, an option that would be enough for the majority of traders.
From there, the company doubles the leverage offerings, with the cap being 1:1000 on the Micro, Premium, and Pro accounts. All of these options are excellent, so there will be no need to reconsider based on available leverage options. However, beginners should note that trading with higher leverage options could lead to huge losses, especially when trading without much experience. We would recommend practicing on a demo account to gain a better idea of what leverage options would be best for anyone that isn't sure what option to choose.
Trade Sizes
The minimum trade size for all account types is 0.01, or one micro lot. Aside from the Micro account, all accounts offer a maximum order volume of 100 lots. The Micro account allows for 1,000 lots. The Micro, Premium, and ZuluTrade accounts will allow up to 100 open positions at a time, while the Pro account allows 150. The website does not clarify these details for the Crypto account type. Margin call and stop out levels are shared by the Micro, Premium, Pro, and ZuluTrade accounts. Those levels are listed below.
Margin Call/Stop Out Levels:
Micro, Premium, Pro, ZuluTrade: 20%/10%
Crypto: 40%/20%
Trading Costs
This broker profits through commissions, interest rates, swap fees, and spreads.
Commissions: Micro, Premium, and Pro accounts are commission-free. Commissions are charged when placing an order and are 1.5 points on ZuluTrade accounts and 0.5% on Crypto accounts.
Swap Fees: Swap-free versions are available for all five account types. Otherwise, swaps are applicable to any positions held overnight. The website doesn't go into further detail.
Spreads: Spreads vary with this broker and range from starting from 0 pips to 2.9 pips.
Interest Rate: These charges are not applicable to Micro, Premium, ZuluTrade, or Crypto accounts. On the Premium account, the interest rate is 3.5%. The Pro account has an interest rate of 5%.
Assets
This broker offers Forex, commodities, metals, and cryptocurrencies for trading. The chosen account type would directly affect which types of assets can be traded, so we will start by reviewing those limitations. The Crypto account is the only option that allows for the trading of cryptocurrencies and this is the only type of asset available on this account type as well. This could be an excellent secondary account if you're looking for more options. The Micro account options are also more limited, with Forex and Metals being the only options. Also, note that Forex options are limited to XAUUSD and XAGUSD only on Micro accounts.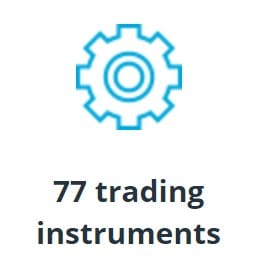 All three of the remaining account types offer the largest variety, with Forex, Metals, and Commodities being available. Now, we will look into the tradable instruments in more detail. Starting with Forex options, we will remind readers that the Micro account only offers two currency pairs. We found that 48 currency pairs are available for trading on the other account types that offer them. When it comes to trading metals, Gold and Silver are the only options on the Micro account.
The Premium and Pro accounts offer Platinum and Pallidum in addition to those options. The ZuluTrade account offers Gold, Silver, and Platinum. The Premium, Pro, and ZuluTrade accounts feature two commodities; Brent Oil and Crude Oil. As we mentioned, the Crypto account is the only account type to feature cryptocurrencies. We found 15 available options, including Bitcoin, Ethereum, and Litecoin.
Spreads
Spreads are floating on all account types, so one should expect to see spreads climb higher than those advertised. The lowest spreads available with this broker are from 0 pips on the Crypto account type. The Pro account comes in second place, with spreads starting from 0.5 pips. Micro and Premium accounts both offer spreads that start from 1.9 pips. ZuluTrade accounts have the highest spreads, starting from 2.9 pips. Keep in mind that some of the accounts are commission-free and therefore come with higher spreads.
Minimum Deposit
Deposit minimums range from $25 up to $500 USD. The most affordable accounts would be The Micro account, with the lowest $25 minimum, and the Crypto account, with a $50 deposit minimum. You may find brokers that do not have a set deposit requirement; however, we feel that these options are large enough to allow one to actually conduct some trading activity while being small enough to be affordable for all types of traders. The Premium and ZuluTrade accounts both require a $200 deposit. The most expensive account type would be the Pro account, with a $500 deposit requirement.

Deposit Methods & Costs
Available deposit methods include Visa, MasterCard, Skrill, Neteller, WebMoney, PerfectMoney, QIWI Wallet, Indonesian Bank Transfer, Wallet One, and FasaPay. Crypto options include Bitcoin, Ethereum, Litecoin, Ripple, and EOS. Aside from Indonesian Bank transfer and Crypto options, all payments are immediately available. It can take up to 24 hours for bank transfers to be credited and it will take the required number of confirmations on the network for crypto options to be credited. The company includes no commission deposits under their list of promotions and covers all of the fees for the available deposit methods at this time. There is no end date listed for the promotion, but do keep an eye out just in case the company does start charging their standard commission fees.
Withdrawal Methods & Costs
All of the funding options can be used to withdraw funds. Service fees are applicable to most of the deposit methods, so you'll definitely want to check those fees below. We did notice that Indonesian Bank Transfer and Wallet One do not charge service fees, so this does offer two very limited ways to withdraw fee-free. FasaPay also caps their fee at $5, so this would be a good option if you're making a larger withdrawal.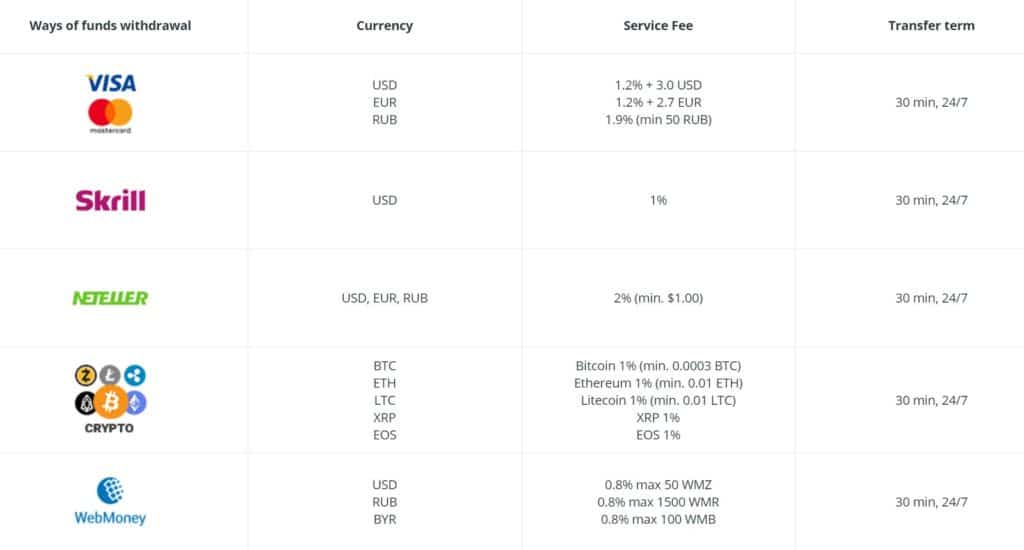 Indonesian Bank Transfer: 0%
Wallet One: 0%
PerfectMoney: 0.5%
FasaPay: 0.5% (max $5.00)
Skrill & QIWI Wallet: 1%
Visa/MasterCard: 1.2% + 3.0 USD/1.2% + 2.7 EUR/1.9% (min 50 RUB)
Neteller: 2% (min $1.00)
Crypto (BTC, ETH, LTC, XRP, EOS): 1%
WebMoney: 0.8% (max: 50 WMZ, 1,500 WMR, 100 WMB)
Withdrawal Processing & Wait Time
This broker offers an insanely fast process time within 30 minutes from the time the request is made. Withdrawals are even processed 24 hours a day, 7 days a week. This could be a huge advantage to anyone who may need their funds suddenly. We're not used to seeing brokers that are available to process withdrawals on weekends, and much more rarely during the night.
Bonuses & Promotions
The bonuses and promotions offered by this broker are highly unique. Rather than offering a simple deposit bonus like we're used to seeing, this broker makes a sort of game out of earning rewards, with random payouts based on spinning wheels, drawing cards, etc. You'll always want to be on the lookout for new opportunities with this broker since these seem to be updated frequently. There are several different running options, so we've outlined them all below. Also, note that we always try to include the most relevant terms and conditions on offers, but it is always important to check all of these on the website.

AstroCards (All Account Types): For each deposit that is made, starting from $50, the trader will receive one AstroCard round. You'll earn 1 round on a $50 deposit, 2 rounds on a $100 deposit, and so forth up to 20 rounds on a $1,000 deposit. Clients will select cards when playing rounds for this game and rewards will be paid out in forms of non-withdrawable bonuses.
Get an iPhone 11Pro Max (All Account Types): Sign-up and open a trading account, deposit at least $5,000, and then trade 250 lots. Once these conditions have been completed, the client will need to reach out to support to receive the reward. The trader will have the choice between the iPhone 11 Max or a $1,400 withdrawable amount in cash with no restrictions. This promotion runs until July 11th, 2020.
Bonus 100% (Micro and Premium Account Types): This bonus is credited on deposits of $200 USD or more. The bonus is applied as credit, rather than balance and can be used as additional margin for order volume increase.
Cash Puzzle (All Account Types): Complete tasks and win up to $15,000 every day. Each day, there will be five tasks in the form of puzzles available. In reality, it is the client's trading activity that sets the progress on these activities. Achieved progress is lost at the start of each new day. Once the client has completed three daily tasks, they will be eligible for a reward, from $5 to the maximum amount.
Spinner: Make deposits and gain spins on the wheel, which will allow one the chance to win bonuses. A $30 deposit grants one spin, $60 gains 2 spins, and so forth. Prizes are fixed bonuses that are determined randomly once the client spins the wheel. The bonus is not available for withdrawal but can be used as free margin.
Educational & Trading Tools
The main educational focus on this broker's website would be live seminars. Traders can subscribe to upcoming seminars under 'Tools' > 'Seminars and Training'. The website doesn't go into further detail, so it is unclear what type of skill levels the seminars would be aimed towards. It would be great for the company to add a list of upcoming events that could be viewed straight from the site, to give one a better idea. There is also a MetaTrader 4 Guide and free demo accounts are provided.
There are a few more options when it comes to trading tools, including VPS, an economic calendar, and a trading calculator. The website also features ZuluTrade accounts as one of their main account types. ZuluTrade allows traders to set their accounts to automatically follow those of professional traders. The program is proportional and works even if the trader does not have the same amount of funds as the professional trader. All of these options can be found under 'AutoTrading' and 'Tools'.
Demo Account
This broker features free demo accounts with an available balance of up to $5,000,000 in virtual currency. Leverage options go as high as 1:1000 on these accounts, which is the highest option on several of the company's real accounts. The broker doesn't mention any certain account type and we didn't see the option to choose when registering for a demo account. For a broker that offers so many account types, it can be confusing to offer one basic demo account. This is based on the fact that there is no way to determine which account's spread will be featured, whether commissions will be charged, etc. We also like the idea of testing out a couple of different account types on a demo before making a real decision, especially if one is considering making a large deposit. This doesn't mean that it wouldn't be at one's advantage to practice, we would simply enjoy seeing options that mirror the broker's real accounts.
Customer Service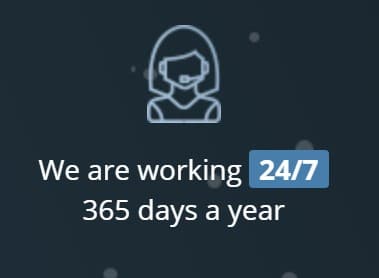 Support can be contacted through LiveChat, email, by phone, or by filling out a callback request. The company doesn't advertise their hours on the website, so we used the opportunity to test out the website's LiveChat feature. Sadly, support did not get back to us as quickly as we had hoped. After seven minutes with no initial response, we messaged our support agent a second time. Eventually, we gave up on the chat. This could be blamed on it being a late hour when we tested, although our support agent was active and online.
On our second attempt at a later time, support replied immediately and informed us that support works around the clock. Moving on, the company provides four separate email addresses for different departments, including general questions, finance, technical support, and partnerships. We've provided the main phone number and email addresses below, but you'll also find 14 more options for clients located in different countries. All of this information is available on the 'Customer Support' section of the website.
Phone: +44-20-34116458 (St. Vincent & the Grenadines)
Email
General Questions: info@weltrade.com
Financial Issues: finance@weltrade.com
Technical Support: support@weltrade.com
Partnership: partnership@weltrade.com
Countries Accepted
The broker claims that service is not offered to residents of Canada and the United States. We often find that terms can be more lenient when it actually comes down to registering, so we attempted to open an account from our US-based offices. We found that the initial registration page never asked for our country, so we were able to breeze through the verification process and open an account with no problem. The company does require verification documents and reserves the right to check the client's location by their email address, so it is possible that there may be problems a little later down the road.
Conclusion
WELTRADE is an FX and CFD broker that offers several different assets, including cryptocurrencies. The variety of assets one would have access to actually depends on the account type that has been opened, which is a common theme with this broker. There are five account types in total, with deposit requirements ranging from $25 to $500. Trading costs vary, with the lowest spreads from 0 pips and the highest starting at 2.9 pips and some commission-free account types. This broker also offers extremely high leverage options as an advantage to more professional traders.

Funding can be done through several different methods, including options like Bitcoin. On the plus side, withdrawals are processed within 30 minutes 24/7. On the downside, there are applicable fees on almost every withdrawal method. Customer support seems easy enough to reach, although we did wait several minutes and receive no response on our first contact attempt. This broker also puts a fun spin on earning bonuses by offering several unique games that offer some opportunities to earn big rewards. Looking at the broker as a whole, it seems that there are some obvious advantages and disadvantages. Since trading costs can climb on some account types, it is important to carefully consider the available options with this broker.