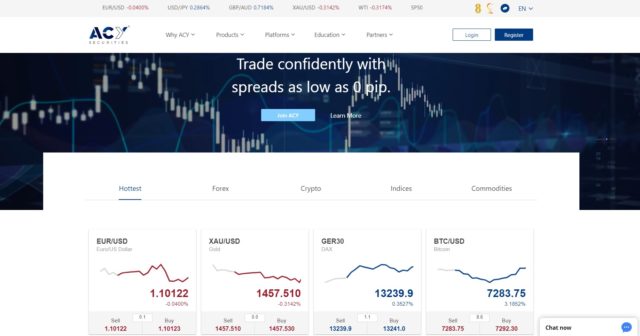 ACY is an ASIC regulated STP ECN broker that made into one of the leaders in the industry in few categories. The brand ACY acquired in late 2018 is Synergy FX, a broker that had minor problems with the image and user reviews and wants a clean slate. ACY is more focused on the China and Indonesia markets where ACY has received many rewards and continues to find ways to penetrate this extremely attractive market. Opening a regulation with the Vanuatu Financial Services Commission secures a gateway to clients in the Asia-Pacific region but also from other counties. ACY has more domains for this purpose, acy.com, and acyasia.com. ACY has experience in the educational practices in the industry with Chinese clients and providing such services to OANDA, one of the largest US-based broker that is also interested in this market.
When it comes to funds security, ACY has more than it meets the eye as the broker features Professional Indemnity Insurance in partnership with Aon insurance company that covers the company about 5M AUD in case of default. The main selling point of ACY is the execution time, spreads and additional support for amateur traders. This review will reveal the best and weakest traits of ACY and whether their promoted values are useable for trading.
Account Types
All 3 Account types feature tight spreads as their main advantage. ACY has a transparent overview of the Account Types that will show traders enough of relevant data to understand the differences. All of their accounts have a subsequent deposit minimum ACY calls just the "minimum deposit", market analysis and 1 on 1 service which is most of the time a sales agent. Stop Out and Margin Calls levels are higher than usual and are at 50% and 100% respectively. The accounts are scaled to the minimum deposit and start with the STP ECN Account which should mean it directly connects to the interbank market with 16 liquidity providers. This account does not have a commission although it has a somewhat wider spread.
It is appropriate for traders that employ lower leverage levels, do not exclusively rely on high-frequency trading strategies or EAs and their trades are not affected by the spread as much. STP ECN account can have USD, AUD, EUR, GBP, JPY, NZD, CAD as a base currency.

Zero ECN Account is promoted as the right choice for traders that execute high volume trades. The spreads are tighter while a fixed commission is charged. By comparing the spread and the commission per lot, a trader can see if this account is a better solution, especially if the maximum leverage level is applied. The account is a preferable choice for EAs and high-frequency traders, not necessarily high volume as ACY states.
Pure ECN account is the latest account type addition that has the highest deposit requirement. This account shares the same spread levels as the Zero ECN account by our testing, although only by a marginal amount on some assets the spread was tighter. The commission exists but it is lower than Zero ECN. ACY promotes features like optic fibers connected to the Equinix servers in New Your and Asia that should give traders the best possible execution times for this account although we are not sure they are not used for other account types. Pure ECN account does not seem to provide any substantial advantage over the Zero ECN account to justify the steeper minimum deposit requirement.
Platforms
ACY is MetaTrader 4 only broker as for now, showing ready-made pages that await the MT5 introduction. Most brokers will probably wait until the MT5 becomes more equipped with supported addons, as at the current state the MT5 does not provide enough to offset the popularity MT4 has. ACY MT4 does not have anything extra, the client is updated to the latest version and all settings at their default. The chart layout is set to the 4H timeframe with the 4 main Forex currency pairs, one-click trading enabled and the servers showing around 150ms ping. For some assets, like Palladium, we have noticed that the chart history does not go beyond 3 days, a serious issue, especially for day traders.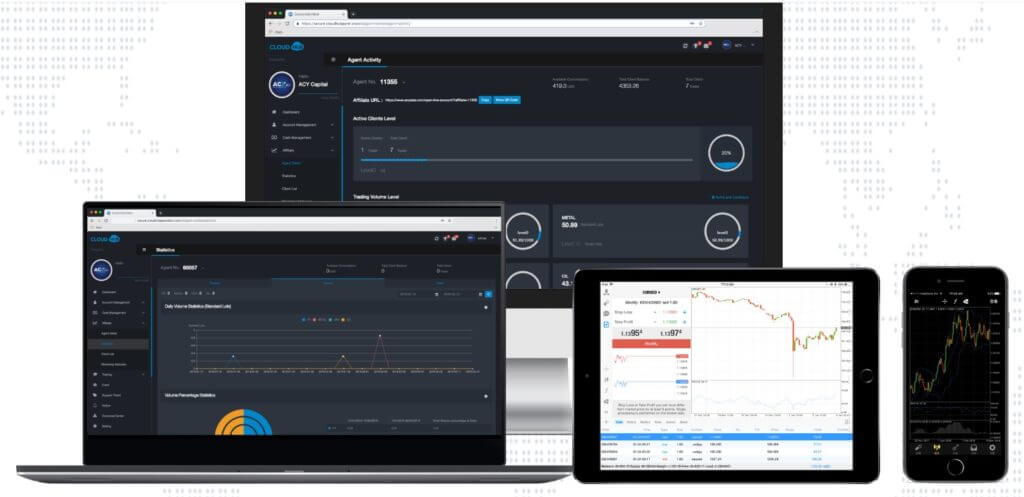 The Zero account assets symbols have a "zero" suffix in the MT4, aside from the standard that is shown by default which belongs to the standard, STP ECN account. This way traders can see the difference without switching the accounts. The execution times showed some inconsistency, some orders were executed in 250ms with a few going up to 400ms. The other 3 ACY live servers have shown similar latency. ACY states that their execution times are around 50ms that we were unable to achieve.
MT4 reflects all the conditions and costs associated with the accounts and the instruments specification window shows enough data about the trading conditions. The commission information is left out for the Zero assets but the respective amount is displayed within the Trade Terminal. As with many brokers that still have the MT4 license, ACY offers MT4 for mobile devices that run on Android and iPhone, desktop variants for Mac and PC, and a web version without any installation.
Leverage
The maximum leverage ACY offers is 1:500, although traders should know that this level depends on the balance on their accounts. Up to 5000, the leverage can be at maximum, above 5000 balance the leverage decreases to 400 and continues to decrease: above 10.000 – 300; 20.000 – 200; 30.000 – 100; 50.000 and above can only apply 1:50 leverage level. Taking this into account, we are not sure how can the leverage be 1:500 for the Pure ECN account as stated on the website that requires at least $20k initial deposit.
The leverage for Indices is 1:100 while for Gold remains at 1:500, which is high compared with other brokers. Cryptocurrencies are allowed to have 1:25 leverage as per data from the MT4. ACY has the right to change the leverage during trading and clients will receive a notification.
Trade Sizes
The minimum trade volume is in micro-lots or 0.01 lots. The volume step is also 0.01 while the maximum volume possible in one trade is set at 20 lots. For Gold and other precious metals, the maximum trade volume is set to 10 lots. This is what we usually see with brokers that offer a trading environment for high-frequency trading, allowing traders the employ precision scaling and Risk Management.
Cryptocurrencies do not follow the usual micro-lot trade sizing. The minimum trade size for crypto is 0.1 lots as well as volume steps, with a maximum trade size of 100 lots. ACY also has set stops levels that are not 0, which may not be favorable for scalpers with very tight TP/SL levels. So for example, EUR/USD has 1 pip stops level, AUD/NZD has 3 pips, GBP/NZD 5.5 pips, Gold 2.5 pips, Palladium 300 pips, BTC/USD 1 pip, etc.
Trading Costs
Trading costs will depend on the account type but also the trading style. Trading costs play a larger role the shorter a trade is. STP ECN account does not have a commission and only swaps count as a trading cost. ACY calculates swaps based in currency so EUR/USD has a -11.98 EUR for long position and 4.42 EUR for short. GBP/CHF has 2.01 long and -7.5 GBP short, AUD/CAD -2.11 long and -2.88 AUD short, etc. The swaps are under normal levels with some positive figures, mostly the USD pairs. BTC/USD swaps are also calculated in currency, in this case, USD and are very small, -1.5 USD for short and long positions. Triple swaps are applied on Wednesdays.
Zero ECN account has a $6 commission per trade. The same swaps will apply through all account types. The Pure ECN account has a $5 commission per trade as advertised, although this account seems flexible in terms of trading conditions.
Assets
Probably one of the weakest points of ACY is the modest assets range. There are 5 categories in total. We have counted 41 Forex pairs that cover all the majors and crosses. From the less common currency pairs, we found EUR/HUF, NZD/SGD, USD/CNH, USD/HKD, USD/MXN, USD/PLN, USD/TRY and Scandinavian currencies. So ACY is missing the Ruble and some combinations with the EUR, which could be important for the Asian market they try to solidify, but overall a good Forex range.

The commodities category is rather minimal. It is limited to WTI and Brent Oil while Natural Gas listed on the ACY website is confirmed missing. Precious metals have a good range with all 4 majors listed in MT4. Gold, Platinum, Silver, and Palladium offer enough variations for metals traders. The only issue is that Palladium and Platinum do not show chart history for more than 3 days.
The indices range is good with 12 total listed and as expected, focused on Asia-Pacific companies. What we have found interesting apart from the majors like S&P 500, Nikkei 225 or DJ30, is China 50, Hong Kong 50, Euro STOXX 50, Spain 40 and Australia 200.
Cryptocurrencies are present although their range will not satisfy specialized crypto-traders. Only the majors like Bitcoin, Ripple Ethereum, Litecoin and Bitcoin Cash are listed in MT4.
Spreads
ACY spreads are a variable type, competitive and for some assets are peak top in the industry, like for the spot Gold. Generally, all metals have a very competitive spread. The STP ECN account does not feature these tight spreads so EUR/USD and USD/JPY have 1 pip spread, EUR/AUD has around 2 pips, EUR/NZD, and GBP/CAD – 3 pips, SGD spread is lower – 2 pips on both, the USD and NZD, where it is present. More exotic USD/CNH has around 14 pips, USD/HUF 12 pips, And USD/PLN around 10.
Spot Gold registers around 20 pips for this account type, which Is still top tier spread. Palladium has around 4000 points spread that can be considered wide, as well as Platinum at 1040 points. The Oil spreads do not vary and are like fixed to 40 points. BTC/USD sometimes has a great 20 pips spread although it varies greatly to 100 pips. We have noticed that the spreads on this account type have a wide suppression level, meaning spreads can easily triple and shrink in a matter of seconds.

Zero ECN and Pure ECN definitely have some currency pairs at 0 spread. These are EUR/USD, AUD/USD and USD/JPY. We have counted 26 currency pairs that have the spread under 10 points although spikes are often. From the exotic pairs, the spreads were not considerably lower than with the STP ECN account, so USD/CNH has 135 points, USD/HUF 80 points, and some even had wider spreads like the USD/PLN with 15 pips. But USD/MXN has around 35 pips, much lower than 120 pips this pair had with STP ECN account.
Spot Gold and Silver had an amazing 6 pips spread, one of the best we have encountered. The Platinum and Palladium do not have any change regardless of the account type. Oil assets have a 34 point spread, behaving in a similar fixed way and 6 points tighter than the STP ECN account. Cryptocurrencies remain unchanged and share the same spread across all accounts.
Minimum Deposit
ACY has 3 account types and the most affordable is the STP ECN that requires $100 for the initial deposit. Any additional deposits cannot be lower than $100. Zero ECN has a minimum deposit of $2000 with the same $100 subsequent deposits minimum. Pure ECN is reserved for those that can afford $20000 as a minimum deposit.
Deposit Methods & Costs
ACY has integrated a nice client portal called CloudHub from MuleSoft. From there the deposit options will be displayed and this depends on the client's country. The methods available are Wire Transfer (Local and International), Credit Card and Debit Card, Skrill, Doku Wallet, and China Union Pay. ACY does not charge any fees for funding. Bank transfers that are not local will have their transaction fees.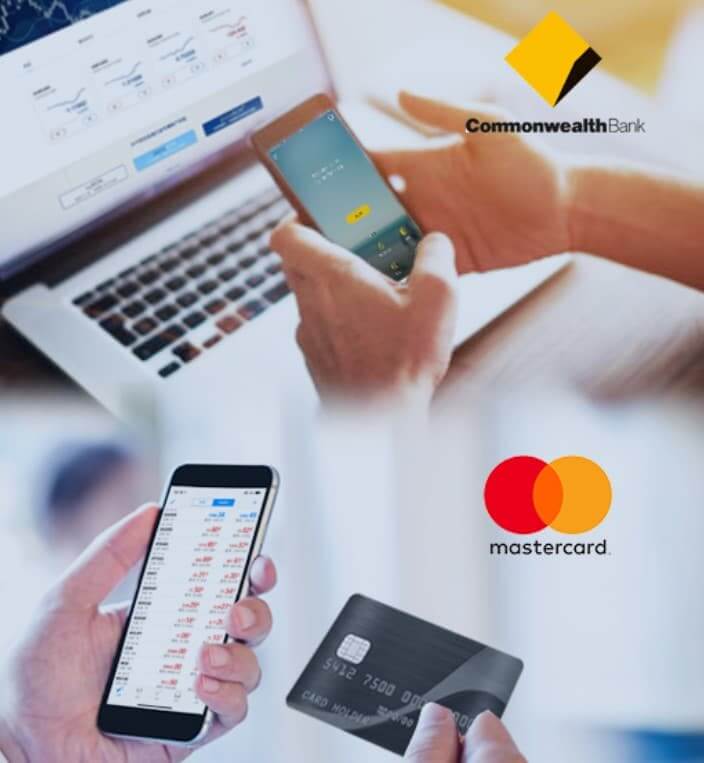 Withdrawal Methods & Costs
The withdrawal methods will be presented within the CoudHub client portal. The methods will depend on the country and will be processed in 1-2 business days, which is 1 day longer than what is the usual practice. Credit Card withdrawals are not available and it must be done via Bank Transfer. International bank transfers have a fee of $25. Skrill also has a withdrawal fee of 3%. Local bank withdrawals are free although have more than 3 requests per month will incur a $25 fee. Withdrawals requests will be processed until 14:00 AEST, any requests that come after will be processed the next business day. The minimum withdrawal is $50, and this information is not disclosed in the FAQ or the website.

Withdrawal Processing & Wait Time
Once a request has been filed from the client's portal, ACY state that the withdrawal will be processed by the company for up to two business days. After that International Bank Transfers may take up to 7 days. E-wallet withdrawal times are usually within the same day after the request has been processed by ACY.
Bonuses & Promotions
ACY has a promotion going on at the moment that enables traders to have $300 "safety net" funds in the first 7 days of trading. If traders within this period incur a loss, ACY will compensate up to $300. The compensation may take up to 3 days to come into the trader's account. If the account is another currency other than USD, then the compensation will have the following value: 250 EUR, 200 GBP, 400 AUD, 400 NZD, or 400 CAD. Compensation is done within the client's portal via support ticket under the "Safety Net Trading".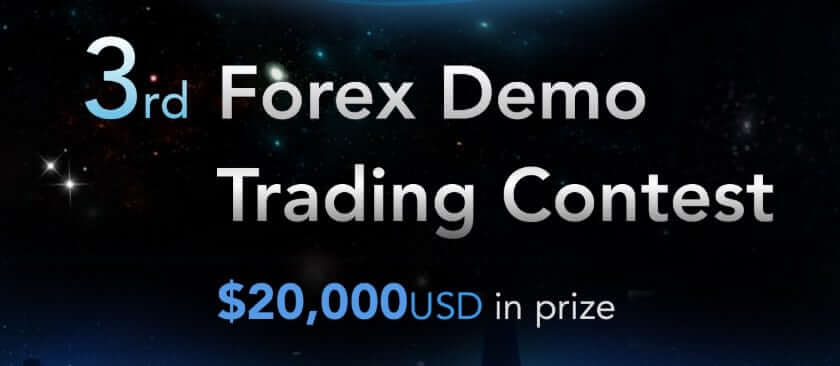 Additional trading volume requirements are set, 1 USD (0.2 standard lots), 1 EUR (0.24 standard lots), 1 GBP (0.3 standard lots), 1 AUD (0.15 standard lots), 1 NZD (0.15 standard lots), 1 CAD (0.15 standard lots). The assets applicable are Forex, Oils, and Metals. This promotion will last until the end of 2019.
Educational & Trading Tools
ACY has a good and developed educational section they regard as one of their specialties. It is split into 7 categories, Trading Contests, Webinars/Seminars, Market Blog, Video Courses, E-books, How to Trade Forex and the Economic Calendar.
Trading Contests are held for the Demo Account that gets the best return rate. The winner in 2018 had a 2449% return which was enough to win a $20.000 prize. To win, traders will employ high-Risk Management that is probably not consistent and applicable to any normal situation.
The webinars are fresh and have interesting topics like "A Live trading session for USD & Gold demonstrating high probability trades." These will include live trading sessions and the webinars continue to be released. Youtube video demonstrates some good analysis by ACY top professional Russell Sandiford.

Market Blog has three sections about the news, one not working correctly, although redundant. The news follows similar ideas and comes from the same person, Russel Stanford. Each news content is too wide and too shallow like trying to cover as many markets without saying anything useful. Russel also does the Market Analysis part which is like a studio made video report about the latest developments. The content is uploaded daily and has solid quality although it is not based on technical indicators and more on visual Price Action.
The e-book has high quality and solid structure, it describes the basics very well and has some interesting unique content, with some company marketing mixed in. ACY e-book is genuine and good for any beginner, just do not expect to learn something if you know how to trade even the basic setups.
ACY also features Trading Courses that require registration. The content has a lot of marketing mixed in between the lines but the general structure is good, explaining basic topics like Trading Psychology and so on. This service can be one on one or over the phone.
How To Trade Forex section feels like it is made just to fill out space. The content here has an appealing visual graphic that is a trait of the whole ACY website. Basic information about the process of starting a trading career is very well presented but it just scratches the surface.
Finally, the Economic Calendar has nice visuals, filters and a date bar at the top. Even it looks nice, it feels incomplete as it does not feature historic price chart, details about the even or related links. The filter is also somewhat limited to the impact level and the countries.
Customer Service
ACY customer service is mediocre. The broker is available 24/5, although the chat service is not full 24 hours available as we have noticed a few hours gaps. The representatives may need a minute or two to respond and there are only two of them. They do not have much knowledge about the company or trading and will most likely ask for your contacts. This is a common practice for the sales department that uses direct contact methods for conversion. Asking more than 3 questions will probably trigger a delayed response or closure with the ACY support email for additional questions. The broker also has a few phone lines in different regions.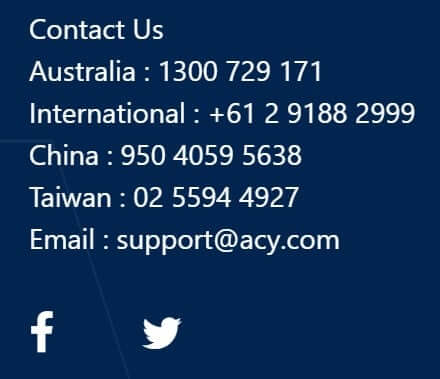 Demo Account
The Demo account will last for 30 days but it is very easy to open a new one from within the MT4 trading platform. The Demo will show STP ECN and Zero ECN account assets with respectable trading conditions for each. Leverage and the amount of virtual funds can be set and are not limited to just 50.000 as stated on the website. The demo will demonstrate ACY services very well.
Countries Accepted
ACY has Vanuatu Office that opens the door wide for many countries. The Vanuatu Financial Services Commission, of course, does not provide that same strict conditions as the ASIC does. ACY only prohibits clients from the United States.
Conclusion
This broker has an average score on the benchmarking sites with various complains about the support, ethics, trading conditions, bad review suppression, etc. Most of these come from the time when Synergy FX was still active but it looks the ACY acquisition has not changed things for the better. The main selling points are tight spreads that have a low volatility tolerance and will rise sharply.
The account types do not differ much, especially the Pure ECN that has the same spreads as the Zero ECN. The asset range is average and in some categories basic, like commodities. The execution times are also average, with some deviations. Whatsmore, if traders encounter problems they can not rely on premium support, as proven by the users' feedback. ACY, on the other hand, has something to offer to beginner traders which may be more prone to ACY marketing, education, and direct contact.
It is evident that ACY is trying hard to get a bigger customer pool on both the professionals that seek a quality trading environment and beginners hungry for more introduction into CFD trading, but it seems not enough on both sides. The local competitors like IC Markets outperform ACY in almost every aspect, thus the hurry to expand into the yet uncharted Asian market. One specific trait about ACY is that they are a very good option for Metals traders.