OMF Financial Markets is an online foreign exchange broker that recently won an award for the best cTrader broker. Located and regulated within New Zealand, they offer a wide range of services from forex to CFDs. OMF is committed to providing the best service that they can and so we will be using the review to dive deep into the services on offer to see what is really there and how they compare to the competition in this very competitive industry.
Account Types
There isn't an account comparison page so we do not have any information for this section. However, as we go through the review, in each section we will outline any potential differences if there are multiple accounts. Otherwise, all the information provided in this review will be relevant to the accounts available.
Platforms
There are a number of different platforms available, we have outlined them below along with some of their main features.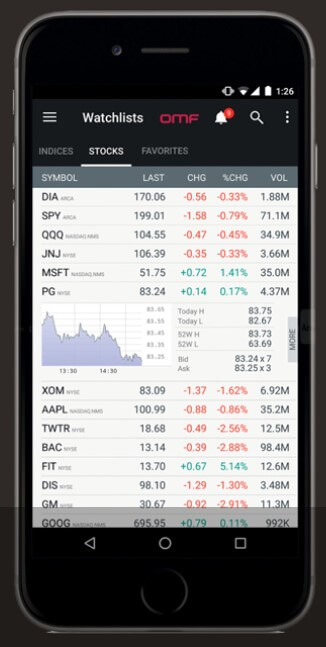 x24:
This platform offers the ability to proactively manage volatile currency markets. OMFx24 is a platform that removes the hassle from sending and receiving payments overseas. A full range of FX tools allows you to effectively manage your currency risk so that you can focus on building your business. Manage your positions, track balances or view margin requirements online. The real-time environment provides you with a complete overview of your FX account.
cTrader:
This platform gives you Straight Through Processing (STP) access to the forex market right from your own P.C., tablet or smartphone. Designed for professionals and novices alike, OMF cTrader is a groundbreaking trading tool, developed to give you secure access to major foreign exchange markets from any location. The platform is highly sophisticated yet extremely user-friendly and intuitive. The STP environment routes all your trades directly to prices aggregated from many prominent banks, avoiding the need for market maker type intervention and doing away with the potential for manipulation and re-quotes.
MarketTrader:
MarketTrader provides direct access to equity markets around the world. Trade listed equities, options, ETFs/ETNs and CFDs in multiple currencies all from the one account. Chart equities, indices, futures and options. Compare and overlay different products. Candlestick, bar and line charts are available on a 30 second to the multi-decadal timeframe. OMF MarketTrader's customizable overlays, indicators, and moving averages, with the ability to chart option implied volatility, meets the needs of the most demanding technical analyst.
CommTrade:
CommTrade provides a facility where live pricing is listed for all available carbon and electricity contracts. Access the latest spot and forward prices, options pricing and historical data across full range products that can be executed via the platform. Buyers and sellers can log in and place orders when the markets are open. Orders can be executed on a spot or forward basis. Access the information you need to stay fully informed of market developments. Our daily market commentary provides an in-depth analysis of the carbon and power markets to keep you up to date.

Leverage
While we know that the accounts can be leveraged. We do not actually know what the maximum leverage is, or if it can be changed on an already open account.
Trade Sizes
Trade sizes start from 0.01 lots and go up in increments of 0.01 lots so the next trade would be 0.02 lots and then 0.03 lots. We do not know what the maximum trade size is or how many open trades and orders you can have at any one time.
Trading Costs
There is a fees and commission page which is a little confusing. We would recommend looking at it yourself as it provides a lot of information. The one that we will point out is that when trading Forex, there is an added fee of 0.1%. Swap charges are present and are charged for holding trades overnight. They can be both positive or negative and can be viewed within the trading platform that you are using.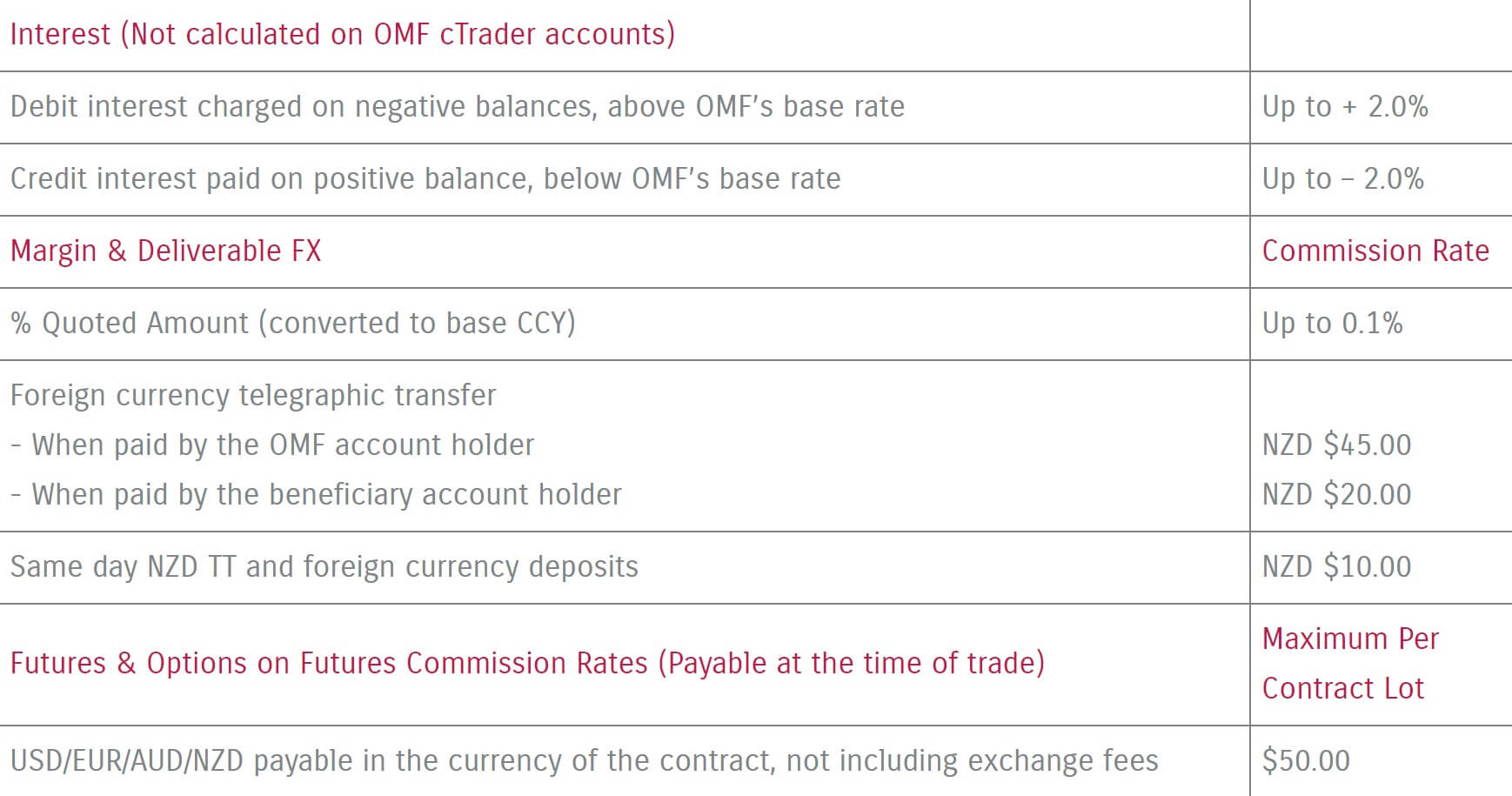 Assets
The assets have been split up into various categories of Forex, Equities, Futures, Carbon, Power, and Dairy. However, there isn't a breakdown of the available instruments within each category. This is a shame as many potential clients may want to see what instruments are available before signing up, especially if they have their preferred instruments to trade.
Spreads
The spreads will go as low as 1 pip, this is the lowest that the spreads will go and as they are variable spreads they will often be seen higher as they are influenced by the markets. Different instruments will also have different spreads so while one may be as low as 1 pip, others may not go any lower than 2 pips.
Minimum Deposit
The minimum deposit amount required to open up an account is 10,000 NZD which is a little high and could price out a lot of newer traders. We do not know if this amount reduces once an account has already been opened.
Deposit Methods & Costs
You are only able to deposit using Bank Wire which can limit the number of potential clients as people often like to use other methods. The FAQ states that OMF does not charge for any deposits, but you should check with your own bank or processor to see if they add any charges of their own.
Withdrawal Methods & Costs
The same method is available to withdraw with, so just Bank Wire Transfers. Just like with the deposits, OMF does not charge when withdrawing your funds from them. You should also check your own bank for incoming processing fees.
Withdrawal Processing & Wait Time
All withdrawal requests are processed the same day as they are requested, if not then they will be processed on the next working day. It will then take between 1 to 5 working days for your request to fully process depending on the processing speed of your own bank.
Bonuses & Promotions
It does not seem that there are any active bonuses or promotions. There is also no evidence that there have been any in the past.
Educational & Trading Tools
There are four pages that equate to the educational side of the site. The first are some webinars. We do not know how often these occur but the past once is available to watch on the site. They go over different aspects of trading and analysis. The next is Seminars, you will need to contact the support team to book and will need to live in New Zealand to attend. There are some videos about forex and trading however they have not been updated since August 2019. The final page has some financial reports, outlining what has happened in the past and also what they feel could happen in the future.
Customer Service
The customer service team is available 24 hours a day 5 days a week and is closed over the weekend and on bank holidays. They have departments in Aukland, Wellington, and Sydney and they provide a postal address, telephone number and email address for each one.
Auckland
Address: Level 2, 37 Galway Street, Britomart, Auckland
Phone: +64 9 520 9310
Email: info@omf.co.nz

Demo Account
Free demo accounts are available for the cTrader platform, you can signup form on the site with a simple form. The demo account allows you to test out the trading conditions (that we have mentioned throughout this review) and strategies without risking any of your own capital.
Countries Accepted
This information isn't available, but it seems like OMF is aiming their services more towards those that are living in New Zealand. However, if you are interested in joining, we would recommend contacting the customer service team to ensure that you are eligible for an account.
Conclusion
OMF is aiming its services towards the New Zealand trading community. The minimum deposit if 10,000 NZD which can price out newer traders. There is also just one way to deposit which can be a little limiting. In terms of the trading conditions, the spreads are acceptable, but the commissions have been put in such asway that it can be a little confusing as to how much you will pay. This isn't made any better with the lack of product specification or breakdown, so we do not really understand how much it will cost and also not what we can actually trade. There are plenty of ways to contact the customer service team which is a plus.