"ROInvesting was born from a simple idea: harness all the benefits of technology to create the most favorable experience for traders of all levels. We employ the latest innovations not only for our trading platform but also for our service, education center, analysis tools, market alerts, and many other products. If you're an ambitious person looking for a platform that collects all the benefits under one roof, it's definitely ROInvesting!" That is what ROInvesting a Cyprus based forex broker regulated by the Cyprus Securities and Exchange Commission (CySEC) says about itself. We will be using this review to look into the services being offered to see if they do indeed manage to live up to this statement.
Account Types
There are three different accounts available, we will briefly outline them, there isn't too much information present on the accounts pages so we will outline any differences as the review goes on.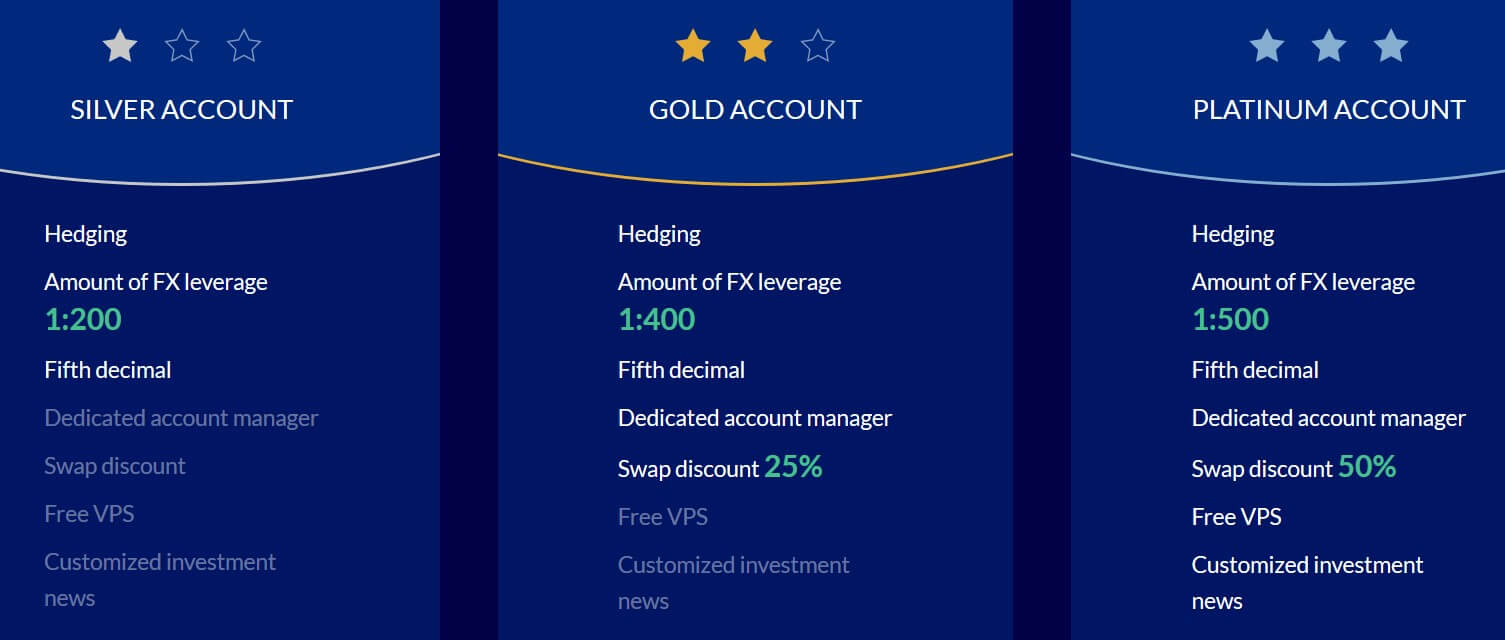 Silver Account: This account comes with leverage up to 1:200 and hedging is allowed.
Gold Account: This account can be leveraged up to 1:400 and hedging is also allowed. The account also comes with a dedicated account manager and it has a swap discount of 30%.
Platinum Account: The platinum account comes with leverage up to 1:500, hedging is also allowed and it comes with a dedicated account manager. The account also has a 50% swap discount, a free VPS and customizes investment news.
Islamic account sare also available should you require one.
Platforms
Just the one platform is available that is the popular MetaTrader 4 (MT4). It has a whole host of features designed to make your trading life easier, some of these include lightning-fast execution, a variety of trading modes, technological trading tools, trade history, multiple chart windows, real-time balance levels, automatic stop loss / take profit functions, in platform price alerts, 1 click account switching, inherent platform support and live chat. The platform is also accessible from anywhere as it comes as a desktop download, mobile application and web trader.
Leverage
ROInvesting follows guidelines from the ESMA which is the following:
Limits on the opening of a position by a retail client from 30:1 to 2:1, which vary according to the volatility of the underlying:
30:1 for major currency pairs
20:1 for non-major currency pairs, gold, and major indices
10:1 for commodities other than gold and non-major equity indices
5:1 for individual equities and other reference values
2:1 for cryptocurrencies
These limits are removed and leverage can go as high as 1:500 if you are considered a professional trader which means you will need to have assets of at least $500,000.
Trade Sizes
Trade sizes start from 0.01 lots (known as a micro lot) and go up in increments of 0.01 lots. We do not know what the maximum trade size is but you should avoid trading over 50 lots in a single trade, it is also not clear to us what the maximum number of open trades you can have at any one time is.
Trading Costs
There are no added commissions when trading with ROInvest, they have made that clear, the account uses a spread based system that we will look at later in this review. There are however swap charges, these are fees that are charged for holding trades overnight and can be viewed within the MetaTrader 4 trading platform.
Assets
The assets have been broken down into different categories that we will now look into.
Forex: EURUSD, GBPUSD, USDJPY, AUDUSD, EURCHF, EURGBP, NZDUSD, EURJHPY, USDCAD, USDCHF, AUDCAD, AUDCHF, EURSGD, AUDJPY, AUDNZD, CADCHF, CADJPY, CHFJPY, EURAUD, EURCAD, EURNZD, GBPAUD, GBPCAD, GBPCHF, GBPJPY, GBPNZD, NZDCAD, NZDCHF, NZDJPY, EURDKK, EURHUF, EURNOK, EURPLN, EURSEK, EURTRY, USDDKK, USDHKD, USDHUF, USDMXN, USDNOK, USDPLN, USDRUB, USDSEK, USDTRY, USDSGD, USDZAR, USDINR, GBPZAR, GBPTRY, EURZAR
Metals: Gold and Silver
Indices: ASX 200, BIST 100, CAC 40, China Enterprise 40, DAX 30, DOW 30, Euro Stox 50, FTSE 100, Hong Kong 50, IBEX35, NASDAQ 100, Nikkei 225, OMXS 30, South Africa 40, SP 500, TA 35, TADAWUL, US dollar Index, Volatility Index
EFTs / Commodities: Brent Oil, Cocoa, Coffee, Copper, Corn, Cotton, Crude Oil, Natural Gas, Orange Juice, Palladium, Platinum, T.B.O.B Gasoline, Soy Benas, Sugar, Wheat
Cryptocurrencies: Cardano, Babel, Bitcoin SV, Bitcoin, Bitcoin Gold, Dashcoin, Ethereum Classic, Ethereum, IOTA, Lisk, Litecoin, NEO, Quantreum, Swisscoin, Tether, NEM, Stellar, Monero, Ripply, Verge, Zcash
Stocks: Plenty of stocks are available, there are US Stocks, European Stocks and Australian Stocks available to trade.
Spreads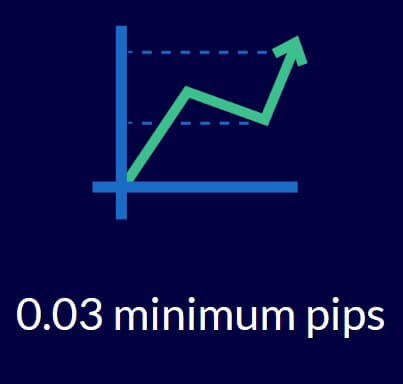 While we know that the account uses a spread based system, if we take EURUSD the following spreads have been stated as starting levels, the Silver account has spreads starting at 2.8 pips, the Gold account has spread starting at 2 pips and the Platinum account has spreads starting at 1.8 pips. These are just the starting numbers and as the spreads are variable they will move up and down, the more volatility in the markets the higher they will be. Different instruments also have different spreads as while EURUSD may be starting at 2.8 pips on the Silver account, AUDJPY on the same account starts at 8.5 pips.
Minimum Deposit
We, unfortunately, we do not know what the minimum deposit requirement is or what is required to open up any of the accounts.
Deposit Methods & Costs
There doesn't seem to be a page dedicated to funding methods, however, throughout the site, there are various images referring to payment processors, these include Visa, MasterCard, Skrill, Neteller, SafeCahrfe, Trustly, INPAY, Paysafe, PowerCash and Payvision. We cannot confirm if all of these are available, but it would be strange if the images are there any and they are not accepted. We are also not clear on any fees that may be changed, but be sure to check with your own bank or processor to see if they add any of their own.

Withdrawal Methods & Costs
Just like with deposits, the information is not there, we expect the same methods of Visa, MasterCard, Skrill, Neteller, SafeCahrfe, Trustly, INPAY, Paysafe, PowerCash and Payvision are available to withdraw if they are for depositing. We also do not know of any potential fees for withdrawing but as usual, check with your bank for any incoming transfer fees.
Withdrawal Processing & Wait Time
Once again, this information is not there, we would expect them to process requests within 48 hours and so it will take between 1 to 7 days for your withdrawal request to fully process depending on the methods used.
Bonuses & Promotions
It does not seem like there are any active promotions or bonuses at the time of writing this review, this does not mean that there won't be any so if you are interested in them, check back regularly or contact the customer support team to see if there are any coming up that you can take part in.
Educational & Trading Tools
There are a few different aspects to the educational side of the site, firstly, is a page of articles, these outline different aspects of trading and strategies. There is also a video section, which has videos on different aspects of trading such as risk, and emotional trading. The next section is about ebooks there seem to be quite a few of them which cover subjects like beginners' strategies and trading terms. Along with the ebooks are some course which goes over a lot of the same subjects but in a different format. There is then an economic calendar that details upcoming news events and any potential effect they could have on the markets. The account page shows that there is a free VPS, however, we couldn't find any details on this.

Customer Service
If you wish to contact the customer service team you can do so in a number of ways, we are not fully clear on the operating times but expect them to be closed over the weekends and on bank holidays.
You can use the online submission form to fill in your query and then get a reply via email, or you can use the live chat feature. There is also a postal address, email address and a phone number available to use.
Address: City home 81, 3rd floor, 128-130 Limassol Avenue, 2015 Strovolos, Nicosia, Cyprus.
Phone: +80050026003
Email: support@roinvesting.com
Demo Account
We did not see any information surrounding demo accounts so it does not appear that there are any, demo accounts are great as they allow people to test out the markets and new strategies without any risk to their capitals. It would be good for ROInvesting to add demo accounts to their service if they aren't available (we may have just missed them).
Countries Accepted
The information on which countries are allowed and which are not is not stated on the site so if you are interested in signing up, we would recommend contacting the customer service team to check your eligibility before doing so.
Conclusion
ROInvesting offers three different accounts, the only difference between them seems to be the spreads and a couple of other features, but not much when it comes to trading conditions. Sadly the trading conditions on offer are quite expensive, the spreads start as high as 2.8 pips which can make trading rather expensive. There is also a lack of information on deposit and withdrawal methods, with the only information being some images, fees are also not known which is vital information for potential clients. Not having that information available is enough for us to suggest looking elsewhere for a broker to use.