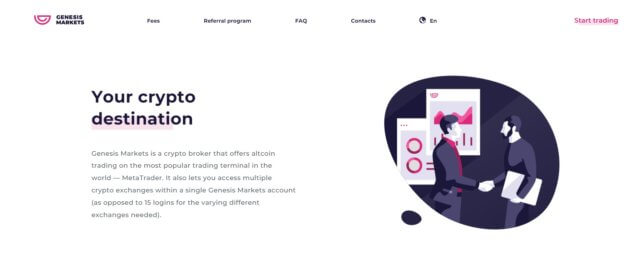 Genesis Markets caters to crypto and blockchain enthusiasts. It offers competitive order placements that will only execute at your desired price level. In addition, this broker's GVT wallet utilizes state-of-the-art blockchain software and allows users to enjoy lucrative commission discounts. As is the case with many other brokerage firms, Genesis Markets has its own pros and cons. However, if you are a crypto trader who values innovative technology and advanced order execution tools, this broker is worth considering. To find out more about them, read this article and learn all that you need to know in order to evaluate Genesis Markets yourself.
Account Types
You can open either an individual account or a corporate one through Genesis Markets. Individual accounts are for retail traders who want to invest their own funds. Meanwhile, the corporate account is for companies that want to grow their firm's capital through trading in the financial markets. Generally speaking, commissions and other trading conditions are the same for both the individual and corporate accounts.
Minimum Deposit: NA
Spreads: NA
Commission: 0.3% the trade volume; 0.15% (for BitCoin and Etherium); 30% to 55% discount for GVT holders.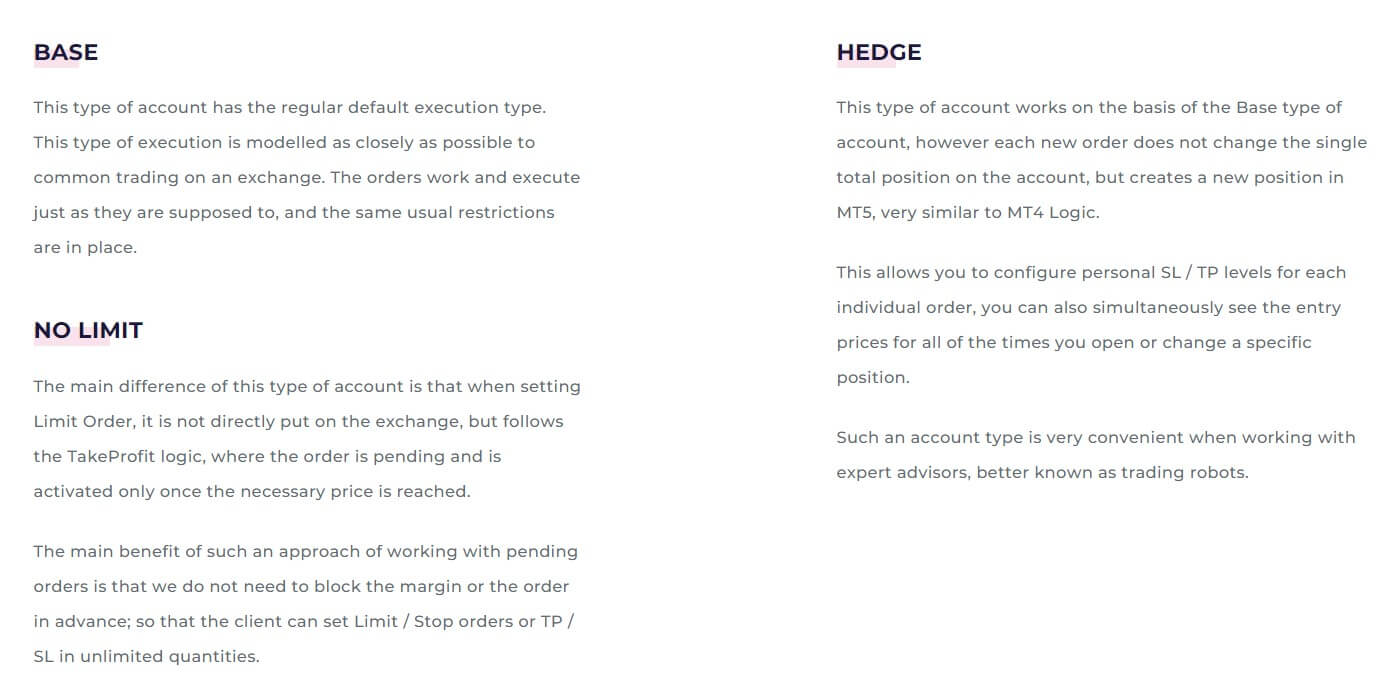 In order to make a deposit, you must fund your account via Bitcoin, Etherium, or GVT (Genesis Version). The latter is a blockchain platform that allows you to manage money and trusts. Unfortunately, traders can't make deposits in fiat currencies, which is far from ideal from those who prefer to hold their funds in cash (such as the USD, GBP, or Euro).
Apart from individual and corporate, Genesis Markets offers 3 account types: Base, No Limit, and Hedge. All of them have the same commissions, access to financial instruments, and trading platforms. The only difference between them is that No Limit and Hedge offer more advanced order execution processes than the Base account does.
Platforms
MetaTrader 5 (MT5) is a reliable, advanced, and incredibly popular trading platform. All of Genesis Markets's account holders use MT5 to manage their trades, open or close positions, deposit funds, and make withdrawals. This can be done on your desktop browser and smartphone device, whether it's an iPhone or Android. Genesis Markets will provide traders with their login info after they register. Moreover, those who already have MT5 accounts through other brokers can still create one that is connected to their Genesis Markets portfolio.
In fact, the platform allows users to open an unlimited number of accounts. Some of MT5's most popular features include its variety of chart timeframes, a wide selection of technical indicators, and an aggregated live newsfeed. You can also code and program your own automated trading robot, which would enter/exit positions if it they meet your required conditions and predetermined algorithms.
Leverage
If you have the No-Limit type of account, your limit orders will not show up on the trading platform. Instead, these orders will only be processed and executed when your desired price level is reached. This allows traders to use their margin more comfortably, especially because limit orders do not restrict their purchasing power until they are executed. In other words, this process ensures that the appropriate amount of margin is used and minimizes risks or losses. For example, if your leverage is 100:1 and your account balance is $1,000, then you have up to $100,000 in buying power.
Let's assume that you already used $80,000 of it and have $20,000 remaining. Through the No Limit Account, you can place multiple orders at the same time that may be worth more than your $20,000 available margin. However, Genesis Markets will only execute the ones that reach your desired price level. These positions, after being filled, will take up the remaining margin. The rest, on the other hand, are canceled when all of the buying power/leverage is used up. In short, not only do you get your preferred price, but you also place multiple orders and wait for the right ones to fill (as opposed to canceling each order individually in order to free up some margin and place new trades).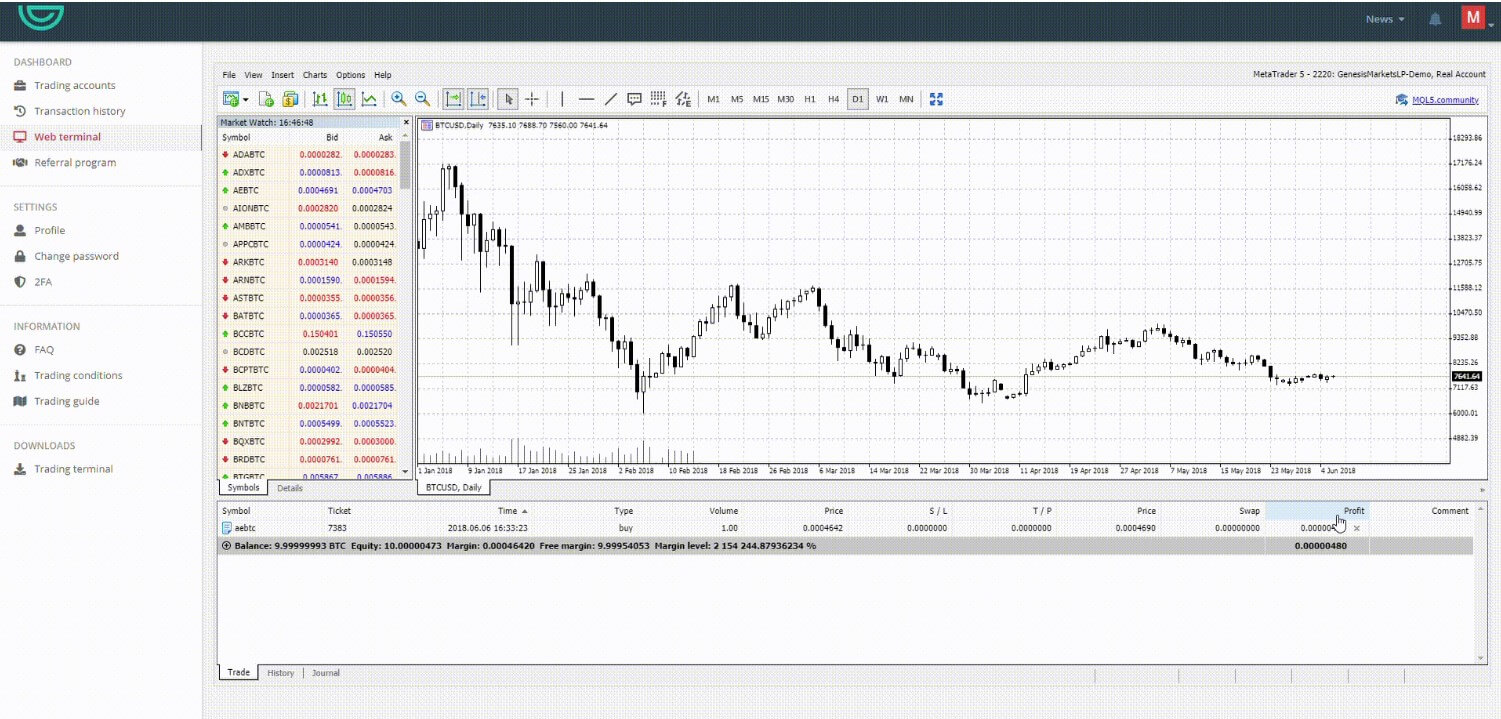 Trade Sizes
For BCC.USDT (Bitcoin Cash vs. Tether USD), BTC.USDT, and ETH.USDT, the standard lot size is 0.0001. All other cryptos, on the other hand, have a lot size that equals 1 coin of the cryptocurrency. Unfortunately, Genesis Markets offers limited information about its leverage, margin requirements, or stop-out level.
Trading Costs
Because this broker prioritizes executing orders at the desirable level, the costs associated with wide spreads are contained. However, you still have to pay commissions on each trade. If you open a BTC or ETH position, the commission rate is 0.15% the volume. For example, if you invest $10,000 in BTC.USDT, Genesis Markets will charge you $15 (0.15% of $10,000) for that trade. The fee only applies to one side of the trade and you will have to pay another $15 commission when you close the position. The total for each fully completed, round-trip trade is 0.3% of the transaction's volume (or $30 for the BTC.USDT example above).
Having said that, there are plenty of discounts that you might be able to qualify for if you purchase Genesis Vision Tokens (GVTs). A GVT is a decentralized platform that connects investors with different markets and exchanges through blockchain. Genesis Markets will give you a commission discount based on the size of your GVT holdings.
1 to 10 GVT: 0.21% commission (30% discount)
11 to 25 GVT: 0.195% commission (35% discount)
26 to 50 GVT: 0.18% commission (40% discount)
51 to 100 GVT: 0.165% commission (45% discount)
101 to 500 GVT: 0.15% commission (50% discount)
501+ GVT: 0.135% commission (55% discount)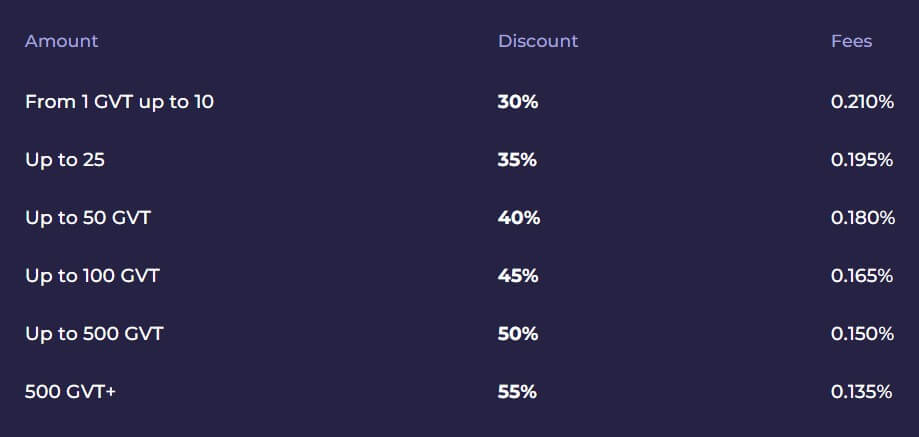 Assets
Traders can access all of Genesis Markets's financial instruments and exchanges. This includes cryptos and several ForEx pairs. At the moment, Binance, Huobi, and LMAX Digital are the main liquidity providers that this broker works with. However, Genesis Markets plans on expanding the list in the near future.
Spreads
Even though Genesis Markets's website doesn't mention anything about the spreads, there are two things that traders should keep in mind. First, cryptocurrencies may have a larger spread than paper/fiat forex pairs, especially because digital assets are more volatile. The spread is even bigger when a broker follows a floating/live market spread. Second, regardless of whether the bid/ask gap is floating or fixed, limit orders can largely offset undesirably wide spreads. Through Genesis Markets's No Limit and Hedge account types, traders only buy/sell at their specified price. However, those who are interested in the Base, which executes trades based on live quotes, may want to contact the broker and get more information about the spreads that are associated with this type of account.
Minimum Deposit
Genesis Markets don't seem to have (or at least mention) the required minimum deposit to open an account. To qualify for the commission discounts, though, traders must purchase at least 1 GVT.
Deposit Methods & Costs
To fund your Genesis Markets account, you need to provide the link or QR code of your cryptocurrency wallet. Deposit requests are made online through your trading account's menu. The amount it takes for transactions to process will largely depend on how busy the network is. When there are fewer deposit requests, transfers go through quickly. Genesis Markets doesn't specify its deposit fees on the website.
Withdrawal Methods & Costs
Both deposits and withdrawals must be made via Bitcoin, Ethereum, or GVT. Genesis Markets doesn't accept transfers in fiat/paper money (such as USD, EUR, and GBP). The minimum withdrawal amount per transaction is 0.44 GVT, 0.002 BTC, or 0.02 Ethereum. Fees are determined by the blockchain system and the most updated transfer costs are available on Genesis Markets's website. They are 0.22 GVT, 0.0005 BTC, and 0.01 ETH per withdrawal.
You can also transfer money between your different Genesis Markets or GVT wallets. Doing so comes with a 1% charge per transaction, alongside any losses caused by the fluctuations in the exchange rate (as determined by Crypto Compare).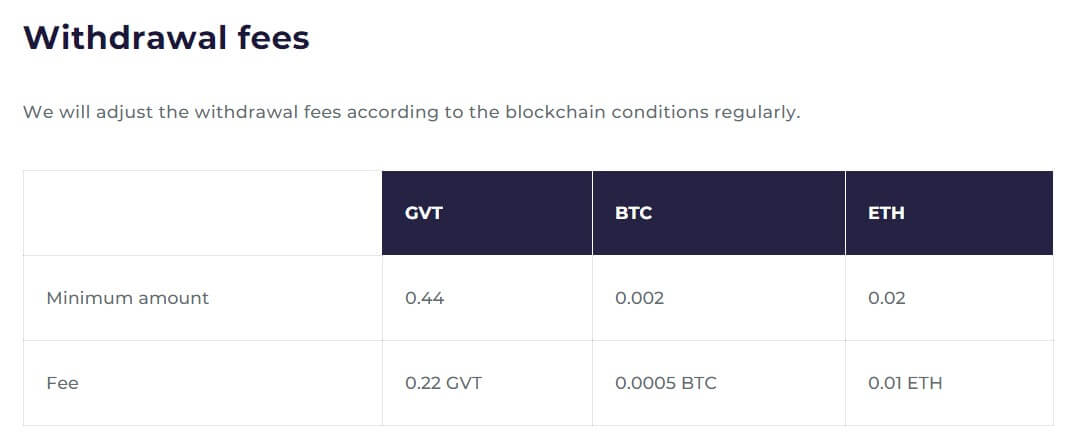 Withdrawal Processing & Wait Time
To withdraw funds, you need to fill out a request form and confirm your email (via a verification link). Afterward, the processing time will begin. Transactions are filled on a first-come-first-serve basis and each transfer is processed within 3 days.
Bonuses & Promotions
Genesis Markets has a referral program that allows account holders to earn money on each trade that a family member or friend executes. After signing up, traders are provided with a direct email link or a social media URL that they can use to invite people to open an account with the broker. From there, you will receive a rebate on each trade that your referral executives. The amount of the bonus depends on the volume of each order. Trades that are less than $1 million in volume award you with 0.03% the trade volume. The rebates for trades with a $1 million to $3 million volume are 0.04%. Lastly, when your referral opens and closes a position that is worth $3 million or more, you earn 0.05% in rebates.
Educational & Trading Tools
This broker's educational content is limited to its Trading Guide FAQ. It seems to be mainly designed for beginner traders, showing them how to open an account, place an order, add tickers to their watchlist, and buy/sell currencies. Similarly, Genesis Markets's Trading Guide goes over the different chart timeframes and order types. Nonetheless, MT5, in itself, has its own advantageous educational material and trading tools, alike. All account holders can access and benefit from them. In fact, Genesis Markets seems to rely on MT5's offerings and is directing traders towards the platform.
On MT5, there are many educational materials and informative content that help new participants understand the forex markets better. Moreover, MT5's guides can walk you step-by-step on how to use the platform. As far as tools are concerned, MT5 is rich with different charting timeframes, unique technical indicators, and breaking news notifications that are directly sent to the trader's phone. You can also access economic calendars, research reports, and analytical articles.
Customer Service
Genesis Markets can only be contacted via email. However, they might have different commutation methods (such as a phone number) for account holders. Their website doesn't mention the hours of service or the availability of customer support specialists.
Email: support@genesismarkets.io
Phone: NA

Demo Account
When opening a paper portfolio, you can choose your default currency and immediately start trading paper money on MT5. Demo accounts view live market quotes and trade under actual market conditions. Moreover, they are exposed to the same tools and features as real accounts. Demos are useful for new traders who want to test their strategies and practically learn about the forex exchanges before putting their money at risk. If you are used to MetaTrader 4/MT4 (MT5's still widely used older version) or any other platform, a demo helps you transition more smoothly while minimizing the risk of making an error (such as placing the wrong order type or not understanding how a certain tool works).

Countries Accepted
Genesis Markets doesn't mention anything about country limitations on their website. However, needless to mention, many governments have restrictions on trading cryptocurrencies and digital assets. For example, the United States' regulators don't recognize cryptos as financial instruments and, as a result, many brokers who offer them can't work with American traders. Other countries also approach cryptos in their own ways, which can be very lenient or incredibly restrictive. For those who are interested in Genesis Markets, the only way to find out if they are authorized to work with account holders in their country is by contacting customer service directly. You should also ask about possible rules that may govern their GVT offering.
Conclusion
In short, the main positive aspects of using Genesis Markets include the technologically advanced tools, access to diverse digital assets, and competitive order execution methods that guarantee a desirable buy/sell price. This broker's negatives, on the other hand, are the unpredictable transfer processing times, lack of clarity about certain areas (such as minimum deposit requirements), and the commissions.
However, in most cases, brokers who charge trading fees have minimal or no spreads and low or nonexistent general costs. Since Genesis Markets works with multiple liquidity providers and pricing platforms, their commissions may be the only type of cost that traders have to incur. In fact, this is even more so the case when there are reliable liquidity providers and traders place limit orders.
Their various account types access the same assets, features, and market conditions. The only differences between them are related to the way that orders are filled. No Limit and Hedge can place limit orders that only execute at a specified price level. The latter is even designed for traders who want to program their own robot, which would automatically open/close positions if they meet a set of predetermined conditions and algorithmic correlations.
The Base Account, meanwhile, may have less favorable order processing features. Nevertheless, we find that many of Genesis Markets' tools, platforms, and technology offerings are both desirable and competitive in comparison to other crypto brokers. Yet, because certain elements are absent from Genesis Markets's website (such as the spreads and minimum deposit), we encourage interested traders to get in touch with customer service and find out of these offerings match what they are looking for.