FinMArket is a forex broker based in Cyprus and regulated by the Cyprus Securities and Exchange Commission ("CySEC"). They don't offer too much information about themselves, just that they value regulation, security, support, and trading platforms. In this review, we will be looking into the services that are being offered to help you decide if FinMarket is the right broker for you.
Account Types
There are 5 different accounts to choose from should you sign up with FinMArkets, each one has its own requirements and features so let's take a look at what they offer.

Silver Member: The silver account requires a minimum deposit of $250, this account offers variable spreads starting at 4 pips, there is no commission on this account and has leverage up to 1:30, the account also allows hedging and the use of expert advisors.
Gold Member: The gold account requires a minimum deposit of at least $5,000, this account has slightly reduced spreads which now start at 3.4 pips. The account gets a commission discount (in this case spread) of 14% and is available to use the MT4 trading platform, this account also has a leverage up to 1:30.
Platinum Member: The platinum account further increases the minimum deposit which now sits at $20,000, with this increase in deposit the spreads have reduced further and now sit at 1.1 pips as a starting position. This account gets a 65% discount on the spread and is available on the MetaTrader 4 platform, just like the previous accounts this one has leverage up to 1:30.
Diamond Member: The diamond account brings the minimum deposit up to $50,000 which now prices out a lot of retail traders, this increased deposit gives account holders a 75% discount on spreads as they now start at 0.9 pips. Similarly to the previous accounts, the leverage remains at 1:30 and the account can use MetaTrader 4 as its trading platform.
Elite Member: The top tier account and something a lot of us could only dream of, this account requires a minimum deposit of $250,000, yup you heard that right. This account reduces the spreads by 85% and they now start at 0.8 pips. All other features remain the same with 1:30 maximum leverage and MT4 as the trading platform.
Platforms
FinMarkets offer MetaTrader 4 as their only trading platform, so let's take a look at what it brings to the table.
MetaTrader 4 (MT4): MetaTrader 4 (MT4) is one of the world's most popular trading platforms and for good reason. Released in 2005 by MetaQuotes Software, it has been around a while, it is stable customizable and full of features to help with your trading and analysis. MT4 is compatible with hundreds and thousands of different indicators, expert advisors, signal providers and more. Millions of people use MT4 for its interactive charts, multiple timeframes, one-click trading, trade copying and more. In terms of accessibility, MT4 is second to none, available as a desktop download, an app for Android and iOS devices and as a WebTrader where you can trade from within your internet browser. MetaTrader 4 is a great trading solution to have.

Leverage
The maximum leverage being offered to all accounts is 1:30, it is low due to the regulations put upon FinMarkets. Leverage can be selected when opening up ana account, should you wish to change it on an already open account then you will need to ensure that there are no open trades and then get in contact with the customer service team.
Different instruments have different leverages available, and here is a breakdown:
Forex Pairs: 1:30
CFDs: 1:20
Stocks: 1:5
Indices: 1:20
Commodities: 1:10
Cryptocurrencies: (not stated)
Trade Sizes
Trade sizes with FinMarket start at 0.01 lots which are known as micro-lots. Trades then go up in increments of 0.01 lots so the next trade would be 0.02 lots and then 0.03 lots. We could not locate information on the maximum trade size, however, no matter what it is we would not suggest trading over 50 lots in a single trade as it becomes increasingly harder for the markets and liquidity providers to execute trades quickly and without any slippage the bigger they get.

Trading Costs
All accounts with FinMarket use a spread based system that we will look at later in this review. There are no commission-based accounts. Swap charges are present, they can be both positive or negative and are charged for holding trades overnight, these can be viewed directly within the MT4 trading platform.
Assets
FinMarket has broken down its assets into 6 different categories.
Forex Pairs: 30+ different currency pairs including majors, minors and exotic pairs. Leverage on forex currency trading has a maximum leverage of 1:30.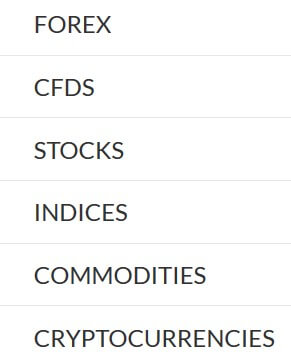 CFDs: There is a large variety of CFDs at FinMarket, they are further broken down into other categories including trade currencies, commodities, crypto, stocks and indices, CFDs have a maximum leverage of 1:20.
Stocks: There isn't an exact number of Socks stated on the site but instead a list of a few of them including Apple, Goold,e Alibaba, Coca Cola, Amazon and a few more. You can have a leverage up to 1:5 when trading stocks.
Indices: You can trade all major indices with FinMarkets including S&P 500, NASDAQ 100, FTSE 100 and Nikkei 225. When trading indices you have a maximum leverage of 1:20.
Commodities: The most popular commodities are available including Gold, Silver, Coffee, and Crude Oil, there isn't a full breakdown of assets but it does state that there is maximum leverage of 1:10 when trading commodities on FinMarket.
Crypto: The most popular cryptocurrencies are available to trade on FinMArket including Bitcoin, Bitcoin Cash, Bitcoin Gold, Ethereum, Ethereum Classic, Ripple, Litecoin, Dash and Monero. The leverage on crypto is not stated on the crypto page of the website.
Spreads
The spreads that you receive are dependant on a few factors including the account you use and the instrument that you are trading, if we look at EUR/USD, the silver account has a starting spread of 4 pips, the gold is 3.4 pips, the platinum is 1.1 pips, the diamond 0.9 pips and the elite account has a starting spread of 0.8 pips.
All spreads are variable which means that while they state 0.8 pips as an example, they will often be seen higher than this as it is simply the starting point, during times of high volatility the spreads will be much higher.
It is also worth noting that different instruments have different natural spreads, while on the Standard account EUR/USD may have a starting spread of 0.8 pips, USD/CAD will have a starting spread of 1.2 pips.

Minimum Deposit
The minimum deposit amount required to open an account is $250, this will get you the Silver account, if you want a different account then your initial deposit will need to be bigger. There isn't any further information regarding deposits such as a reduced top-up minimum or anything like that.
Deposit Methods & Costs
The deposit methods are not clearly indicated on the website, there is a simple image of a number of processors such as Visa, MasterCard, Maestro, Wire Transfer, Skrill GiroPay and Neteller, but there isn't a dedicated deposit/withdrawal page with information. This is very disappointing as it is vital for potential clients to know how their money will be handled and what costs there may be for depositing (and withdrawing).

Withdrawal Methods & Costs
Just like the deposits, there isn't any information about withdrawals, we would be assuming that the same methods listed above would be available for withdrawals as they all have that function, however, we are not able to say for sure. Just to reiterate that it is a shame that this information is not available as it is so important.
Withdrawal Processing & Wait Time
The only information that we have is that withdrawals are processed within 48 hours, there isn't any more information. We can state that Visa and MasterCard withdrawals will take 1 – 5 business days and bank transfers 2 – 5 business days after they are processed but not much more than that.
Bonuses & Promotions
Looking through the FinMarket website we did not locate any information regarding any bonuses and promotions so it does not look like there are any active at the moment, if you are interested in bonuses then be sure to check back at a later date to see if any have come up.
Educational & Trading Tools
FinMarket has a tools section of their website which has some basic help in regards to trading. There is a news video feature which gives daily news on what is happening around the world, we could not view a video as you are required to have an account to view it. There is also an economic calendar that gives basic information about upcoming news events and which markets they may affect. Finally, there are webinars, however, loading up the webinar page it displayed a blank page with just a risk warning and no actual content.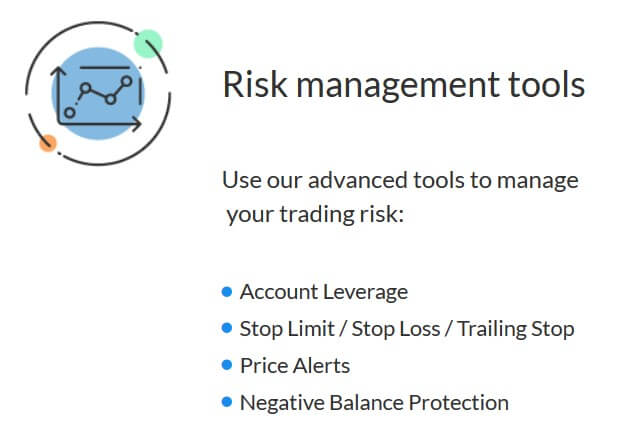 Customer Service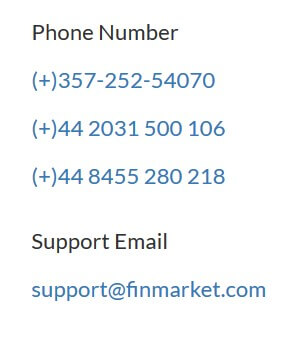 Should you have any questions of queries for FinMarket you can get in touch with them using an online submission form, this is a form where you fill out a query and should then get a reply via email. There is also a phone number to ring with is open Monday to Friday between 9L00 am and 9:00 pm. Finally, there are 3 different emails, one for support, one for finance and KYC issues and one for compliance issues and complaints. It appears that the support is open 5 days a week and is closed over the weekend when the markets are closed.
Demo Account
We went all over the site but did not locate any information about a demo account and could also not locate a way to open one so it appears that they are not available. This is never a good sign for us as many potential clients will use demo accounts to check what the trading conditions are like and current clients may want to test out new strategies without risking their own capital. So it would be beneficial for FinMarket to add in demo accounts.
Countries Accepted
The following statement is present on the FinMarket website: "K-DNA Financial Services Ltd does not offer its services to residents or passport holders of certain jurisdictions such as Azerbaijan, Moldova, New Zealand, Hong Kong, Singapore, Macau, Belgium, Sudan, USA, Syria, North Korea, Israel, Canada, Myanmar, and Australia ." If you are unsure, be sure to get in touch with the customer service team to find out if you are eligible for an account or not.

Conclusion
FinMarket start of their set of accounts with an accessible account which sadly has terrible spreads, we would not recommend anyone trade with spreads starting at 4 pips, in order to gen an account with acceptable spreads toy will need to deposit at least $20,000 which will price out a lot of potential clients. This couple with the fact that there is so little information about deposits and withdrawals, one of the most important parts of a broker considering we are giving them our hard-earned money can make them very difficult to recommend. Lots of tradable assets including crypto is a big plus, but is it enough for you to give them your money to trade with?