JAFX belongs to the new age broker types where the focus is put on cryptocurrencies, not just as a trading asset by also as the method of doing financial transactions. Located in Saint Vincent and the Grenadines, JAFX started in 2016 as a team of traders that have recognized the cryptocurrency as the future form of money and utilize the advantages for deposits and withdrawals. As they want to deliver "by traders for traders" experience by knowing what are the main issues and deliverables, JAFX set the right conditions for fast trading strategies. These strategies require low spreads and fast executions the broker aims to deliver.
JAFX website is well designed, without any redundant content. The first thing traders will see are the key figures important for any trader, such as the leverage, assets range, minimum deposit, and trade sizing. The idea of Bitcoin and crypto is the absolute freedom for the capital flow globally, but to support this, trust has to be established. The broker foreseeing this has established automated deposit systems and numerous security protocols.
This JAFX review will give readers insight into what level of service and trading conditions can be expected when trading with this broker.

Account Types
There are no special packages offered. Opening an account any trader will have the best what the broker can offer for a very low minimum deposit. The account opening process will require your email, phone and additional KYC (Know Your Client) documents such as Photo/scan of Utility Bill, Bank Statement, etc for confirming your address, and Photo/scan of Passport, Driving License or National ID card. As for privacy concerns, none of this information is shared with third parties, also stated in the JAFX Privacy Policy document.
To register a Corporate Account, traders will need to go to a different portal, portal.jafx.com/account/live, where the account type can be selected as well as other specifics like the language, managed or simple trading account, etc. Therefore, JAFX supports MAMM and PAM accounts. It is probably possible to have custom conditions account as the broker states it is open for tailor-made solutions.

Islamic account is offered for 3 types of trading instruments. For forex, swaps are substituted with administration fees so it is according to the Sharia law. Metals trading is backed up with real bullion as stated, to make it in line with beliefs. Oil assets are without swaps. As many traders who open an account with JAFX, they are expecting favorable trading conditions for scalpers, as they make the most of the client pool. Therefore, scalping, hedging and news trading is allowed.
VPS is available but JAFX does not offer its solution. Although the broker suggests Equinix NY data center location VPS. They regard this service as the best for reducing the latency.
Platforms
JAFX offers MT4 platform only and it is available for Windows, Mac and mobile devices running on Android or iOS. For those that want to access trading without any installation through a browser, a web-accessible MT4 is available. Once installed the PC version of the MT4 platform will show 2 JAFX servers, one for Demo and one for live trading. The demo shows the latency of 129ms, and the live server is a bit slower with 136.2ms. JAFX MT4 platform is not by its default settings and shows 5 window charts with customized looks. The color scheme is set to a black background with a bright green and red candlestick type chart all set to the H1 timeframe.

BTC/USD is added in the fifth window with the One-click trading button visible, showing off that JAFX is a cryptocurrency broker. While the other 4 major forex charts do not have One-click trading buttons visible it can be easily done with the right-click context window. There are no added indicators or templated by JAFX in the installation, everything is by defaults here. The About window shows the platform is updated to the latest version and the address of JAFX in Saint Vincent and the Grenadines. The symbols lists are very neatly organized with several groups named after the asset categories. Forex is divided into subgroups for Minors, Exotics, Crosses, and Majors, while other assets have their corresponding groups. None of the trading instruments have any suffix or prefix, they have clear names and traders will know exactly what symbols represent.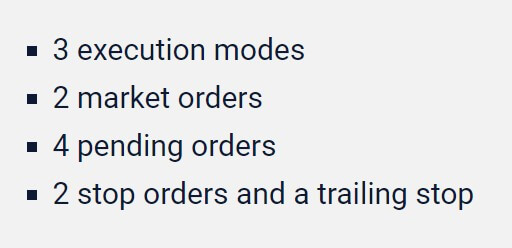 The instrument specification window will show all relevant trading information except for the commission which is presented in the Trading Terminal once a position is open. Swaps are also presented there and in the specifications. The execution time we have tested on the BTC/USD is just a bit over 200ms on average with very small deviations of 15ms. This is a very competitive and stable trading environment suitable for more demanding scalping strategies or EAs.
Leverage
There is no official leverage list or webpage where visitors can know more about the leverage except that the maximum offered is 1:500. This is enough, especially for those who come from brokers that adhere to the ESMA directives. This leverage is true for all major Forex currency pairs but not for all. We have observed the leverage of 1:100 for exotics like USD/TRY but the leverage for USD/RUB, for example, is the maximum 1:500.

We have found that TRY related currency pairs were the only with the reduced leverage to 1:100. Indexes leverage is 1:200 for all, including less common ones, while precious metals all have a maximum of 1:500. Commodities are limited to 1:200 and stocks, from what we have seen in the MT4 have 1:20. Cryptocurrencies leverage is also limited, what we have calculated for the BTC/USD is 1:10. Generally, these leverage levels are more than enough to reduce commission costs using proper Money Management.
Trade Sizes
JAFX is a micro lot broker meaning the minimum trade size is 0.01 lot as well as the minimum step volume. This configuration allows the best precision for scaling in and out of position management. The maximum trade size is 1,000 lots and from what we could see, this trade size policy is true for all trading instruments offered. The difference lies in the Stops Levels. For those that are not familiar, this level defines the range around the asset price where putting Stop Loss or Take Profit orders is not possible. Stops Levels for all Forex pairs and Indexes is 0.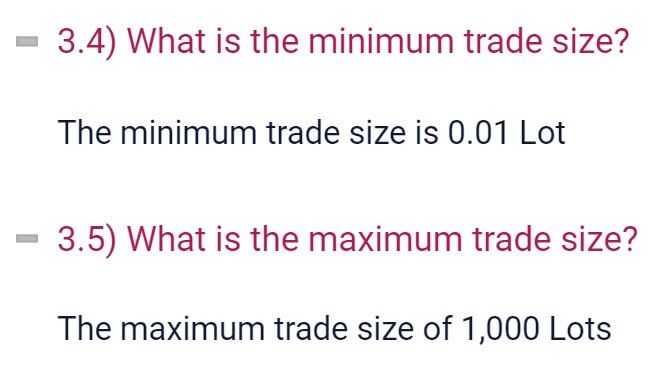 For stocks, this level can go up to 2 pips depending on the company. Out of commodities range, only Natural Gas has a Stops Level of 20 points, others have none. Precious metals do not have any limitations while cryptocurrencies have 1 pip Stops Levels. These levels are low enough not to interfere with fast trading methods. The broker has set out Margin Call at 100% and Stop Out at 70%.
Trading Costs
The commission of $4 per lot traded is charged for all assets offered. This commission rate is very competitive compared to other brokers that charge commissions. Other costs like swaps are under normal levels and calculated in points except for crypto. For the most traded pair, EUR/USD the swap is -9.85 points for long and a positive 4.06 for short position. For USD/JPY the long side swap is also positive at 2.97 points and -8.67 for short while GBP/USD has -6.66 points for long and a positive 0.95 points for short. Most of the currency pairs have one side in positive and those that are both negative are low on both sides, for example, EUR/CHF with -0.15 points for long and -2.35 points for short position swap.

For the exotics, the swaps are higher, especially for the EUR/MXN with -632.4 points for long and 262 points for short position, EUR/TRY with -323.3 points for long and 142 points for short, USD/CHN with -46.5 for long and 15.06 points for short. The biggest swap belongs to the USD/RUB, -1387.9 points for long and 523.6 for short position positive. XAU/USD, Spot Gold against the USD has acceptable -12.1 points for long position and 4.22 points for shorting Gold. For Spot Platinum, the swap is -11.28 points for long and 1.41 for short against the USD.
Cryptocurrencies have swaps calculated in percentages per annum. So, BTC/USD has -25% on both sides as well as other crypto listed in MT4. Swaps are tripled on Fridays for crypto, Commodities, and Indexes, while for Forex and precious metals it is tripled on Wednesdays.
Aside from these costs JAFX also has an inactivity fee of $10 for clients who have not traded in the past 30 days.
Assets
JAFX covers the most popular categories, Crypto, Forex, Indices, Commodities, and Stocks. From what we have seen so far in the MT4, none of the categories is listed with minimal assets. Forex category has a total of 50 currency pairs as wh have counted in the MT4, even more than stated on the JAFX website. The most interesting and uncommon pairs are USD/ILS, EUR/CZK, EUR/MXN, EUR/HKD, EUR/PLN, EUR/TRY, EUR/ZAR, USD/CNH, USD/HUF, USD/MXN, USD/RUB, USD/TRY and USD/ZAR. This offer is better than the average in the industry.
Precious metals are not limited to Gold and Silver. Metals traders will also find Gold quoted in EUR, Platinum, and Palladium against the USD. At the moment of this review, JAFX has disabled XPD/USD for trading. Having extended precious metals offer along with the great forex range makes JAFX one-stop broker that can cover the majority of trader types and typical hedging.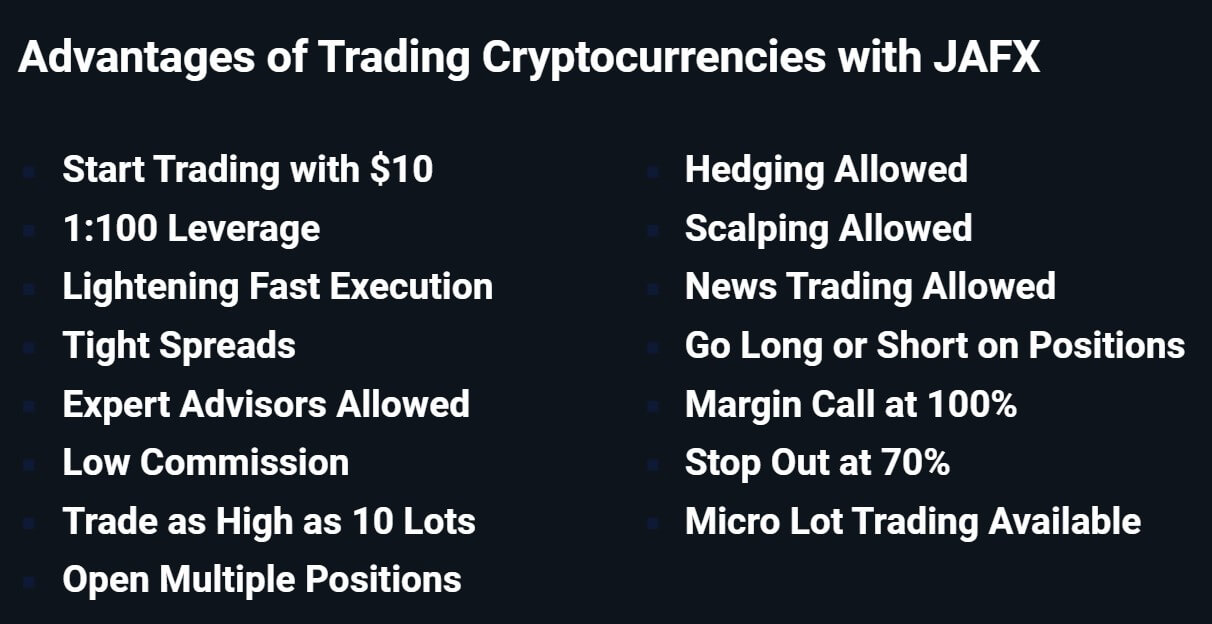 Commodities are JAFX weakest category offer, having only energies listed. Traders can find both Oil types, Brent and Crude US Oil with the addition of Natural Gas.
Indexes offer is very good with 13 listed total including the Dollar Index. All the majors are on the list lie SPX 500, NASDAQ 100 (listed as UT 100), etc. The uncommon ones are IBEX HK 35 Index, S&P ASX, Hang Sang Index, and Euro Stoxx 50 Index.
Stocks are listed but not as extensive as we can see at some larger broker with over 300 companies. JAFX covers all popular companies like Microsoft, Apple, eBay, and some non-US like BNP Paribas, Deutsche Bank, Ferarri, Siemens and so on. The list still contains a total of 107 companies that is enough to cover most of the people's interests.
JAFX is a cryptocurrency-focused broker and most should expect a wide range in this category. And this is correct, with over 31 tradeable instruments, one more than what is stated on the website. All major coins of today are listed, with BTC and other majors quoted only against the USD. Meaning the range is not extended with the same crypto denominated in EUR or GBP as is the case with some other brokers.
Although some crypto is quoted against the Bitcoin, we found rarities like Eidoo against BIT and the USD, Dash, Bitcoin Cash, EOS, ETP, IOTA, Litecoin, Neo, OmiseGO, Santiment, Tron, Monero, and Zcash. All of these have versus BTC version too, thus opening different trading opportunities regardless of the USD performance.

Spreads
JAFX spreads are a variable type and are competitive compared to other brokers. Even though not the best we have seen for this broker type, they are still tight enough to allow scalping on lower timeframes. To give some insight, the most traded currency pair – EUR/USD has 7 points spread, USD/JPY 5 points, GBP/USD 12 points and AUD/USD 9 points.
A bit higher spreads are for EUR/AUD with 2 pips, GBP/CHF 19 points, CAD/JPY 2 pips, and EUR/CAD with 21 points. Exotics spreads are a bit better than with other brokers that offer these pairs. For example, EUR/MXN has 1091 points, GBP/SEK 1022 points, USD/CHN 68 points, USD/HKD 73 points, USD/TRY 535 points, USD/HUF 301 points and similar. The biggest spread is for the USD/RUB with 13150 points and EUR/CZK at 1940 points.

Precious metals spread is better than the industry average with just 12 pips for the XAU/USD. Other metals follow similarly tight spreads, Platinum with 221 pips, Silver at 16 pips and Palladium at 436 pips.
Cryptocurrency spreads should be tight since JAFX uses BItfinex as a liquidity provider. For BTC/USD the spread is $17 or 1744 points precisely. XRP/USD has 63 points, Litecoin/USD 15 points and ETH/USD just 6 points. The widest spread was for the Santiment against the USD at 168900 points, although this is a 5 decimal price.
Minimum Deposit
JAFX requires a minimum of $10 for deposits. This amount is low, although to have the most optimal conditions, even with this leverage and micro-lot trade sizes, it is best to start with $100 and try their live service. To just try the withdrawals the minimum does not present a barrier.
Deposit Methods & Costs
JAFX used to receive wire transfers but at the moment of this review, this method is suspended. JAFX accepts cryptocurrency only at this moment. Traders can deposit via the Bitcoin network directly or using the credit/debit card to buy Bitcoin via Instacoins. In that case, an account with Instacoins will have to be created and verified. Note that a card transaction chargeback cannot be initiated with the broker directly using this way. Bitcoin transactions are also irreversible, the costs for a Bitcoin network transaction is 0.0005 BTC. Your deposit will be automatically credited to your account upon Blockchain approval, 6 confirmations may take up to 6 hours depending on the network load.
Withdrawal Methods & Costs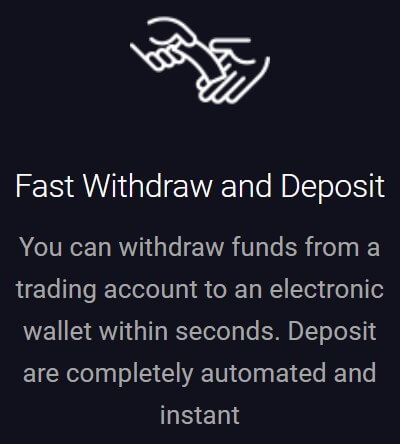 Same as with the deposits, the only method, for now, is the Bitcoin withdrawal. To withdraw your affiliate/IB commissions, it will first need to be transferred into your main trading account. JAFX cannot process withdrawals directly from affiliate/IB accounts. Of course, your account needs to be verified for withdrawals. Skrill or other e-wallets are not supported as stated by the JAFX staff.
Withdrawal Processing & Wait Time
Withdrawals are made from the JAFX portal or client's area within the Transfers tab. The withdrawal process will take up to 48 business hours for approval by the broker, and some additional time for the Bitcoin network. If you have positions open, it is still possible to initiate a withdrawal request, although you can only withdraw funds from your "Landing Account". First, you have to transfer funds from your "Trading Account" to your "Landing Account".

Bonuses & Promotions
There are no bonuses or promotions. Introducing Broker (IB) and affiliate programs exist. For those interested will have to contact JAFX. If you have created a trading account, you will need to use a different email address to sign up for the affiliate account.
Educational & Trading Tools
Although the FAQ section mentions additional services by JAFX such as webinars, guides and similar, these are not offered as stated by JAFX staff. No tools are found on their website. There are, however, trading tools that can be accessed from within the platform. These include built-in technical indicators, as well as alerts that will inform you of a variety of changes in market conditions.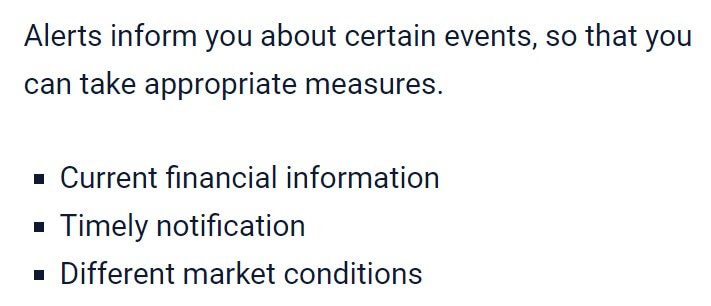 Customer Service
JAFX invested in customer support availability and quality. The broker has two phone lines, one with the UK calling code and one to Australia. JAFX uses a ticket system for dealing with the trader's issues and also has established a 24/7 chat service. Waiting time for the chat is less than a minute, support agents have enough knowledge to answer more demanding questions with a small delay. Courtesy is noticeable, although to some it may be too much. Client Support seems to be one of the broker's key methods for gaining trust and it is well organized.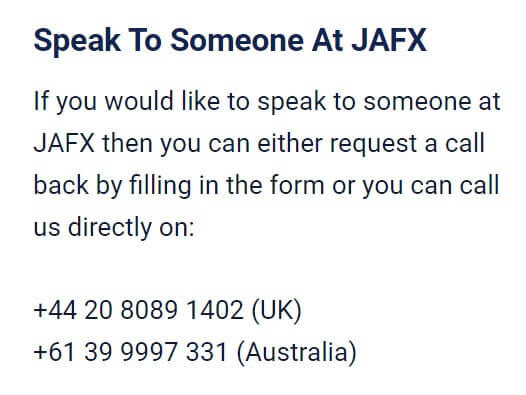 Demo Account
The Demo account is made through the MT4 platform directly, be it from the MT4 web-accessible platform, through the MT4 on a computer or a smart device. You can select your leverage and the amount of practice money. The demo account will last indefinitely, if traders do not open any new positions for a month, the demo will expire.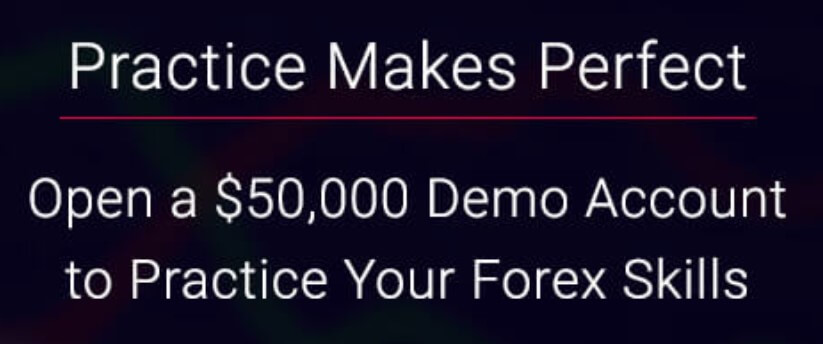 Countries Accepted
JAFX had stopped accepting clients from the United States. Currently, applicants form this country will not be able to create an account. The rest of the countries that are not accepted are Ghana, Burma, Ivory Coast, Congo, Cuba, Germany, Iran, Iraq, Japan, Lebanon, Libya, Malta, North Korea, Somalia, Sudan, Syria, United States, Vietnam, and Zimbabwe.
Conclusion
JAFX received attention from The Commodity Futures Trading Commission (CFTC) on July 31st, 2018 and as a result, no longer accepts U.S. based clients. Why did they choose to target JAFX when so many other offshore brokers are open for business and accepting U.S. clients? Simply because JAFX was among the biggest, best, and most popular Forex broker in operation at that time. They boasted some of the best trading conditions and customer service in the industry, and the number of clients they had earned as a result was staggering. Presumably, the CFTC opts to start from the top and work its way down.
JAFX did reach an agreement with the commission and today has recovered quite nicely. While certainly not as large as they once were, they carried on with business as usual and just as before, they continue to provide excellent customer service and highly competitive trading conditions. Those looking to trade with a well-established and experienced broker would do will to consider JAFX as a viable brokerage option.