The cryptocurrency market spent the past 24 hours in consolidation. Most cryptocurrencies did end up slightly in the red, but there were no significant moves that could be noticed. If we take a look at today's prices, Bitcoin went down 0.46%, and it is now trading at $7,488. Ethereum lost 0.83%, while XRP went up 0.02%.
Of the top100 cryptocurrencies by market cap, the biggest gainer is Algorand, with a gain of 22.92% on the day. The biggest losers of the day were Silverway and Bytecoin, which lost 9.95% and 8.99% of their value, respectively.
Bitcoin's dominance has pretty much stayed on yesterday's level as the whole market consolidated. Its dominance is currently 66.32%, which represents a decrease of 0.2% when compared to the value it had 24 hours ago.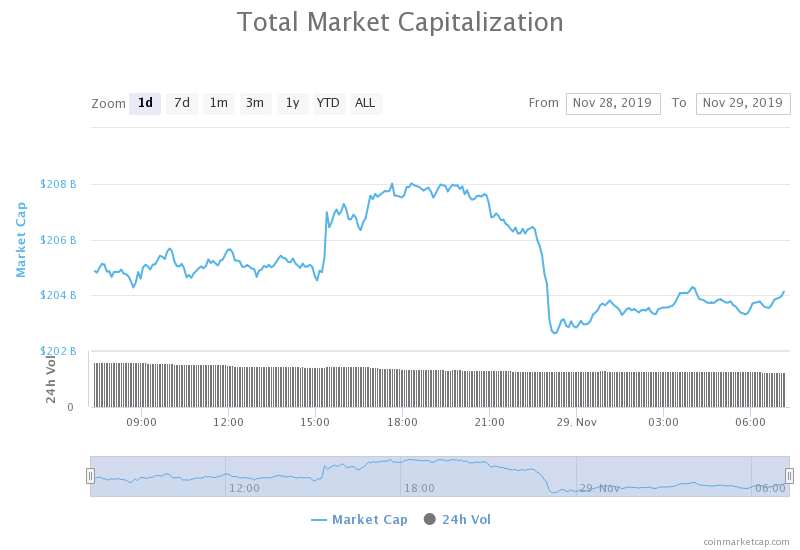 The cryptocurrency market as a whole now has a market capitalization of $204.14 billion, which is pretty much in the same place when compared to the value it had yesterday.
What happened in the past 24 hours
The federal parliament of Germany made a bill draft that would allow banks to deal with cryptocurrency. The banks would be able to become custodians and merchants of crypto in 2020 if this bill passes.
This move could represent a grand milestone when it comes to cryptocurrency adoption. When we look at it from a theoretical perspective, this would make cryptocurrency as liquid as cash in Germany.
_______________________________________________________________________
Technical analysis
_______________________________________________________________________
Bitcoin
Bitcoin has entered another consolidation phase after the move up it had the day before. After the bulls pushed Bitcoin above $7,415, it pretty much stayed at the price level.
Bitcoin's volume dropped when compared to yesterday's values, while RSI stayed on the same level.
Key levels to the upside                   Key levels to the downside
1:  $8,000                                          1: $7,415
2: $8,425                                           2: $6,620
3: $8,640                                
---
Ethereum
Ethereum's struggle to declare its price to be above or below the support top-line continues.  Ethereum held almost all of its gains from the price increase but did not manage to form any stable immediate support level as Bitcoin did. That being said, Ethereum has many key levels, so there will be no problems for it to form a support level when the time comes.
Ethereum's RSI is now approaching overbought territory, while its volume has decreased heavily after the move has ended. Today's volume is almost at the same levels it was yesterday.
Key levels to the upside                    Key levels to the downside
1: $167.8                                            1: $127
2: $178.6
3: $185
---
XRP
XRP spent the past 24 hours slowly approaching its immediate resistance line in attempts to pass it and form a support line there. As there are no clear, immediate support levels below $0.235, XRP seems to be reaching above this key level so it could form support around it.
XRP's RSI is slowly increasing while its volume is declining slightly.
Key levels to the upside                   Key levels to the downside
1: $0.235                                           1:  $0.202
2: $0.245
3: $0.266