The cryptocurrency market has spent the past day reaching new fights, with almost every single cryptocurrency in the top100 ending up in the green. Bitcoin is currently trading for $9,467, which represents an increase of 6.24% on the day. Meanwhile, Ethereum gained 4.54% on the day, while XRP went up by 2.04%.
Crypterium took the position of today's most prominent daily gainer, with gains of 27.28%. ABBC Coin lost 8.32% of its daily value, making it the most prominent daily loser.
Bitcoin's dominance moved up slightly since we last reported, with its value currently at 67.76%. This value represents a 0.3% difference to the upside.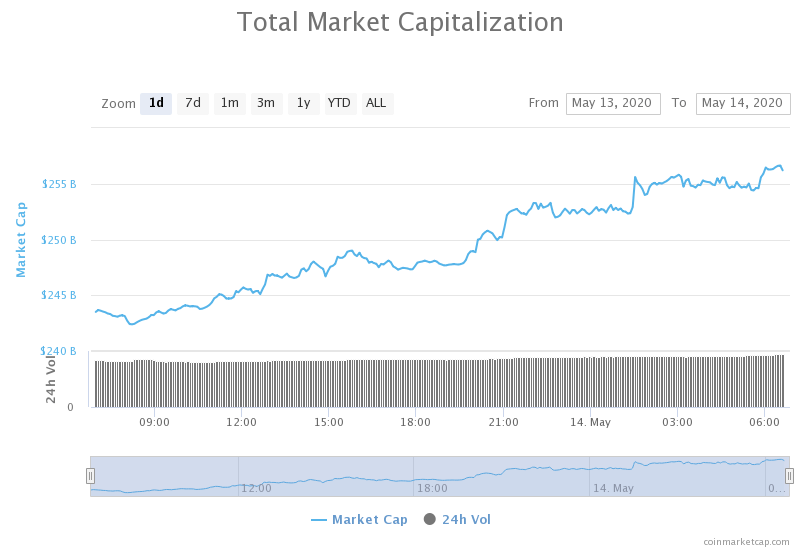 The cryptocurrency market capitalization increased by a good portion when compared to yesterday's value, with its current value being $256.68 billion. This value represents an increase of $12.78 billion when compared to yesterday's value.
What happened in the past 24 hours
German Neobank offers Bitcoin Accounts with Interest
German neobank Bitwala started offering its users interest rates of up to 4.3% when using its new Bitcoin Interest Account. The product is currently available to Bitwala's 80,000 users. They can purchase, hold, and earn interest on Bitcoin in their bank accounts.
The Bitcoin Interest Account reached the market due to a new partnership between Bitwala and a crypto-lending platform Celsius Network.
_______________________________________________________________________
Technical analysis
_______________________________________________________________________
Bitcoin
The largest cryptocurrency by market capitalization has broken the range it was bound withing after some time struggling to do so, passing over $9,000 and reaching almost $9,500. Bitcoin was trading at the top line of its ascending trend for some time, constantly testing the resistance level. Today has been the day where the price broke out, went above $8,980, retested it, and then skyrocketed. That trading opportunity was exactly as described in our previous articles.
Bitcoin is currently near the oversold territory on the 4-hour chart.
Key levels to the upside                    Key levels to the downside
1: $9,580                                           1: $9,250
2: $9,735                                           2: $9,120
3: $9,870                                            3: $8,980
Ethereum
Ethereum, led by Bitcoin's price surge, has broken out above the descending channel it was in for some time now. While the move was not nearly as strong as Bitcoin's, it was just enough to push through the channel and stay above $198.
The $198 support level is being tested at the time of writing, and price dropping below it with increased volume might be a good trading opportunity.
Key levels to the upside                    Key levels to the downside
1: $198                                               1: $193.6
2: $217.6                                           2: $185
3: $225.4                                            3: $178.65
Ripple
XRP has followed the market in terms of direction, but not in terms of intensity. The third-largest cryptocurrency by market cap followed Bitcoin on its way up and increased in price as well. While it did manage to conquer $0.2, the move can (in no way, shape, or form) be called strong.
XRP is now trading within a very narrow channel, bound by $0.205 to the upside and $0.2 (which it is constantly testing) to the downside.
Key levels to the upside                    Key levels to the downside
1: $0.205                                           1: $0.2
2: $0.214                                           2: $0.19
3: $0.227                                            3: $0.178