The crypto market had a green day, with only a few cryptocurrencies ending up in the red. Bitcoin is currently trading for $8,882, which represents a 0.95% increase on the day. Meanwhile, Ethereum gained 0.53% on the day, while XRP lost 0.05%.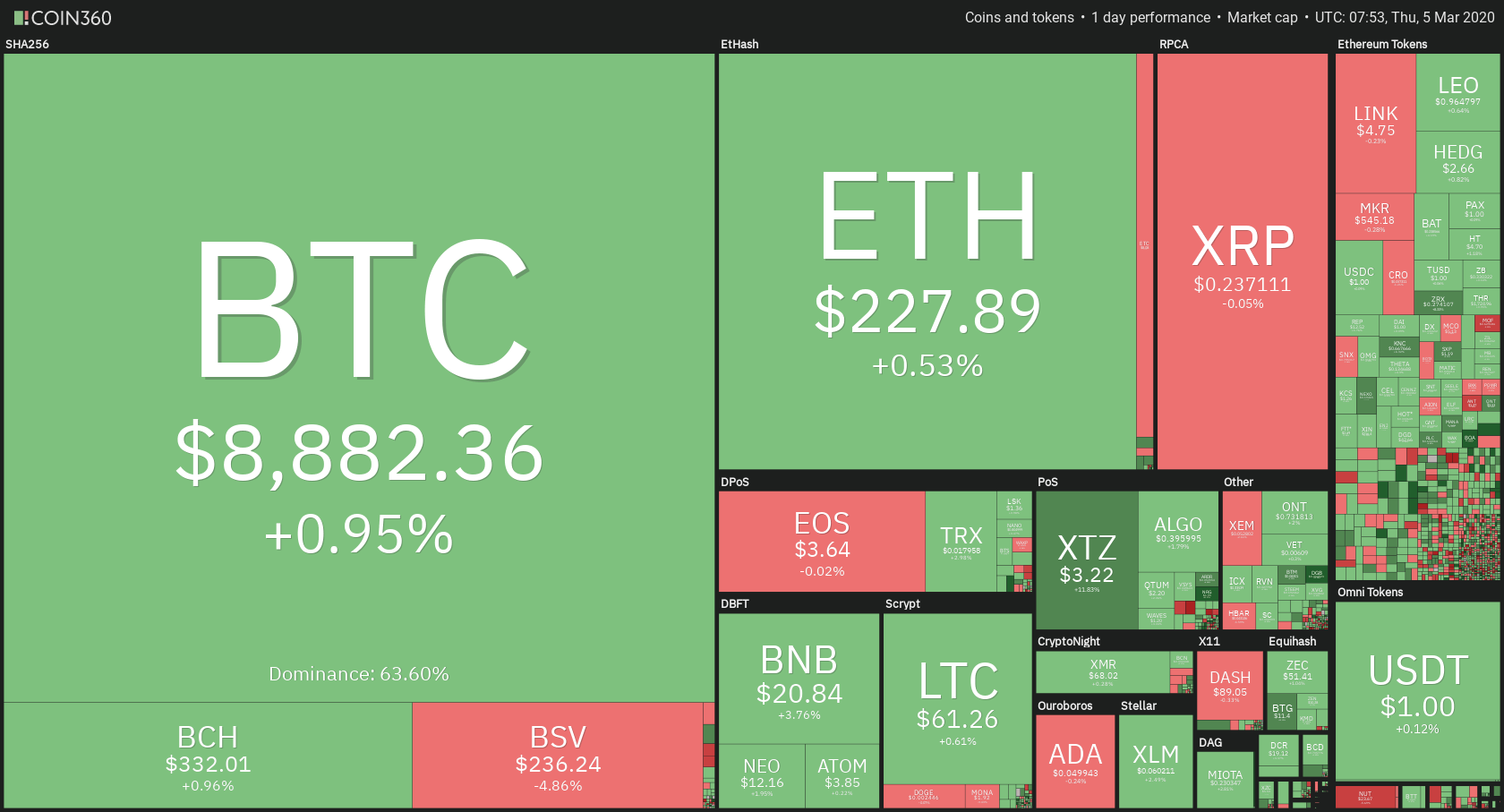 Energi took the position of today's most prominent daily gainer, with gains of 27.96%. On the other side, Bitcoin SV lost 4.56% on the day, making it the most prominent daily loser.
Bitcoin's dominance managed to increase quite a lot over the past 24 hours. Its value is now 63.6%, which represents a 0.98% difference to the upside when compared to the value from when we last reported.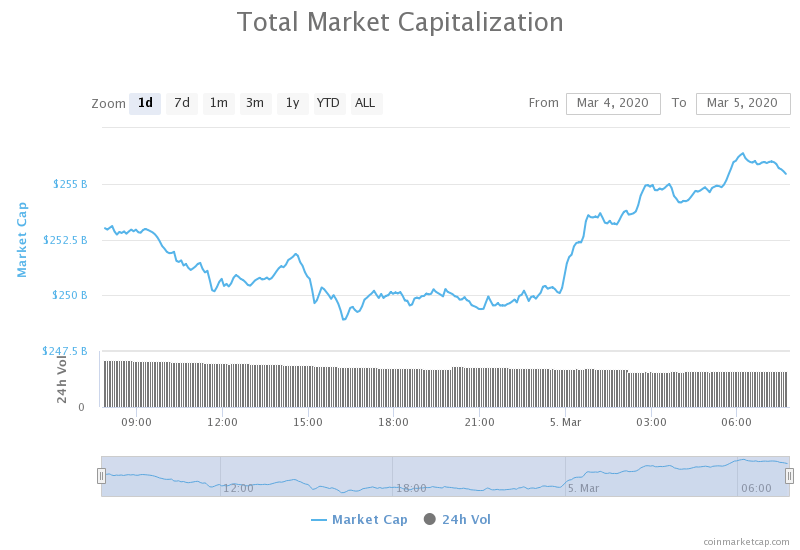 The cryptocurrency market capitalization increased slightly in the past 24 hours. It is currently valued at $255.45 billion, which represents an increase of $2.45 billion when its value is compared to the value it had yesterday.
What happened in the past 24 hours
Andrew Bailey, the next governor of Bank of England, expressed his sentiment towards crypto yesterday in London. He argued that anyone putting money into Bitcoin should prepare to lose everything.
Bailey shared his thoughts on Bitcoin to members of the U.K. Parliament at a Treasury Select Committee hearing, which happened on Mar 4. Bailey expressed his dislike towards Bitcoin and other cryptocurrencies as a whole before saying that:
"If you want to buy Bitcoin, be prepared to lose all your money… [Bitcoin] has no intrinsic value."
Honorable mention
Cardano
The legal leader at Big Four's PwC, Gunther Dobrauz, recently expressed his opinion about Cardano and showed open support to the people responsible for Cardano's development.
Dobrauz claimed that decentralization is the future, and that the Cardano Foundation and the team surrounding the IOHK CEO and founder Charles Hoskinson are certainly a "huge part of this" future in a tweet on Mar 3. IOHK is the blockchain company behind Cardano as well as Ethereum Classic.
_______________________________________________________________________
Technical analysis
_______________________________________________________________________
Bitcoin
Bitcoin had a slow day with quite predictable price movements. Buyers and sellers bound its price between $8,400 and $9,000. Bitcoin has been staying in this range for some time now with no real pressure to go up or down. When compared to the yesterday's price, Bitcoin did manage to gain some value, breaking the $8,825 line, but quickly stopping at the $8,980 one.
Bitcoin's volume is slightly below average when compared to this week, while its RSI level is starting to increase slightly. It is currently sitting at a value of 58.
Key levels to the upside                    Key levels to the downside
1: $8,980                                           1: $8,825
2: $9,115                                           2: $$8,650
3: $9,250                                            3: $8,535
---
Ethereum
Ethereum is in the same position as Bitcoin, as its price has been ranging for some time now, as well. There has been no sign of pressure towards any side. Ethereum is currently trading above the $225.5 line, bound by it to the downside and the $240 resistance to the upside. However, all pressure to the upside seems to fade far before Ethereum's price reaches $240.
Ethereum's volume is quite low, while its RSI is near the middle of the value range, sitting at around 52.
Key levels to the upside                    Key levels to the downside
1: $240                                                1: $225.5
2: $251.3                                            2: $217.7  
3: $259.5                                             3: $198
---
Ripple
XRP is the only crypto out of the top3 that ended up in the red. Its price is also bound in a range, sitting between $227 and $2454. XRP's price is not pressured to any side and is trading freely within this range. However, with fading volume, the volatility is fading as well, and the up and down movements seem smaller and smaller. XRP is now trading slightly above the $0.235 support line.
XRP's volume is currently below average, while its RSI level is near the middle of the value range, sitting at around 53.
Key levels to the upside                    Key levels to the downside
1: $0.2454                                          1: $0.235
2: $0.266                                            2: $0.227
3: $0.285                                             3: $0.221