The cryptocurrency market continued its bullish momentum and went after new highs over the weekend. Bitcoin is currently trading for $7,698, which represents an increase of 1.52% on the day. Meanwhile, Ethereum gained 0.95% on the day, while XRP gained 1.4%.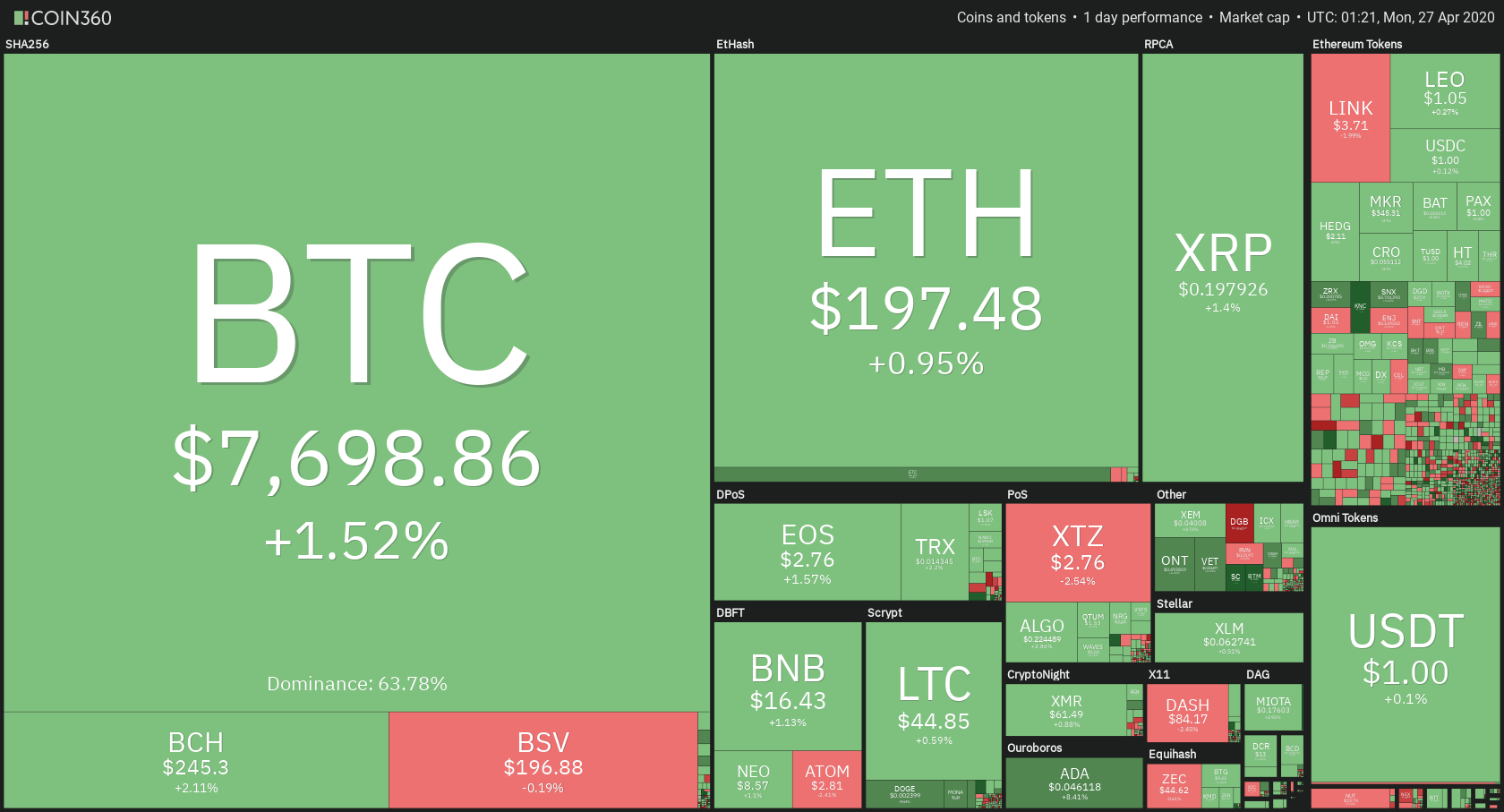 Kyber Network took the position of today's most prominent daily gainer, with gains of 28.05%. DigiByte lost 12.59% on the day, making it the most prominent daily loser.
Bitcoin's dominance decreased slightly compared to Friday's dominance levels. Its value is now 63.78%, which represents a 0.34% difference to the downside.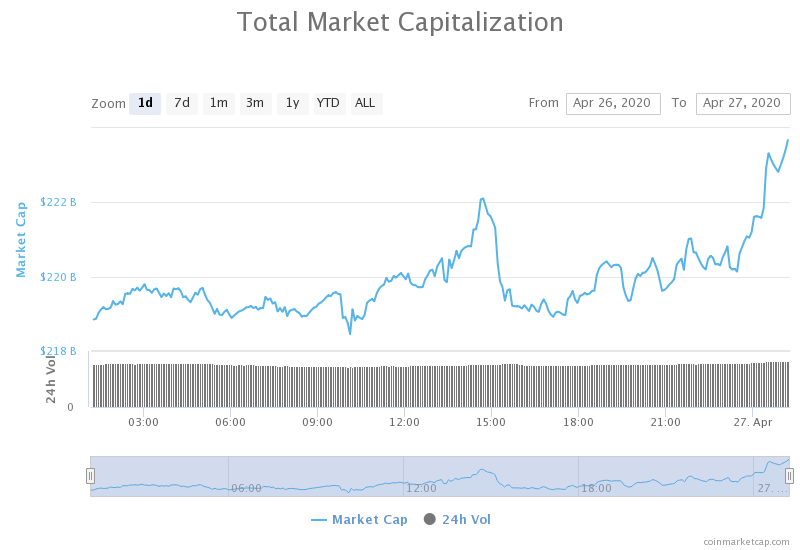 The cryptocurrency market capitalization increased over the weekend, with its current value being $223.02. This value represents an increase of $12.77 billion when compared to the value it had on Friday.
Honorable mention
StorJ
Storj, a decentralized storage network, has launched a program that provides free storage to COVID-19 research participant organizations on April 22.
Storj's storage program is set to provide each of the qualifying organizations with 1 (one) terabyte of cloud storage completely free of charge. Storj has decided to commit up to 5 (five) petabytes of storage toward COVID-19 research in total. It will also consider requests for additional resources exceeding 1 (one) terabyte.
_______________________________________________________________________
Technical analysis
_______________________________________________________________________
Bitcoin
The largest cryptocurrency by market cap had a weekend of consolidation and indecisiveness. While the most recent spike brought BTC to higher levels and reach $7,811, the fact of the matter is that the $7,750 level held up quite nicely and that the Bitcoin bears did not let the price to stay above this level.
If Bitcoin goes over $7,750 support level, we can expect a sharp increase in price. However, if that does not happen, we are more likely to expect a heavy selloff at below $7,420.
Key levels to the upside                    Key levels to the downside
1: $7,750                                           1: $7,420
2: $8,000                                           2: $7,085
3: $8,650                                            3: $6,850
---
Ethereum
Ethereum followed Bitcoin to the upside and ended up in a narrow range between $193.6 and $198. However, Ethereum's move towards the upside was much more stable than Bitcoin's move. The second-largest cryptocurrency by market cap will not be staying in this range for long as it is too narrow. Its fair will most likely be decided by Bitcoin's movement in the near future.
Ethereum's volume held its level throughout the weekend, while its RSI is at 65.
Key levels to the upside                    Key levels to the downside
1: $198                                                1: $193.6
2: $217                                              2: $185
                                                           3: $178.6
---
Ripple
XRP made a slight increase in value over the weekend as well but had the same fate as Bitcoin. While its price increase is not insignificant, the fact that it got stopped by the $0.2 resistance level says a lot in regards to the bull vs. bear presence. XRP might be forming a double top at the $0.2 level, which may trigger a selloff in the short term.
XRP's volume stayed at the same level throughout the weekend, while its RSI level shot up to 62.
Key levels to the upside                    Key levels to the downside
1: $0.2                                                1: $0.19
2: $0.205                                            2: $0.178
3: $0.227                                             3: $0.165