The cryptocurrency market has spent yet another day without much movement. Bitcoin is currently trading for $5,305, which represents an increase of 1.62% on the day. Meanwhile, Ethereum lost 0.75% on the day, while XRP lost 2.04%.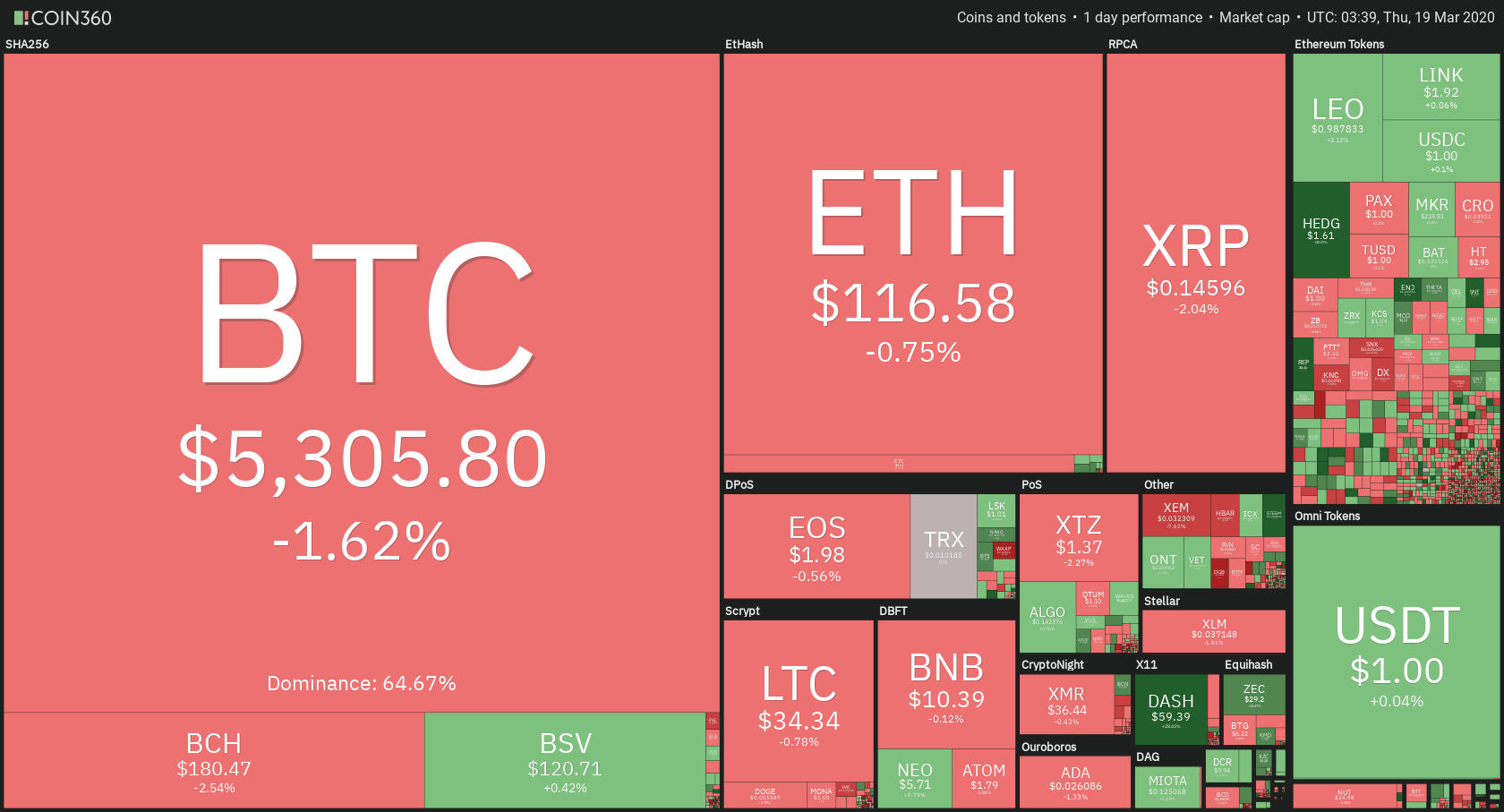 Steem took the position of today's most prominent daily gainer, with gains of 95.53%. On the other side, WAX lost 21.91% on the day, making it the most prominent daily loser.
Bitcoin's dominance increased by a slight margin over the past 24 hours. Its value is now 64.67%, which represents a 0.16% difference to the upside when compared to yesterday's value.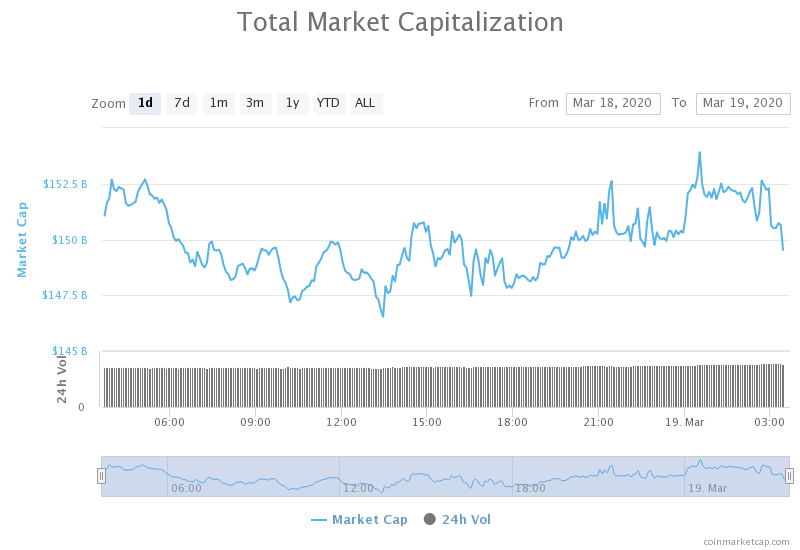 The cryptocurrency market capitalization remained at basically the same place, with a current value of $152.36 billion. This value represents an increase of $0.61 billion when compared to the value it had yesterday.
What happened in the past 24 hours
BitMEX Research posted a thought that discusses the two approaches that governments can take regarding the issuance of a Central Bank Digital Currency as well as the ramifications for the economy. BitMEX posted its opinion on Mar 18.
The post said that "From a liquidity perspective, the largest deposit-taking institutions in an economy have an almost unconstrained capability to create new loans since the funds loaned out will automatically get placed back into their own bank as a deposit."
Honorable mention
MakerDAO
The MakerDAO community has locked in an auction in hopes to cover a multi-million dollar hole in the DAI collateral. The funds were "gone" after the sudden Ethereum price crash on Mar 12.
The proceeds from the auction sale will be used to recapitalize and revitalize the system as well as to compensate the losses suffered by the borrowers. They lost their money as their Ethereum collateral got auctioned off for zero DAI.
_______________________________________________________________________
Technical analysis
_______________________________________________________________________
Bitcoin
Bitcoin had a pretty quiet day with virtually no price movement. There was, at one point, an attempt made by the BTC bears to push the price below $5,000. However, that push ended up quickly and Bitcoin was back to its previous level in no time.
Bitcoin's volume is stable at the moment, though on quite low levels. Its RSI level is currently sitting at the value of 47.
Key levels to the upside                    Key levels to the downside
1: $5,960                                           1: $5,000
2: $6,640                                           2: $4,300
3: $6,850                                            3: 3,100
---
Ethereum
Ethereum had a similar day as Bitcoin, though with some differences. Namely, while Bitcoin had an attempted push to the downside, Ethereum tried to break its upside resistance level. However, that ended up without much effect, and Ethereum is now back to its previous level.
Ethereum's volume is still extremely low and is keeping these levels. Its RSI level is currently slightly below the middle of the value range, sitting at 43.
Key levels to the upside                    Key levels to the downside
1: $122.5                                             1: $100
2: $128                                              2: $80 
3: $168                                           
---
Ripple
XRP also experienced a slow day with almost no price movement. However, its price moved a bit more than Ethereum's and Bitcoin's price. XRP managed to slide down in price by 2%. It is still kept within the same range, currently trading at just above $0.146.
XRP's volume is extremely low, while its RSI level is sitting at 45 at the time of writing.
Key levels to the upside                    Key levels to the downside
1: $0.165                                            1: $0.1
2: $0.19
3: $0.2