The crypto market has spent the past weekend being quite stable. Bitcoin is currently trading for $9,351, which represents a decrease of 0.08% on the day. Meanwhile, Ethereum gained 1.25% on the day, while XRP lost 0.08%.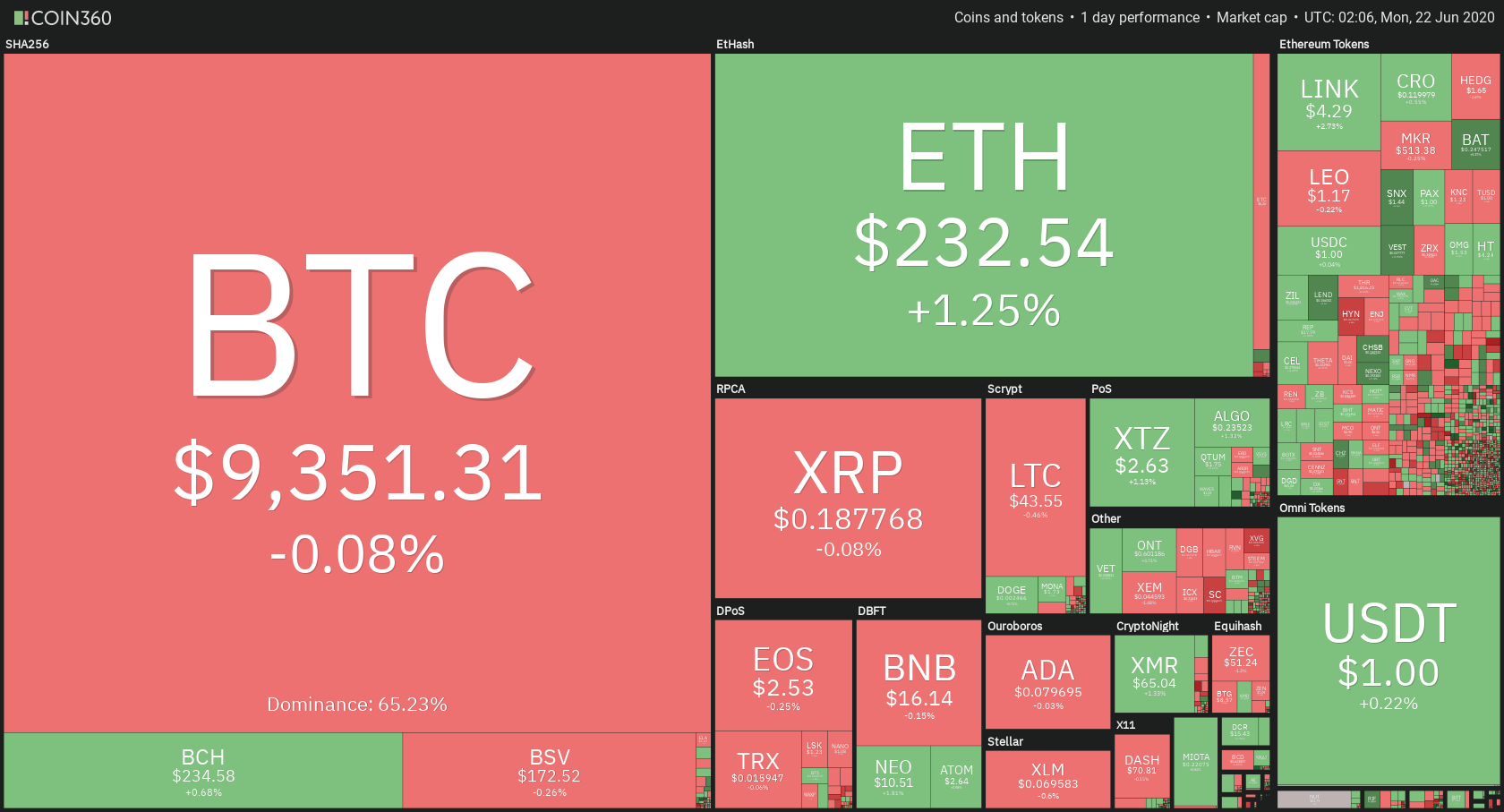 Compound took the position of today's biggest daily gainer, with gains of 14.26%. Golem lost 9.21% of its daily value, making it the biggest daily loser.
Bitcoin's dominance level stayed at the same place since our last report, with its value currently at 65.23%. This value represents a 0.04% difference to the downside when compared to yesterday's value.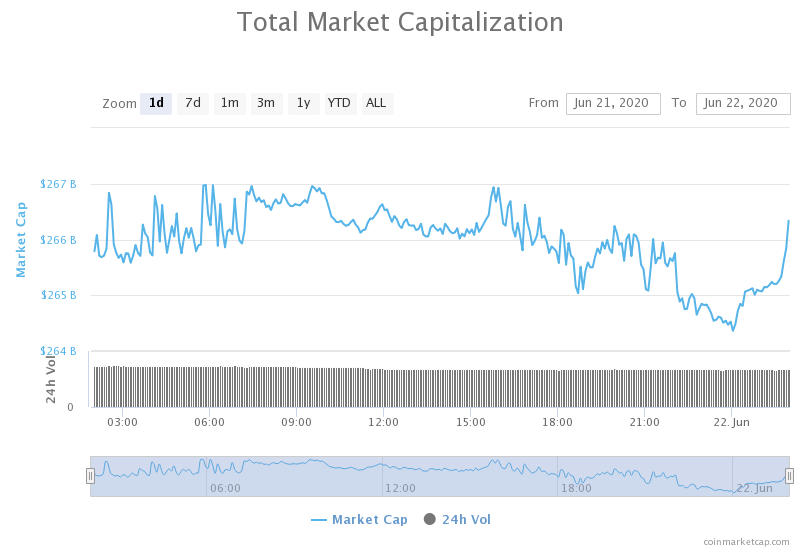 The cryptocurrency market capitalization stayed at almost the same place as yesterday, with the market's current value being $266.19 billion. This value represents a decrease of $1.78 billion when compared to the value it had yesterday.
What happened in the past 24 hours
COVID-19 testing on blockchain
Blockchain tracking platform called VeChain made a Twitter announcement on June 20, saying that its blockchain-based platform that performs medical data management has gone live, and that it will store COVID-19 testing results. The platform, called E-NewHealthLife, was deployed in and for the Mediterranean Hospital in the Republic of Cyprus.
Cyprus citizens who go to this hospital's COVID-19 laboratory will have their medical as well as test records on the blockchain.
_______________________________________________________________________
Technical analysis
_______________________________________________________________________
Bitcoin
The largest crypto by market capitalization spent the weekend moving within a range, bound by the support level of $9,251 and the resistance level of $9,580. The support level was tested a couple of times over the weekend, but there was no real initiative in breaking it to the downside.
Bitcoin's volume is slowing down and reducing while its RSI level is rising slightly (52).
Key levels to the upside          Key levels to the downside
1: $9,580                                 1: $9,251
2: $9,735                                 2: $9,120
3: $9,870                                  3: $8,980
Ethereum
Unlike Bitcoin, Ethereum wasn't so static over the weekend. While the second-largest cryptocurrency did start the weekend slowly, the most recent volume increase and price spike show its potential to possibly approach the $240 level. However, it is unlikely that Ethereum will pass the level by itself (without the help of Bitcoin), so traders can watch what Bitcoin does and trade accordingly.
Key levels to the upside          Key levels to the downside
1: $240                                    1: $228
2: $251.4                                 2: $225.4
3: $198                                    3: $217.6
Ripple
The third-largest cryptocurrency by market cap has broken its immediate support level of $0.19 on Friday, and has maintained its position over the weekend. Even though XRP managed to gain some value in the past hours, it is still extremely unlikely that it will go above the $0.19 resistance level.
XRP's volume is extremely low, while its RSI level increased to 48.
Key levels to the upside          Key levels to the downside
1: $0.19                                      1: $0.178
2: $0.2                                  
3: $0.205