We can see that the crypto market did not have many currencies move significantly in the past 24 hours. However, most of the market ended up in the green. If we look at the past 24 hours, Bitcoin's price went up 0.52% and is now trading at the price of $7,402. Meanwhile, Ethereum managed to gain 1.48%, while XRP gained 2.54%.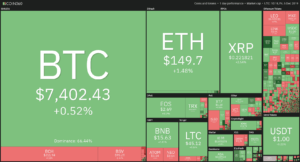 The biggest gainer amongst the top100 cryptocurrencies by market cap for today is HedgeTrade, which managed to gain 48.72% on the day. The biggest loser of the day was iExec RLC, which lost 5.69% of its value.
Bitcoin's dominance decreased a tiny amount as the market managed to gain a bit more in value than what Bitcoin gained. Its dominance is currently 66.44%, which represents a decrease of 0.3% from yesterday's value.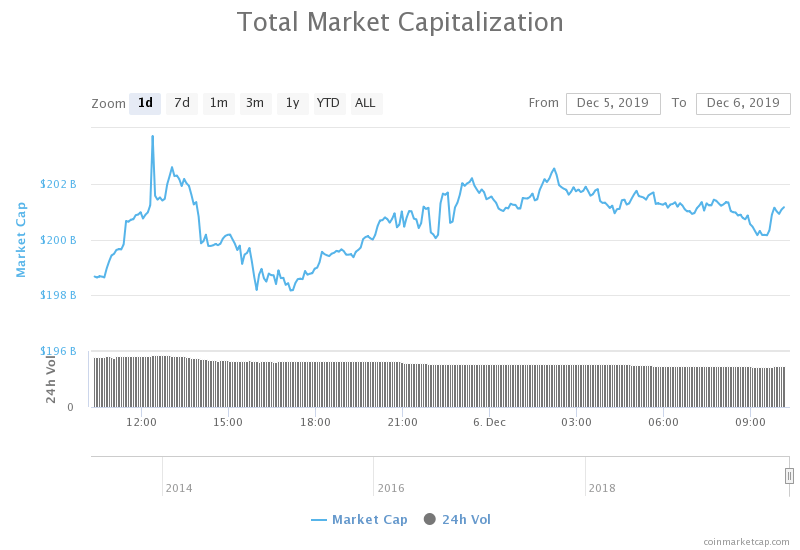 The cryptocurrency market managed to increase in total market capitalization yet again. As the individual cryptocurrency values increased, so did the overall market cap. The market cap is sitting at $201.08 billion at the moment of writing. This value represents an increase of $2.16 billion against yesterday's value.
What happened in the past 24 hours
Deutsche Bank researched how cryptocurrencies will do in 2030. They concluded that the demand for alternative currencies will rise and that digital currencies will eventually replace cash. This research was done for the "Imagine 2030" report.
Deutsche Bank strategist Jim Reid pointed out that crypto has solutions for many challenges the existing fiat system has encountered in recent years. On top of that, he said that crypto  itself poses one of the problems fiat has at the moment. He then said that people's heightened demand for dematerialized means of payment and anonymity could possible bring more people to cryptocurrencies.
_______________________________________________________________________
Technical analysis
_______________________________________________________________________
Bitcoin
Bitcoin spent the whole day trying to pass its key resistance line of $7,415. almost every 4 hour candle managed to break the price but ultimately ended up below the line. If bulls don't step up their game, Bitcoin's price will remain under the key resistance level for the time being. If it happens, we could see a spike in volume followed by a sudden upward-faced spike.
Bitcoin's volume is slightly lower than yesterday, while its RSI is slowly going towards overbought. This could indicate that bulls have a limited time when they can make a strong push to the upside before being crushed by the bears coming to the market.
Key levels to the upside                    Key levels to the downside
1: $7,415                                           1: $7,240
2: $8,000                                           2: $7,120
3: $8,425                                           3: $6,620
---
Ethereum
Ethereum is on the other side of the coin when compared to Bitcoin. While Bitcoin is trying to push above its resistance, Ethereum is trying to save its price from falling below its support. Ethereum moved back to the $147 line, and it is still unsure whether the price will stay above it or whether it will drop further down. However, Ethereum has many small support points that ended up being well-respected by the market.
Key levels to the upside                    Key levels to the downside
1: $156.8                                             1: $144.1
2: $161.1                                            2: $133.5
3: $163.4                                            3: $127
---
Ripple
XRP spent the past few days rallying its bulls, which resulted in a major attempt to the upside yesterday and another one today. While today's move was not so explosive, it was much healthier. The 0.02267 resistance was strong again, and XRP failed to reach above it, but it did make some daily gains nevertheless. The green 38.2% Fib retracement line ended up being well-respected by the market, and the price managed to consolidate near it. However, it is unknown whether this line will play any role in the short future as XRP is moving down at the moment of writing.
XRP's volume is much higher when compared to the previous days. Its RSI slowly gained momentum to the upside until the consolidation phase, where it settled down a bit.
Key levels to the upside                    Key levels to the downside
1: $0.222                                            1: $0.2185
2: $0.2267                                          2: $0.214
3: $0.234                                            3: $0.209