The cryptocurrency market spent the past 24 hours in the slight green. Bitcoin is currently trading for $6,873, which represents an increase of 0.56% on the day. Meanwhile, Ethereum gained 1.85% on the day, while XRP gained 1.67%.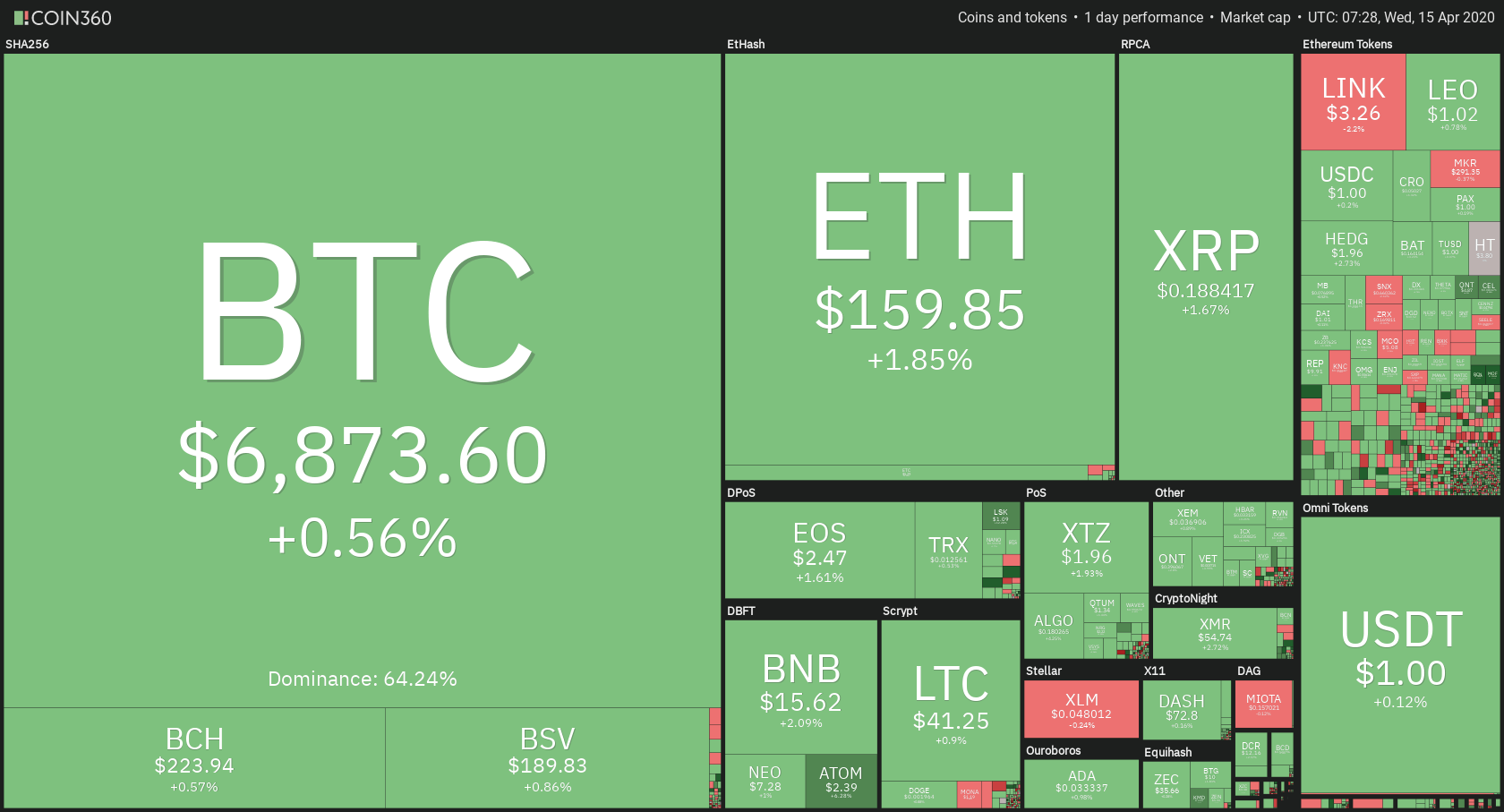 Lisk took the position of today's most prominent daily gainer, with gains of 12.33%. Nervos Network lost 4.24% on the day, making it the most prominent daily loser.
Bitcoin's dominance decreased slightly when compared to yesterday's value. Its value is now 64.24%, which represents a 0.37% difference to the upside.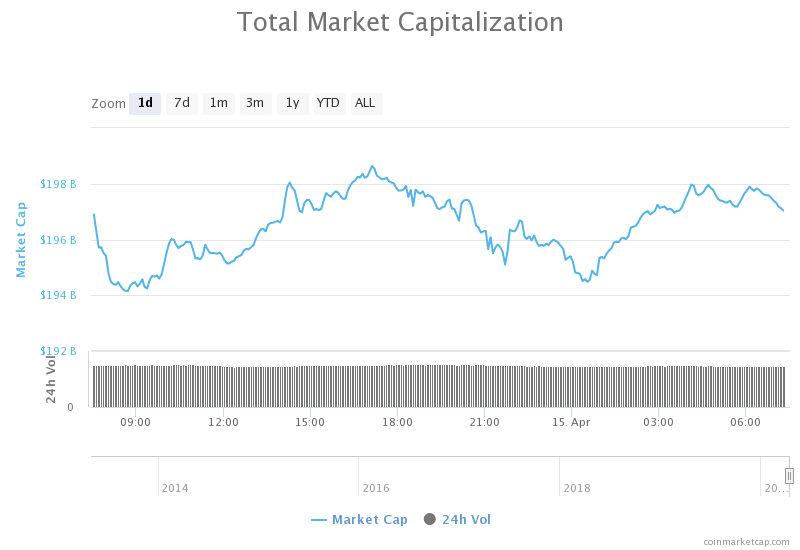 The cryptocurrency market capitalization stayed at exactly the same place for the past 24 hours. Its current value is $197 billion. This value represents an increase of $0.35 billion when compared to the value it had yesterday.
What happened in the past 24 hours
Bitfinex's Bitcoin holdings have reduced by 66,000 BTC in the past four weeks. The exchange counted 200,140 BTC on Mar 17. However, the data from Apr 13 shows that this amount went down to 134,091.
The massive decrease is not related just to this one exchange. We can also see the data on BitMEX, which had a 38% percent decline in its Bitcoin holdings.
Honorable mention
Libra
Economist and academic John Vaz said he believes Bitcoin still faces competition from Facebook's Libra project.
He explained that Bitcoin has scaling challenges as far as payments go. On top of that it was used as a speculation vehicle. In contrast, he said, Libra has been with its only purpose to be a scalable payment network.
_______________________________________________________________________
Technical analysis
_______________________________________________________________________
Bitcoin
Bitcoin had a pretty slow day after the upswing which brought its price above $6,850. The largest cryptocurrency by market cap managed to stay above this support level, but did not go far from it. BTC is actually "hugging" this level and testing it every few hours. However, $6,850 is holding well and showing no signs of breaking.
Bitcoin's volume is quite low, while its RSI level is at 49.
Key levels to the upside                    Key levels to the downside
1: $7,085                                           1: $6,850
2: $7,420                                           2: $6,640
3: $7,750                                            3: $5,960
---
Ethereum
Ethereum had a slightly better day than Bitcoin and outperformed it in terms of price gain. The second-largest cryptocurrency by market cap managed to push its price above $158 and establish its level above it. ETH's chart looks almost identical to Bitcoin's, with the exception that BTC crossed its resistance level earlier, while ETH did that in the past 24 hours. However, they both seem to "hug" the now-support level and keep retesting it.
Ethereum's volume is descending and on comparatively low levels, while its RSI is at 52.
Key levels to the upside                    Key levels to the downside
1: $168                                                1: $158
2: $178.6                                            2: $147.5 
3: $185                                                3: $139
---
Ripple
XRP ended up in the green over the past 24 hours even though it found a level it can't pass. The third-largest cryptocurrency by market cap tried to break the $19 resistance level for a day and a half now, without success. Low volume alongside overall stagnation in the crypto market makes the situation for XRP to break $0.19 almost impossible. However, the current price position can be quite responsive to both sides (up or down) and the next movement will most likely be preceded by Bitcoin's move.
XRP's volume is descending when compared to the past week, while its RSI level is currently at 61.
Key levels to the upside                    Key levels to the downside
1: $0.19                                              1: $0.165
2: $0.2                                                2: $0.147
3: $0.205                                             3: $0.1