City Index is a CFD and spreads betting broker and a trademark of GAIN Capital UK Ltd. GAIN Capital Holding is a well known US broker founded in 1999 and went public in 2010 on NYSE. GAIN Capital acquired City Index In October 2014 to gain quick entry into the UK CFD trading market. In 2010 GAIN Capital was fined by the NFA for margin, liquidation and price slippage manipulation that resulted in $$459,000 fine and additional coverage of traders' losses. Based in London and as a subsidiary of GAIN Capital, City Index is authorized and regulated by the Financial Conduct Authority with a valid license.
The broker has many rewards for having the best platform, best mobile app, best cryptocurrency trading platform and similar. The broker does not use these for promotion on the website aggressively, in fact, it is hidden in the footer of their website. City Index website is packed with quick references and info on a single page like the idea was to put as much material the visitor can digest. It is well developed and interactive with a good mix of marketing and useable information to promote the broker's advantages or features.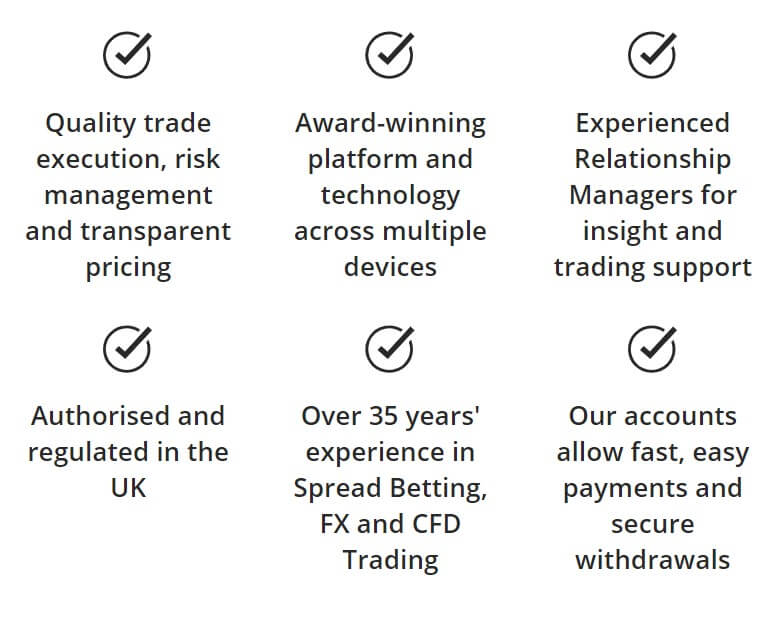 Transparency is good although some trading condition data could be published under one page or document, most of the time you will have to find the page containing the info, even with the help of the website's search field. Occasionally, City Index will use some figures as their own for marketing, for example, their 35 years of experience in the industry and GAIN Capital's 150,000 traders pool, NYSE listing and so on. Other domains used by City Index are cityindexasia.com.sg, cityindex.eu, and cityindex.com.au.
While the broker services and the website look very promising, professional, and rich, user ratings among the benchmark sites are alarmingly low. This City Index broker review will cover service areas to point out what is behind the lines that could be the reason for a bad image if justified at all.
Account Types
City Index has 3 account types that are differentiated mostly through leverage directive limits. Still, there are some other benefit differences as stated by the broker. The accounts are called Trader, Premium Trader, and Professional Trader. As many experienced traders may guess, Professional trader is for those that qualify and pass the ESMA requirements. These are:
"Trading volume: Made an average of 10 significantly sized transactions per quarter over the last four quarters"
"Portfolio: Have a financial instrument portfolio, including cash deposits, exceeding €500,000"
"Experience: Worked in a professional position in the financial sector requiring knowledge of trading leveraged products for at least 1+ year(s)"
Meeting two of these criteria is enough to qualify. The main benefit is the increased leverage allowance and everything City Index adds on like client funds segregation, Priority Service, Credit Facility, dedicated broker-assisted dealing, Relationship Manager, Rewards and Premium events, and additional Dataminr tool.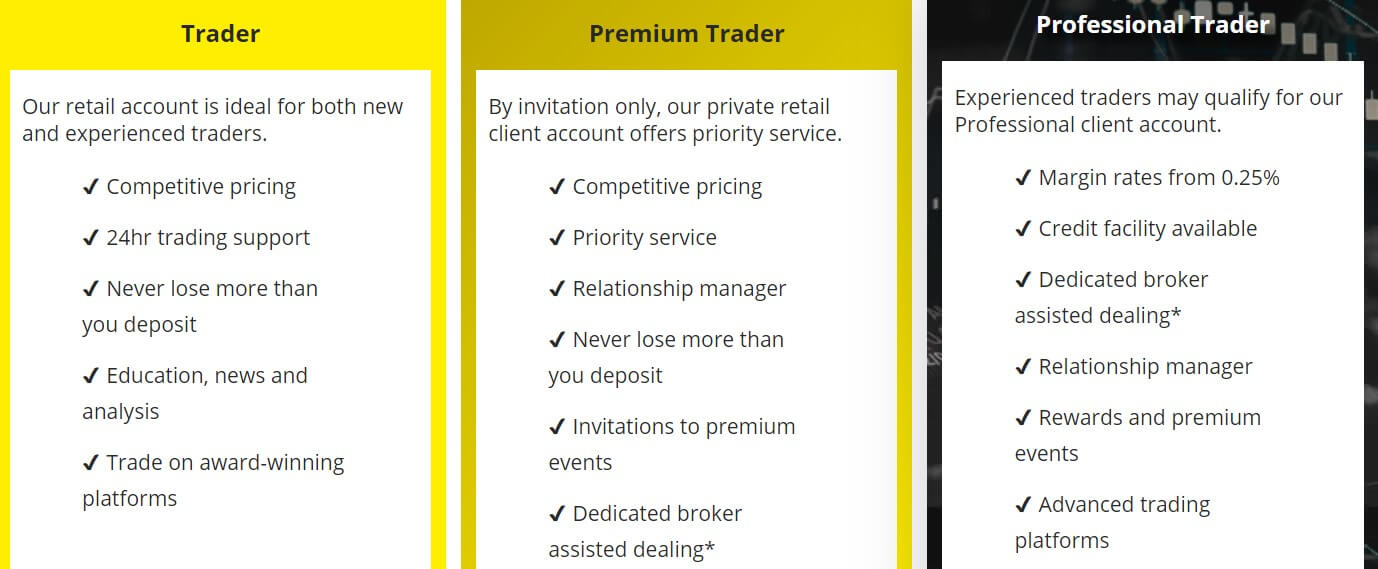 Interestingly, the table also states the MetaTrader 4 and AT Pro proprietary platform as reserved for this account type, but this is just for marketing. Note that as a Professional trader you will also lose some benefits other account types have. You will not have negative balance protection and the 50% margin Stop Out (close out) will not be triggered. FCA protection by the FSCS and the Financial Ombudsman Service remains.
Premium Trader Account is differentiated by having a Priority Service, Dedicated relationship manager, Broker assisted trading, Loyalty rewards, and Hospitality events. Traders using this account type will not have increased leverage and will be under the ESMA limits. According to the broker, this account type is by invitation only. Traders will have to maintain an account balance of £10,000 and be active after they will be invited or may apply for Premium Trader Account.
Trade Account is City Index's basic account and is promoted with 12,000 markets open for trading, award-winning platform, and technology, 16 chart types with over 80+ indicators, News and analysis, negative balance protection, and ongoing support. Most of these features are not enough to attract experienced traders except the market range. Tools provided for this account type are not explicitly promoted but they are the same as with the Premium Trader. More on this in the Education and Tools section of this review.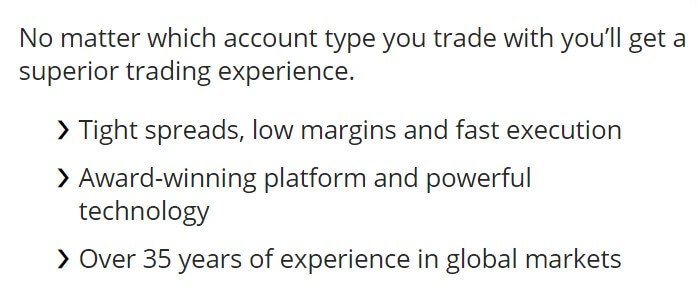 Metatrader 4 platform requires a separate CFD trading account. City Index CFD log in details are not valid for the MT4. The offers and features on the Advantage Trading platform are different than what you can expect in the MT4. MT4's main advantage is the EAs and custom indicators availability while the City Index's proprietary platform can place multiple modular Stop and Limit orders, research tools integrated, and so on.
This account type requires a minimum deposit, contrary to the Trade Account and others that rely on the Advantage Trading platform. Also, MT4 Account is commission-free while other CFD accounts have a commission on shares otherwise not offered in the MT4.
Platforms
City Index follows the usual steps of large market maker brokers and has their trading platforms. As City Index is a GAIN Capital brand, the platform is similar if not the same as what can be seen on FOREX.com and other GAIN brands. What is common to all of them is the TradingView HTML charting technology. Therefore, City Index offers a web-accessible AT platform, also called Web Trader and the MT4 platform. Advanced Trader or AT Pro and MT4 are all available for mobile devices running on Android and iOS. MT4 and AT Pro desktop versions are available only for Windows.
MT4 is showing two City Index servers Live and Demo, both with 50ms ping. The platform is updated to the latest version, set to the default setting with classic 4 forex charts open. Interestingly, City Index name is under the brackets beside the GAIN Capital UK Ltd in the about window. Also, the welcome mail is from GAIN Capital. There are no additional templates or custom indicators packed with the installation. One-click trading buttons are not visible so traders will have to manually turn it on. Symbols list has a lot of groups for the same asset class, so for Forex currency pairs we have noticed a total of 10 groups without any apparent grouping pattern or practical sense.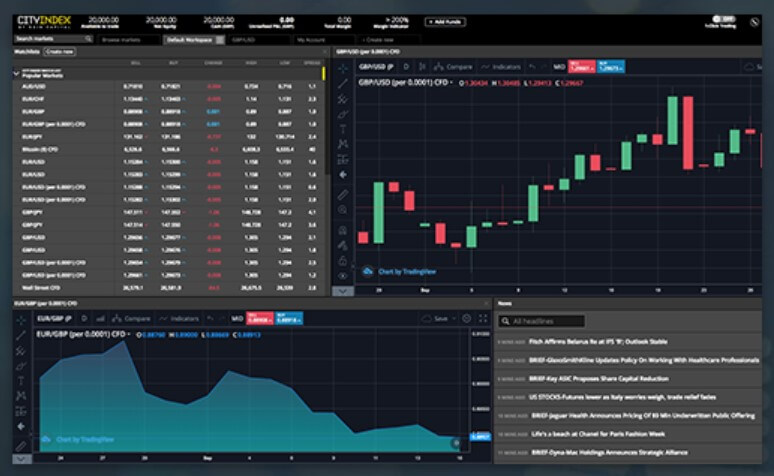 For example, ForexPro10 and ForexPro9 group contains 2 major currency pairs while ForexPro 6 has 7 exotics. Similar is done for the Indices. The instrument specification window is not showing information for the swaps or trade sizes. As stated by the broker swap information is presented as separate entries in your account history. Upon further investigation, we have noticed the Company Tab in the Terminal window where swap information is disclosed and updated.
This tab also contains other links to the chat service and so on. Some links are dead making the whole Company Tab dysfunctional so you will have to restart the MT4 client. This is an unusual practice, swaps are not disclosed anywhere on the website. While online for 24 hours the platform signal dropped 2 times. Execution time is 127ms on average with almost no deviation, providing traders consistent experience.
AT pro platform installation can be standalone or portable. The amount of features exceeds those found with the MT4. Starting with the top frame menu, traders will be intrigued and explore what each section has to offer. Markets tab is all about the market watchlist where traders can use the search and filters to pinpoint their interest. The watchlist can be saved and multiple arranged into a single window, sort instruments per column min/max values, be it % change, volatility, or other criteria.

Charting options are extensive, most interesting are over 100 indicators to insert, chart linking, resizing and movement, Renko chart type, measurement and viewing tools, tick and other non-standard timeframes like 3m, 2m, 10m, H8, and so on. Drawing tools are also very good with all Fibonacci functions, Gann, channels, freehand, shape, and lines drawing. Chart templates can be saved, managed, cloned, and restyled. Research and Analysis tab will hold a great range of services for this purpose.
We have found the Economic calendar integrated, News, City Index market analysis, Trading Central technical analysis link, Fundamentals analysis, Trading Central technical insight (which is the same as the Technical Analysis), Trading Central Market Buzz™, and another Trading Central service – Analyst Views. The Newsfeed is from Reuters and related feed is available next to each instrument or on the chart, while the Economic Calendar is good looking with filters for Country, Category and market impact.
Additional filtering can be set according to the timeframe. Clicking on the event will open the description, link to the source and data figures. Price alerts can be set on the chart context menu with options for GTC or on time, ringtone setting and comments for the alert. Then, there is the My Account tab for all accounts and funds management.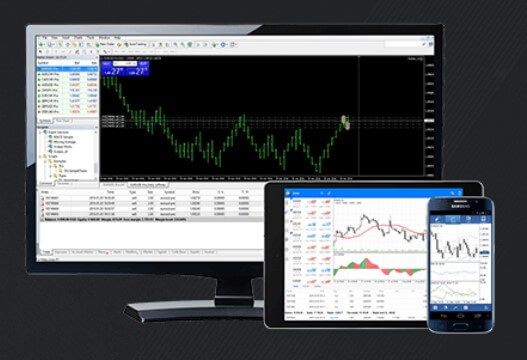 Appearance customization options are also great, you can change the platform skin to dark, light and white, change the menu behavior, language, manage workspaces, windows and so on. Probably the most interesting section is the Automated trading. This platform supports many pre-made algorithms that have descriptions and a range of settings for customization. Traders who are good with coding can also make their own and import them. AT Pro platform has a builder that can be used for indicators building and trading systems.
Custom made systems for this platform are not as available as with MT4 to download. However, City Index forum exists for this and as we have found there are 8 additional systems to download and one indicator. Searching the internet users can probably find more elsewhere. Strategy backtesting is also available for any trading system with a good setting range for finetuning. Ordering panel offers options to set OCO, Entry or Market execution, Stop Limit orders calculated in pips, price or P/L and the trailing type option. Margin calculator is integrated for easier Risk Management.
Partial closing is supported for better scaling in and out, with the ability to use FIFO. Unrealized profits from trading will be used as margin and positive slippage is not filtered. Guaranteed Stop Loss is also offered and the premium for this service is only paid if the order is triggered. Swaps information is available as well as trade sizes and more, yet, execution times are not available to see.
We have manually measured this time and it is roughly 0.3s. AT Pro platform is well made and traders used to MT4 will not need much adaptation, the help section is very useful and structured.
Leverage
City Index adheres to the ESMA regulation and therefore offers the maximum leverage of 1:30 for all trading instruments. These apply for Retail traders that do not qualify for the Professional category. Most major Forex currency pairs are 1:30, the exceptions are NZD/USD and AUD/USD with 1:20 leverage. Minors and crosses mostly have 1:20 while exotics are mostly 1:10 which is the lowest leverage offered for Forex.
For shares, the leverage is from 1:5 while Indexes have 1:20. Gold futures and spot CFDs have 1:20 leverage while other precious metals like Platinum and Palladium have 1:10. Commodity assets all have 1:10 regardless of the contract type. Cryptocurrencies leverage is not published on the website but from the platforms, we have noted 1:2 leverage for all coins. The leverage is dynamic according to the trade size. For the exact margin structure, traders can see in the information window in the Advantage Trader platform.
Professional traders have increased leverage as a result of their proven understanding of the market risks. According to the table, For Forex instruments the leverage is up to 1:400, the same is for Indexes. Shares have 1:33 while cryptocurrencies can have 1:20.

Trade Sizes
MT4 trade sizes are in micro-lots or 0.01 lot. Note that the trade sizing information is not available in the MT4 instrument specification. In the AT Pro platform trade sizes are per CFD unit per pip and can be from 1 CFD to different maximum sizes depending on the instrument. For other types of Forex contracts, trade sizes are in currency units and are from 1000 or 0.01 lots. Minimum order distance varies for each currency pair but is not over 15 pips for the most exotic pairs, most are under acceptable levels that should not influence fast trading strategies.
For Bitcoin/USD the minimum trade size is 0.1 BTC up to 75 BTC maximum. Fore Ethereum/USD the minimum is 1 up to 1600 maximum trade size. There is no minimum required order distance for crypto. Precious metals trade sizes are form 1 to 5000 units. Other trading size variations exist like Gold Mini CFD that has smaller contract value. Taking everything into consideration, these trade sizes are not common for MT4 users and they will need some adaptation.
All accounts have 50% Stop Out level or also called close out by the broker. Margin Call is at 100% but it is not mandatory to notify the trader.

Trading Costs
City Index has commissions only for shares. The commission has a minimum of 10 currency units and 5 AUD for Australian shares as per AT platform market info, also charged per share (1.8 CPS) or in percentage (0.08%). Shares are not available on the MT4 platform, therefore no commission is charged for any tradeable asset. Swaps are not presented in the specification window in the MT4 but are charged. For details, traders can see exact swap rates in the AT platform as these are not published on the website or any documents.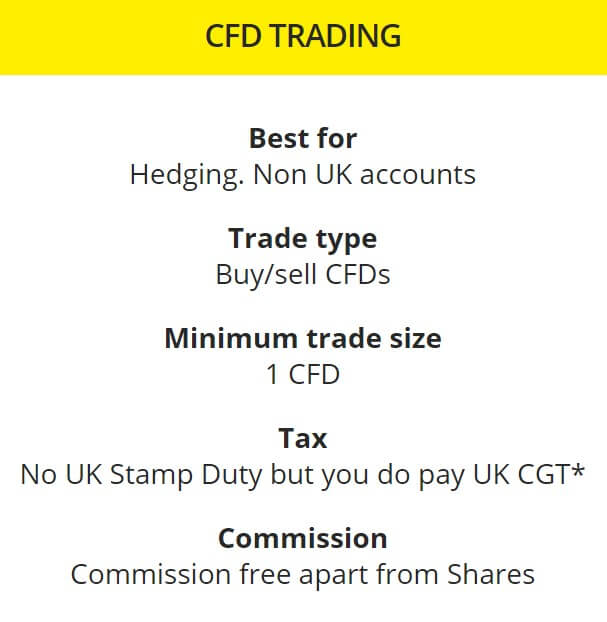 Swaps are under normal levels as seen in the AT Pro platform, calculated in the GBP currency and tripled on Fridays. Swaps are per 10,000 units, for the most traded currency pair, EUR/USD it is -0.70 GBP for long and 0.39 GBP for a short position. GBP/USD short position swap is 0.04 GBP and for long -0.46 GBP, interestingly for USD/JPY there is no swap but over weekend swap is -0.62 for short and 0.28 GBP for long.
Swaps for exotic pairs are low comparing to other brokers. For example, USD/ZAR has -1.53 GBP for long and a positive 0.82 GBP for short, USD/CNH 0.06 GBP short and -0.51 long, or CHF/NOK with 0.9 GBP short and -1.91 GBP long. Most of the times swaps had a positive value on one trade side. There are no swaps for Crypto or Metals CFDs.
Inactivity fee exists and it will be charged in the case of inactivity for 12 months. The fee of £12 will be charged monthly.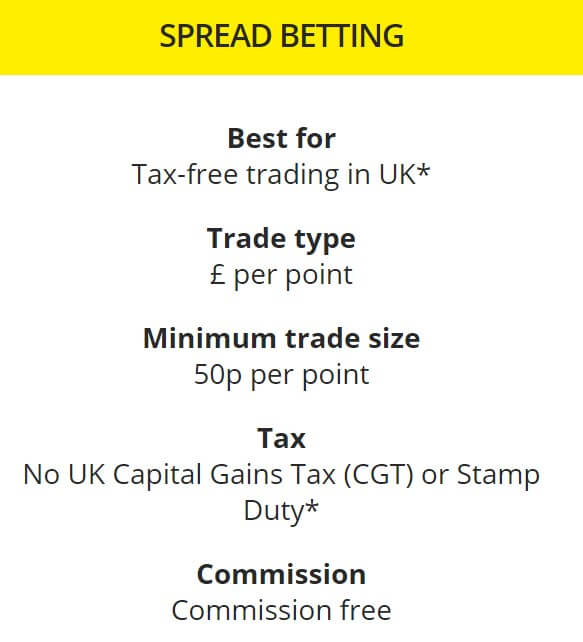 Assets
As a part of GAIN Capital Holdings, City Index holds the same great asset range only big brokers can arrange. According to the City Index's website, over 4000 assets are listed split into more than 10 categories, some of which are unique. Starting with Forex, there are 84 total currency pairs. This extended range mostly comes from many major pair crosses with other exotics. It is rare to see pairs like AUD/CNH, AUD/SGD, CNH/JPY, EUR/CNH, EUR/CZK, GBP/PLN, or EUR/TRY. GBP, EUR, USD, and AUD are used to cross with many other pairs, including the exotics.
Note that we have seen other pairs not available in the AT Pro platform but listed in the MT4. Such currency pairs are USD/RON, USD/ILS, SGD/HKD, AUD/PLN, USD/THB and many more. This forex instrument range is among the top in the industry, if not the best.
Precious metals range is extended as well. Gold, Silver, Platinum, Palladium, and Copper are listed as CFD futures and cash CFDs. There are also variants with Mini contracts for accounts with a lower balance. These assets are also available in the MT4 platform.

According to the website, there are a total of21 Indexes to choose from. These are extended by the presence of future CFDs. Those especially interesting are Wall Street, Volatility Index, US Small Cap 2000, Brexit High and low political Index, US Dollar Index, Switzerland 20, Singapore Index, Netherlands 25, India 50, Hong Kong 50, China A50, and CBOE UK 250. Again, this is one of the best offers in the industry. The MT4 platform has this category listed too.
The broker continues the practice to offer extended and rare assets in the Commodities category too. There are over 25 commodities on the list. UK and US Oil types are standard, traders will have a rare sight into commodities like Robusta Coffe, Lean Hogs, Carbon Emissions, Live Cattle, London or NY Cocoa, Orange Juice, Heating Oil, and many more. The MT4 platform has the Commodities category but with fewer assets listed.
Bonds are offered in the extended range. There are a total of 13 instruments in this category. US Bonds and Notes are offered in multiple due dates and sizing. Other interesting offers are UK Long Gilt, Japanese 10 Year, Euro Schatz, Euro Bund, Euro Bobl, BTP Italian Bonds. MT4 platform does not offer these assets.
Interest Rates CFDs category is giving traders opportunities to experiment. There are a total of 7 instruments listed but most of them are the same with different expiration dates. These are Short Stg 3 months, Eurodollar, and Euribor 3 months futures CFDs. MT4 does not have these assets.
Sector Indices are a unique offer and represent UK industry sector Indexes. There is one index for every sector that makes a total of 14 instruments. Examples are the UK Tech sector Index, UK Finance sector Index, UK Healthcare sector Index, and so on. These are not listed in the MT4.
ETFs range is one of the best with a total of 101 listed instruments not available in the MT4 platform. There are many interesting ETFs in various sectors, 10 are just Gold ETFs like Gold Bull Sec, SPDR Gold Trust, VanEck Gold Miners, Direxion Daily Gold Miners Bear 3X and so on.
The only category where the City Index does not offer supreme range is the Cryptocurrencies. What is offered is 9 assets but 4 of those it the Bitcoin quoted in EUR, USD, AUD, and GBP. Also, there is the Mini Bitcoin CFD with a smaller sizing. The rest of the offer is Ripple, Ethereum, Litecoin and Bitcoin Cash. In the MT4 platform only BTC/USD, ETH/USD and XRP/USD are listed.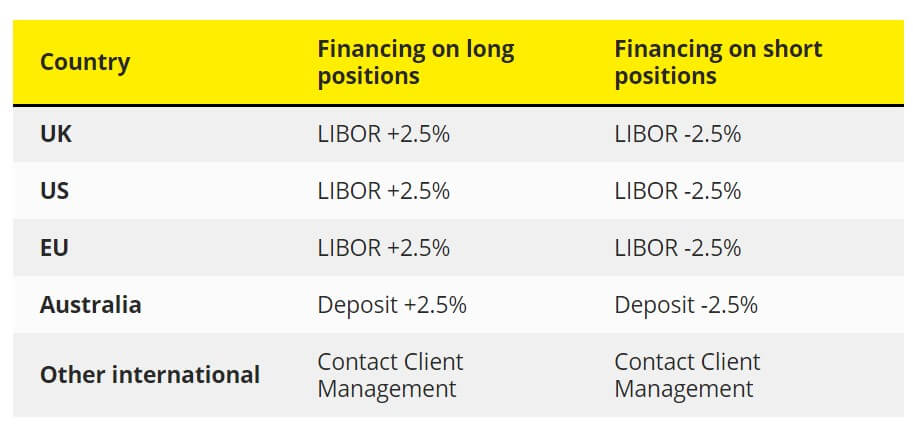 Spreads
City Index has fixed and variable spreads offered for certain instruments, although most are variable types. City Index offers 1 point fixed spread on the Australia 200, UK 100, Germany 30, France 40 during market hours. The spreads are up to 30 points fixed for the CBOE UK 250 while China A50 has 10 points around the market spread. Hong Kong 50 and Italy 40 have 10 points fixed but Japan 225 and Spain 35 have 8 points.
Forex spreads are floating type and are competitive. The City Index's website is promoting spreads from 0.5 pips, 0.69 average and we have observed 88 points during the session ending in the MT4.and 78 points in the AT Pro platform. Nest currency pair with the tightest spread is the USD/JPY where the minimum is promoted from 0.6 pips, an average of 0.77 pips and our reading is 125 points in the MT4 and 117 in the AT Pro during the low liquidity, session end time.

AUD/USD has wider spreads as fixed to 15 pips as well as 7 other major currency pairs with the same spread. These have 1.5 pips set as a minimum in the information window in AT Pro. These pairs in the MT4 have a bit tighter or the same spreads as in AT Pro.
Exotics have much wider spreads as expected but the widest is for the GBP/ZAR with 38.2 pips average stated on the website, and 30 pips in the MT4. This currency pair was not available in the AT Pro. USD/CZK pair has the widest spread in AT Pro during the end session and was 800 points, the same as with MT4. According to these measures, we can tell that the MT4 spreads are not the same and in most cases better than in AT Pro, besides, some pairs are not available in City Index's proprietary platform.

Precious metals spreads are much better than with Forex. Gold has 0.4 and 0.6 pips spread depending on the contract type, the same as in the MT4 platform. Silver has 2.5 pips, Platinum 12 pips in the MT4 and 2.8 pips in the AT Pro, while Palladium has 13.3 pips in AT Pro and 13.3 pips in MT4 during the session end.
Cryptocurrencies have like fixed spreads and are competitive. BTC/USD has 35 pips spread, the same as in the AT Pro while Ripple has 6 pips in MT4 and the same in AT Pro. Ethereum has better spreads in AT Pro at 11 points while MT4 has 20.
Minimum Deposit
The minimum deposit is not set for the AT platforms accounts. MT4 type accounts have the minimum initial deposit of £100.
Deposit Methods & Costs
There are no deposit charges by the broker. The deposit methods are Bank Transfers, PayPal, and debit/credit cards such as Visa or MasterCard.

Withdrawal Methods & Costs
The broker state that no fees exist for withdrawals. The methods available are the save as with deposit and traders can use different methods or cards is the deposit was successful. The minimum withdrawal amount is £50 or the remaining balance of your account. PayPal withdrawals are limited to the total deposit amounts via PayPal.
Withdrawal Processing & Wait Time
Allow 3–5 working days for any card withdrawals. Bank Transfers are done in normally 1–2 working days but can be faster for local banks with fast payments. For PayPal 48 hours are needed although these transactions are usually instant.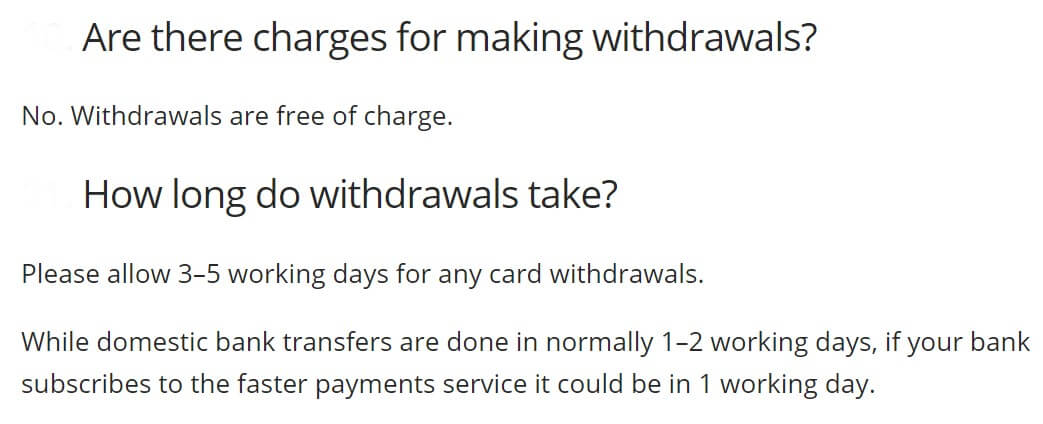 Bonuses & Promotions
According to the broker, the £1000 switcher bonus offer is available for a limited time only. This bonus is credited to Professional accounts. At the moment of this City Index review, no other bonuses are offered.
Educational & Trading Tools
City Index has a dedicated Training section for education. This page lists various topics (10) about trading in written form and Video Libary section which contains 9 videos. Trading topics are, for example, "Introduction to Financial Markets" article which contains several chapters covering all the assets categories. The content quality is very good with nice visuals and videos. Other topics are similar in structure and are about CFD trading, Crypto trading, Trading Strategies, Technical and Fundamental Analysis, etc.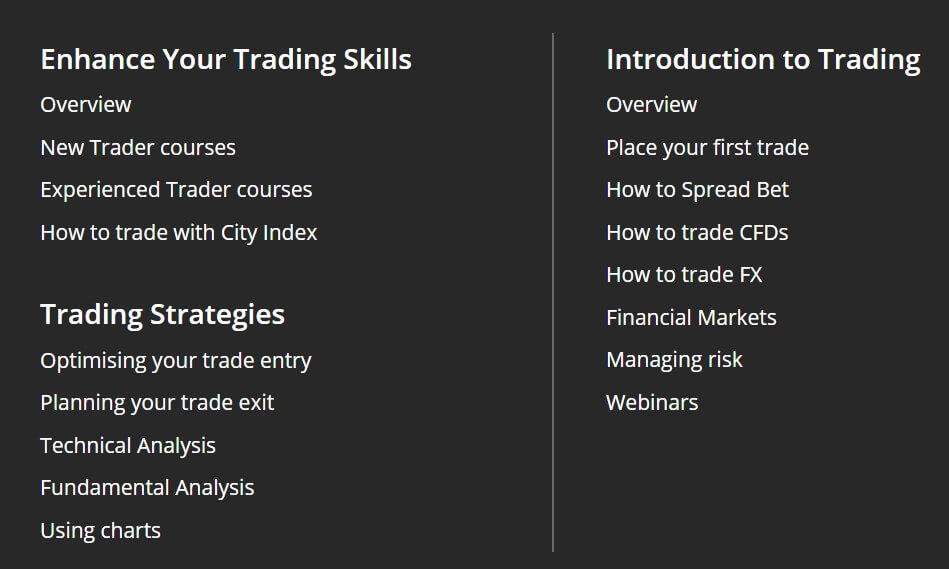 These are elementary and do not go deep into the subject, but each goes several pages in length following the chapters. The video library contains videos that are used in these articles. They cover topics like "Guide to Asset classes", "Planning your trade exit" and numerous spread betting videos.
Tools mentioned in the platform makes the essence of the City Index's offer. In addition to those, the Market News section on the website contains even more informative material. Webinars are available for free and at the moment of our review, we have noticed the last one about "Trading Uber's IPO" held in May 2018. Therefore we are not sure if these still run. Popular Topics page covers the US-China Trade War, "Tech Stocks Hub" and the "Brexit Hub".
Market Analysis section contains fresh info on global topics related to markets. The articles are a mix of news and analysis with good interpretation and graphics. Although they are not deep into the subject, they provide some value to traders. Most of these are made by City Index staff using different sources. This section is very extensive and well made, there are filters with options to select Markets, Authors, Regions, and Article types. Other than that there are also Economic Calendar, Company Reports, and Brexit News tabs.
Customer Service
24/5 support is available and the broker can be contacted by phone, email or via chat service. The chat has a query bot integrated and he will respond to your questions first. Most of the time you can find what you are looking for but we had questions for live agents. They will respond promptly and you do not have to wait for them at all. Some advanced topics are answered fully and making it easy to understand. Although we had the impression that they would like to close the chat once you start asking questions about their image.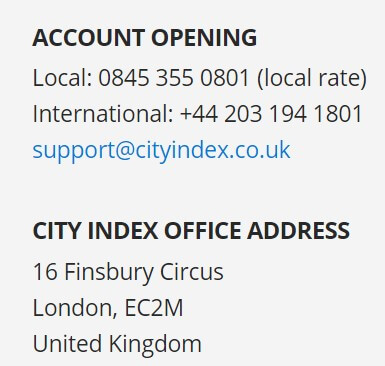 Demo Account
The demo account is available for MT4 and also for the AT platforms. The accounts are different so you need to register two demo account if you want to try both. The demos are tile limited to 12 weeks and have 10,000 virtual funds. The demo will reflect actual trading conditions.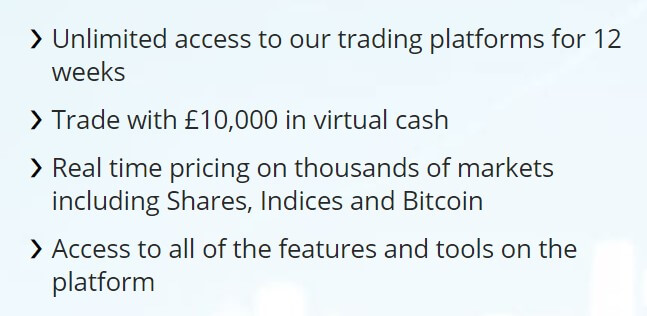 Countries Accepted
Different regulations exist for each country. FCA covers Austria, Belgium, Bulgaria, Croatia, Czech Republic, Denmark, Estonia, Finland, France, Germany, Gibraltar, Greece, Hungary, Iceland, Ireland, Italy, Latvia, Liechtenstein, Lithuania, Luxembourg, Malta, The Netherlands, Norway, Poland, Portugal, Romania, Slovakia, Slovenia, Spain, Sweden, and UK.
For Australia, New Zealand and South Africa the regulator is ASIC and for Singapore – Monetary Authority of Singapore (MAS).
Conclusion
This section of the City Index review will reveal other key information not stated above. Note that 72% of retail investor accounts lose money when trading CFDs with this provider. This is below the average of 79% in the industry. City Index is just a name for a GAIN Capital branch in the UK and other jurisdictions. Other domains may have slightly different assets range, deposit and withdrawal options and so on. As one of the biggest market maker brokers using the Central Counterparty Clearing House model, they offer one of the best asset ranges and proprietary platforms in the industry.
Also, the trading costs are competitive and traders have a plethora of tools and other useful material. On the other hand, bad user ratings have a common problem with the withdrawals on for profitable clients, extreme spread spikes and similar practice described as when the GAIN Capital was fined for by the NFA. Also, none of these user ratings were met with a reply from City Index. From our impression by speaking with the broker staff, they seem not to care much as they are too big to bother and have enough capital any fine cannot make an impact to.