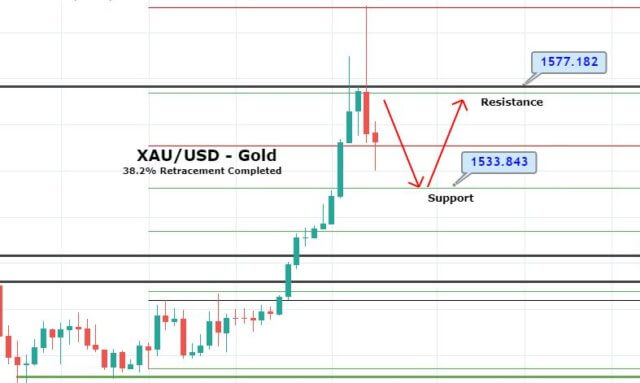 A day before, gold soared to a high of $1,611 an ounce once news about Iran attacking U.S. targets in Iraqi broke out. However, the yellow metal retreated for the rest of the session, over worries about an escalation between the U.S. and Iran. It closed at $1,556, down from $1,574 in the prior session.
The safe-haven-metal prices dropped sharply mainly due to deescalated tension between the United States and Iran war after the U.S. President Trump sluggish speech regarding missile attacks. 
Iran appeared to be standing down, calling it a good thing for all parties concerned. Furthermore, the fact that we have this great military and equipment, therefore, does not mean we have to use it.
It is worth to mention that before U.S. President Donald Trump's speech, there were already signs rising from Iran for a de-escalation. As of consequence, markets turned into risk-on sentiment and thought that the U.S. would not take any revenge. Whereas, Foreign Minister Mohammad Javad Zarif tweeted that the country does "not try escalation of the war.
However, the main driver behind the gold prices was President Donald Trump's delayed response to the missile attack yesterday. Once a time, the market was shaken in the wake of Trump's answer, but no one did know that Trump would deliver a soft speech regarding attacks.


Daily Support and Resistance
S3 1481.81
S2 1524.92
S1 1540.62
Pivot Point 1568.02
R1 1583.73
R2 1611.13
R3 1654.24
On the technical front, the precious metal gold has formed bearish candle at 1,550, which is engulfing the previous candle, suggesting chances of a bearish retracement in gold. In fact, gold has already completed 38.2% Fibo retracement at 1,552 level. 
Closing of the daily candle above 1,550/48 level may drive bullish correction on today and tomorrow until the most awaited NFP is released. At the moment, we can look for selling trades below 1,557 and bullish trades above 1,547 until the breakout occurs. 
Good luck!