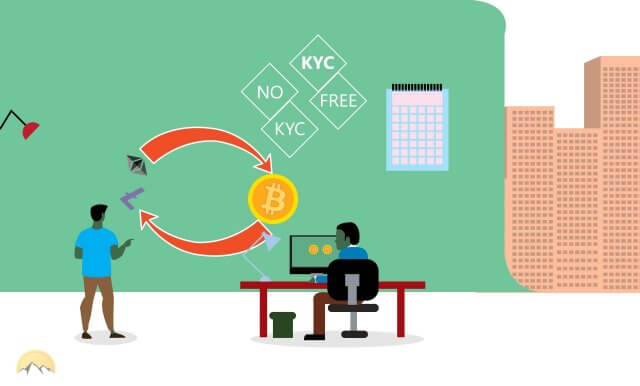 The KYC (Know Your Customer) regulations are standard with financial institutions around the world. These laws were enacted to prevent money laundering activities in the financial industry, and every one of us has been subject to them, in one way or another. 
The regulations require institutions or platforms to verify individuals' identities before using their money transmission services, and most recently, virtual currencies. 
Cryptocurrency and blockchain technology is the new kid in the financial block, and already disrupting the market with lower transaction fees, confidentiality of transactions, and improved security against fraud.
Surprisingly, the KYC verifications are gradually creeping to cryptocurrency exchange platforms. This means that getting your money from the cryptocurrency exchange is a bit more complicated than sending money. But you don't need to use "surveillance exchanges," as critics call them, to trade.
If you prefer to withhold personal information with your cryptocurrency investment, you can use anonymous cryptocurrency exchanges. We list five of the best exchanges that don't require KYC verifications.
Are KYC Exchanges Safer than non-KYC Exchanges?
No doubt, the exchanges that mandate KYC verifications may sometimes offer better security. The platforms are fully regulated and may provide better redress in case of a hack or when something goes wrong. 
On the other hand, regulators may not be able to track culprits in a fully anonymous platform. It can also sometimes be difficult to access important information such as inflation rate, currency generation, and other blockchain transactions. Regardless, the benefits of anonymity in cryptocurrency outweigh its downsides. 
BitMEX is a cryptocurrency derivatives exchange that is the latest to join the club of cryptocurrency platforms aligning themselves with the traditional financial institutions' regulations. Since August 28 of 2020, the exchange has been rolling out KYC. All traders are required to submit photographic ID and other identifying information by February 12, 2021.
But this does not imply non-KYC Exchanges are not safe. In contrast, many cryptocurrency investors prefer non-KYC platforms. This is because they believe KYC is a powerful magnet for hackers, making everyone unsafe. Every time you make a transaction, you give out your crypto address that can be used in blackmail, social engineering, hacking, or by law enforcement.
At the Web3 Summit, Edward Snowden was given a headline spot, and this goes to show that privacy hardliners are not going to relent anytime soon. The action by BitMEX could see migrations to non-KYC exchanges such as ByBit, but still, that is a wait-and-see situation. 
The main goal of high-value crypto traders is to be in cryptocurrency exchanges that blend anonymity and security to a satisfying level. If any one of the two fails, the investors move to better alternatives, and there will always be crypto exchanges such as ByBit ready to receive them with open arms.
As a crypto trader, you can choose to keep your personal information and protect your identity from the reach of criminals by choosing secure, anonymous crypto exchanges.
Binance
The Hong Kong-based cryptocurrency exchange is currently the most popular and the world's largest, with up to 10 million active users, ahead of Bittrex. With Changpeng Zhao as its head, Binance has been one of the most innovative with creating the Binance Coin (BNB) token. Binance supports over 150 cryptocurrencies.
Users can access a 2 BTC worth of cryptocurrency trading limit without KYC verifications, with additional benefits of up to 50% reduction in fees. You do not need verification for spot trading.
However, transactions involving large amounts of BTC will involve completing KYC procedures to use the Binance platform. Binance US, which the US traders must use, requires KYC verification during registration.
You can deposit funds on Binance through credit cards, bank transfers, and crypto deposits. Holders of its native token, BNB, enjoy a discounted rate. The exchange has a referral program for BNB tokens, among other rewards.
There are some signs that Binance could go the way of BitMEX and transition to full KYC sometime in the future. This is mainly because it is compelled to align with numerous jurisdictions' requirements where the platform operates. They choose to avoid the push and shove involved with the regulators of different countries and regions. 
Block DX
The exchange operates on blockchain interoperability protocol or the Blocknet, allowing communication between private and public blockchains. Blocknet also makes it easier to interact and exchange crypto among the platform users. 
The Blocknet Protocol-powered decentralized exchange allows users to transact without an intermediary. It has no withdrawal and trade limits, thus allowing greater flexibility. The exchange provides trading pair freedom, where all you need is a small amount of its native coin, BLOCK, to take an existing order. You do not need BLOCK tokens to create an order.
According to the non-custodial exchange developers, Block DX does not have any pause button, kill switch or email notifications. There are no interruptions in scheduled or unscheduled maintenance, and it does not have any offshore company. It claims to be the best definition of a decentralized and anonymous cryptocurrency exchange.
What separates Block DX from its other decentralized peers is that it decentralizes all its platform components. You enjoy more flexibility and freedom.
Changelly
The anonymous cryptocurrency exchange has been around since 2013 and has considerable experience in the crypto space. 
The platform allows instant transfers across various cryptocurrencies to cryptocurrency wallets. The exchange has a reasonable fee of 0.5% and is very committed to protecting your privacy. Changelly only requires an email address.
Changelly is integrated into the Stratis app, and you can conveniently trade the $STRAT tokens right on your mobile device. But still, the exchange supports up to 150 cryptocurrencies. $STRAT is among the leading cryptographic tokens that you can freely trade in open exchanges. 
However, you need supporting cryptos such as dash and Ethereum to exchange for BTC. Changelly is a centralized exchange, but it does not require id verification to access the swapping services. The only instance where KYC verification is necessary is when Changelly detects suspicious activities.
The platform has a vast array of acceptable payment services apart from the crypto deposits. You can deposit through credit card payments, bank transfers, and even ApplePay. Besides, its trading algo is one of the most impressive yet, which scans other platforms to find the best trading prices.
ByBit
This platform matches the ability to leverage trades by up to 100 times by BitMEX without requests for any personally identifying information. This strategy helped ByBit accrue more than a million users worldwide since its launch in 2018.
ByBit may seem too lax with security for a casual observer, but nothing could be further from the truth. ByBit is only part of a handful of cryptocurrency exchanges that can genuinely be said to have never been breached since its establishment.
ByBit leverages two-factor authentication sign-ins compatible with authenticator apps, SMS, and email. Funds are usually in multi-signature wallets stored in offline cold storage.
The Singaporean crypto exchange has a wide variety of features for margins trading. The perpetual swap product, BTC-USD, is the most popular with ByBit, and you can trade ETH, EOS, and XRP. 
ByBit's crypto margin trading guides have a wealth of tips and tricks on swapping derivatives. Anyone around the globe can use ByBit without the need for KYC verification. The platform has both Android and iOS compatibility and is available in different languages. 
Unfortunately, ByBit bars users from the US. 
IDEX
The hybrid cryptocurrency exchange, which has centralized and decentralized features, is a favorite for Ethereum holders. In an operating environment where owners can be liable for illegal activity in their exchanges, IDEX has pursued pragmatic decentralization to influence legal treatment by the regulators.
IDEX is mainly designed for Ethereum and Ethereum-based tokens (ERC-20) trading. 
The platform employs blockchain technology security and privacy to allow anonymous trading by using only the wallet addresses. You only need to deposit tokens to unlock the wallets and start trading. The IDEX native token holders receive a percentage of the transaction fees generated on the platform.
As of August 23, 2020, all users in the IDEX platform require partial verification to trade. You will also need passport scans and selfies for withdrawals of $5,000 or more. US customers are restricted from trading particular assets on the platform.
Final Word
The world of digital currency was propelled by, among other factors, anonymity. The increasing need for KYC verification to improve security also acts as a barrier. In some way, KYC is a potential threat, as well, in case of a data breach on public ledgers. 
Well, bitcoin mixers are an excellent option for anonymity and security. Nonetheless, a well-established crypto exchange platform that doesn't require KYC verification is usually sufficient in most cases. Do a little digging before signing up for a cryptocurrency exchange. Check its policies, read the reviews, and weigh the quality of its customer support.
The above exchanges are only a few of the well-established and reliable crypto platforms you can start with. There are many others, as well. Happy trading!