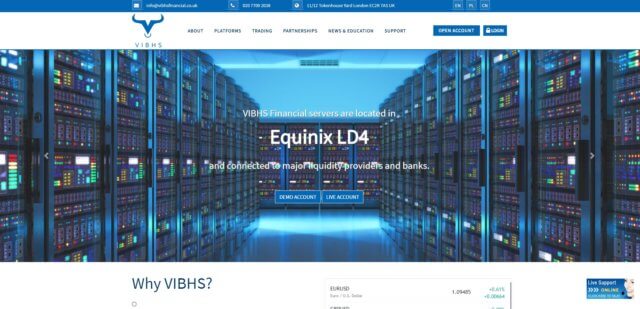 VIBHS is an online foreign exchange broker that was established in 2013 and is based out of London in the United Kingdom. VIBHS are fully regulated by the Financial Conduct Authority and have over 50 years of combined experience on their senior management team. They offer a growing range of services that are provided through their global office network and regulated framework. VIBHS is proud to provide its clients with a range of user-friendly platforms, which cater to many languages and are extremely user-friendly. Through these platforms, customers have access to a variety of global markets.
So let's jump into the review and see exactly what VIBHS is offering their clients.
Account Types
It seems that VIGHS is keeping things simple in the accounting department as there seems to just be a single account available. So as we go through this review, everything that we mention will be relevant to this single account type. We have outline da few of its major features below but will go into them in more detail as we go through the review.
Account Details:
The account requires a minimum deposit of $200 in order to open up, it comes with a maximum leverage up to 1:200 and has an average starting spread of 1 pip. The account can use the MetaTrader 4 trading platform and has multiple methods to deposit into it.
Platforms
There are three different platforms available when trading with VIBHS, you can have the more traditional style of trading through the use of MetaTrader 4, but then there are some less conventional ways of trading through two different platforms, let's look at what is on offer.
MetaTrader 4 (MT4):
MetaTrader 4 was released by MetaQuotes back in 2005 and has become one of the world's most renowned and most used trading platforms. It can be used as a desktop download, mobile application or as a web trader on your internet browser. It offers features like one-click trading, multiple charts, and timeframes and it is compatible with thousands of indicators and expert advisors which can be sued to help with your in-platform analysis and also allows for automated trading.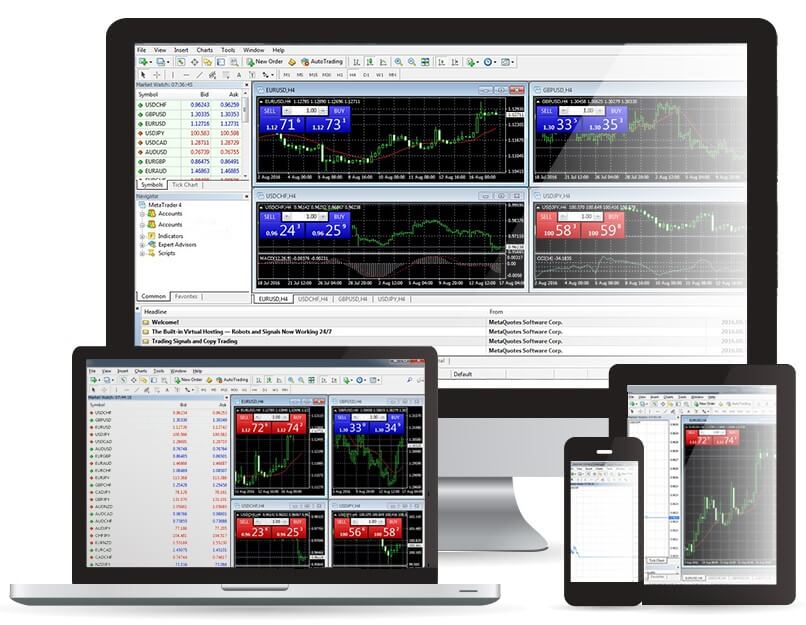 Dabbl:
Dabbl is an interesting platform, it allows you to search for a brand, theme or company in order to find investment ideas, it uses a technology that helps to translate complex data into insights which can help you decide how to trade. You can then follow and track the company, then choose how much in investment. Your investments are covered by the Government's Financial Services Compensation Scheme up to a value of £85,000.
Torch:
Torch is an algorithmic auto trading software. Start off by defining your strategy basics. Simply choose your 'instrument', and then select the time frame over which you want your strategy to run. Set your parameters for trading – such as your stop loss and take profit – to stay in complete control of your investment. See how your newly-created strategy measures up in a safe setting. With Torch Markets you can back-test against historical price action, dating up to 10 years. Choose how far back to go; and get results in a matter of seconds. Adjust and refine the parameters until you are ready to test using current market data, with our paper testing feature. Deploy your newly created algorithm on the live markets.
Leverage
VIBHS is required to follow the recommendations from the ESAM, this means that the following limits are placed on the leverages available:
Leverage limits on the opening of a position by a retail client from 30:1 to 2:1, which vary according to the volatility of the underlying:
30:1 for major currency pairs
20:1 for non-major currency pairs, gold, and major indices
10:1 for commodities other than gold and non-major equity indices
5:1 for individual equities and other reference values
2:1 for cryptocurrencies
It is not clear if VIBHS will allow professional traders to have higher leverage if they do then the leverage for professional traders will be 1:200 as a new maximum level.
Trade Sizes
The smallest trade size starts from 0.01 lots which are equal to 1,000 base currency units as a full lot is equal to 100,00 base units. The trades then go up in increments of 0.01 lots so the next trade would be 0.02 lots and then 0.03 lots. We do not know what the maximum trade size is but would recommend not trading over 50 lots in a single trade. We do not know how many open trades or orders you are able to have at any one time.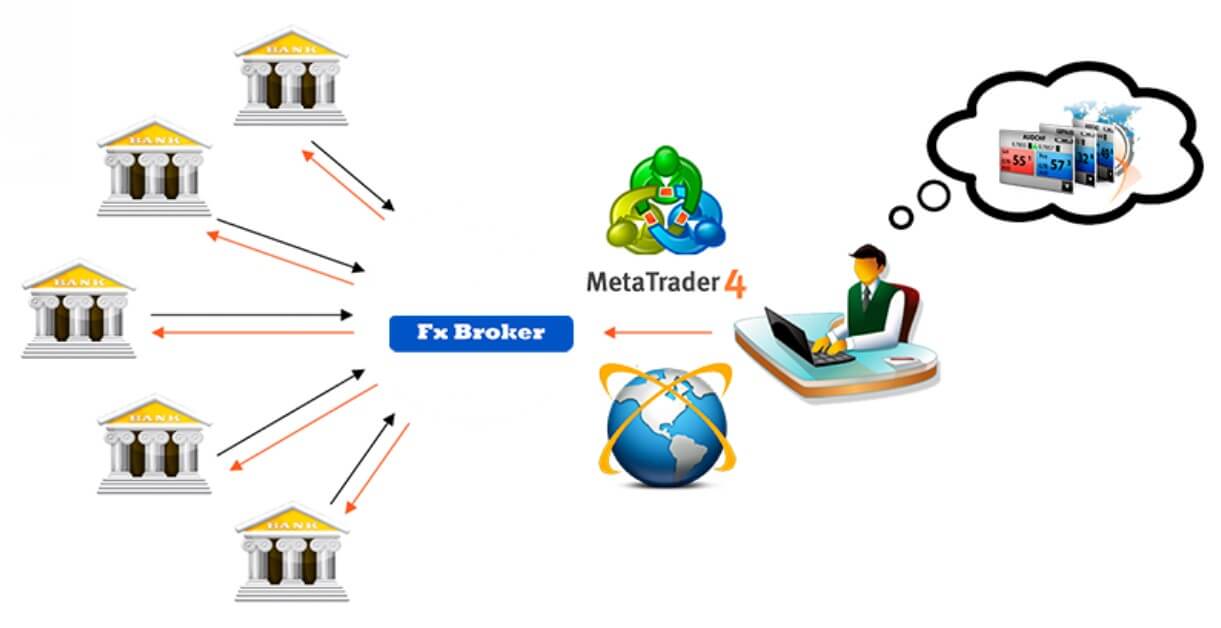 Trading Costs
While going through the site we did not come across any information that was talking about commissions, so we are not entirely sure if there are any, but by the looks of it, there are not and instead their accounts use a spread based system (we will look at that later in this review).
There will be swap charges involved, these are fees that are charged for holding trades overnight, they can be both positive or negative as they depend on the difference in interest rerates. These can be viewed within the trading platform that you are using.
Assets
VIBHS have broken down their assets into a number of different categories, we have outlined them below so you can get an idea of what sort of instruments are available to trade.
Forex:
AUDCAD, AUDCHF, AUDJPY, AUDNZD, AUDSGD, AUDUSD, CADJPY, CADSGD, CHFJPY, CHFSGD, CADCHF, EURAUD, EURCAD, EURCHF, EURDKK, EURNZD, EURPLN, EURSEK, EURSGD, EURTRY, EURUSD, GBPAUD, GBPCAD, GBPCHF, GBPJPY, GBPNOK, GBPNZD, GBPSEK, GBPSGD, GBPUSD, NZDCHF, NXDJPY, NZDSGD, NZDUSD, SEKJPY, SGDJPY, USDCAD, USDSCHF, USDCNH, USDDKK, USDHKD, USDJPY, USDMXN, USDPLN.
Indices:
AUS200, HK50, US500, FR40, EU50, ES35, JP225, UK100, DE30, US30, UT100, CH20.
Commodities:
Gold, Silver, Natural Gas, US Oil, UK Oil, WTI Crude Oil, Brent Crude Oil.
Crypto:
BTCUSD, BTCAUD, BTCEUR, BTCGBP, BTCJPY, BTCPLN, ETHUSD, ETHAUD, ETUEUR, ETHGBP, ETHJPY, LTCUSD, XRPUSD.

Spreads
Spreads seem to start with an average spread around 1 pip, from our understanding the spreads are variable which means they will move with the markets, the more volatility that there is, or lack of liquidity will cause the spreads to grow larger. There are also different spreads for different pairs, so while some may average around 1 pip, other currencies or assets may average around 2 pips instead.
Minimum Deposit
The minimum amount required to open up a new account is $200, you can also deposit the same amount in GBP, USD, EUR, PLN or AUD. We are not sure if the minimum amount reduces once an account has already been opened but we suspect that it will, however, how low we do not know.
Deposit Methods & Costs
The website indicates that there are just two different methods available to deposit with, these are Bank Wire Transfers and Dinpay. Dinpay is a method for Chines clients to deposit using their bank or prepaid cards. Different sites over the internet also indicate further deposit methods but they are not mentioned on the site so we will not let them here.
In regards to any fees, there isn't anything mentioned on the deposit page so we would expect that there aren't any, your bank, however, may charge some transfer fees of their own so be sure to check with them prior to making a deposit.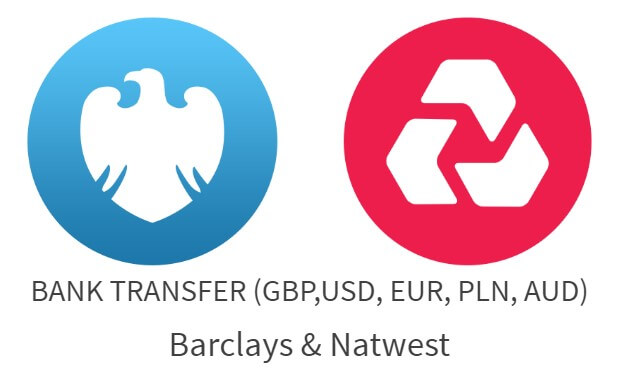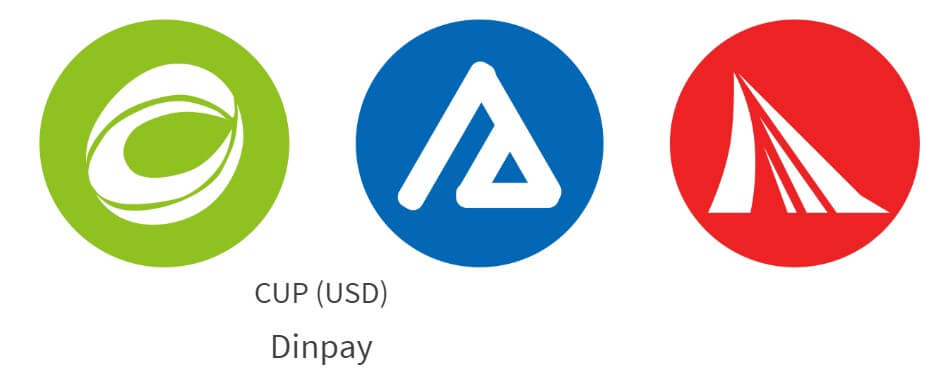 Withdrawal Methods & Costs
The same methods seem to be available to withdraw with, for clarification those are Bank Wire Transfer and Dinpay.
Once again there is no mention of any potential fees, this does not mean that there aren't any, we just do not know what they are. You should always check with your own bank or payment provider to see if they add any incoming processing fees of their own.
Withdrawal Processing & Wait Time
The website states "VIBHS Financial process deposits within minutes to 24 hours (slower due to a large number of transactions) and process withdrawals within 24hours (typically) to 72 hours (slower due to a large number of requests)."
Withdrawals will be processed within 3 to 5 business days from the request of them being made. It will then take an additional 1 to 5 working days for your request to fully process, this time depends on the processing time of your own bank or payment processor.
Bonuses & Promotions
There don't seem to be any active bonuses at the time of writing this review, there is a promotion on a VPS service though, you are able to get a discount on a VPS server when trading with VIBHS, the do not give a lot of information away about the discount or the promotion as a whole, but we know that it is there and available. That seems to be all there is in regards to promotions from VIBHS.
Educational & Trading Tools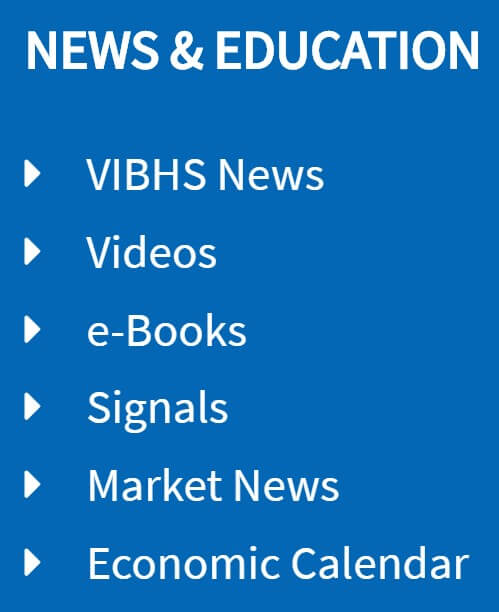 The news and education side of the site is a little sparse, there is just the one page which is for news events, unfortunately, it does not look like the page has been updated since February 2019, so we do not a thin kit is still being actively used.
Hidden in the footer of the site there is another set of education and tools available, the first is some signals, they aren't very detailed and simply stated to buy or sell, various currency pairs and commodities are included in the list, we do not know the accuracy or profitability of these signals. There is also an eBook available to read or download, it goes over the basics of trading. The video section also has a number of videos outlining various aspects of trading from the basics to analysis strategies. The final section is an Economic Calendar, this details different upcoming news events and also the potential impact that the news could have on the markets.
Customer Service
The customer service team can be contacted between 8 am to 5 pm from Monday to Friday, they are closed over the weekends and on bank holidays.
You re able to use the provided online submissions to send in your query, you are also able to use the available email address, phone number or postal address, giving you a choice of contact methods.
Address: 11/12 Tokenhouse Yard London EC2R 7AS UK
Phone: 020 7709 2038
Email: info@vibhsfinancial.co.uk

Demo Account
Demo accounts re a great way to test out the markets, trading platforms or new strategies without having to risk any of your own capital, so it is good to see them available from VIBHS. You are able to open up a demo account to use on MetaTrader 4, while the actual conditions of the account are not made clear, we suspect that they will mimic the conditions that we have specified throughout this review, the only information we do not know if whether or not there is an expiration on the accounts.
Countries Accepted
This information is not stated on the website, so if you are thinking of signing up with VIBHS, we would recommend getting in contact with the customer support team just to make sure that you are in fact eligible for an account, we would do this prior to opening one up.
Conclusion
VINGS tries to keep things simple with just the one account type, in terms of the available platform they have given a bit of variety, however, if you are looking for just the traditional trading experience there is only MetaTrader 4 available to use. In terms of the trading conditions, they are relatively competitive, it does not look like there are any added commissions and the spreads start pretty low at around 1 pip, the main downside is the lack of leverage, as the recommendations from the ESMA are being followed, the majority of clients will be stuck with a maximum leverage of 1:30 which can reduce the profit potential of the account quite a lot. There is also a limited number of ways to deposit and withdraw which could limit some potential clients, however, there are no fees which is positive.