Twin Option is an online foreign exchange, binary options, CFD and cryptocurrency broker, fully regulated and governed by the European MiFID regulations. The vision of the company is to give everyone access to the trading world by improving their understanding and offering a lucrative trading experience. Some of their main goals are to grow their community, offer a secure trading environment and to ensure that their clients are well looked after by their customer service team.
Twin Option offers both trading and binary options, for the purpose of this review, we will only be looking at the trading port of the broker and not the binary options side of the broker.
Account Types
The FAQ on the site states that there are multiple different accounts on an account type page, however, we could not find that page. We did sign up and could locate a number of different accounts however they doid does not have many differences, especially in terms of trading conditions which seem to be the same for all, we have outlined a few of the major differences.
Standard Account: This is the account that you automatically receive when signing up, it does not come with any extra features and has a withdrawal time of 4 to 6 working days.
Bronze Account: This account requires you to deposit at least $1,000. It does not come with any special features apart from a slightly reduced withdrawal time of 3 to 4 days.
Silver Account: This account increases the minimum deposit up to $5,000, it comes with the addition of technical reports, an account manager, trading signals, investment strategies, and the withdrawals are performed between 2 to 3 days from the request being made.
Gold Account: This account requires a deposit of at least $10,000, it comes with all the same features as the Silver account except there are more in-depth investment strategies available and the withdrawal times are further reduced down to 1 to 2 days.
Platinum Account: You need to deposit at least $20,000 to use this account type, all features remain the same with the addition of a personal account manager and further detailed investment strategies. The withdrawal timeline is once again reduced down to 12-24 hours.
Diamond Account: This is the top tier account and so requires a minimum deposit of $50,000, it comes with a dedicated account manager, access to technical reports, an economic calendar, trading signals, the most detailed investment strategies. The withdrawal timeline for this account is 1 to 2 working hours.

Platforms
Twin Option uses its own trading platform, we have to open up an account to view it properly, it uses a layout similar to binary options (this is not a surprise as they also provide binary options trading). The platform only has three different time frames which are 1 minute, 5 minutes and 15 minutes. It also does not seem to have much analysis capability as we did not find any indicators available to use. It is a very simple platform and not something that you can use to analyze, only to place your trades.

Leverage
The maximum leverage available is 1:1000, you get a choice of 1:100, 1:200, 1:500 or 1:1000 for each trade that you make. This is a slightly different way of working as it is based on each individual trade and not account type.

Trade Sizes
There are a limited number of trade sizes that you are able to use, they are all in lots and are as follows: 0.01, 0.05, 0.10, 0.15, 0.20, 0.25, 0.50, 1.0, 2.0, 3.0, 4.0, and 5.0. You are not able to place trades at any other interval. We do not know how many trades you can have open at any one time.
Trading Costs
We could not locate any information surrounding any additional fees or charges when trading so it does not appear that there are any and the accounts all use the fixed spreads as their payment structure. We also do not know if there are any swap charges present when trading as there is no relevant information about them.
Assets
We are only looking at the assets that are available for trading on the forex side, there isn't a huge selection of them but we have outlined them below.
Forex: EURUSD, USDCHF, GBPUSD, USDJPY, AUDJPY, AUDUSD, EURAUD, EURCAD, EURCHF, EURGBP, EURJPY, GBPAUD, GBPJPY, USDCAD, AUDCAD, AUDCHF, AUDNZD, EURNZD, GBPCAD, GBPCHF, GBPNOK, GBPNZD, NZDJPY, NZDUSD, USDMXN, USDNOK, USDSEK.
Metals: Gold, Silver, Palladium, and Platinum are available to trade.

Spreads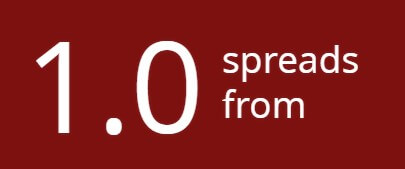 Looking through the platform it looks like the spreads for all currencies are set at 1 pip, the FAQ on the sites states that the spreads are fixed so this means that they will not change and the FAQ also said that they will remain fixed even during news events.
Minimum Deposit

There is not a minimum amount required to open up an account as you automatically get access to the lowest tier account, the overall minimum deposit requirement is $10 which is the lowest that the payment methods available allow.
Deposit Methods & Costs
The following methods are available to withdraw with: Credit/Debit Card, Skrill, Neteller, Crypto, Perfect Money, Payeer, WebMoney and AirTM. Unfortunately, we do not know if there are any fees charged by Twin Option so we are not able to suggest what they may be.
Withdrawal Methods & Costs
A slightly different selection of methods is available to withdraw with, they are Skrill, Neteller, Crypto, Perfect Money, Payeer, WebMoney, AitTM, and Bank Wire Transfer. The FAQ on the site indicates that there may be some fees charged, but they do not indicate what they might be. The minimum withdrawal amount allowed is $5.

Withdrawal Processing & Wait Time
The amount of time it takes for Twin Option to process your withdrawal request will depend on the account you are using, we have listed the expected times below:
Standard: 4 to 6 working days
Bronze: 3 to 4 working days
Silver: 2 to 3 working days
Gold: 1 to 2 working days
Platinum: 12 to 24 working hours
Diamond: 1 to 2 working hours
It will then take some additional time for your own processor or bank to process the incoming transaction, how long it will take will depend on the method used.
Bonuses & Promotions
Apart from the usual affiliate scheme, there did not appear to be any promotions or bonuses taking place. You could always check with the customer service team if bonuses are something that you are interested in.
Educational & Trading Tools
There are a few little tools available, or at least information about them, we say information as we don't actually see the tools, just information about what is available. The first is an economic calendar, this can be used to look into the future at what sort of news events will be coming up; it will also give you an idea of what sort of impact those news events could have on the markets. There is a currency conversion tool which will do what it says on the box, it will help you work out the exchange rates between different currencies. The pip calculator tools allow you to work out a pip price while the broker spread comparison tool simply compares different spreads between brokers.
Customer Service
The customer service team is available 24 hours a day, they do not state if they are open on the weekends though. You can use the online submission form to send your query, they have also provided us with a postal address or a direct email address to use.
Address: Twinoption Ltd, 21 Old Gloucester Street, London WC1N
Email: support@twinoption.com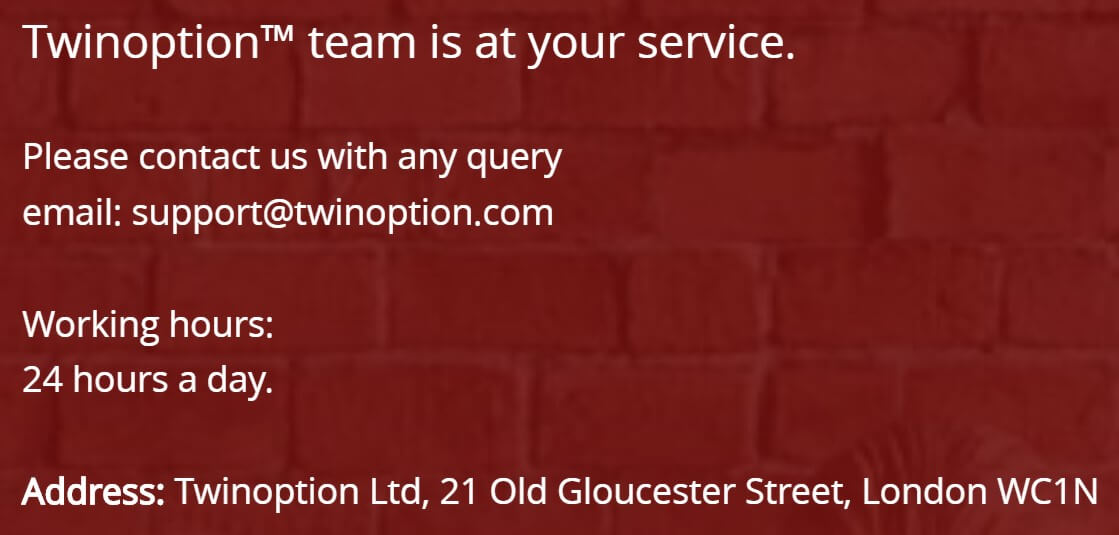 Demo Account
Demo accounts are available and allow you to use fake or pretend money to trade with, the demo account will closely mimic the trading conditions offered on a real account and are a good way to test out the markets. We do not know what the specific trading conditions of the demo accounts from Twin Option are, but they should be similar to any information provided throughout this review.
Countries Accepted
Twin Option has not provided this information, so we would suggest getting in touch to find out your eligibility prior to signing up.
Conclusion
The accounts on offer give you a different selection of tools and analysis, but the trading conditions do not seem to change between them. The leverage available can be set per trade which is a different feature to most brokers, there is also a limited set of trading sizes with 5 lots as the maximum which could be a little restricting. Spreads are fixed at 1 pip which is relatively low and if there are in fact no added commissions could make trading with Twin Option quite cheap. Plenty of methods available to withdraw and deposit with, but their fees are unknown, they are present for the withdrawals but it does not state how much they are. There is also a slight lack of tradable assets. While the platform offered by Twin Option is interesting, if you are looking for a more traditional trading experience you may need to look elsewhere.