Based out of Vanuatu, TradeFred is a global brokerage firm that offers competitive bonuses, high leverages, and access to almost 50 different currency pairs. In fact, the best part of using TradeFred has to do with its diverse tools, various deposit methods, and the availability of local customer service teams in multiple countries. Having said that, traders in the US, Canada, New Zealand, and several other locations cannot open an account with this broker. Similarly, withdrawals can take a relatively long to time process. After reading this article, you will be able to thoroughly evaluate the pros and cons of TradeFred and determine whether or not you should open an account with this broker.
Account Types
There are 4 different types of live accounts on TradeFred. You also have the option of opening an Islamic Account. There are 3 base currencies that you can choose from: USD, GBP, and EUR. Traders are able to open more than 1 account with different base currencies. However, after the account is active, you can't change the currency.
Silver Account:
Minimum Deposit: $250
Spreads: From 1.7 pips
Gold Account:
Minimum Deposit: $2,500
Spreads: From 1.7 pips
Platinum Account:
Minimum Deposit: $10,000
Spreads: From 1.7 pips
VIP Account:
Minimum Deposit: $30,000
Spreads: From 1.7 pips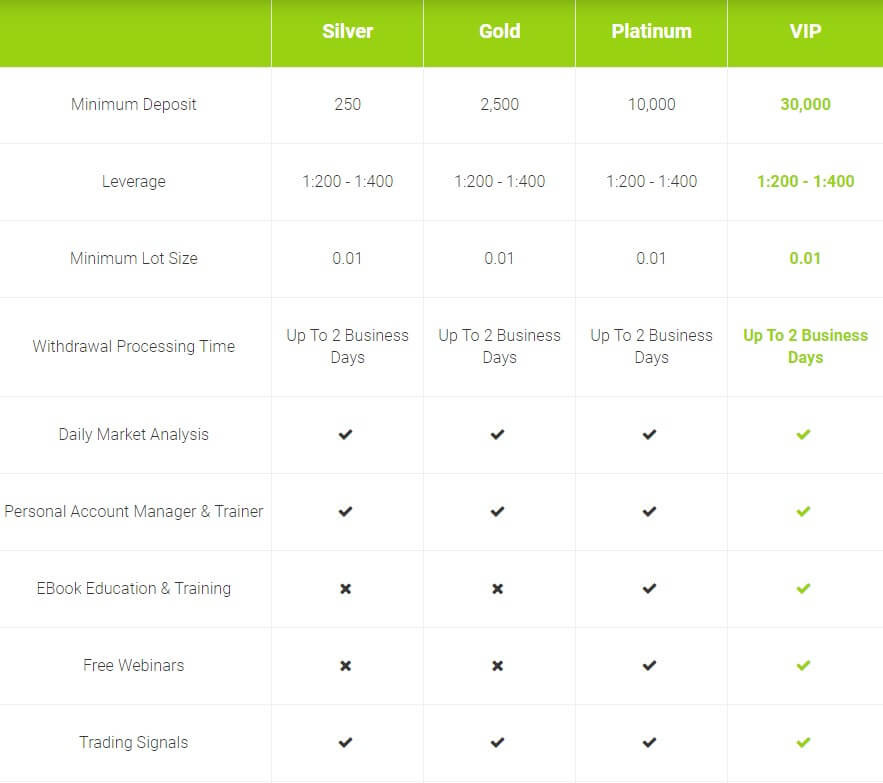 All of the above options provide traders with a personal account manager, training, daily market analysis, and access to different trading signals. However, only VIP Account traders get private consultations and the lowest available spreads. Platinum and VIP enjoy training benefits, such as an Ebook and complimentary webinars. You can open a business account with TradeFred and manage your company's portfolio. To do so, contact the broker's customer support department and they will tell you what documents you need to provide.
Platforms
After you pick your account type and signup, you have to install the MetaTrader (MT4) platform. You can do so on your Mac, Windows, Android, or iOS. TradeFred's website allows you to directly download and install MT4. The desktop version provides you with competitive tools, customer support features, and detailed market analysis. Through the mobile version, traders can manage their account, open/close positions, and access the same tools that desktop users do. However, the desktop version has more expanded features.
Another key platform that TradeFred provides is the social trading program, which is especially useful to beginners. This platform allows you to simulate the trades and algorithms of other investors in a manner that is aligned with your personal approach. First, you have to answer questions about your risk tolerance and objectives. Afterward, you can access the social platform and follow the trading techniques of experienced professionals that have a similar attitude towards risk.
Leverage
With all types of accounts, you can choose between 1:200 to 1:400 in leverage. The higher end of the range is considered competitive in comparison to what other brokers on the market offer. This, however, only applies to ForEx pairs. The minimum leverage for cryptos is only 1:2. Precious metals, energy assets, and other commodities have between 1:50 and 1:200 in leverage. Aluminum, however, only has a 1:10 rate.
Trade Sizes
The standard Forex lot size is 100,000 in the base currency, but all account users can open positions that are as low as 0.01 lots. A crypto's lot size is 1 contract. The Initial Margin ranges between 0.5% and 1%.
Margin Call: 50%
Stop-Out: 25%
TradeFred's goal is to prevent traders from having a negative account. Their margin call and stop-out levels are designed to ensure that. At the margin call level (50%), you have to either deposit more funds or liquidate existing trades. If you fail to do so and your account goes down to 25% the margin level, the broker will automatically close all of your positions to prevent you from losing more than what you initially deposited.
Trading Costs
This broker, like many others, doesn't charge any commissions. Instead, they make their money through the spreads and swap fees. Spreads vary from one FX pair to another. You also incur overnight swap fees and each currency pair has its own long and short costs. Some of them are only a few cents per lot, while others can reach double digits. Bitcoin has a standard $150 per night swap rate, regardless of whether your short or long. Islamic accounts do not incur any swap charges, regardless of how many days you keep a position open.
Assets
You can trade 24 hours a day from Monday to Friday in the ForEx market. TradeFred provides account holders with access to almost 50 currency pairs, including major ones as well as exotics from developing countries. In addition, you can trade Bitcoin against 3 different currencies. The pairs are BTC.USD, BTC.GBP, and BTC.EUR. All of which are available 24 hours and 7 days a week (as opposed to ForEx pairs, which can only be traded during weekdays).
You also have access to US stocks (listed on the New York Stock Exchange and Nasdaq) and UK shares that are on the FTSE. Moreover, users can invest in indices futures, precious metals, and different types of commodities that include cotton, cocoa, coffee, soybeans, and platinum. This selection of commodities is not offered by many other ForEx brokers, which makes it worthwhile for traders who prefer these assets to look into TradeFred.
Spreads
Spreads depend on which currency pair you want to trade. Some are as low as 1.7 pips. However, exotics and certain major pairs have a higher spread. Bitcoin has a much wider spread of $150.
Minimum Deposit
To open a silver account, you need to deposit no less than $250. Gold, Platinum, and VIP require deposits of $2,500, $10,000, and $30,000, respectively. If you don't use the US dollar, then the required funds are the equivalent value in your default currency of the minimum deposit for each account.

Deposit Methods & Costs
All deposits into your TradeFred account are free, regardless of which type you want to open (Silver, Gold, Platinum, or VIP). However, each method has a different processing time.
Bank Transfers: 3 to 5 business days
Transfers from another broker: 3 to 5 business days
Debit or credit card: Instantly available
WebMoney: Instantly available
Qiwi: Instantly available
Skrill: Instantly available
Neteller: Instantly available
Withdrawal Methods & Costs
Withdrawals, too, are for free, regardless of the method you choose. Transfers out of your account takes 5 business days, even those with an instant deposit time. Because transfers take a full business week to process, you should take into consideration that weekends and holidays might delay the time until the funds become accessible. Additionally, your bank or financial institution might take more time to process withdrawals. You should check their policies and make sure that they have all the information that they need in order to make this process easier.
Bonuses & Promotions
The different types of bonuses and rewards that TradeFred offers are very competitive. They include cash rewards, birthday checks, and swap refunds. The cashback offers are available after you execute 100 trades during a quarter. This bonus can range up to 50%, depending on your account type, and the funds are directly added to your balance. Only ForEx trades are eligible for this bonus.
While larger accounts receive more in cashback rewards, those with a smaller deposit can also get an exclusive refund on their spread fees. If you deposited 1,000 or less in the base currency (so 1,000 USD, GBP, or Euro), TradeFred will give you a refund on all the spreads you incurred during your first 14 days of trading with the broker. Positions that are held for less than 3 minutes, however, are ineligible for the refund. Hedged trades (where you long and short the same currency to protect yourself against losses) will only count as 1 trade and receive the refund accordingly. You will have the swap fees deposited into your account within a week after your 14th day with TradeFred.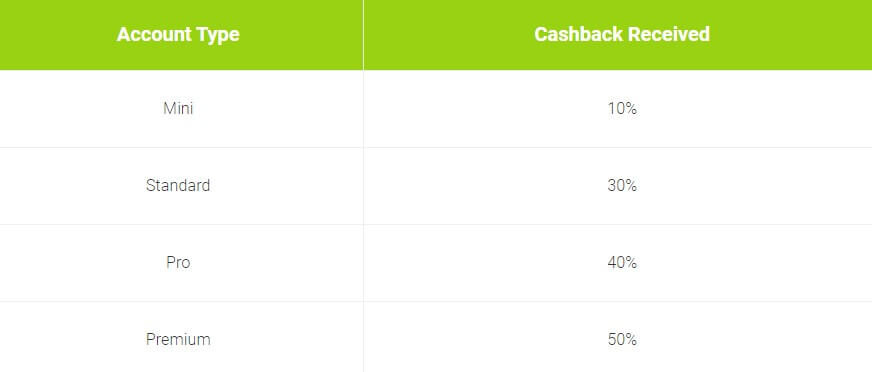 TradeFred will also send you a $25 check on your birthday. While it is not as lucrative as other bonuses and rewards, it is still a nice token of appreciation that shows that the broker truly cares about traders. To be eligible for this, you must close at least 25 trades per quarter. Only accounts that have been active for 3 months or more will receive the birthday check.
There are two additional rewards that TradeFred provides you with: A First Deposit Credit and a Registration Reward. The First Deposit Credit is awarded to you based on how much funds you put in your account when you get started with the broker. The minimum amount is 300 of your base currency. Traders who deposit 300 to 499 receive a 100 currency unit credit, which proportionately increases with larger deposits. The maximum credit is 14,000, awarded to traders who initially fund their accounts with 40,000 in their base currency or more. The Registration Award is only available to Australian traders, who would receive $25 when they open an account. It is rewarded in USD.
Educational & Trading Tools
The TradeFred Academy educates traders about basic market concepts. This includes an introduction into Forex and CFD trading and an overview of technical analysis and fundamentals. Platinum and VIP account holders have free access to ebooks and webinars. Just as importantly, all accounts provide you with a personal trainer who actively oversees and, if requested, manages your portfolio. When it comes to live trading tools, TradeFred will provide you with daily market reviews, newsfeeds, economic calendars, and access to different technical signals.
Customer Service
You can get in touch with TradeFred via phone, email, or by filling out the contact form on their website. They offer an email address and phone number that traders from all locations can use, as well as support lines for account holders in specific countries.
Email: support@tradefred.com.au
Phone (Universal): +61-280734453
UK: +44-1613942198
South Africa: +27-129428155
Ireland: +353-766701255
Denmark: +45-78733115
Sweden: +46-500729267
Demo Account
Demo accounts are active for 14 days and you start with $10,000 in paper funds. The demos have the same features and instruments that live account traders access, as well as complimentary educational content. This will help beginners define their strategy and test different approaches before putting their actual funds at risk. In fact, TradeFred's blog has an article with comprehensive and detailed reasons that show you how you can best benefit from your demo account experience.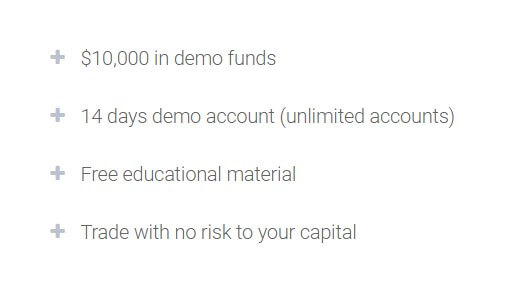 Countries Accepted
TradeFred is regulated by the Vanuatu Financial Services Commission, the governmental body that oversees financial markets in the Republic of Vanuatu (an island that is not too far away from Australia). The broker's services are available across the world, but they are not accessible to traders in the US, Canada, New Zealand, Japan, and Belgium.
Conclusion
If lucrative promotions and access to a wide range of financial instruments are important to you, then TradeFred is an excellent option. You will enjoy rewards in different forms, competitive leverage rates, and various account type options. Traders who want to be able to quickly withdraw their profits, on the other hand, might not appreciate how long it takes for outbound transactions to process. Similarly, crypto enthusiasts can only trade 3 Bitcoin currency pairs. Just as importantly, regardless of which of these features you like or dislike the most, TradeFred cannot be used in certain countries.
This broker can be a perfect fit for some traders, but others will find it to be completely inconvenient or inaccessible altogether. All of this is based on your trading strategy and the features that revolve around it.