Whether you prefer traditional currency pairs or cryptos, Hispamarkets offers you access to many financial instruments and CFDs. The broker also has various deposit requirements, making it easier for you to compare different account types and choose the one with the leverage that you prefer. Having said that, Hispamarkets doesn't offer a lot of information about key features and trading conditions, including those related to margin and transfer processing. In addition, if you have a low level of risk tolerance, it is important to carefully study how Hispamarkets can protect you against potential hefty losses. This article contains the important details that will help you evaluate this broker.
Account Types
Hispamarkets offers 3 account types, alongside the newly introduced Crypto Account. The way each account is structured makes this broker ideal for both beginner and professional traders.
Bronze Account:
Minimum Deposit: $2,000
Leverage: Up to 1:500
Plata Account:
Minimum Deposit: $5,000
Leverage: Up to 1:300
Gold Account:
Minimum Deposit: $10,000
Leverage: Up to 1:100
Crypto Account:
Minimum Deposit: $2,000
Leverage: Up to 1:500
The Bronze Account suits inexperienced traders who are just starting out because it offers a fixed margin rate and allows you to choose your leverage (up to 1:500). In turn, users can access all financial instruments (including cryptos) while minimizing their risk. The Crypto Account is similar to the Bronze one in terms of the minimum deposit and leverage. However, it also utilizes blockchain technology, making it perfect for cryptocurrency traders.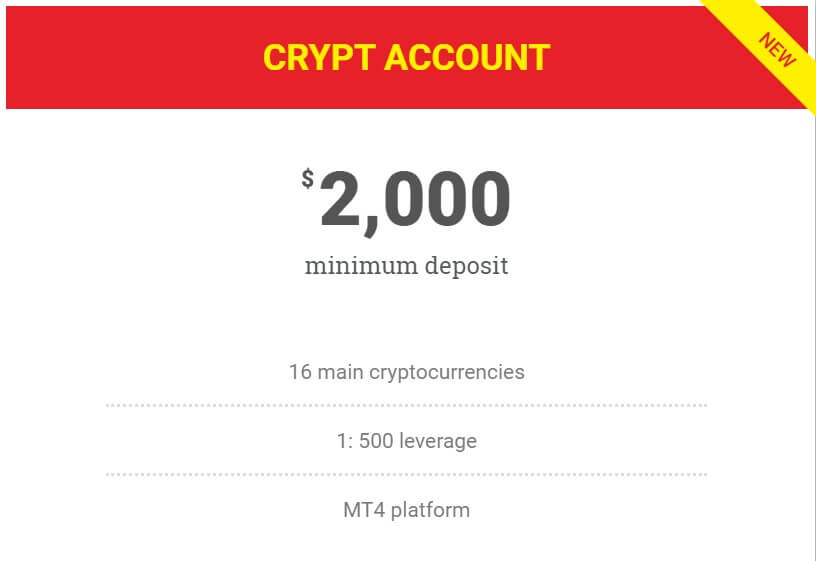 Plata and Gold are designed for seasoned traders who prioritize low spreads and dedicated support. There are 2 differences between the Plata and Gold accounts. First, minimum deposits are $5,000 for Plata and $10,000 for Gold. Second, by opening a Gold Account, you get access to trading reports, advanced account management tools, and customized, one-on-one consultations with Hispamarkets's analysts. The Silver Account also enjoys access to customer support, but traders don't have the same detailed reports and individualized consultations that the Gold Account has to offer.
Platforms
This broker uses MetaTrader 4 (MT4), which is one of the most sophisticated and advanced trading platforms in the world. MT4 gives you access to a wide variety of financial instruments. You can also create a custom algorithm that automatically trades on your behalf. Moreover, MT4 comes with valuable technical signals and enables users to integrate their preferred indicators.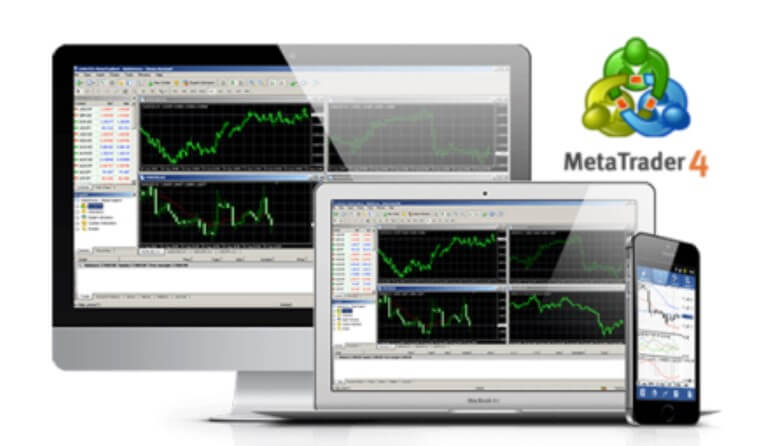 The platform is very easy to use and can be accessed via Mac, Windows, iOS, and Android, making it ideal for experienced and novice traders alike. You can download and install MT4 directly from the platform's website.
Leverage
When you open an account with Hispamarkets, you can choose your own leverage (up to a certain maximum). Bronze and Crypto users get up to 1:500 in leverage while Plata and Gold have 1:300 and 1:100, respectively. Hispamarkets's website doesn't specify why there are differences between the accounts. Yet, it might be safe to assume that, because Bronze traders have less capital than the other account types, they are provided with larger leverage in order to realize meaningful profits. Similarly, many brokers offer low leverage to accounts that have a sizable amount of funds in order to control risk.

The broker's website also doesn't mention anything about margin requirements. However, if you get a margin call, Hispamarkets requires you to immediately transfer funds in order to meet the maintenance amount. Otherwise, they will liquidate one or all of your trades.
Trade Sizes
The smallest lot amount that you can trade is 1,000 in the currency unit (a micro lot). Hispamarkets's website doesn't specify maximum volume levels. As mentioned, this broker, unfortunately, doesn't provide a lot of information about leverage, margin calls, and stop-outs. You will be notified when a margin call is issued, which could happen even if you are hedging to minimize your losses. Should a trader fail to respond to the margin call, there is a risk that their account balance will turn negative and that they lose their entire deposit. The broker could automatically close some or all of your positions if the losses reach that level.
Assets
Hispamarkets gives traders access to ForEx pairs, equity CFDs, and commodities. The brokers allow you to trade over 80 currency pairs and the Crypto Account gives you access to 16 cyber currencies. These include BitCoin, Bitcoin Cash, Ethereum, and others.
This broker also focuses on Over the Counter (OTC) products and instruments. The commodities offered are oil, spot gold, and spot silver. Additionally, you can trade other commodity futures that are available on the MT4 platform, as well as the CFDs of stocks traded in the US market and around the world.
Minimum Deposit
As mentioned earlier, the minimum deposits are $2,000 for Bronze and Crypto, $5,000 for Plata, and $10,000 for Gold. After you open an account, you can always upgrade it by depositing additional funds. For example, if you start with a $3,500 deposit, you get the Bronze Account. Afterward, if you transfer an additional $3,000 and bring your balance to $6,500, you can switch to the Plata Account.
Deposit Methods & Costs
You can deposit funds into your Hispamarkets account from your bank via a wire or an Automatic Clearing House (ACH) transfer. You can also use your Visa or MasterCard. Whichever one you choose, it is important to keep in mind that you will need to use the same method to withdraw funds. For example, if you deposited money into your Hispamarkets account through a bank wire transfer, you can only make a withdrawal through a wire transfer to the same bank account.
Hispamarkets charges no fees for depositing money. But before doing so, you need to provide a copy of a government-issued ID and a proof of address document (such as a utility bill or bank statement) that is no more than 3 months old. If Hispamarkets runs into any issues when verifying your identity, address, or ownership of the payment method, then both deposits and withdrawals might be delayed.
Withdrawal Methods & Costs
As we just mentioned, you can only withdraw money through the same payment method that you used to make a deposit. Just as with other essential information, Hispamarkets's website offers limited details about withdrawal fees and processing times. We can assume that withdrawals follow the same mechanisms that deposits do, but you should contact the broker to make sure what the process entails. Otherwise, you risk facing larger than expected withdrawal fees and lengthy transaction times.
Educational & Trading Tools
Even though Hispamarkets barely provide you with currency spreads, margin requirements, and other similar information, they do have a blog that is rich with content. Each article covers a specific topic or concept that is related to ForEx investments (as well as cryptos, stocks, CFDs, and futures). Beginners will find this to be especially useful, while experienced traders can access market analysis and news updates. Hispamarkets's website is available in English, Spanish, Arabic, Chinese, French, Portuguese, and Italian.
Customer Service
You can contact Hispamarkets via phone, email, or by filling out the contact form on their website (displayed on the home, contact, and almost every other page).
Phone: +541151925656
Email: info@hispamarkets.com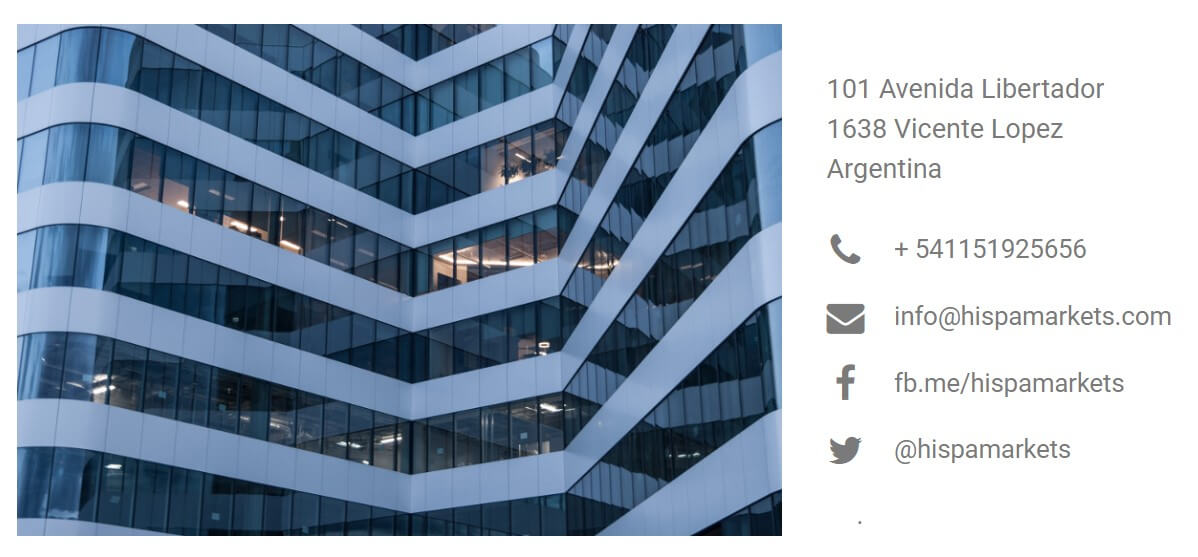 Demo Account
Hispamarkets allows you to open a demo account directly from their website. Since MT4 also offers demos, you want to make sure that this account is opened through the platform and that you have access to the same tools and financial instruments as live traders. You can familiarize yourself with MT4's functionalities and develop your strategy before risking your real money.
Countries Accepted
The broker is registered in Saint Vincent and the Grenadines, a nation island in the Caribbean. Hedging is only available in countries where the practice is regulated and legal. To find out if Hispamarkets is available in your country, contact them directly because their website doesn't provide this information.
Conclusion
Obviously, the main negative point about Hispamarkets isn't related to its features, about it mostly has to do with the lack of information about them. The website is unreliably vague, which is a massive red flag. Yet, because this broker offers diverse account types and competitive access to different currency pairs and cryptos, traders who care about these features might find it worthwhile to further consider this broker. Luckily, there are plenty of ways to get in touch with the customer service department.
When it comes to other areas, Hispamarkets doesn't offer a stop-out level that prevents your account from going negative. In other words, you could easily lose all of your capital if you aren't careful with the leverage. Many brokers in the industry tend to issue a margin call and a stop-out level to ensure that this doesn't happen. Certain details about how Hispamarkets processes transfers are missing while the broker is unclear about its margin requirements and trading costs (including commissions). Again, the lack of these specifics can be enough for many market participants to steer clear.