TeraFX is a forex broker located in the UK and is regulated by the Financial Conduct Authority (FCA). their main mission is to provide their customers with exceptional trading experience, reliable trusted dealing technology, and a transparent no dealing desk to enable them to mee the needs of all traders. In this review, we will be looking at the service that is being offered to see if they live up to their mission.
Account Types
There are 8 accounts on offer however we will only be looking at 6 in this section as we will not be looking at the corporate account and we will take a peek at the demo account later in this review. It is worth pointing out that there is no indication of what the minimum deposits are for each account.
Micro Account: The micro account can be in a base currency of USD, EUR, GBP or PLN, it has no commission and has 65 tradable assets. It uses the MetaTrader 4 trading platform and includes swap fees. Leverage on currency pairs can be up to 1:30 and trade sizes are minimum 0.01 lots with a maximum of 100 lots. Strop out level is 50% and as this is a micro account, 1 lot is equal to 1,000 units instead of 100,000 units. The spreads on this account are variable (floating).
Micro Plus Account: The micro plus account is very similar to the micro account in terms of base currencies, no commission, the MT4 trading platform, 1:30 maximum leverage, and the trade sizes, as well as a lot, being 1,000 units. The main difference on the accounts page is that there are now 79 instruments to be traded as indices and crypto pairs have been added to this account.
Starter Account: The starter account is what a standard account would be at another broker, it also uses USD, EUR, GBP, and PLZ as base currencies and a lot of the other features remain the same as 1:30 leverage, MT4 as a platform, swap fees, and variable spreads. The main difference is that with this account, 1 lot is equal to 100,000 units, all instruments are available to trade on this account except for micro symbols.
Premium Account: The premium account increases the number of symbols that can be traded as all symbols are available, there are 147 in total. The account otherwise is very similar to the starter account, the spreads have been reduced and there continues to be no added commission on the account. Leverage remains at 1:30 as a maximum and MetaTrader 4 is still the trading platform to use.
ECN Account: The ECN account is where things change a little, it has 82 currency pairs similar to the starter account but the main difference is that the spreads are raw and so can be as low as 0 pips, due to this a commission of $7 is added to each lot traded. All other features remain the same as the previous accounts in terms of trade sizes and trading platform.
Pro Account: The pro account is marketed as an account for professionals, however, we can not see much difference to the other accounts. The main difference is based on the leverage, the pro account allows leverage to rise up to a maximum of 1:455 which is a strange number but is a vast improvement over the 1:30 maximum. Stop out level drops down to 20% but all other features seem to be the same as the starter account.
Platforms
TeraFX allows you to trade with a single trading platform, let's take a little look at what it is.
MetaTrader 4 (MT4) is one of the world's most popular trading platforms and for good reason. Released in 2005 by MetaQuotes Software, it has been around a while, it is stable customizable and full of features to help with your trading and analysis. MT4 is compatible with hundreds and thousands of different indicators, expert advisors, signal providers and more. Millions of people use MT4 for its interactive charts, multiple timeframes, one-click trading, trade copying and more. In terms of accessibility, MT4 is second to none, available as a desktop download, an app for Android and iOS devices and as a WebTrader where you can trade from within your internet browser. MetaTrader 4 is a great trading solution to have.

Leverage
Leverage on all accounts apart from the pro account has a maximum of 1:30, the pro account can have leverage up to 1:455 which is a strange number. Leverage can be set when creating an account, if you wish to change it once an account is already open, you will need to ensure that there are no open trades and then contact the customer service team to have it changed.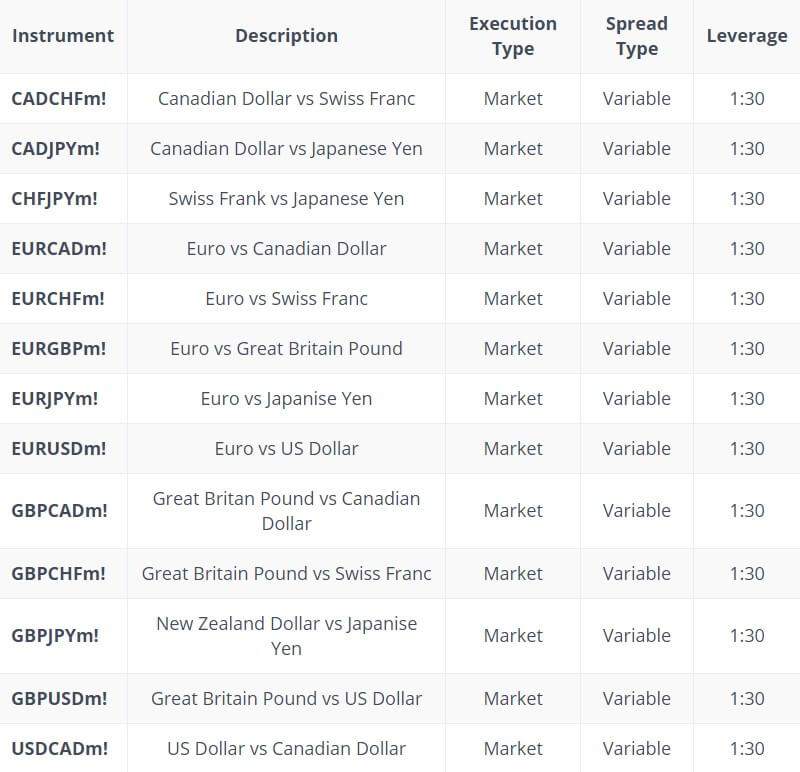 Trade Sizes
Trade sizes for all accounts start at 0.01 lots, they then go up in increments of 0.01 lots so the next trade would be 0.02 lots and then 0.03 lots. The maximum trade size is 100 lots however we would not recommend making trades bigger than 50 lots as it can become increasingly harder for the liquidity providers and the market to execute bigger trades quickly and without any slippage.
Trading Costs
The majority of the accounts use a spread based payment structure that we will look at later in this review, as for commissions, the ECN account charges $7 per lot traded which is just above the current average of $6, which is reasonable.
There are also swap fees charged on the accounts, this is an interest charge which can be both positive and negative and is paid for holding trades overnight, you can vide the live spreads either from on the website or within the trading platform itself.
Assets
There is a full breakdown of all assets on the website in the form of a PDF document, there are multiple different sections and plenty to chose from, there are forex currency pairs including EUR/USD, AUD/CHF and GBP/DKK which are across major pairs, minor pairs, and exotic pairs. There are also Oils such as UK Oil and US Oil as well as natural gas. There are precious metals from Gold, Silver and Platinum and indices such as the US 30, JP 225 and many more. Finally, there are also cryptocurrencies which include Bitcoin, Ripple, and Ethereum.

Spreads
Spreads are dependant on the account that you have, there is a markup for each account except for the ECN account. When looking at the forex major pairs, there is a markup of 1.8 pips, for the standard account it is 1.2 pips and for the premium account, it is 0.8 pips. This is on top of the raw spreads. It should also be noted that these spreads are variable which means they move with the markets and when the markets are being volatile, they will often be seen much higher. On a final note, some instruments naturally have higher spreads and the markups are different dependant on the category, so exotic pairs have a higher markup to the majors and within each group, different instruments will have different raw spreads.
Minimum Deposit
The minimum deposit for each account is not specified, however, when looking at the deposit methods it is clear that there is a blanket minimum of $100 which is for both opening accounts and for any future top-ups on an account.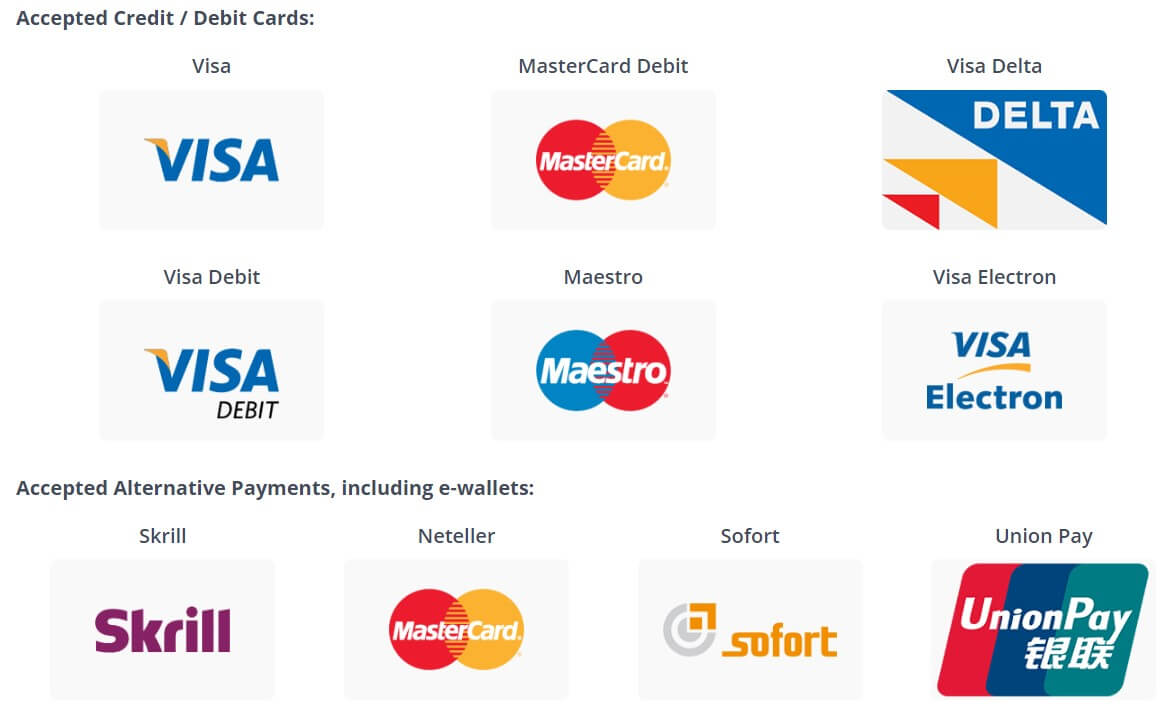 Deposit Methods & Costs
There are a few different deposit methods which have been broken down into different categories for an easy to read format. The good news is that there are no added fees for any of the deposit methods, they are as follows:
Bank Transfer – USD, EUR, GBP, PLN – No Fees
Credit Card – USD, EUR, GBPO, PLN No Fees
Debit Card – USD, EUR, GBP, PLN – No Fees
E-Wallet – USD, EUR, GBP, PLN – No Fees
A full breakdown includes Bank Wire Transfer, Visa, Visa Debit, MasterCard Debit, Visa Delta, Maestro, Visa Electron, Skrill, Neteller, Sofort and UnionPay. While Tera FX does not add any fees of their own, you should check with your own processor or bank to see if they add any of their own.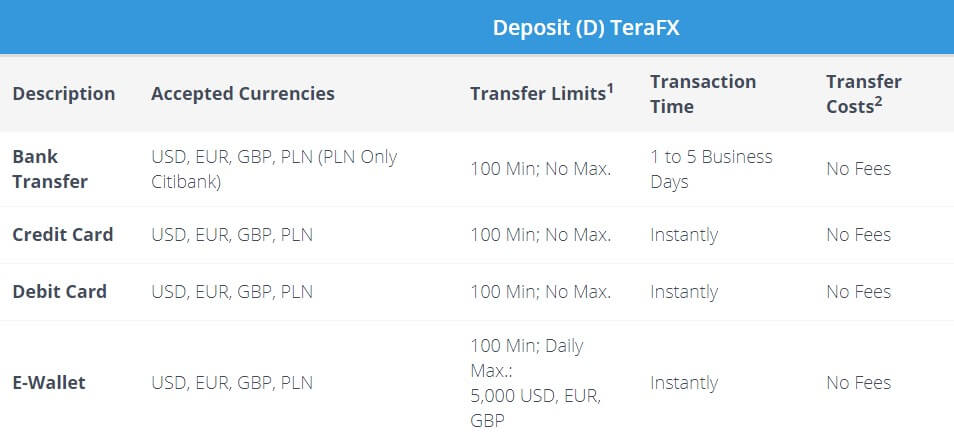 Withdrawal Methods & Costs
Withdrawals can be used via the same methods you did to deposit, the more good news is that there are no additional fees added by Tera FX, there is a $100 minimum withdrawal amount for each method.
Bank Transfer – USD, EUR, GBP, PLN – No Fees
Credit Card – USD, EUR, GBPO, PLN No Fees
Debit Card – USD, EUR, GBP, PLN – No Fees
E-Wallet – USD, EUR, GBP, PLN – No Fees
Should you make a withdrawal request without making any trades there will be a one-off $25 fee added to the withdrawal so make sure you place at least one trade. It is also important to check with your own processor or bank to see if they will add any transfer fees of their own.
Withdrawal Processing & Wait Time
Withdrawal requests received before 12 pm (UK time) will be processed on the next working day, any requests after 12 pm (noon) will be processed within 2 working days. The total amount of time each request should take are as follows.
Bank Transfer – 1 to 5 business days (depending on the country).
Credit Card / Debit Card – 2 to 3 business days )or more depending on the credit card).
E-Wallet – 1 to 3 business days.

Bonuses & Promotions
There doesn't seem to be any indications that bonus offers or promotions are currently running, we had a good look through the site and could not find anything. This does not mean that there won't be in the future though, so if you are interested in bonuses, be sure to check back regularly.
Educational & Trading Tools
In terms of educational and trading tools, there isn't too much available. There is the usual economic calendar which tells you about any upcoming news events and what effect they may have on the markets. There is also a section for trading videos, these videos give a basic overview of different thing slike terminology, the trading platforms, basic analysis and more. They will be helpful for beginners but for those that have traded for a while, it will be limited and may not help you improve further.
Finally, there is daily market news which is a video-based on what is happening in the forex markets and potential trade setups, again it is quite basic and those doing their own research will most likely know everything in the videos plus more.
Customer Service
You can get in touch with Tera FX in a number of different ways, the most prominent on the contact us page is the submission form where you can put in your query and you should receive a reply back via email. There is also an email address for both the head office and the warsaw branch along with a phone number and physical address.
We could not see any information immediately present in regards to opening times and if they are open during the weekends but we would assume that they are not as they are not a 24-hour broker.
Demo Account
You can open a demo account by simply clicking the demo account button. Fill in the simple form and you are good to go. The demo account uses MetaTrader 4 however apart from that there is very little information regarding it. The majority of brokers put a time limit on the accounts so they expire but this information is not readily available along with no information regarding trading conditions or which account type the demo account mimics, it would have been good to have this information available.
Countries Accepted
There weren't any specific mentions of which countries are allowed and which are not but as TeraFX is a regulated broker, there will certainly be some restrictions so we would suggest getting in touch with the customer support team to find out if you are eligible or not.
Conclusion
There are a lot of positives when we look at Tera FX, the trading conditions and spreads are acceptable as well as the commission added to the ECN account, there are also plenty of deposit and withdrawal methods with no added fees. There are not too many downsides, the lower leverage at 1:30 for non-professional traders is a little low but ok if you are happy with that amount. Tera FX seems like a competent broker but the ultimate decision on whether they are worth using is up to you.
We hope you like this TeraFX review. If you did be sure to check out some of the other reviews to help find the broker that is right for you.