Stimulus hopes drive up the Dow Jones – where next? 
Thank you for joining this Forex Academy educational video
In this session, we will be looking at the Dow Jones 30 Industrial Index and looking for indications of the next likely move.
While the United States economy is still reeling from the ongoing Covid situation, which has as a country in its grip, investors are looking long-term, buoyed on by vaccine news and hopes of a speedy back to normal recovery once it has been rolled out to the general population. 
In reality, of course, this may still take over 12 months to implement. Therefore hopes of the recovery are fuelled by my hopes that the American government will continue to support individuals and companies via a Covid-19 relief aid stimulus to help unemployed and financial relief for other individuals and those who need it.
This has been stifled somewhat by the fact that the discussions between the democrats and republicans have not yet been able to agree on how much money the state should put up. Current estimations are that a $900 billion stimulus bill may include checks for $600 for eligible adults and their independents. 
Some Republicans have asked for hand-outs of $1,200 per individual and $2400 per couple, with $500 going to children, to support families through this critical time.
The plan is that the 900 billion stimulus package will be the first of two parts, with phase one considered as an emergency relief bill, and phase two will kick in during the early part of January 2021, once that has been agreed on.
It is talk of the stimulus package, which has been keeping the Dow Jones at record highs.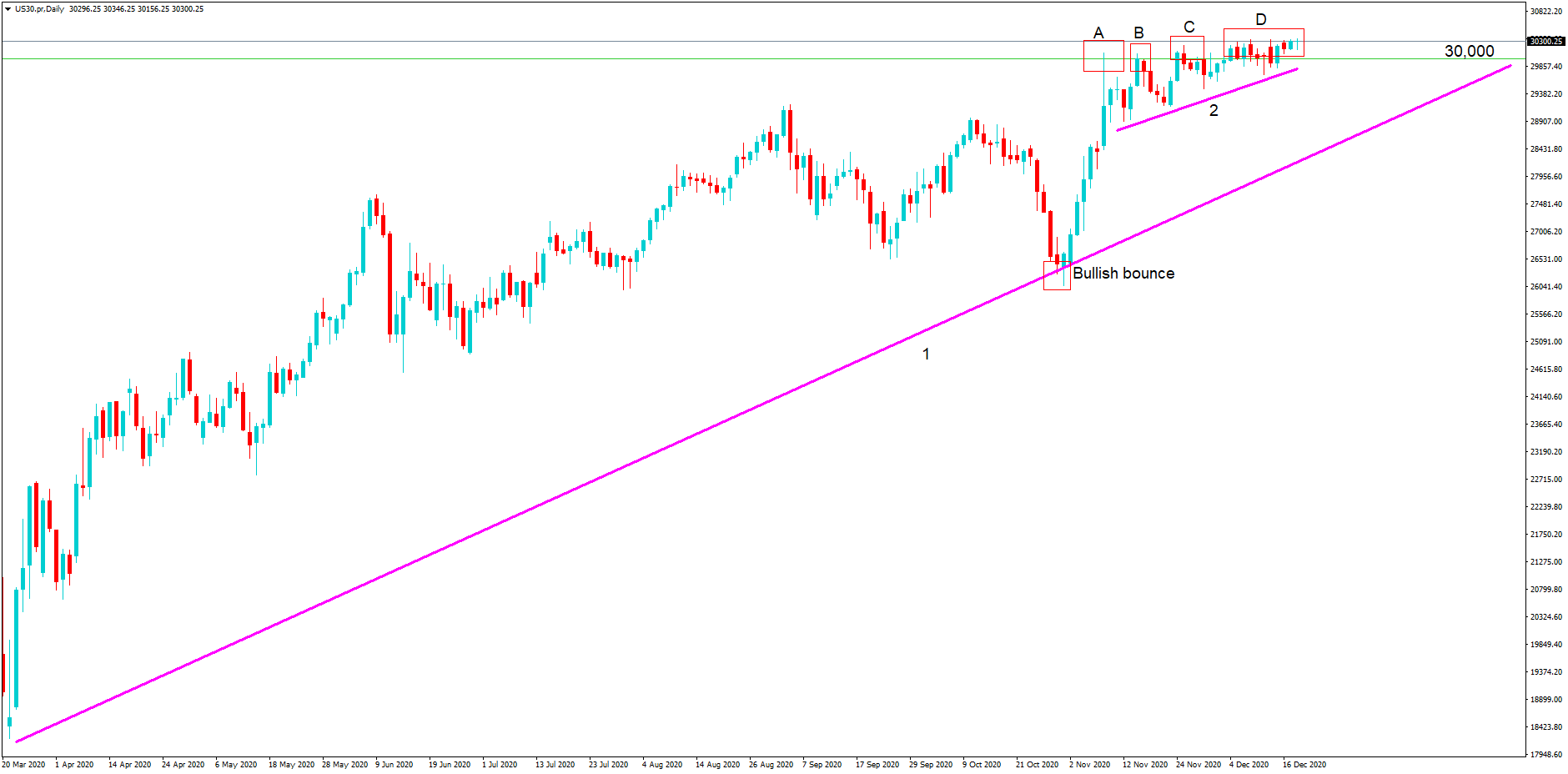 This is a daily chart of the Dow Jones 30 industrial index.  We can see that since March 2020, the general trend has been a bull trend to the upside, following on from the earlier crash as the pandemic took hold in early February. The technical line numbered 1 shows the general upward trend as hopes of a V-shaped recovery fuelled investor to buy the index.
More recently, talks of an emergency stimulus package, and especially during November where investors believed a deal was imminent, saw price action move higher from this average and particularly where we see the bullish bounce from the line where we see a steady rise up to the record-breaking 30,000 level at position A. 
Talks of the stimulus package went to and fro between the democrats and republicans, with concerns of the, will they or won't they agree on a package and where price action moved lower to the trend line at position 2, while talks stalled, and where price action itself bounced this higher trend line, marked as 2, back up at position B C  and D in an overall bias squeeze to the upside, where price continued to flirt with 30,000 and eventually where there was a significant close and open above this key level.
In this 1-hour chart, we can see that price action is seeing resistance at around 30,300.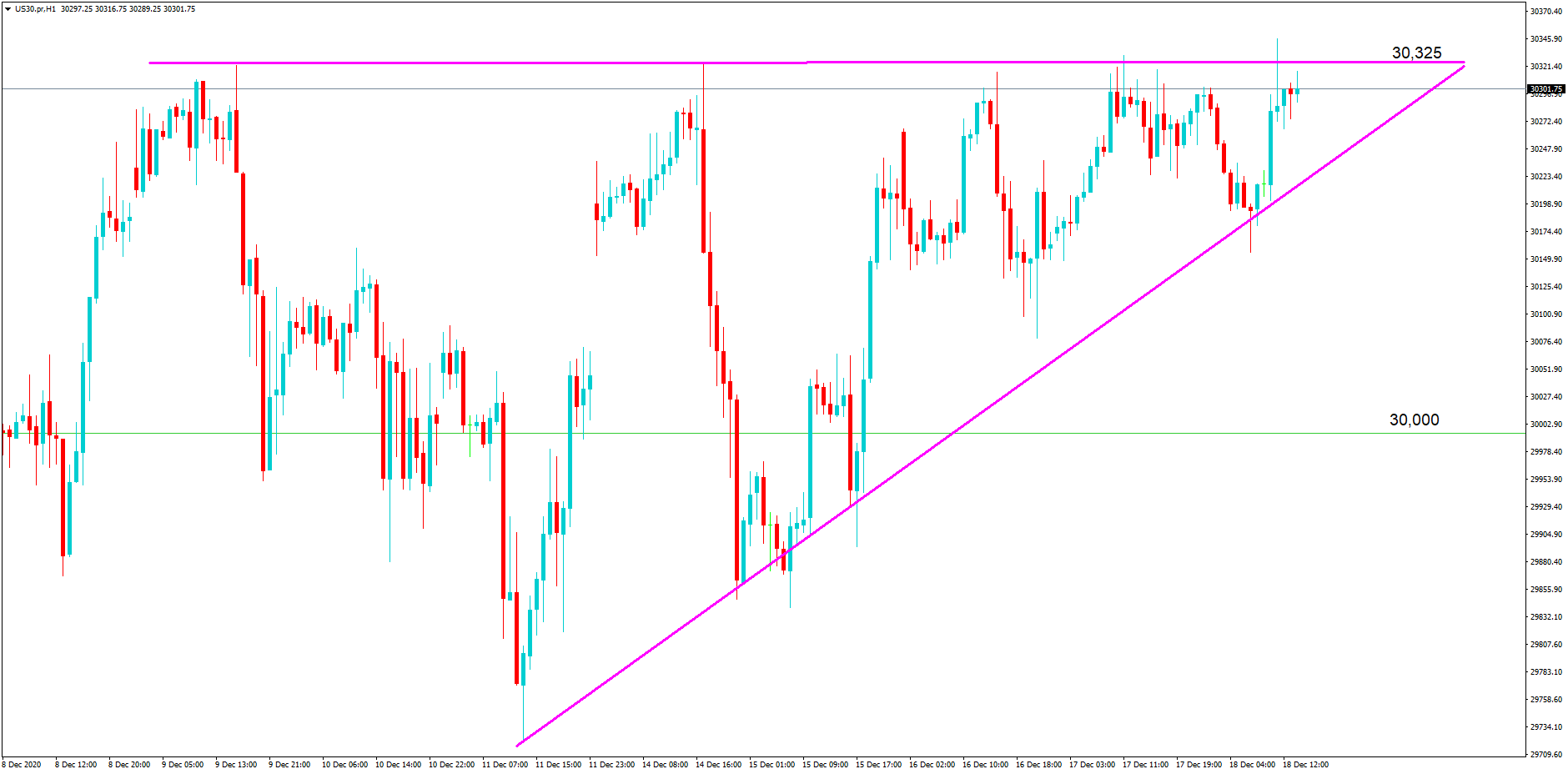 And by adding this support line, we now have rising wedge formation clearly evident, where price action is fading to the upside, with a potential break above the 30,300 level. Should this immanent covid relief bill be agreed upon, price action could punch higher and continue with potential for the 30,300 level to become a support line and a possible move higher by 200 or 300 points.
There is so much pressure on the American government right now to come up with an agreed amount of stimulus for those who need it that it is almost impossible that nothing will happen. This is what is driving the Dow Jones Index and other US indices higher at the moment.