SimpleFX is a robust online trading provider, offering to trade with Forex CFDs on Bitcoins, Litecoins, indices, precious metals, and energy. Their mission is to keep our offer and trading conditions simple and transparent. Company motto: "Keep it simple!" In this review, we will be looking into the services being offered by SimpleFX so you can decide if they are the right broker for you.
Account Types
There is only one account type available to sue with SimpleFX, this review will be going over a number of different aspects around trading conditions, so any information provided will be relevant to the account that you would be using should you sign up with SimpleFX.
Platforms
Simple FX use their own platform as well as MetaTrader 4 as their trading platforms of choice and its a good choice, let's see what MetaTrader 4 offers.
MetaTrader 4 (MT4): Analytical functions are one of the strongest selling points of the SimpleFX MT4 platform. End-users can select from 23 different analytical objects to draw formations on the chart, along with 30 built-in technical indicators that greatly simplify this task. Thousands of additional indicators are available for download from the free Code Base. Built-in Market are making analytical capabilities work to make SimpleFX's version of MT4 basically limitless.
SimpleFX Platform: The SimpleFX platform is a web-based platform that gives you the opportunity to trade on the go and in your browser, there is not a lot of information provided about it which is strange but it looks clean and intuitive, giving you all the tools you need to trade.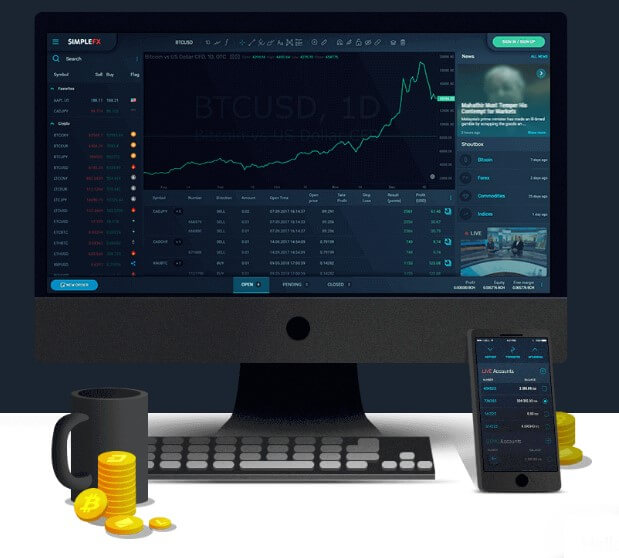 Leverage
The leverage that you have with SimpleFX depends on the balance of your account, we have set out a list below detailing this.
Under $5,000 – 1:500
$5,001 – $7,000 – 1:400
$7,001 – $10,000 – 1:300
$10,001 – $20,000 – 1:200
$20,001 – $30,000 – 1:175
30:001 – $50,000 – 1:150
$50,001 – $100,000 – 1:125
Over $100,001 – 1:100

Trade Sizes
The minimum trade size available is 0.01 lots which are also known as a micro lot, the trades then go up in increments of 0.01 lots so the next trade would be 0.02 lots and then 0.03 lots. The maximum trade size is 100 lots, however, we would recommend not trading in sizes larger than 50 lots, as the bigger a trade becomes the harder it is for the markets or liquidity provider to execute the trade quickly and without any slippage.
Trading Costs
There are no added commissions which is great, as the account uses a spread based payment structure that we will look at later in this review. Swap charges are present though, these are interest charges that are incurred for holding trades overnight, they can be both negative or positive and can usually be viewed from within the trading platform of choice.
Assets
There are a number of different assets available, SimpleFX hasn't broken them down into different categories, instead, they have just lumped them all into one category of tradable assets and put them in alphabetical order. Let's see what they are:
ASX 200, AUDCAD, AUDCHF, AUDJPY, AUDNZD, AUSUSD, BTCUSD, CAC 40, CADCHF, CADJPY, CHFJPY, DAX 30, DJI 30. EURAUD, EURCAD, EURCHF, EURCZK, EURDKK, EURGBP, EURHKD, EURHUF, EURJPY, EURMXN, EURNOK, EURNZD, EURPLN, EURSEK, EURSGD, EURTRY, EURUSD, EURZAR, FTSE 100, GBPAUD, GBPCAD, GBPCHF, GBPHKD, GBPJPY, GBPNZD, GBPUSD, HAS 50, IBEX 35, LTCUSD, NDX 100, NIKKEI 225, NZDCAD, NZDCHF, NZDJPY, NZDUSD, SMI 20, SPX 500, STOXX 50, UK OIL, USDCAD, USDCHF, USDCNH, USDCZK, USDDKK, USDHKD, USDHUF, USDJPY, USDMXN, USDNOK, USDPLN, USDRUB, USDSEK, USDSGD, USDTRY, USDZAR, US OIL, ZAGAUD, ZAGUSD, XAUAUD, CAUEUR, XAUUSD, XPRUSD, XPTUSD, EURRUB, Natural Gas, USDILS, CHFPLN.
Then there are a number of different stocks including the likes of Amazon, Google, Apple, Tesla and many more.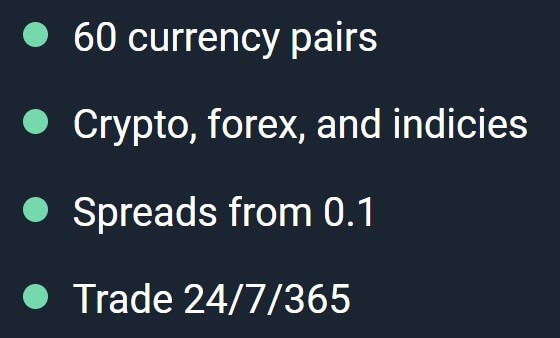 Spreads
The spreads that you have are dependent on a few different things, firstly they are variable (also known as floating) so this means that when the markets are being volatile, the spreads will often be seen higher. It is also important to note that different instruments and assets have different starting spreads, so while EURUSD may start at 0.9 pips, other assets like GBPUSD may start slightly higher, in this case, 1.2 pips.
Minimum Deposit
You can start investing with any amount that you want, there is no set minimum deposit, while you can deposit as low as $1, we would recommend depositing at least $500 to allow for proper risk management and it also increases the potential for profit.
Deposit Methods & Costs
There is a wide range of ways to deposit with SimpleFX, we have outlined them below along with the currencies available to each deposit method.
Bitcoin – BTC
Bitcoin Cash – BCH
Dash – Dash
Ethereum – ETH
Ethereum Classic – ETC, Fasapay – USD, IDR
Litecoin – LTC
Buy Crypto – BCH, BIT, DIT, EIT, LIT
Monero – XMR
Neteller – AUD, CAD, CHF, DKK, EUR, GBP, JPY, NOK, PLN, RUB, SEK, USD
As you can see they are strongly focusing on the crypto market when it comes to depositing, but there are a couple of e-wallets available too. There are no added fees for deposits, but as usual, be sure to check with your processor to ensure they do not charge any fees of their own.


Withdrawal Methods & Costs
The same methods are available to withdraw with the exception of Buy Crypto as that is a purchasing service only. There are no fees for any of the withdrawal methods apart from Neteller and Fasapay which as a 3% fee and 1% fee respectively. You should, however, check with your processor to ensure they do not add any fees of their own. Withdrawals must be made to the same method used to deposit if you have multiple deposits you must withdraw to the method that has the biggest deposit.
Withdrawal Processing & Wait Time
We could not locate any information surrounding how long it takes fro SimpleFX to process withdrawals, we would expect it to be within 48 hours, once it has been processed the amount of time it takes for your money to available for use will depend on the processing time of the method you used, as an example, Bitcoin will take a number of confirmations before it is available so it will depend on the speed of the network.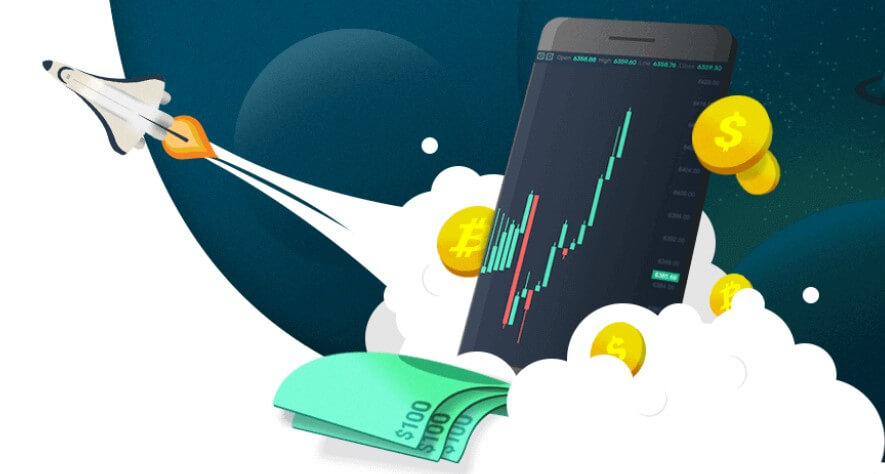 Bonuses & Promotions
Apart from the usual affiliate program, we could not locate any information on the website in regards to bonuses or promotions so it does not appear that there are any active ones at the time of writing this review. If you are interested in bonuses then be sure to check back regularly or get in contact with the customer service team to see if there are any upcoming bonuses or promotions.
Educational & Trading Tools
There doesn't appear to be anything in regards to education, but there are a few trading tools such as automated trading, signals, and the standard analytical tools that come with the platform. This is a shame that there is nothing in the education department, as a lot of brokers these days are looking to help their clients improve and become more profitable with educational courses or tools to help them trade or analyze. It would be nice to see Simple FX do something similar for their clients.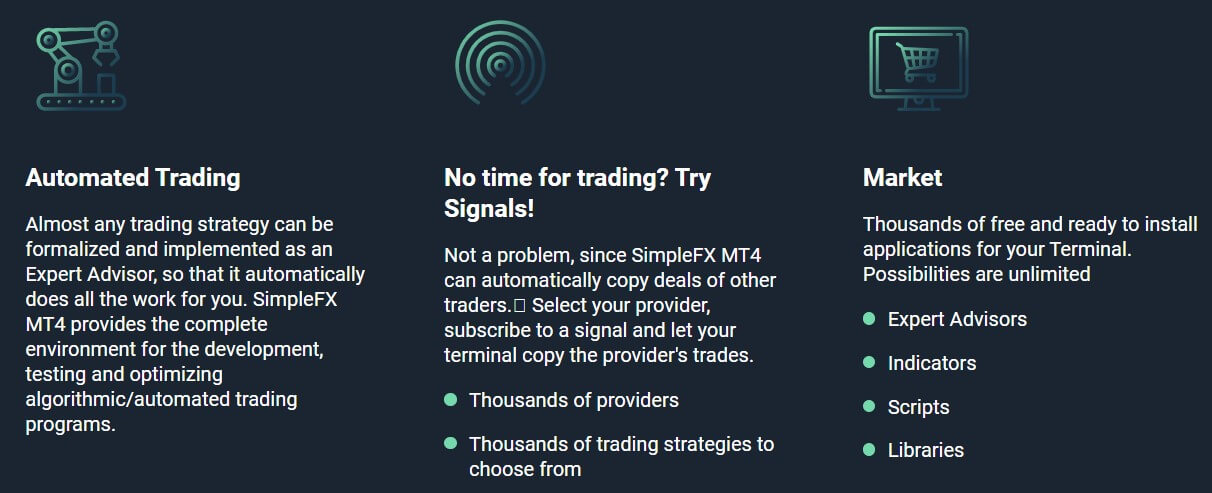 Customer Service
The customer service page includes an FAQ page, and that is it. Luckily, at the bottom of the page in the website footer, there is an email address for the support department as well as the partnership department. It is a little disappointing that there are so few options to get in contact with SimpleFX, it is always nice to bale to speak to someone directly, unfortunately, this does not seem to be the case with simplex and it is something they should look at improving.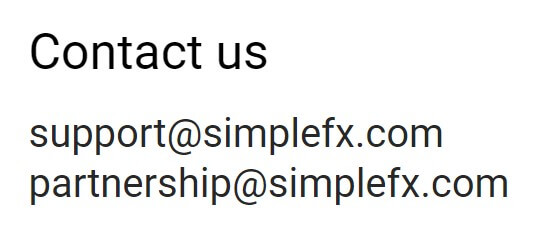 Demo Account
Looking through the site we could not see any information surrounding demo account so they may not be available, demo accounts allow potential new clients to test out the servers and trading platforms and it also allows regular clients to test out new strategies without risking any of their own capital. This is something that SimpleFX should look at adding in the future.
Countries Accepted
The following statement is found on the website: "SimpleFX Ltd. does not provide services to citizens and residents of the United States or any country where such distribution or use would be contrary to local law or regulation." If you are unsure of your eligibility, we would recommend getting in touch with the customer service team to find out.

Conclusion
SimpleFX is a little different to the usual broker, they only offer the one account and have their own trading platform, they do offer MetaTrader 4 as well, but they seem to be focusing on their own platform a lot more. Spreads are relatively low for a non-commission based account which is great and there are a number of different ways to deposit, however, it seems that the usual credit/debit cards and bank wire transfers are not, low fees are also a big plus. No demo account smake it hard for us to test things properly and the lack of ways to get in contact with eh customer service team can be a little offputting.