This Malaysia-based broker allows you to trade different forex pairs and CFD contracts. They have a physical presence in Singapore and their website is available in multiple languages. With an established international client base, SG Global FX utilizes the most popular trading platforms and liquidity providers. This firm provides account holders with incredibly competitive trading conditions, ranging from the tight spreads to the firm's acceptance of transfers from an array of financial institutions, regardless of your bank's location or home country's currency.
Does this broker offer fixed or floating spreads? What type of platform do they use? Are there any margin restrictions? What are the available trading tools? Above all else, how do their pros weigh against the cons? To find out, read this article and get the information that you need to properly evaluate SG Global FX's offerings.
Account Types
SG Global FX's account holders enjoy access to a variety of strong features, including pricing from liquidity providers and immediate order executions. This broker only has one account type.
Minimum Deposit: NA
Spreads: Floating
Commission: NA
The website doesn't include any information about commissions. As far as spreads are concerned, their home page boasts that SG Global FX has both competitive and minimal bid/ask price gaps. Moreover, since they use liquidity providers for quotes, account holders may enjoy very advantageous spreads.

Platforms
If you open an account with this broker, your trading would be done through MetaTrader 4 (MT4), which is one of the most reliable and user-friendly platforms in the industry. You can download the MT4 app on your Windows desktop device directly from SG Global FX's website. Mac users, on the other hand, must first install certain software before being able to download MT4 on their device. The software is free and you can also get it through the broker's website. Equally as important, the MT4 app is available for iPhone and Android users, alike, allowing them to manage their accounts and enter/exit trades from their phones, just as they would on a desktop device.
There are several advantageous aspects that traders who use MT4 enjoy. First, their prices and spreads are incredibly accurate. Second, you can utilize many technical indicators and chart timeframes when trading forex pairs, CFDs, and other financial instruments. Third, MT4 has a live news feed that offers the latest stories and analytical reports related to each asset. Fourth, their demo accounts, which traders can easily register for, allow account holders to learn about the platform and test different strategies before trading their actual funds. Fifth, customer support is reliable and knowledgable. Most, if not all, of these features can be accessed directly through SG Global FX's website.
Leverage
This broker doesn't mention anything about leverage and buying power on their website or user agreement document.
Trade Sizes
SG Global FX has relatively strict margin call and stop-out requirements. In other words, this broker prefers cautious and conservative trading methods over strategies that rely on using a large amount of buying power, which can be very risky.
Margin Call: 150%
Stop-Out: 100%
The 150% margin call level requires you to back your investments/positions with capital. For example, if you want to trade a certain amount, your balance must have enough money to cover the losses in case the markets go down (or up if you're short selling). When an SG Global FX account reaches the margin call, traders must deposit additional funds or close enough losing positions to bring their balance back to the required 150% level. Until that happens, you can't engage in any additional trading (unless it is to close a position). Moreover, at the 100% stop-out level, SG Global FX will close all of your trades automatically to prevent the account from having a negative balance.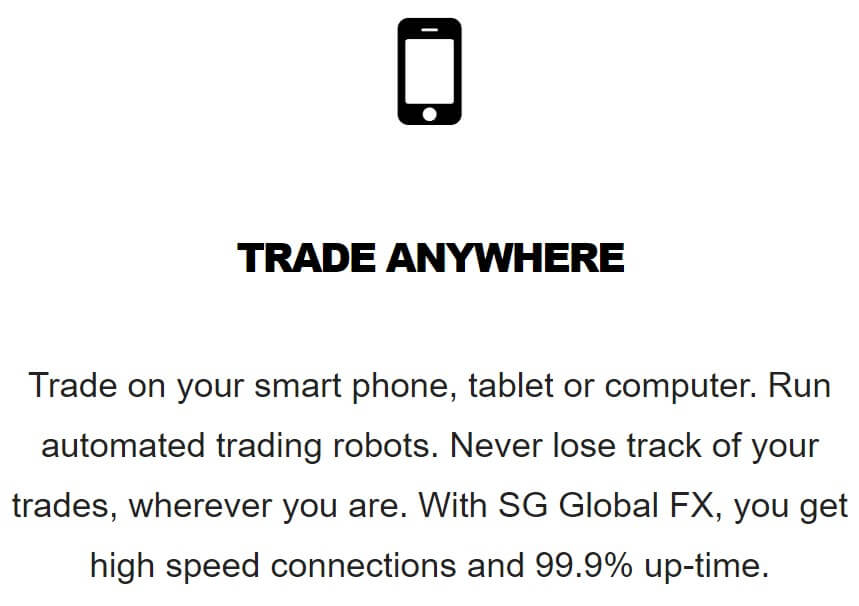 Trading Costs
Just as with the leverage, nothing is mentioned about commissions or trading fees. However, this broker has a partnership and referral program, which normally rewards participants when their friends/family members open an account and start trading with SG Global FX. In most cases, this is awarded per trade. Therefore, brokerage firms with this type of program will charge referrals who open an account, even though others who found the broker online or directly might not incur these same fees. However, interested traders that want to learn more about SG Global FX's trading costs should contact customer support for questions and details.
Assets
Alongside forex pairs, this broker will allow you to trade CFD contracts. The available assets include commodities (more specifically, metals) and stock market indexes. Having said that, there is barely any other information about SG Global FX's financial instruments on the website. For example, they don't list the available currencies nor the forex pairs that you can trade.
Spreads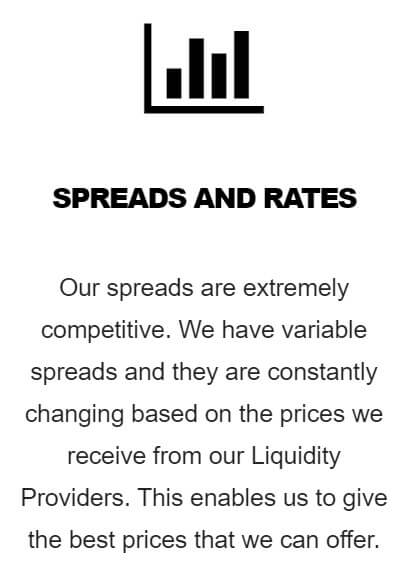 SG Global FX only highlights that their spreads are tight and incredibly competitive, without offering more details. They do, however, outline that their spreads are variable, which means that they change based on market conditions. Different forex pairs also have their own spreads. In general, the most liquid ones on the market, such as the EUR.USD, GBP.USD, and JPY.USD, tend to have the lower bid/ask price variations. Exotics, on the other hand, will have large spreads. However, this will almost always be the case when the markets are volatile and unstable, regardless of whether your traded currency is a major or exotic one.
Nevertheless, this broker relies on several liquidity providers for its bid/ask pricing. In addition, SG Global FX utilizes MT4, which offers very accurate and desirable quotes in its own respect. To clarify, all of this means that an account holder will likely enjoy advantageous and competitive spreads. The benefit of this is magnified when we consider how quickly the MT4 platform executes orders. Yet, if you are considering SG Global FX, the best way to find out about how much their spreads are is by contacting them directly. For example, some brokers will show a wider bid/ask gap in order to generate revenues from the price difference, especially firms that don't charge traders any commissions. There are certain pros and cons to commission vs spread fees, but they mostly depend on how you manage the portfolio and your preferred trading style.
Minimum Deposit
SG Global FX doesn't specify any minimum deposit requirements. In certain cases, brokerage firms may not even have one. Depositing enough money to buy the smallest permissible lot size, in itself, would suffice.
Deposit Methods & Costs
You can use a credit/debit card or bank transfer to fund your SG Global FX account. There aren't any fees on inbound transactions, but keep in mind that your bank or credit/debit card issuer may have their own policies. Just as importantly, if your deposited funds are in a different currency than the one on your trading account, the transaction is adjusted based on the exchange rate during that time. You might be able to use other methods (such as online payment apps or checks) if they follow certain restrictions or regulatory requirements. Contacting the broker about these details would be the best way to learn more.
Withdrawal Methods & Costs
When you deposit money, keep in mind that SG Global FX will only send your withdrawals to the same source. Funds deposited through a bank wire, as an instance, can only be withdrawn and transferred to that specific account. While the website doesn't tell us what the fees are (if any), withdrawals that are made to a bank or debit card that use a different currency than the one on your SG Global FX account will be adjusted based on that day's exchange rate.
Withdrawal Processing & Wait Time
This broker doesn't outline how long withdrawals take, but they do note that credit/debit card transfers are processed much quicker than bank wires.
Bonuses & Promotions
While SG Global FX doesn't have any currently ongoing bonuses or promotions, they do offer these incentives on a regular basis. More specifically, the broker will award account holders with cash credits that they can use to trade. However, in order to withdraw these funds, traders must open/close positions that meet a certain minimum volume requirement. When you lose money on your trades, the losses are deducted from your original deposit and not the bonus, unless your traded volume reaches the specified level needed to convert the credits into a cash balance.
Educational & Trading Tools
The PAMM services are designed to help new traders make decisions based on the input of experienced advisors. They can access the trading methodologies and recommendations of other market participants. After that, beginners make buy/sell choices accordingly and follow the methods of profitable traders. Other than that, no educational or trading tools are offered on SG Global FX's website. Nonetheless, because this broker gives you access to the MT4 platform, there are plenty of valuable resources that SG Global FX's account holders can enjoy. On MT4, you will find an endless array of technical indicators, charting timeframes, custom graphic tools, and research reports, along with live newsfeeds that cover the at-large global markets and specific currency pairs or assets. Moreover, MT4 offers one-on-one customer support and advisory sessions with experienced account managers.
Customer Service
Even though the broker's main office is in Malaysia, they have a separate address for customer support and inquiries, which is located in Singapore (150 Kampong Ampat #06-01, Singapore 368324). Other than that, you may contact customer service via phone or email.
Phone: +65-62818039
Email: support@sgglobalfx.com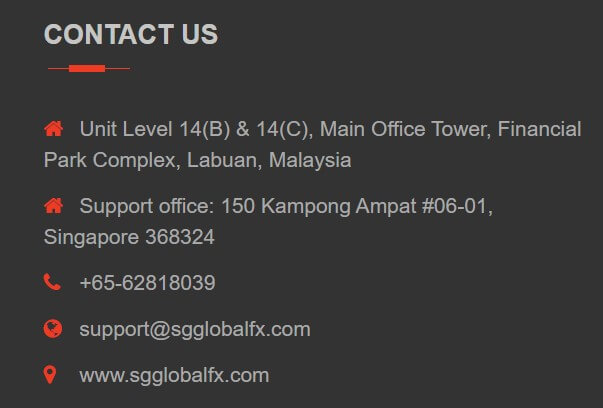 Demo Account
Opening a paper account is done through SG Global FX's website, so is registering a live one. After that, you can immediately start trading fake money on MT4 while working with live market prices and real-time conditions. Many people believe that the demo is only for beginners who want to practice their trading methodology before exchanging actual funds. In reality, though, even seasoned professionals with years of experience can benefit from a demo.
If you are used to MetaTrader 5 (MT5), which is the newer version of MT4, the paper account helps you make that transition smoothly and without risking losing your real money because you used the wrong tool or order type. To give a couple of additional examples, a swing trader that wants to learn how to open and close positions during the same session can try out different intraday strategies and define a proven approach before they put real money on the line. The same would apply to a forex trader that wants to diversify their philosophy by encompassing other instruments, such as commodities.
Countries Accepted
SG Global FX is registered with Malaysia's Labuan Financial Services Authority, the body that regulates and oversees the markets in the country. Their website is also available in Thai and Chinese, which indicates that this broker serves traders in the East Asian region. However, they also work with account holders from all over the world. SG Global FX's website advises traders to check their local regulations and to contact customer service to see if the broker's offerings are available in their country. In some places, like the United States, exchanging commodities, futures, and other types of assets must be done in a way that complies with certain legal requirements, which may restrict access to these markets.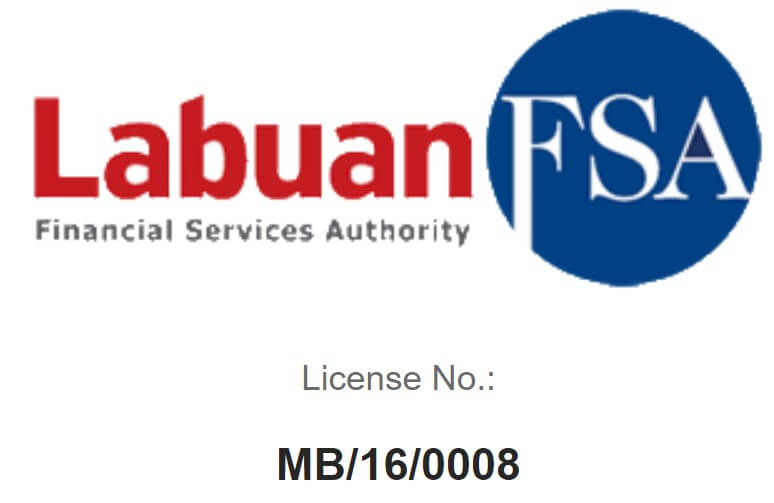 Conclusion
To summarize, this broker's main pros are as follows: Traders use a highly sophisticated and reliable platform; SG Global FX accepts deposits from banks in many countries; The firm has cashback bonuses and a PAMM trading tool for beginners; Demo accounts are easy to open and can benefit different types of traders and; Their services are available on a global level. The downsides, on the other hand, are: Only 1 account type is offered; Margin calls are somewhat restrictive; There are no current bonuses; Educational and trading tools are limited and; Regulatory requirements on traders from certain countries may apply. Meanwhile, SG Global FX's website offers little or no information about the leverage, spreads, commissions, available forex pairs, and minimum deposit requirements.
Having said all that, because this broker utilizes MetaTrader 4, account holders who are looking for trading and educational tools can easily find valuable content through the platform. This includes news alerts, custom charts, and access to support or mentoring. However, SG Global FX's customer service team is also easy to contact and traders can get help in multiple languages. Moreover, the firm lets you transfer money from and to your financial institution regardless of where it is located. Nonetheless, this broker doesn't offer a lot of details about withdrawal fees or transaction processing times. The same applies to their assets. We know that, in addition to forex pairs, SG Global FX gives account holders access to stock market indices and commodities, but a list of the specific instruments that are offered isn't available on the website.
In short, when examining SG Global FX's pros and cons, traders must evaluate them based on their personal trading philosophy and approaches. An account holder that uses a lot of leverage or buying power may find the margin call level to be restrictive, but those who value fast order execution times will appreciate the broker's offerings. Equally as important, since there are plenty of missing details about the spreads, commissions, and other features, contacting customer support will help you get a clearer and more comprehensive picture.