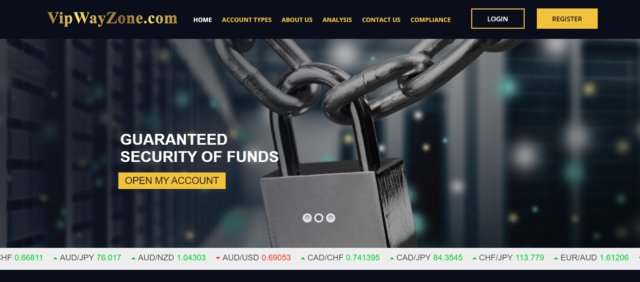 VIP Way Zone is a globally present forex broker that also offers cryptocurrencies, commodities, and indices. In business since 2012, the firm's main mission is to assist and serve beginners who are new to the financial markets. Perhaps most noteworthy, each of VIP Way Zone's account types comes with a dedicated account manager who offers ongoing support and mentorship sessions to traders. In fact, this broker has two analytical teams: One that specializes in technical analysis and another group that focuses on the fundamentals. While VIP Way Zone's website has certain details that are missing, this article covers all the aspects that interested traders need to know about the firm.
Account Types
This broker has 5 different account types. Mini, Standard, and VIP are designed for retail traders, while Fully Managed and Premium Fully Managed to cater to large investors that want a financial specialist to oversee their portfolio. However, all 5 types still retain access to a personal account manager. Mini only gets one call per week with the specialist, but Standard and VIP will have an introductory one-on-one session and ongoing customized support.
Mini Account:
Minimum Deposit: $250
Spreads: NA
Commission: NA
Standard Account:
Minimum Deposit: $5,000
Spreads: NA
Commission: NA
VIP Account:
Minimum Deposit: $10,000
Spreads: NA
Commission: NA
Fully Managed Account:
Minimum Deposit: $25,000
Spreads: NA
Commission: NA
Premium Fully Managed Account:
Minimum Deposit: $100,000
Spreads: NA
Commission: NA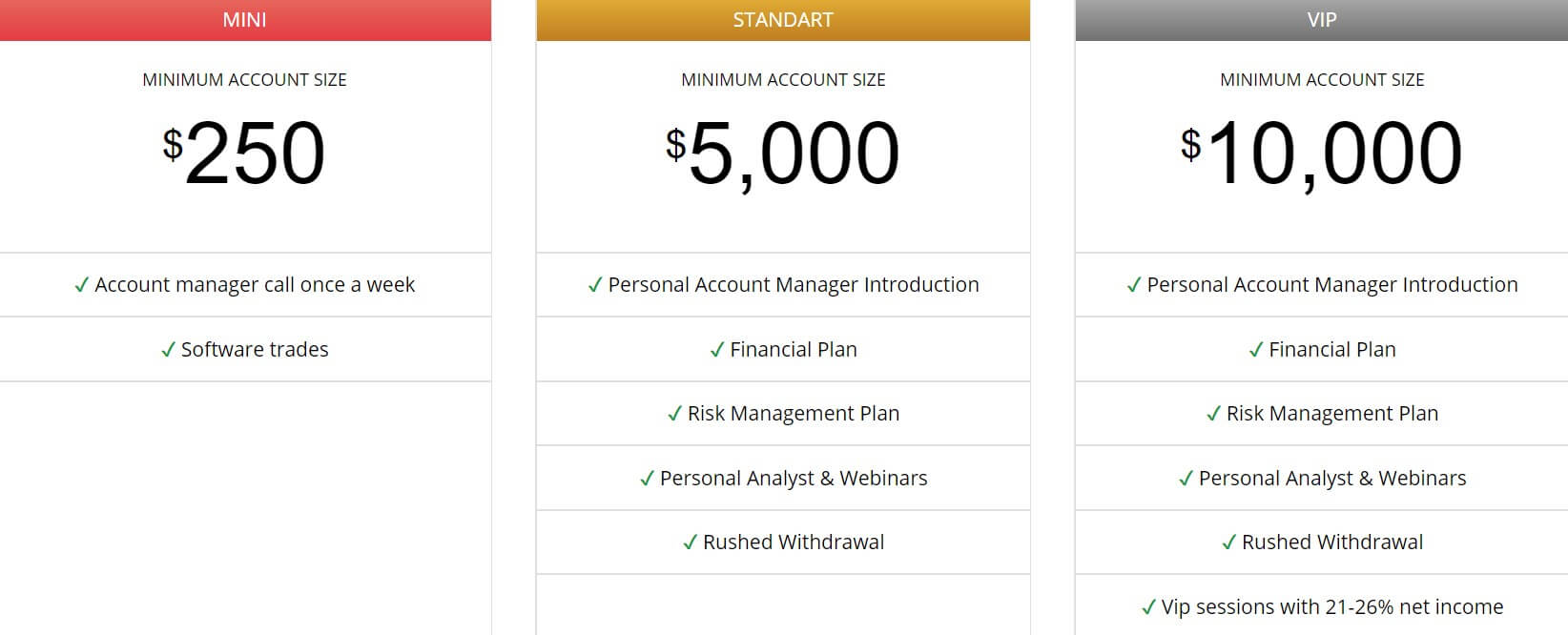 Unfortunately, VIP Way Zone doesn't offer details about the spreads or commissions online. Apart from that, all accounts (except for Mini) are offered a financial plan, risk management strategy, support from a personal analyst, access to webinars, and expedited transaction times. Nonetheless, opening a Mini Account still enables you to trade through utilizing advanced and reliable software.
Platforms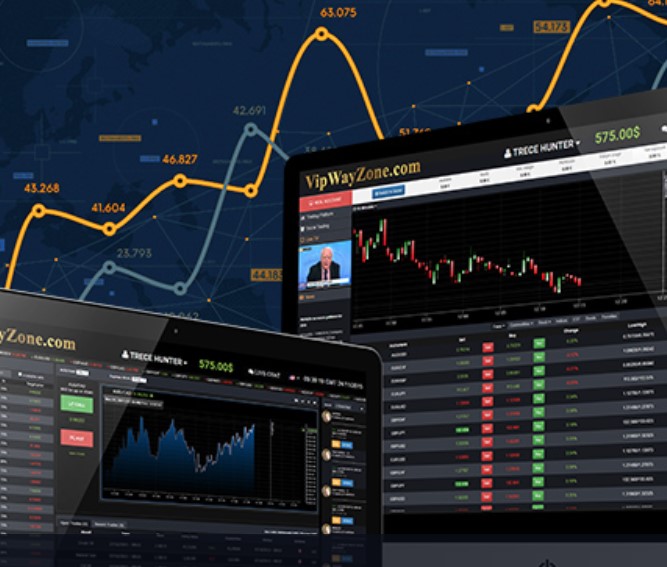 Strangely enough, no information about the platform that VIP Way Zone utilizes is available on their website. In most cases, though, forex brokers will work with either MetaTrader 4 (MT4) or MetaTrader 5 (MT5). While the latter is a more modified version, both of the MetaTrader platforms come with valuable tools and resources, including technical indicators, several chart timeframes, live news feeds, and more.
Some brokers may use their own platform, but this is very rare. Having said all that, VIP Way Zone does mention that the platform that they use doesn't require you to download any apps or software. Instead, account holders may trade directly from their browser. Yet, since this option is available on both MT4 and MT5, the information doesn't give us any hints as to which of the two platforms this broker uses.
Leverage
VIP Way Zone doesn't outline details about leverage or buying power.
Trade Sizes
No information about the minimum lot size, margin calls, or stop out levels is available on this broker's website.
Margin Call: NA
Stop-Out: NA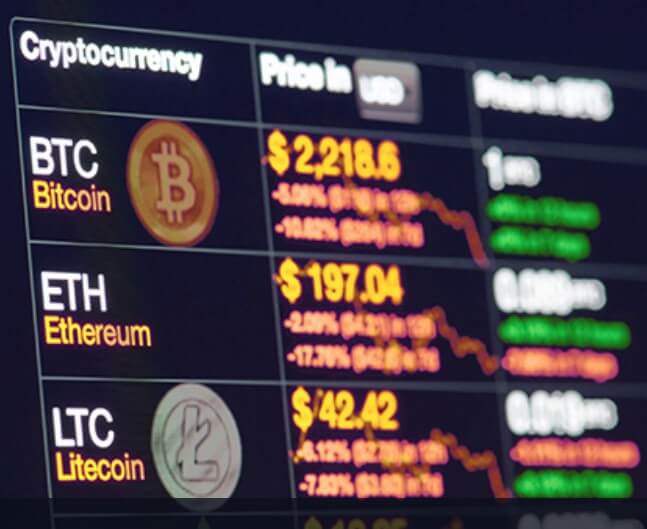 Trading Costs
Nothing is mentioned about trading fees, either. However, across the brokerage industry, there are three types of trading costs: Commissions, spreads, and swaps. Not all firms will charge traders commissions, especially if the spreads are high. Some, however, still do, especially if they offer a low or 0-pip spread. Since VIP Way Zone's website only includes limited information about both of these fees, it is difficult to tell which approach this broker follows (i.e whether they charge you spreads or commissions).
Nonetheless, traders should always remember that overnight positions will come with a swap fee, which accounts for the interest on holding a given currency or pair. This expense is out of any broker's hands. The interest is set by the central bank of any currency's home country. If VIP Way Zone offers an Islamic account, they most likely charge a fixed swap fee that is not related to the interest rate.
Assets
This firm gives you access to almost 180 financial instruments, but they are not listed online, either. However, we know that VIP Way Zone is a forex broker that also allows account holders to trade cryptocurrencies, commodities, indices, and stocks.
Spreads
No information about the spreads is available on the broker's website.
Minimum Deposit
The required deposits are $250, $5,000, and $10,000 for the Mini, Standard, and VIP Account, in that order. Traders that have a larger amount of capital, namely $25,000 and $100,000, may open a Fully Managed and Premium Fully Managed Account, respectively.
Deposit Methods & Costs
One of VIP Way Zone's best offerings is its wide selection of payment methods. This broker will let you deposit funds through traditional means (VISA, MasterCard, and wire transfers), alongside electronic payment systems (CloudFlake, Neteller, Sofort Banking, Skrill, Qiwi Wallet, and Neteller). The fees, however, aren't mentioned on the website. Most of the time, brokers don't charge account holders for depositing funds.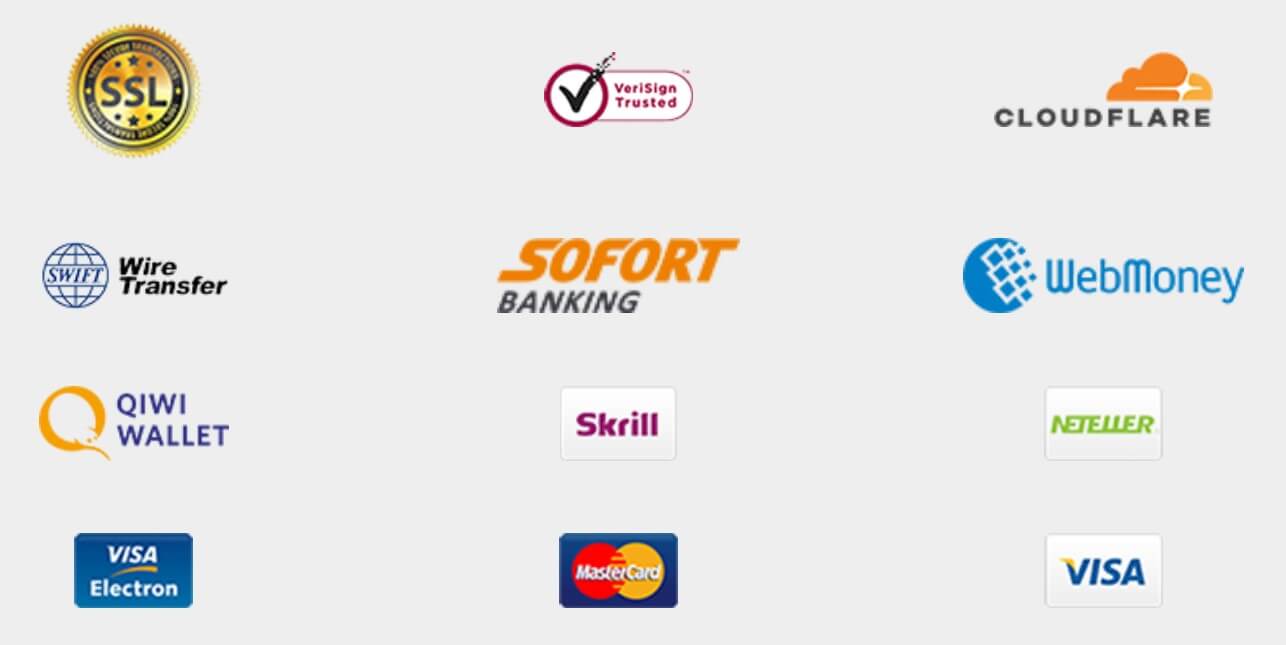 Withdrawal Methods & Costs
Similarly, transaction fees are not outlined on the website. Some firms require you to pay a fee when you withdraw money while others don't. If this is an important feature to you, contacting customer support will help you get more information.
Withdrawal Processing & Wait Time
Even though VIP Way Zone doesn't mention how long it takes to withdraw money, they offer all account types (apart from Mini) a "rushed withdrawal" option. Many brokerage firms will process debit/credit cards and electronic payments (such as Neteller and Skrill) instantly. Since VIP Way Zone accepts these transaction methods, transfers will most likely be processed instantly (whether inbound or outbound). Meanwhile, the website doesn't tell us how long it takes to deposit or withdraw money through the Mini Account, either.
Bonuses & Promotions
There are no ongoing bonuses or promotions, at least as far as the information on the website is concerned.
Educational & Trading Tools
VIP Way Zone's account holders will have access to analytical videos about the market (updated daily), economic calendars, chart signals, news updates, and articles that summarize important events. In addition, all account holders can work with a dedicated specialist. This broker's team has over 5 years of experience in the financial markets. Their availability depends on the account type that you choose. As previously mentioned, Mini can only get one review or mentorship session per week, while the other accounts enjoy more access to customized support features.
Customer Service
You can get in touch with the broker 24 hours per day by either sending them an email, giving customer support a call or filling out a form on the website. You may also visit their office or send them a letter (VIP Way Zone's address is: Company Complex, Ajeltake Road, Ajeltake Island, Majuro, Marshal islands MH 96960)
Phone: +44330058 2602
Email: [email protected]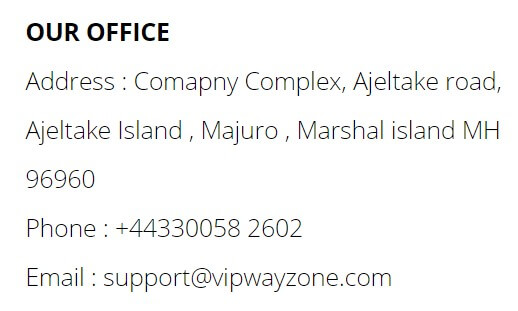 Demo Account
A demo account is a great way for beginners to test different techniques and define their trading strategy before they start risking real money. In fact, since this broker mostly caters to new traders, you can almost certainly open a demo though them. Even if this isn't the case, both MT4 and MT5 will let you register a fake/paper account to practice with.
Countries Accepted
VIP Way Zone is headquartered in the island country of the Republic of the Marshall Islands. It is located in the Pacific Ocean, northeast of Australia. Given that the Marshall Islands have a relatively lax regulatory environment, this broker can serve traders from all over the world. However, equally as important, their services may not be available in all countries, especially those that heavily regulate commodities and cryptocurrencies. This is another feature that interested traders should contact customer support to inquire about.
Conclusion
The obvious downside to this broker is that their website doesn't highlight important information about trading conditions and account features. More specifically, the leverage, spreads, commissions, margin calls, stop-out levels, and trade sizes are lacking in detail. If you are considering this broker, inquiring about this should be key, especially when it comes to areas that are important to your trading strategy. For example, frequent traders will care mostly about commissions.
However, those that have a large amount of capital may not be impacted by these fees as much as they would from the spreads. Otherwise, VIP Way Zone has a wide selection of accounts that cater to retail traders and passive investors. They also provide you with almost 200 different financial instruments, a variety of trading tools, and a large number of transfer methods. Just as importantly, account holders get dedicated one-on-one support and consultations while customer service is available 24 hours a day.
In short, even though this broker doesn't clarify important details, they make up for that through an enhanced and individualized customer support experience.