Prestige FM is a foreign exchange broker offering a number of different key principles, they aim for professional and transparent trading platforms, personal, professional 1 on 1 training, a range of tradable assets, the highest level of security and privacy and much more. In this review, we will be looking into the services being offered by Prestige FM to see if they live up to their own expectations.
Account Types
There are 4 different accounts on offer from Prestige FM, each with their own requirements and features, so let's see what they offer.
Basic Account: The basic account has a minimum deposit of 5,000 EUR, it can get a bonus of up to 50% and has a part-time account manager. You get an intro into live trading and also receive signals and market reviews once a week along with monthly webinars and seminars. eBooks are also available on forex and stocks and the video academy for beginners.
Advanced Account: The advanced account requires a deposit of at least 25,000 EUR. It can receive a bonus of up to 75% and has full consultation from an account manager. It receives 2 sessions of 1 to 1 training and has access to special trading events for 2 months. Signals and market reviews are available twice a week and webinars and seminars are available twice a month. There are ebooks on forex and stocks and the video academy is for beginners and trading tools.

Expert Account: The expert account increases the minimum deposit further up to 75,000 EUR. There is a bonus of up to 100% and you receive individual support and assistance from an account manager. You get 4 live 1 on 1 session and 4 months access to special trading events. You get signals and market reviews 3 times a week and weekly webinars and seminars. Ebooks on forex, stocks, and crypto are available as well as videos for beginners, trading tools and trading strategies.
Prestige Account: This is the top-level account and so the deposit amount required is not stated, you will need to get in touch for this account type. It can have a bonus of up to 150% and receives a special concierge service from an account manager. It gets unlimited live sessions with an expert and access to special trading events. It gets daily signals and market reviews as well as webinars and seminars when requested. It has access to all Ebooks and access to all academy sections.
Unfortunately, the accounts page does not outline the trading conditions of each account, so throughout this review in various sections, we will outline what the trading conditions are.
Platforms
Prestige FM seems to only have an online WebTrader available to trade, we are not sure of its developer and may be Prestige FMs own platform. Its layout is very clean and intuitive, but unfortunately, we can not commend on a lot of its features as we do not know what they are and they are not stated on the website.

Leverage
Unfortunately, there isn't any mention of the leverage being offered to the account so we are not able to state what it is. It would be good to have this information readily available on the website.
Trade Sizes
The minimum trade size is 10 EUR, the Prestige FM platform does not use lot sizes as the majority of forex brokers do, instead, it uses an investment cost so you can know exactly what your trade will cost you. We do not know what the maximum trade size is if there is one.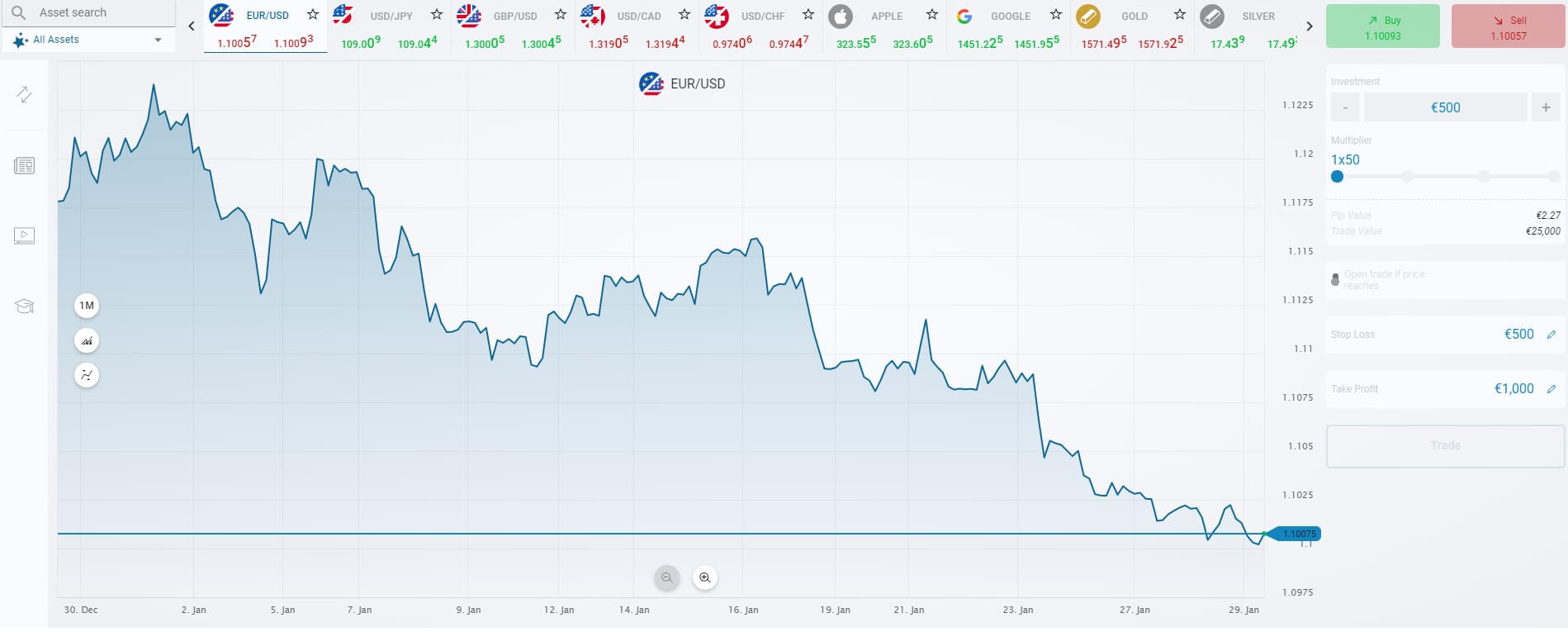 Trading Costs
The trading costs are again an aspect that is not really mentioned on the website so it is unknown to us if they have any commissions on the trades.
Assets
Prestige FM has broken down its assets into 5 different categories, so let's explore what is included in each one.
Currencies: AUDCAD, AUDCHF, AUDJPY, AUDUSD, CADCHF, CADJPY, CHFJPY, EURAUD, EURCAD, EURCHF, EURGBP, EURJPY, EURUSD, GBPAUD, GBPCAD, GBPCHF, GBPJPY, GBPUSD, NZDUSD, USDCAD, USDCHF, USDJPY, USDNOK, USDSEK.
Stocks: Alibaba, Amazon, Apple, Coca-cola, Facebook, Google, Microsoft, Tesla, eBay.
Commodities: Gold, Silver, Crude Oil
Indices: S&P 500, Nasdaq 100, Dow 30, DAX Index.
Crypto: ETBTXC, ETHEUR, ETHUSD, LTCBTC, LTCEUR, LTCUSD, XRPEUR, BTCUSD, XRPUSD.
Spreads
Spreads are another aspect of the trading conditions which are unfortunately not listed or present on the website, due to the way the trading platform works there may not be a spread so to speak as they are using their own system.
Minimum Deposit
The minimum deposit required to open an account is 5,000 EUR which gets you the Basic account, however, once an account has been opened the minimum deposit for all account top-ups is 250 EUR.
Deposit Methods & Costs
The following methods are available for depositing, Visa Credit / Debit, Visa Electron, MasterCard Debit / Credit, Maestro, Alpha exchange and Bank Wire Transfer. Prestige FM does not add any fees of their own when depositing however, we would always recommend that you contact your processor or bank to see if they add any fees of their own.

Withdrawal Methods & Costs
The same methods are available to withdraw with, for clarification these are Visa Credit / Debit, Visa Electron, MasterCard Debit / Credit, Maestro, Alpha exchange and Bank Wire Transfer. Just like depositing, there are no added fees for withdrawing and we would always recommend that you contact your processor or bank to see if they add any fees of their own.
Withdrawal Processing & Wait Time
Prestige FM will process your withdrawal request within 1 – 5 business days, depending on the method used it could then take a further 1 to 5 business days for the money to become available dependant on your processor or bank.
Bonuses & Promotions
There is a welcome bonus available, this bonus is a 100% bonus up to 1,000 EUR on the first deposit. The bonus will be deposited into your account after the deposit has been made, in order to withdraw the bonus you need to reach a minimum trading volume which unfortunately is not mentioned so it is unknown how much you would need to trade. It does state that the bonus can be withdrawn in ana mount calculated as dividing 20- times from the client balance, whatever that means.
Educational & Trading Tools
There is the standard economic calendar that details different upcoming news events and which currency pairs they may affect. There is also a market analysis that tells you about different events that have past and also what the future could hold. There are live webinars but they don't seem to have been happening since June 2019 and finally, there is the standard FAQ.
Customer Service
The customer service department is open Monday to Friday between 8:00 GMT and 22:00 GMT. You can get in touch using the online submissions to fill in your query and then expect a reply back via email. You can also email them directly or use the available phone number to speak to someone. There is also a live chat and WhatsApp option if that is easier for you, so plenty of different ways to get in contact.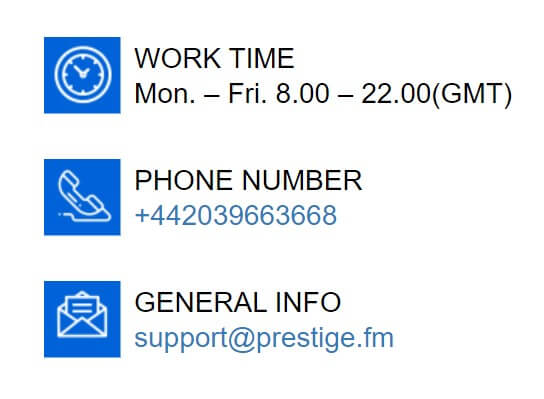 Demo Account
There doesn't seem to be any demo accounts available which is a shame, or at least we did not see any information about them. Demo accounts are important as they allow new clients to test out the trading conditions and servers and allows current clients to test new strategies without risking their own capital./ This is an aspect that Prestige FM should look into if they are indeed not available.
Countries Accepted
The information about which countries are accepted and which are not is not present on the website, so if you are interested in joining, be sure to get in contact with the customer service team to check if you are eligible for an account or not.

Conclusion
Prestige FM brings the forex markets to the market in a slightly different way, they do not use the traditional method of using lots and instead use an investment directly giving a clearer understanding of what the trade costs, unfortunately, this can make things confusing when it comes to things like spreads and other trading conditions, we were not able to tell exactly what a lot of them were. There are a number of ways to deposit and withdraw with no added fees which are good and there are plenty of ways to get in contact with the customer service team. If you are able to understand the format and how their trading works then it seems like they could be a good choice, but if you are looking for more traditional trading you may need to look elsewhere.