A broker that provides the best service for their clients, has satisfied and happy employees, offers maximum security for their clients and offers advances in technology and development of trading instruments, that is what NelsonFX a forex broker based in the Marshall Islands says about itself. In this review, we will be looking into the services that NelsoFX offers to see if they live up to the expectations they have put on themselves.
Account Types
There are two accounts to choose from when signing up with NelsonFX, we have outlined some of the features below, unfortunately, the trading conditions are not readily available so we will look at them later in the review.
Live Account: This account is intended for new customers, there does not appear to be a minimum deposit amount required, the account also comes with access to MetaTrader 4 as a trading platform and 24/5 customer support. With the Live account, you can undertake any transactions on the market you choose in the same way as with any other. You also get access to regular online webinars, seminars, and training sessions to improve your abilities to trade on the markets, primarily for identifying opportunities and risks and your skills with the individual trading platforms.
Live Premium Account: This account requires an initial deposit of $25,000 which is pretty high. The Live Premium account includes the complete service from NelsonFX, so you get the best personal support on the market in your native language and also access to regular training sessions for trading to assist with your transactions and teach you the full potential of our trading platform. This includes access to the MetaTrader 4 trading platform, access to 24/5 customer services, analysis and overviews of the markets from specialists and a personal trading specialist who is always ready to help.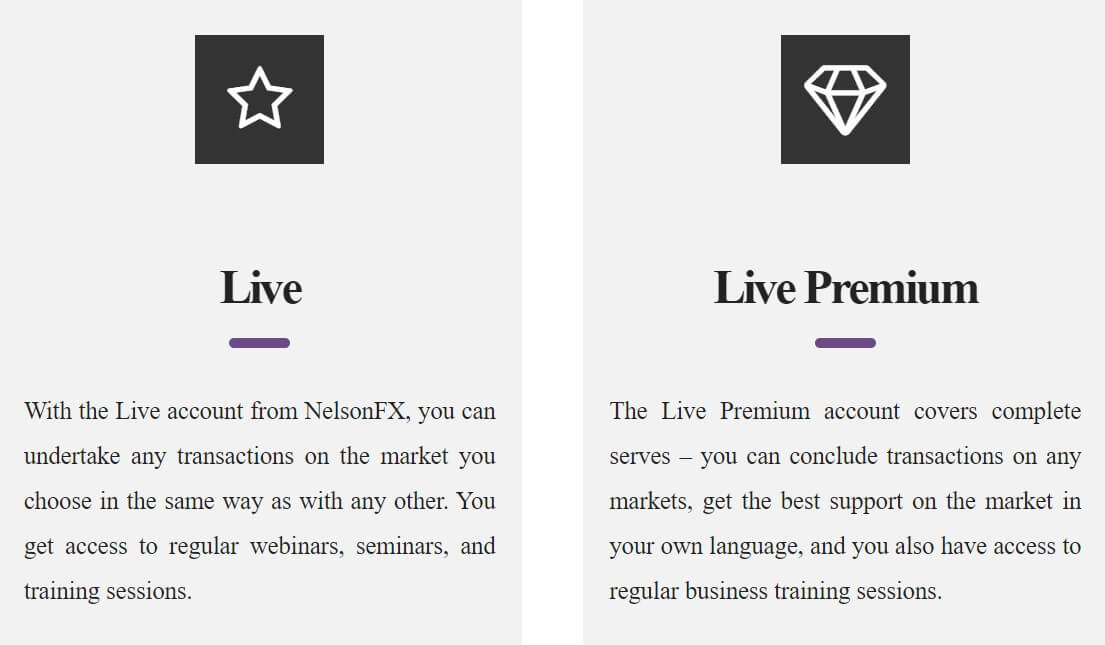 Platforms
NelsonFX uses MetaTrader 4 as their sole trading platform, making the platform available for Windows, Linux, and MacOS systems, along with a WebTrader browser option and app options for mobile devices. With more than 14 years of development in the books, MetaTrader 4 offers guaranteed quality, professionalism, and security.
MetaTrader 4 offers:
User-friendly interface
Complete technical analysis
Trading signals and copy trading:
Algorithmic trading
Alerts and financial news
Much more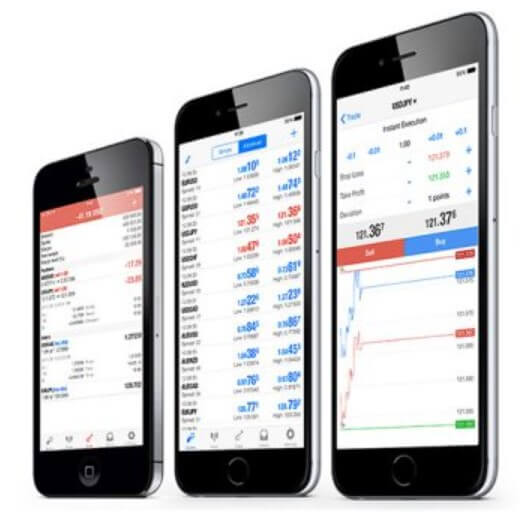 Leverage
The maximum leverage being offered is 1:500 which is what a lot of brokers are now aiming for. Leverage can be selected when opening an account and should you wish to change it on an already open account you can do so by getting in contact with the customer service team.
Trade Sizes
Trading starts from 0.01 lots which are known as a micro lot, they then go up in increments of 0.01 lots so the next available trade would be 0.02 lots and then 0.03 lots. The maximum trade size is 20 lots which are fine as it is not too high as to make it harder for the markets or liquidity providers to execute trades quickly without any slippage. Different instruments may have a different maximum or minimum trade sizes such as some Indices which have a maximum trade size of 10 lots or 5 lots.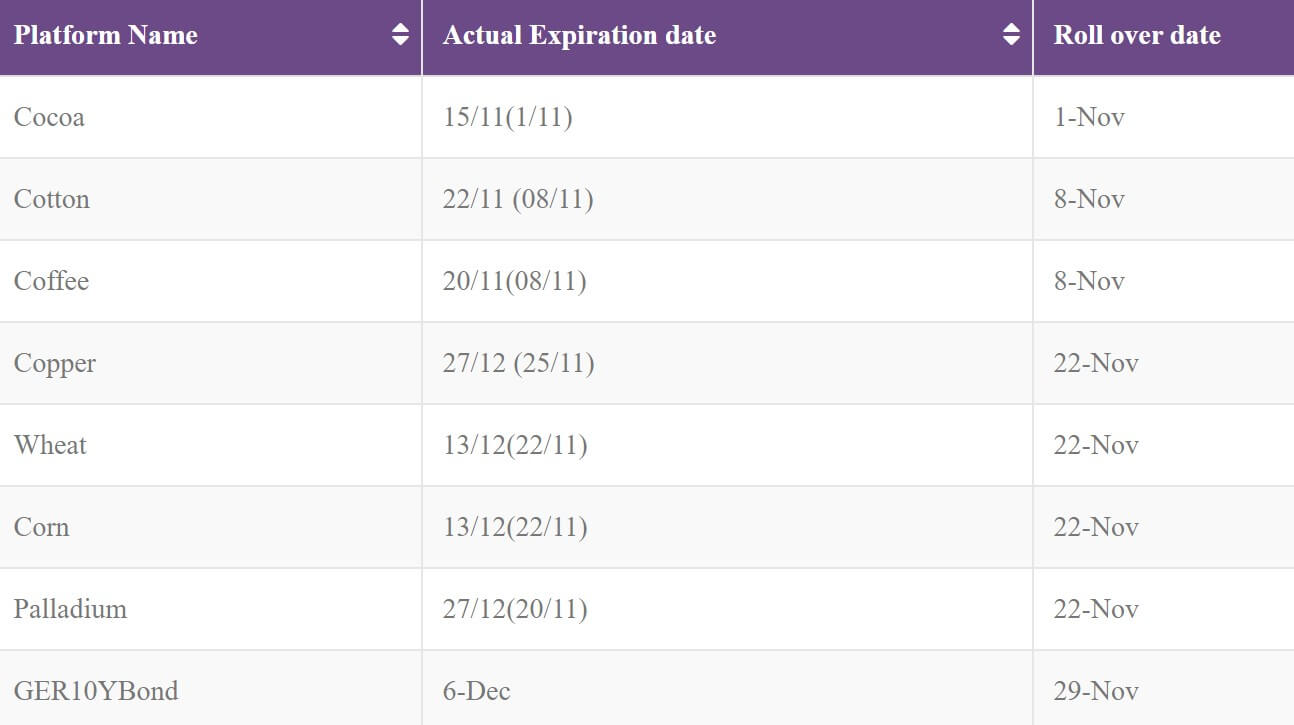 Trading Costs
There is a commission added to each trade, at the moment the commission is $10 per lot traded which is pretty high when considering the industry average seems to be sitting around $6 and this is on accounts that also have a spread. There are also swap charges which are charged for holding trades overnight, these can be viewed both within the trading platform you are using and also on the NelsonFX website.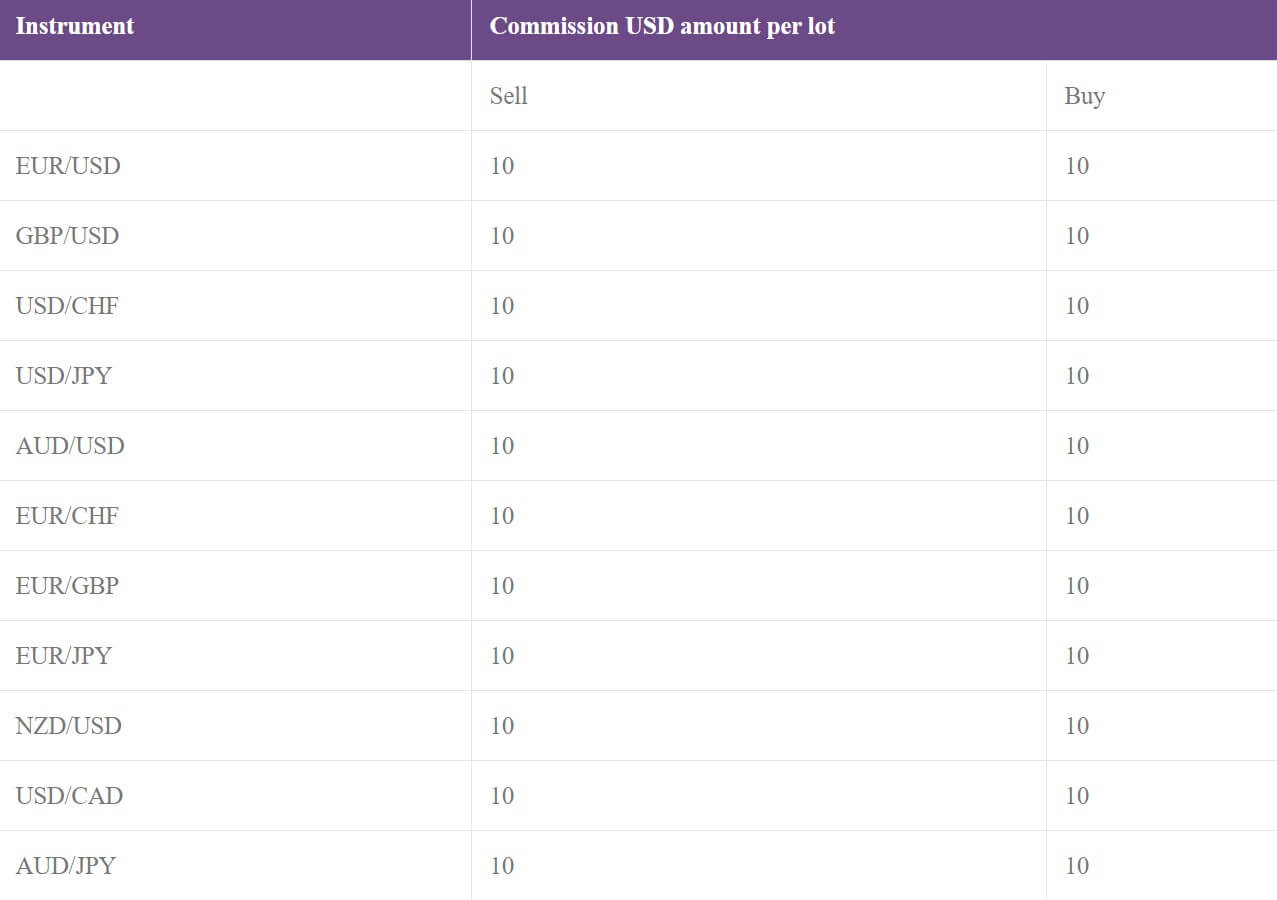 Assets
NelsonFX has broken down their assets into 5 different categories, let's have a look at what they are.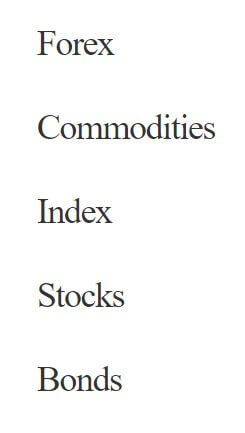 Forex: There are 51 different currencies available to trade, these include AUDJPY, EURUSD, GBPUSD and, USDPLN.
Commodities: 14 different commodities which are Cocoa, Coffee, Copper, Corn, Cotton, Natural Gas, Platinum, Rice, Soybean, Sugar, US Oil, Wheat Gold, and Silver.
Index: 14 Different Indices which are UK 100, AUS 200, DE 30, Dollar Index, EU 50, FRA 40, HK 33, JPN 225, N 25, SPA 35, SWI 20, US 100, US 30 and US 500.
Stocks: Lots of stocks on offer including the major ones like Facebook, Amazon, Apple, and Tesla.
Bonds: Just one bond to chose from and that is the Germany 10 Year Bond.
Spreads
The spreads on offer are not specified, the trading conditions page simply states "floating2 next to all of the instruments so we can not say what they start at. Floating means that they are variable, they move with the markets, the more volatility there is the bigger the spreads will become. Naturally, some assets will have different starting spreads, EURUSD will be different from AUDNZD as an example. It would have been nice to know what the spreads are, as it is such an important bit of information when selecting a broker to use.
Minimum Deposit
There does not appear to be a minimum deposit when it comes to opening up the Live account, however, if you want the Live Premium account you will need to make a deposit of at least $25,000. Normally after an account is open the deposit requirement for subsequent top-ups reduced but there is no mention of that here at NelsonFX.
Deposit Methods & Costs
There is not a page with information about deposits or withdrawals so we can not get this information, nor is there a deposit and withdrawal policy for us to look at. On the website, there is an image of Visa, MasterCard, and Maestro so we would assume that Credit and Debit cards from these providers would be accepted. There is a mention of Bank Wire Transfer and online payment providers in the terms and conditions but what the payment processors are is unclear.

There are no mentions of any fees in the terms and conditions, nor is there a mention of there being no fees.
Withdrawal Methods & Costs
There is also no information regarding withdrawal methods or fees, but we would assume the same methods of Visa, MasterCard, and Maestro Credit and Debit cards would also count for withdrawals. Bank Wire Transfers and payment processors are once again mentioned but not clarified.
Withdrawal Processing & Wait Time
There is a small note in the terms and conditions which state that Wire Transfers will take up to 5 business days to process, online payments up to 5 business days and credit/debit cards will take up to 10 business days to process.

Bonuses & Promotions
There do not seem to be any active bonuses or promotions at the time of writing this review, if you are after bonuses, you could get in contact with the customer service team to see if there are any bonuses or promotions coming up.
Educational & Trading Tools
The only thing that could go into this section is a news section of the site that simply details past news events, nothing that is going to really help you improve your training or anything, but it seems up to date and relevant.
Customer Service
Should you wish to get in contact with NelsonFX you can do so by using the online submission form, simply fill in your query and submit, you should then get a reply via email. There is also an email address to use to send an email directly along with the phone number should you wish to speak to someone. The customer support team is available 24/5 and is closed over the weekend and bank holidays just like the markets are.

Demo Account
You can open up a demo account and you can try out trading on the stock market, completely risk-free and free of charge. The Demo account lets you have current data from real markets to practice your trading strategies. There is no indication as to how long the demo accounts last, as some brokers put a time limit such as 30 days on them, so this information would have been good to know.
Countries Accepted
The following statement is on the website: "We do not establish accounts to residents of certain jurisdictions including the USA" If you are looking to join, we would recommend getting in touch with the customer service team to see if you are eligible for an account or not.

Conclusion
NelsonFX has plenty to offer when it comes to assets and instruments, slightly less to offer when it comes to information about their services. The lack of information surrounding the accounts meant we had to dig deep to find information that should have been present, there is also a lack of information on deposit and withdrawal methods, considering they will be dealing with our money this is an aspect that is quite important and something that needs to be improved if they want to attract a new host of potential clients.