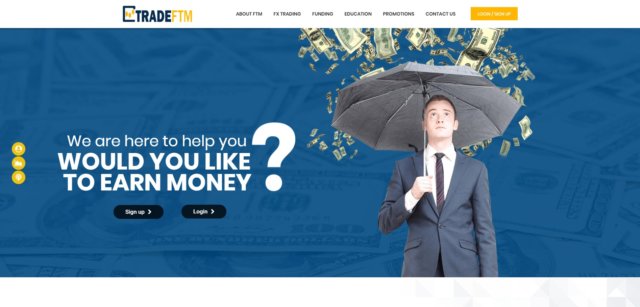 TradeFTM is a London based ECN FX and CFD broker that was established back in 2007. The broker offers leveraged trading as high as 1:500 on multiple currency pairs, commodities, CFDs, and indices. Under their mission plan, the company aims to put their client's needs at the center of every decision that is made, while striving to provide maximum performance, customer satisfaction, and security. Stay with us to find out all of the interesting details about this broker's conditions.
Account Types
TradeFTM offers eight separate account types: Micro, Mini, Gold, Professional, ECN Classic, ECN Gold, ECN VIP, and ECN Elite. All accounts offer market execution. The non-ECN accounts seem to be more affordable, while the ECN account types have deposit requirements ranging from $10,000 up to $100,000. Leverage options are higher on those more affordable account types.

Spreads range widely, starting from 2.5 pips on the broker's ECN account while starting from a low 1.6 pips on the ECN Elite account. Commission fees aren't charged on non-ECN accounts, while those charges can be high on all of the ECN account types. With so many options available, traders will want to take all conditions into consideration before deciding which account to open. We've provided an overview of those conditions for each account type below.
Micro Account
Minimum Deposit: $200
Leverage: Up to 1:500
Spread: From 2.4 pips
Commission: None
Mini Account
Minimum Deposit: $500
Leverage: Up to 1:400
Spread: From 2 pips
Commission: None
Gold Account
Minimum Deposit: $2,000
Leverage: Up to 1:400
Spread: From 1.8 pips
Commission: None
Professional Account
Minimum Deposit: $5,000
Leverage: Up to 1:200
Spread: From 1.1 pips
Commission: None
ECN Classic Account
Minimum Deposit: $10,000
Leverage: 1:400
Spread: From 1 pip
Commission: $25 per lot
ECN Gold Account
Minimum Deposit: $25,000
Leverage: 1:200
Spread: From 1 pip
Commission: $15 per lot
ECN VIP Account
Minimum Deposit: $50,000
Leverage: 1:200
Spread: From 1 pip
Commission: $10 per lot
ECN Elite Account
Minimum Deposit: $100,000
Leverage: 1:100
Spread: From 0.6 pip
Commission: $15 per lot
Platform
This broker supports one of the market's most attractive trading platforms, MetaTrader 5. You won't find a detailed section of the website that is dedicated to providing details about the platform and download links, but traders will be able to download the platform directly from the website's homepage.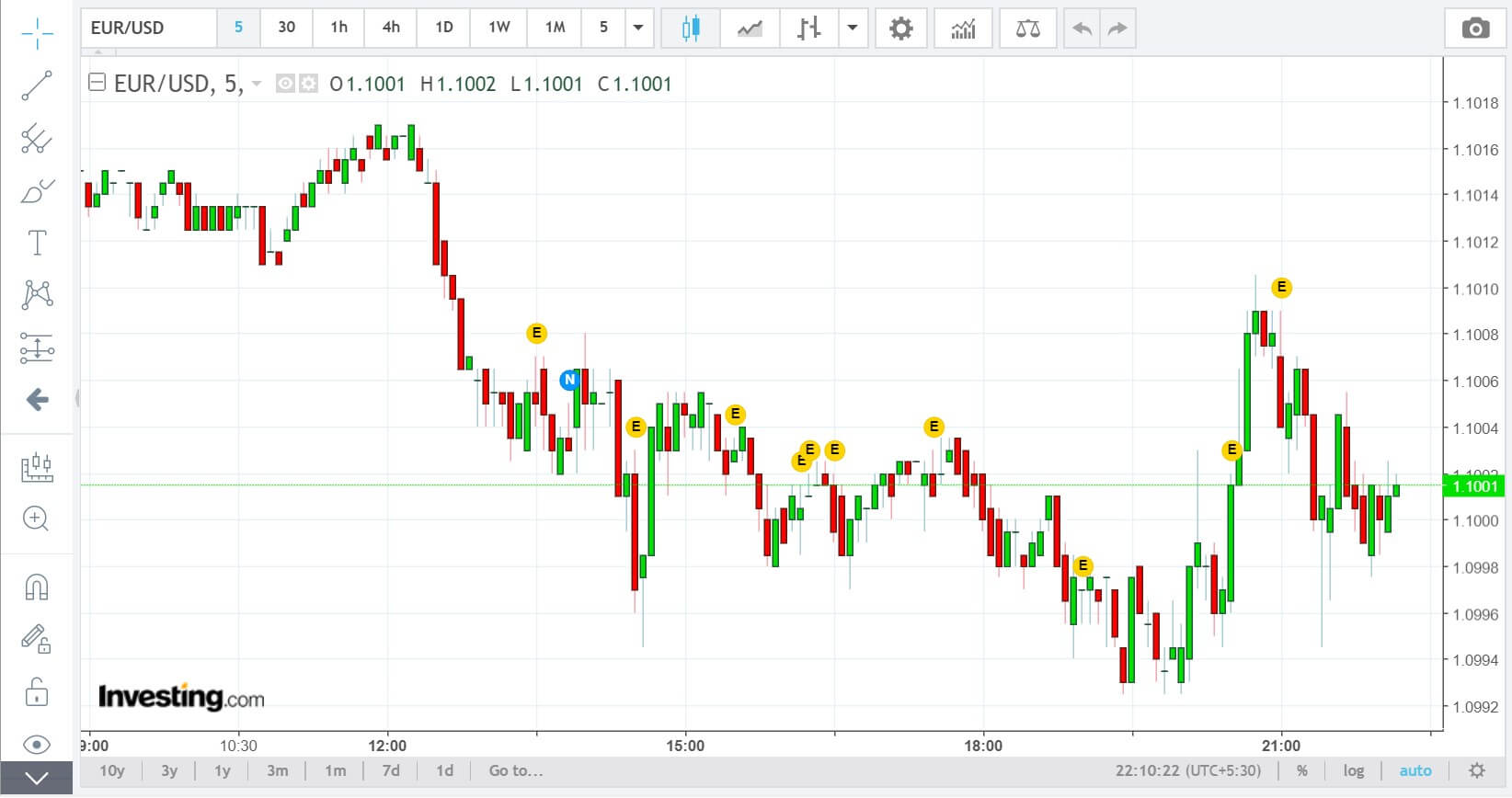 MT5 offers 21 different timeframes, compared to just 9 on MT4. Traders can take advantage of unlimited charting and can open more than one hundred charts at a time. The platform also has 38 inbuilt indicators, 22 analytical objects, and 46 graphical objects. All of these features, along with others, have helped to skyrocket the platform's popularity and to make it one of the most preferred options on the market today.
Leverage
The Micro account offers the highest leverage cap of up to 1:500, while the Mini, Gold, and ECN Classic accounts also offer an impressive leverage cap of 1:400. Traders will find these options to be highly competitive when compared to the leverage options available through many other brokers. TradeFTM lowers the cap on accounts that require larger deposit amounts in order to limit those clients from risking large amounts of capital.
The limit is set at 1:200 on the Professional, ECN Gold, and ECN VIP accounts. On the most expensive ECN Elite account, the cap is lowered to 1:100. Some brokers only offer a cap of 1:100, regardless of the account's balance, so this is a generous offer for an account with a $100k deposit requirement.
Trade Sizes
The Micro, Mini, and ECN account types all allow the trading of micro-lots. The Gold account has minimum trade size of 0.10 lots, while the Professional account requires a trade size of 0.50 lots. All accounts allow hedging, trailing stops, expert advisors, and pending orders. The margin call and stop-loss levels are shared by all accounts and have been listed below.
Margin Call: 40%
Stop Out: 30%
Trading Costs
TradeFTM profits through spreads, commissions, and swaps. Starting spreads vary widely, from 0.6 to 2.4 pips. Non-ECN accounts offer commission-free trading for forex pairs. Meanwhile, commission fees can be high on the ECN account types. On the ECN Classic account, the charges are $25 per lot.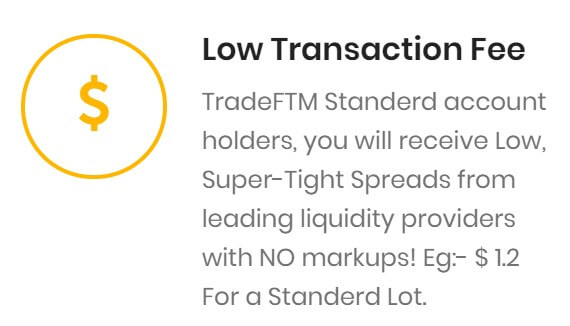 The ECN Gold and ECN Elite accounts share a commission fee of $15 per lot. The ECN VIP account has lower commission charges at $10 per lot. Swaps are charged on positions that are left open overnight, with triple charges occurring on Wednesdays. Traders will find a helpful swap calculator on the broker's website. There do not appear to be any extra charges based on inactivity, transferring funds, etc.
Assets
TradeFTM offers instruments from the FX, commodities, stock CFDs, and spot indices asset categories. Currency pairs consist of 57 total options, made up of majors, minors, and exotics. There are a variety of different exotic pairs, including the USDMXN, USDCNH, EURHKD, CHFNOK, USDHUF, and several more options. Commodities include Gold, Silver, Brent Oil, Crude Oil, and Natural Gas. Stock CFDs consist of more than 170 stocks in popular American companies like Apple, Facebook, and Disney. The spot indices category is made up of eleven total options.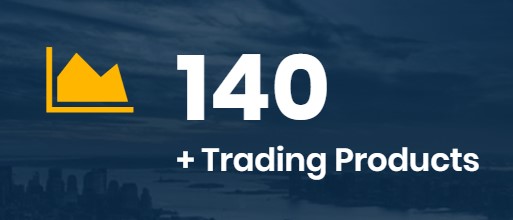 Spreads
Opening one of the broker's more affordable accounts comes with the disadvantage of trading with higher than average spreads, with options starting from 2.4 pips on the Micro account, from 2 pips on the Mini account, and from 1.8 pips on the Gold account. Keep in mind that the industry average is about 1.5 pips.
It's a little disappointing to see that traders would need to deposit at least $5,000 in order to access competitive spreads from 1.1 pips on the Professional account. Spreads continue to drop to a much more competitive level on the ECN account types, with spreads starting from just 1 pip on the ECN Classic, ECN Gold, and ECN VIP accounts. The ECN Elite account offers the best starting spreads, from a low 0.6 pips.
Minimum Deposit
The more affordable accounts would be the Micro and Mini options, as the Micro account requires a $200 deposit and the Mini account asks for a $500 deposit. The Gold account raises the requirement to $2,000, while the Professional account requires a $5,000 deposit. Those wishing to open one of the ECN account types will need to make a deposit of at least $10,000 to open the ECN Classic account, $25,000 to open the ECN Gold account or $50,000 to open the ECN VIP account.
All three of these accounts share the same spreads. The most expensive account offered by the broker would be the ECN Elite account, which asks for a $100,000 deposit. This account comes with some added benefits and has lower spreads than the other ECN account types.
Deposit Methods & Costs
Accounts can be funded through a variety of methods, including cards (Visa, MasterCard, American Express, Maestro, Discover), PayPal, Skrill, JCB, Visa Electron, Neteller, Diner's Club, and bank transfer. Note that the company may enforce limitations on the available methods based on the client's residency. Most deposits are credited within just a few minutes, aside from bank transfers. There are no fees charged from the broker's side on incoming deposits, but traders may want to check with their particular bank to see if fees will be charged from their side.

Withdrawal Methods & Costs
All of the available deposit methods can be used for withdrawals, under the condition that funds must be withdrawn in proportion back to the originating payment methods. The broker charges a standard 2% + $7.50 fee on all withdrawals made through bank wire transfer and credit/debit cards. Skrill and Neteller withdrawals share a 1% fee, while Amex withdrawals are charged a fee of 3% of the withdrawal amount + $7.50.
Withdrawal Processing & Wait Time
TradeFTM advertises instant withdrawals and states that withdrawal requests can be made 24 hours, 7 days a week. If a withdrawal is not processed instantly, then the broker claims that the funds will be sent within 24 hours. We don't see any mention of a delay if those requests are made on weekends, so it seems that the broker manages to finish processing all withdrawals quickly. The website doesn't state exactly how long it can take for those funds to show up in the client's account once they have been sent.

Bonuses & Promotions
TradeFTM offers welcome bonuses to clients, with the exact percentage of the bonus that can be earned is based on account type. Some account holders will not be able to earn any type of bonus. Micro and ECN Elite account holders would be excluded from the promotion. Traders can earn a 20% bonus on the Mini account, 30% on the Gold account, and 40% on the Professional account.
The bonus percentage drops to 5% on the ECN Classic account, 7% on the ECN Gold account, and 10% on the ECN VIP account. In addition, clients will find redeposit bonuses and no deposit bonuses. The $50 no deposit promo is a one-time bonus that allows clients to withdraw profit amounts of up to $100. There are several conditions that affect the timeframe in which the bonus can be withdrawn, the leverage that can be used, etc. Traders can check out those conditions under "Promotions".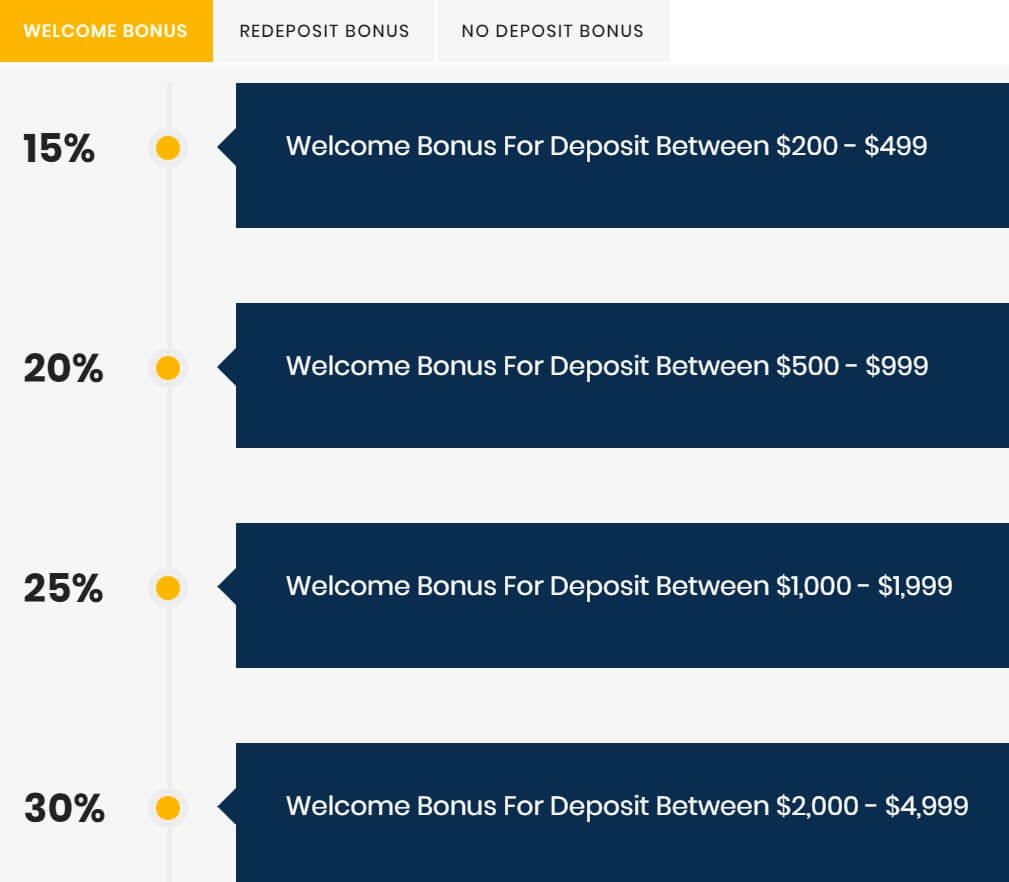 Educational & Trading Tools
Under the "Education" section of the website, the broker offers a forex education section, a glossary, and a section dedicated to providing articles and tutorials. While the education section is relatively brief, traders will find multiple archives of technical analysis articles under the tutorials section. Trading tools can be located under "FX Trading" > "Trading Tools" on the website. Those tools are made up of calendars (National Holidays, Central Bank Rates, Economic, CFD Adjustment, and Dividend Adjustment), charts, and calculators related to currency conversion, profit, FX Market hours, FX cross rates, overnight swaps, and pips. Having access to all of these resources provides an advantage to those that decide to open an account through this broker.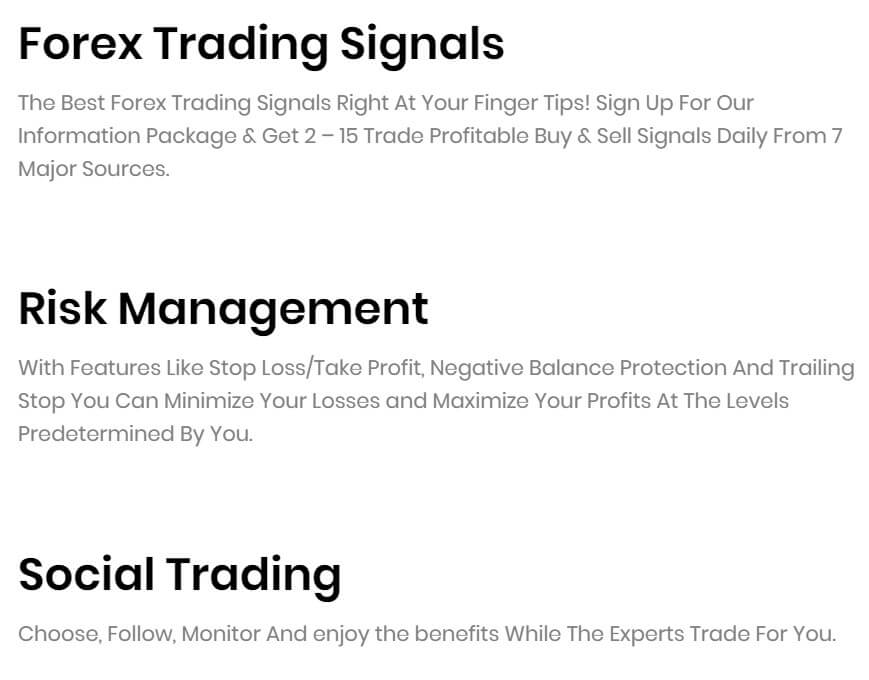 Demo Account
At first glance, it may seem as though demo accounts are not available, but we were happy to find that the broker does in fact offer these risk-free accounts. Traders can register for a demo account by selecting "Login/Sign Up" from the top right bar of the website. From there, it is possible to switch the account type to a demo. TradeFTM allows traders to customize several features on their demo account by choosing leverage from 1:1 up to 1:300 and an amount of virtual currency that ranges from $100 to $5,000. Many others set unrealistic amounts of currency on their demo accounts with no option to select a lower amount, so traders will find a more realistic experience when trading from one of this broker's demos.
Customer Service
The broker's customer support team can be reached through phone, email, or by filling out a form on the website's contact page. While we're happy to see a direct phone number listed, it is a little disappointing to see that there aren't any instant contact numbers and that the website fails to provide traders with the exact hours that support is in the office. If you're in a hurry, the phone would be the quickest option, otherwise, the broker would likely respond to emails within one business day. The contact information has been listed below.
Phone: +44 20 8144 1010
Email: support@tradeftm.com
Address: 130 Old Street, London, England, EC1V 9BD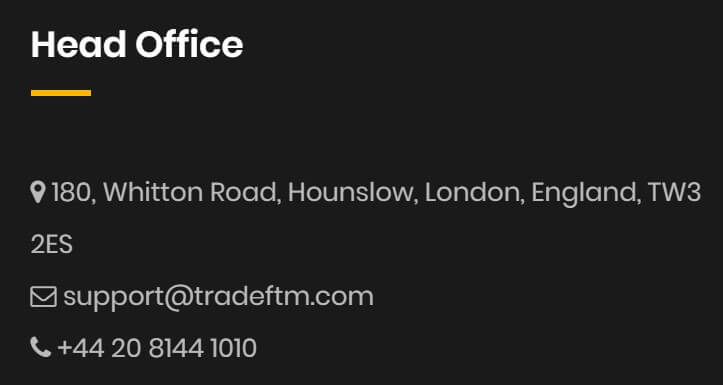 Countries Accepted
We couldn't find a list of specific restricted countries on the website, but we did head over to the account registration page to check for any missing countries. Surprisingly, the broker doesn't even clients to enter their country of residence, making it possible for traders from every location to register for a live account with no issues.

Conclusion
TradeFTM is an online ECN broker with an asset portfolio that is made up of FX, commodities, stock CFDs, and spot indices. The broker's wide range of account types makes it possible for traders to have access to varying conditions. Some of the advantages of opening an account would be access to impressive leverage options that go as high as 1:500. Traders that can afford a larger deposit will have access to spreads starting from 0.6 – 1.1 pips, while those open one of the more affordable account types will be stuck with higher starting spreads from 1.8 – 2.4 pips.
Commission fees can be high on all of the ECN based account types, but those fees are absent on the Micro, Mini, Gold, and Professional account types. It costs at least $200 to open an account. Accounts can be funded through a variety of payment methods and withdrawals are processed within 24 hours. The withdrawal fees charged for bank card and bank wire withdrawals can be steep, but traders will only have to pay a 1% fee when withdrawing through Neteller or Skrill.
Those that do decide to open an account will benefit from the welcome, redeposit, and no-deposit bonuses. Traders will also have access to some educational resources and multiple trading tools directly from the website, including customizable demo accounts. There do seem to be several advantages to choosing this broker, so long as one is able to select an account type with some of the better conditions.