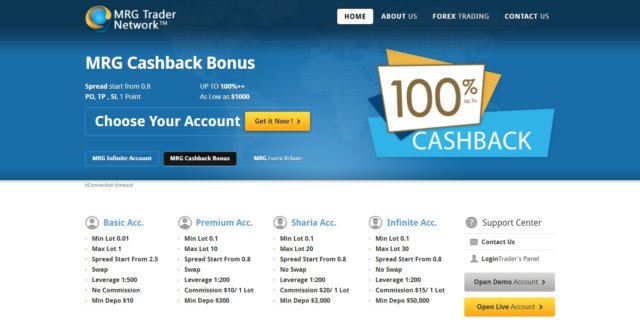 Maxrich Group LTD is an international forex trading firm, dealing with over-the-counter forex contracts. MRG Forex brand is a registered financial services provider under New Zealand's financial markets conduct act 2013 and is regulated by the Financial Markets Authority (FMA). In 2007 it also became a registered business company in the British Virgin Islands. This broker deals with Forex, commodities, shares and US index. Having a variety of accounts available this broker can work with a wide array of potential clients. If you'd like to discover more about MRG, keep on reading to find out what we've learned through an in-depth look at their website.
Account Types
If you're considering opening an account with this broker, you have a choice between 4 types of accounts, namely; Basic, Sharia, Infinite and Premium. All accounts have the possibility of trading 29 different products. Let's take a closer look at each account.
The Basic account has the lowest minimum deposit required which is just $10 making it a great option for new traders. Like all the other accounts, the Basic allows a minimum trading lot of 0.01, but unlike the others, the Basic account only allows a maximum of 1 lot to be traded. This account is fee-free and over-night swaps are allowed. The leverage for this account is set quite high at 1:500 and spreads which are also quite high, starting at 2.5 Pips.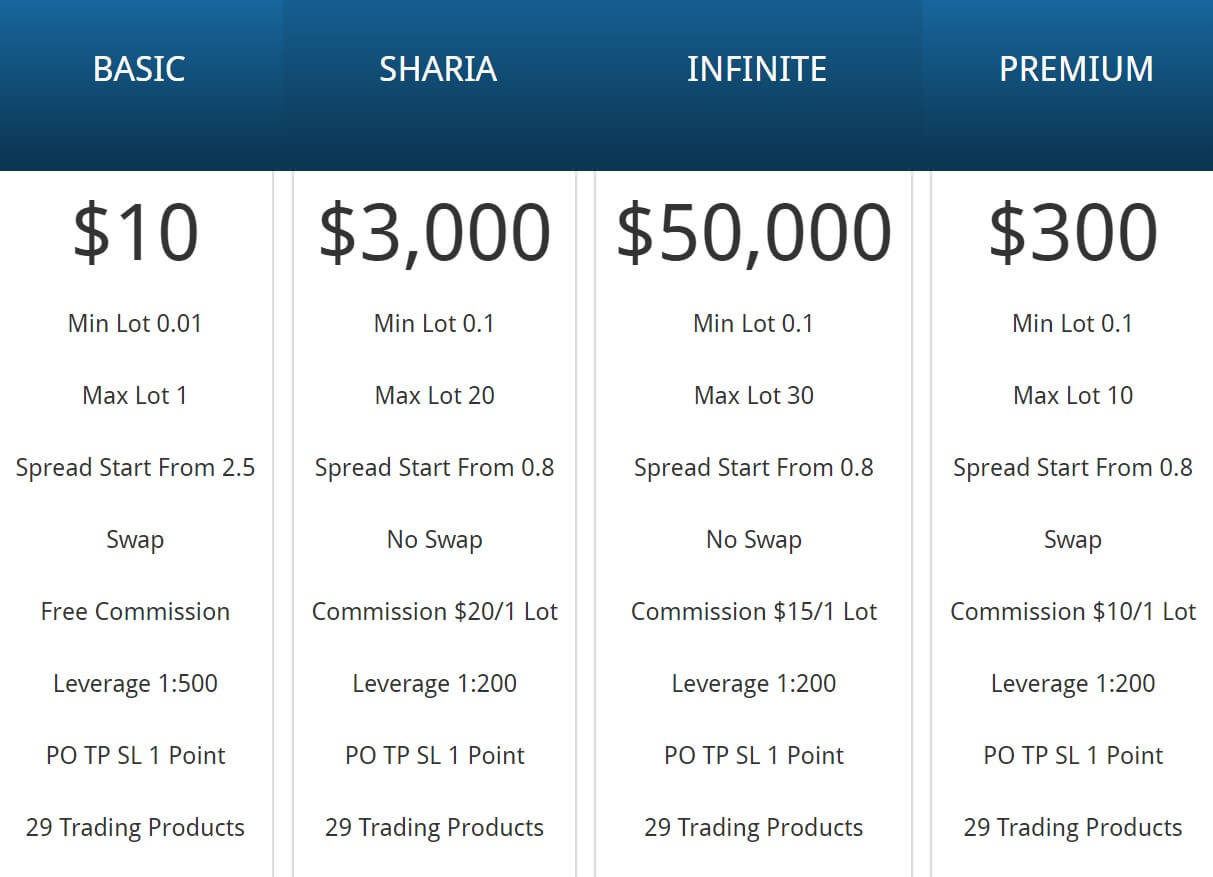 The Sharia Account, as the name implies, is suited for clients that are of the Islamic faith. The minimum deposit required is $3,000 and the maximum number of lots that clients can trade through this account is that of 20 lots. This account comes with a commission of $20 per lot and leverage is set at 1:200. The spreads for this account are quite low at 0.8. The Infinite account has the highest minimum deposit required which is $50,000 making it quite unreachable for a number of potential clients. The commission is slightly lower than that of the Sharia Account, $15 per lot and one can trade a maximum of 30 lots with the Infinite account. Spreads start from 0.8, leverage is set at 1:200.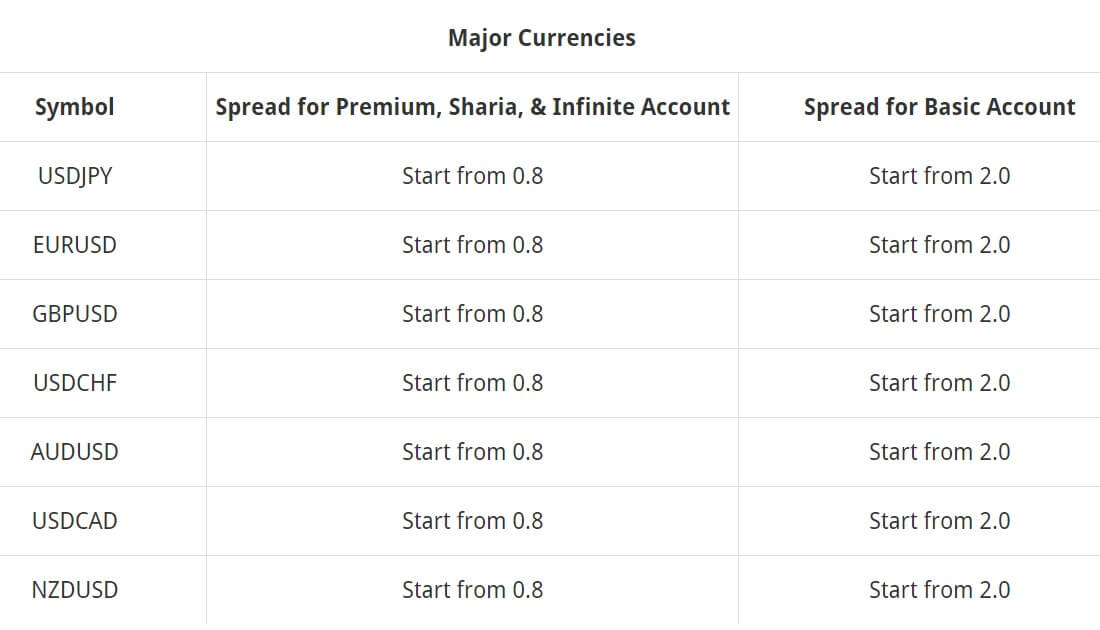 The last account MRG offer is the Premium account which has an affordable minimum deposit of $300. For this account the commission decreases to $10 per lot and leverage is set at 1:200. Spreads are also quite attractive for this account as they start from 0.8 Pips.
In their FAQ section, MGR state that there is no set minimum number of transactions required to maintain an account. They also do not deactivate accounts that have been inactive. Clients may have up to 100 trades open simultaneously.
We've outlined the main characteristics of these accounts below:
BASIC ACCOUNT
Minimum Deposit: $10
Leverage: 1:500
Spreads: 2.5 Pips
Commissions – None
SHARIA ACCOUNT
Minimum Deposit: $3,000
Leverage: 1:200
Spreads: Start from 0.8 Pips
Commissions – $20/1 Lot
INFINITE ACCOUNT
Minimum Deposit: $50,000
Leverage: 1:200
Spreads: Start from 0.8 Pips
Commissions – $15/ 1 Lot
PREMIUM ACCOUNT
Minimum Deposit: $300
Leverage: 1:200
Spreads: Start from 0.8 Pips
Commissions –$10/ 1 Lot

Platforms
MRG Forex uses the MetaTrader 4 (MT4) platform which is available for desktop as well as mobile versions. This platform, developed by MetaQuotes, is the go-to platform for many experienced traders. This is mainly because it comes equipped with detailed charting tools, more than 50 built-in indicators and a wide range of EA'S (Expert Advisors). Traders can make use of ready-made trading robots or there is also the possibility of creating your own, tailor-made for your own specific trading needs. MT4 offers a user-friendly, customizable interface that is suited both for new-comers as well as more experienced traders.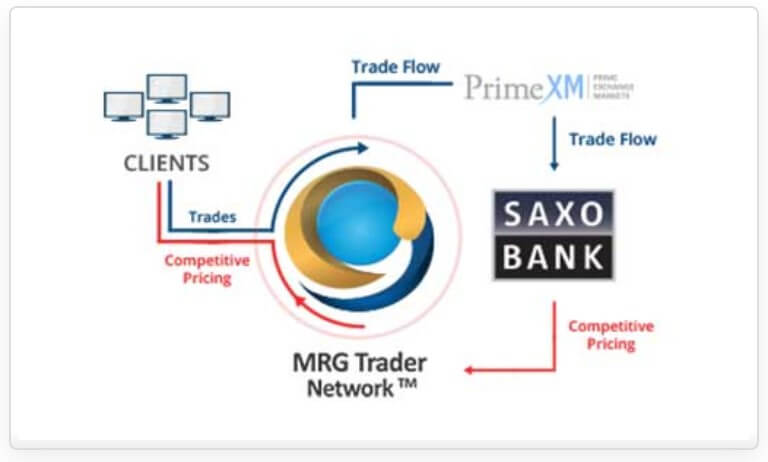 Leverage
The maximum leverage available through this broker is 1:500 which is quite high. This leverage is available once a client opts for a Basic Account. One should always be cautious of high leverages as they might incur major profits as well as major losses. In their Why Choose Us section of their site, they explain this high leverage as being a flexible risk which can be highly beneficial to their clients. The other accounts available with this broker all have maximum leverage of 1:200.

Trade Sizes
The minimum amount of lots one can trade with this broker is the same for every account that they offer, which is 0.01, which is known as a micro lot. As for maximum lots, the highest one can trade is through an infinite account which allows for 30 lots to be traded. The Premium and Sharia Accounts offer 10 – 20 maximum lots to be traded respectively.

Trading Costs
The only account that is fee-free with this broker is the Basic account which comes with no commissions. As for the rest of the accounts, they all come with a different commission fee; $10/1 Lot for Premium Account, $20/ 1 Lot for Sharia Account and $15/1 lot for the Infinite Account. For those thinking about opening a Basic or a Premium Account, it is worth keeping in mind that swap fees are still applicable. These are either received or charged when one holds a trade overnight.

Assets
MRG has 24 currency pairs available for trading, including both major and minor pairs and we also noticed some attractive spreads available for example EUR/USD and GPB/USD both have spreads starting from 0.8 Pips. Apart from this list of currencies, this broker also has 2 commodities listed on his site, namely; Gold and Oil, with spreads starting from 0.3 and 0.5 Pips respectively. MRG also has US Index namely; Nasdaq, S&P 500 and DOW JONES available to their clients as well. Although spreads are quite attractive we noticed that this broker is quite limited when it comes to available assets.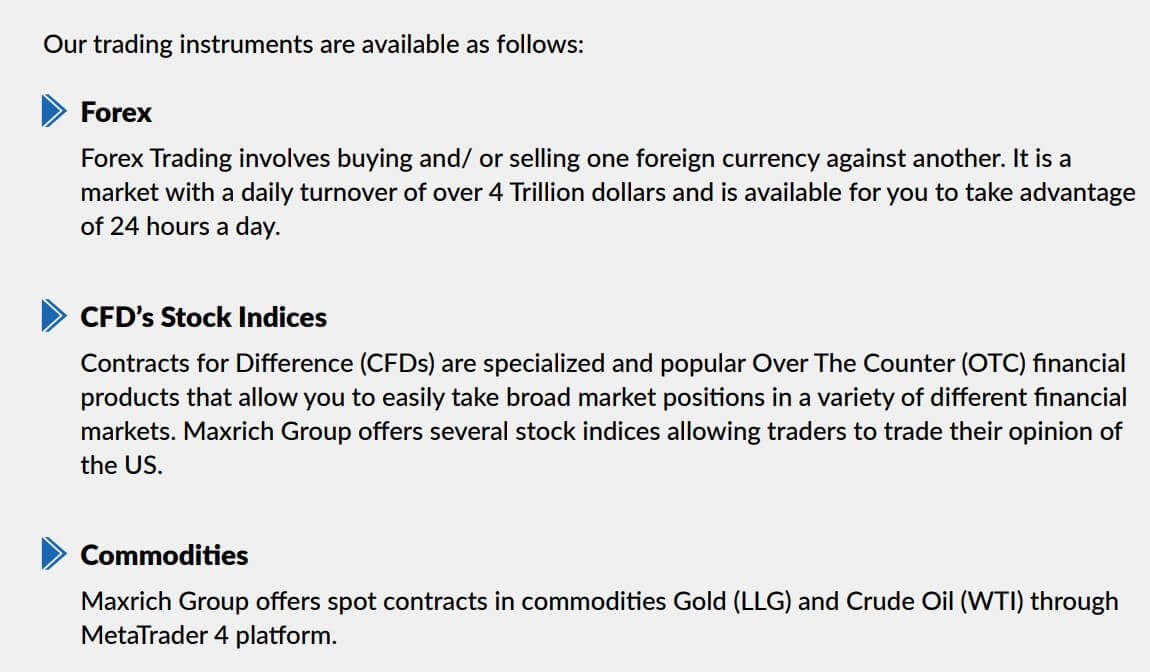 Spreads
Maxrich Group Ltd state that they offer ultra-tight spreads and that their normal dealing spreads are between 1 and 3 Pips. As we analyzed their website, more specifically their asset list, we were pleased to notice that most of their spreads are indeed between 1 and 3 Pips apart from a few exceptions namely; GBP/NZD which has spreads starting from 4.5 Pips and DOW JONES which has spreads starting from 10 Pips.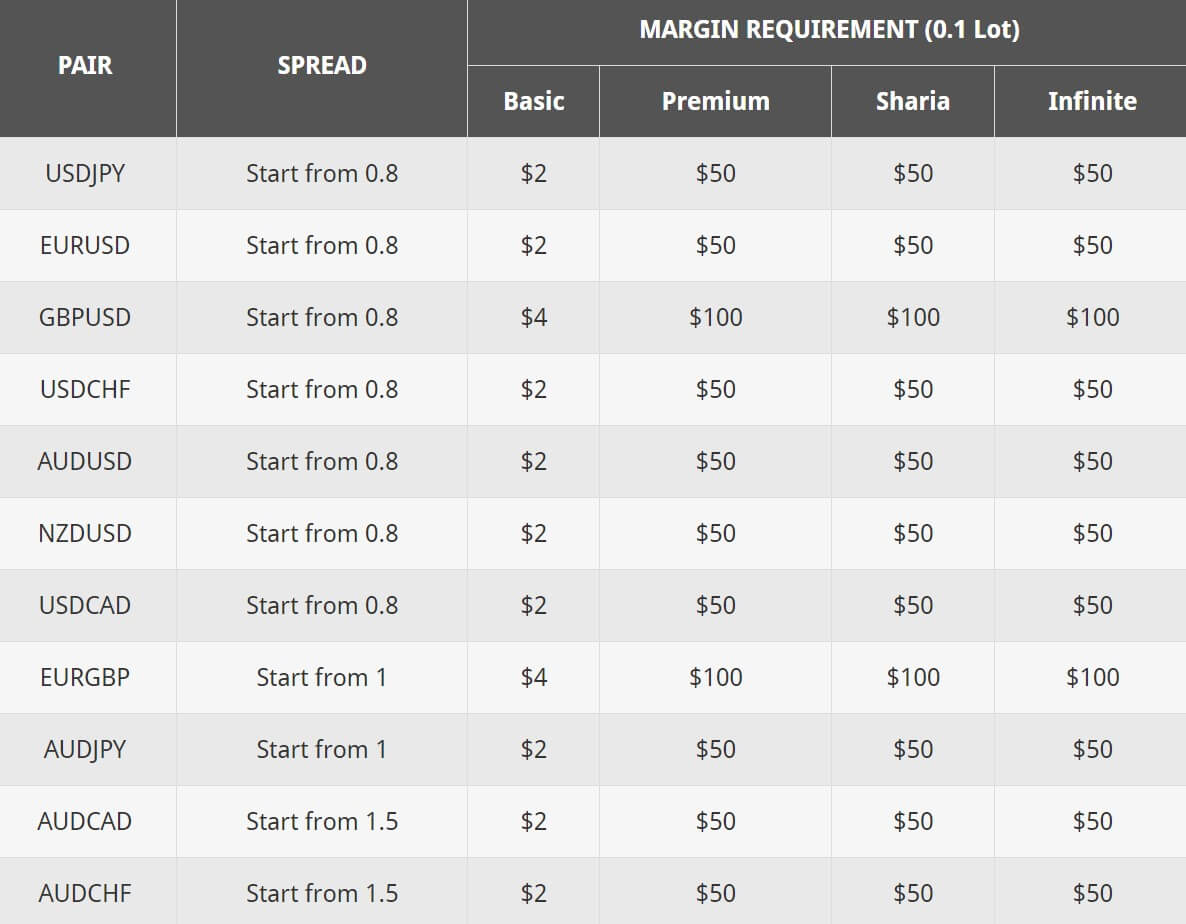 Minimum Deposit
This broker has a very affordable starting point for beginner traders looking to test out the trading business. You can open a basic account for a meager $10. The minimum deposit rate isn't so small for the Infinite Account as clients would have to deposit a $50,000 or more to open up this account. MRG has another affordable account which requires a $300 minimum deposit, which is the Premium Account and the Sharia Account comes with a $3,000 minimum deposit.

Deposit Methods & Costs
Deposits to MRG can be made through bank wire transfer, credit card deposits, Skrill, FASAPAY and Indonesian local bank BCA, BRI and Mandiri. It seems like online wallets are not an option that can be used when dealing with this broker.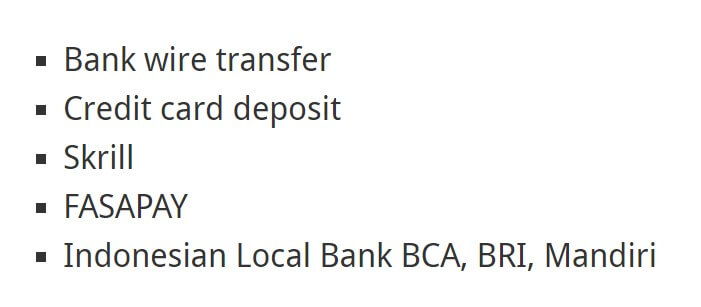 Withdrawal Methods & Costs
To withdraw money from your account you must submit a withdrawal form. Unfortunately, there is no information regarding any fees that might be associated with withdrawing your money. We also failed to find the withdrawal form so we cannot comment on it at the time being. We also tried to contact the broker regarding these queries through e-mail, but after 48 hours, no reply has been received.
Withdrawal Processing & Wait Time
The broker states that withdrawals are processed within 1 working day since the withdrawal form has been submitted. No further information regarding this is available on their website at the moment.

Bonuses & Promotions
On their FAQ page, MRG clearly states that they do not offer bonuses as the company makes money fairly from commissions, and as such, they do not need other financial incentives to lure potential customers. This is quite contradictory as on their home page one can see a number of bonuses and rebates being offered such as; MRG Cashback Bonus, Real Account|Contest VI 2019 and MRG Forex Rebate.

The information provided regarding these bonuses is outdated and unclear so it would be best to speak to the broker directly with any questions you might have regarding these especially because on another page on the website it is indicated that some of these bonuses are only applicable for MRG clients in Indonesia.

Educational & Trading Tools
MRG does not have a segment dedicated to education on their website. They do have some basic information regarding Forex throughout their website especially in the FAQ section, but it leaves much to be desired. They do have the latest news segment at the bottom of the home page, but it seems as though they only report news regarding the MRG company and not the Forex market in general. There is no mention of any particular trading tools that one might use when dealing with MRG apart from those that are present on their platform, MT4.
Customer Service
When compared to other brokers, MRG is definitely lacking when it comes to Customer Service. Clients can only reach MRG by filling out a form that you can find on their Contact Us page. We did fill out the form and asked some questions regarding their services, but we haven't been given an answer yet.
The broker also fails to mention their address, telephone numbers, and e-mail addresses on their website, which seems slightly suspicious. Unfortunately, the option of live chat is also unavailable for clients which can be frustrating for those with urgent issues they would need to discuss with the brokerage. In their Why Choose Us page, this broker claims to offer prompt 24/5 customer support by e-mail.
Demo Account
MRG does offer a free demo account for those wanting to try out trading before actually opening a live account. You can find a create new demo button on multiple pages on MRG's website, and it is quite easy and fast to create a free demo account for yourself. The broker also states that demo accounts are active for 30 days from the date of opening and then they are removed.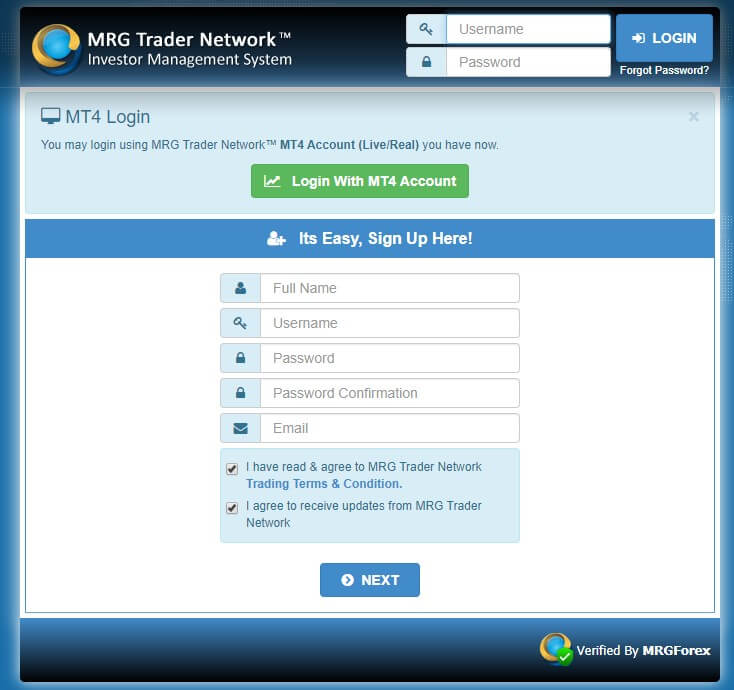 Countries Accepted
This broker accepts countries from all over the world, but it has a restriction for clients coming from the US because of CFTC regulations.
Conclusion
MRG offers a nice selection of accounts to their clients with very low minimum deposits of $10, average to low spreads, but there are some fees associated with a number of their accounts. The overall outdated look of their site, along with the less than impressive customer service we experienced leave quite a bit to be desired with this broker. If you're interested in finding out more about this broker head on to their site for more information.