JPMarkets claim to be Africa's biggest broker. This is quite a big statement as trading has become very popular in African countries in the last couple of years. This broker is a Financial Services Board-Approved Brokerage (FSP no. 46855) that provides the popular MT4 platform and advanced technology that comes with it for their clients in Africa to trade in the international financial markets, specifically forex currencies. The brokerage was founded in 2016 by the founder Justin Paulsen. On their website, you can find detailed information about his education and experience in the trading market on their Company Profile document.
Their operations are based in various countries throughout Africa, with their main base located in South Africa. On their Company Profile, JPMarkets state they are determined to play a crucial role in the creation of at least 30 African-owned brokerages across Africa by the year 2020. On their website you can find a list of services that this broker offers namely; ECN or STP accounts, low spreads, instant deposits, and fast withdrawals, custom JP Markets App, stable and secure servers and a wide choice of trading instruments available including Stocks and Cryptocurrencies.
Having said that, we did come across quite a large number of online complaints about this broker, with many clients claiming to have serious issues when depositing, trading and withdrawing their funds. This is quite confusing as this broker, in 2019 won the Global Business Outlook award for Best Forex Broker in South Africa as well as International Finance's Fastest Growing Forex Broker in South Africa. It seems quite contradictory for a scam broker, as the online reviews suggest, to manage to win such awards, so join us as we review their website and the conditions that they offer.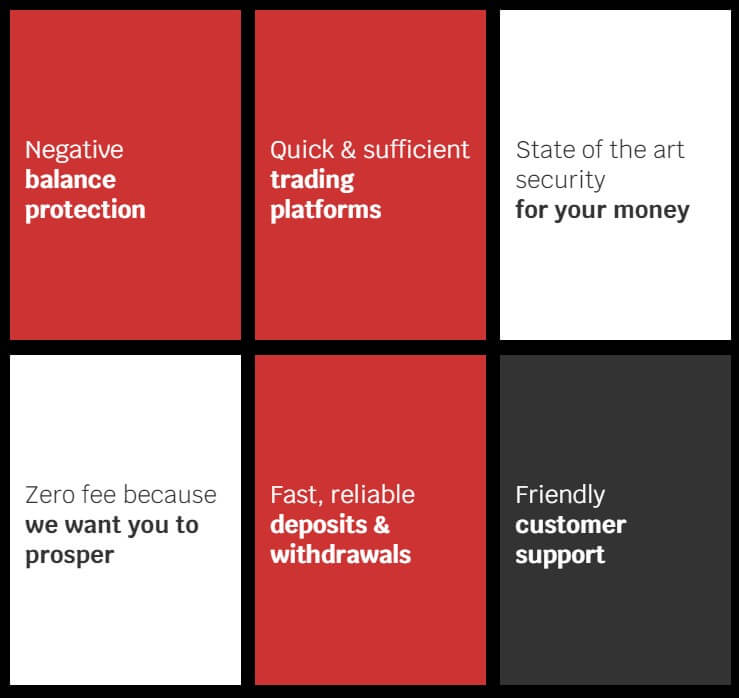 Account Types
JPMarkets offer different types of accounts structured to suit a number of trading styles. Information regarding the actual accounts is quite limited on their platform, but it seems like they offer an ECN account, a Standard account, and a VIP account. When using the ECN account clients will have commissions charged per transaction of $10 per lot. The VIP accounts benefit from lower commission rates but we could not locate specific information regarding this.

On the other hand, on the Standard account clients will be charged on the spread. This broker states that they do not differentiate between Micro or Mini accounts like many brokers do, but they allow their clients to trade all their available pairs without any restrictions. JPMarkets do not have a strict minimum deposit for accounts to be opened, but they do recommend starting with around R3 000 especially for those traders that are still starting out. Other info, such as exact leverage and spread values are not found on their website. We assume that one must open up an account to receive this information, which is inconvenient for potential clients.
Platforms
This broker supports the popular MT4 platform which is used by thousands of traders from all over the globe. This platform offers great tools for traders to use to enhance their trading such as; advanced charting, extensive backtesting and a very wide range of technical indicators. A particular tool that is very popular is the Expert Advisors that allow users to completely automate their trades and basically let the platform handle all the trading. Unfortunately, JPMarkets does not allow automated strategies to be used by their clients.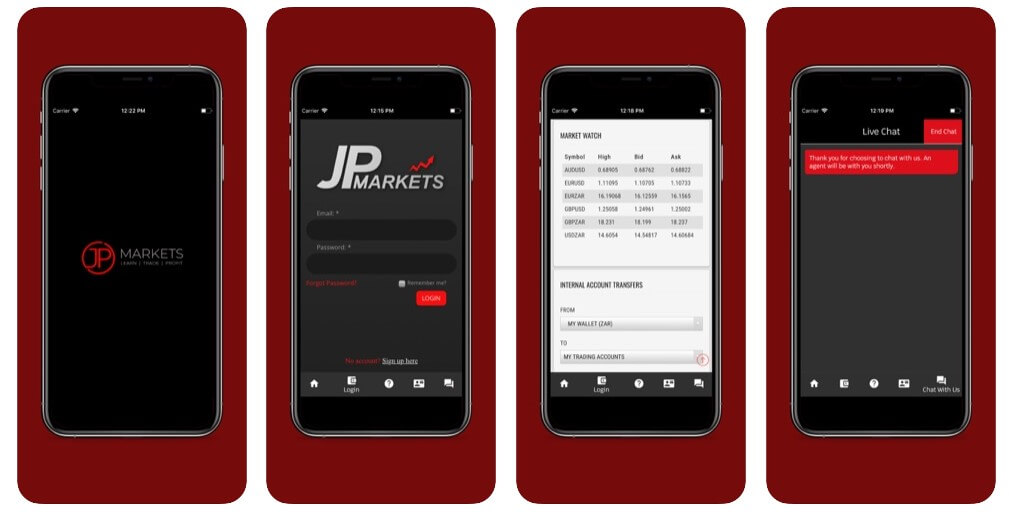 Apart from the MT4, this broker also offers its own JPMarkets platform which comes with an App for both Andriod and Apple. This application gives clients full control over their trading account and deposits reflect instantaneously, letting clients get in on the trades quickly. According to the application description, this platform enables clients to create new Meta Trader accounts with various deposit currencies and to transfer funds between these accounts using this platform. The online reviews for this platform are overwhelmingly negative, with complaints ranging from money disappearing from accounts to a serious lack of customer support.
If you're thinking about setting up an account with this broker and using their platform, make sure to do some background research to determine if this would be a good idea.
Leverage
The highest leverage clients can use with JPMarkets is 1:500. We got this information from a screenshot of an open account on their FAQ page, as their website lacks any information regarding accounts and the leverage offered.
Trade Sizes
The minimum trade sizes allowed with this broker is 0.01 lots. Again, no more information, such as maximum trade sizes, are found on their website.
Trading Costs
Clients using an ECN account will be charged $10 per lot. This broker does state that VIP accounts have lower commission fees, but they do not specify the exact amount. On their terms and conditions page, we did find some more information regarding commissions or fees clients may encounter namely; that commissions may be changed by the company from time to time and it remains solely the clients' responsibility to review the relevant section on their website regularly for any changes.

Assets
Strangely, we couldn't find any information regarding what assets this broker has to offer. We tried to contact the broker via email to ask for more information, but we were not given any answers. From online customer reviews, we did gather that they offer over 200 Forex & Currency pairs, some cryptocurrencies, Commodities, Market Indexes, and stocks but we cannot confirm if this information is accurate or not.
Spreads
When trading with JPMarkets, clients will encounter variable spreads based on market conditions. This broker claims to offer very competitive spreads, for example, they state that on average, clients can get EUR/USD for about 2 Pips under normal market conditions. Potential clients shouldn't take this statement as fact, as it is not providing any concrete information regarding the current spreads offered.

Minimum Deposit
Unlike most brokers, JPMarkets does not have a strict minimum deposit required to open up an account. Their clients are allowed to invest whatever they can afford and are comfortable with. They do however recommend depositing an initial amount of around 200 dollars, particularly those clients that require a substantial amount of training.
Deposit Methods & Costs
Clients can deposit funds via the following methods; Visa, MasterCard, iPay, Local Bank Transfers, M-Pesa, PayFast, Skrill and SnapScan. Clients can also fund their accounts using Bitcoin, but only through Skrill.
Withdrawal Methods & Costs
Withdrawals are processed Monday to Friday from 9 am to 5 pm, GMT +2 (South African Standard Time). For security reasons, this broker calls back clients to verify and confirm withdrawal requests. As a result, this might prolong the withdrawal process. On their FAQ page, clients can find a step by step explanation of how to withdraw funds from your JPMarkets account. This broker makes it very clear that all client documentation should be in order before submitting such a request. This documentation includes clear and scanned copies of Identity Card, proof of address and bank statement confirming the client's individual bank details.
Withdrawal Processing & Wait Time
According to their website, withdrawals are processed immediately and paid within 4 hours provided that all documentation is in order and the client has given a verbal confirmation. As we've mentioned briefly before, we did come across a very large number of online complaints regarding issues with withdrawing money. We are unsure if these were the result of a technical issue, or whether this is a clear sign to stay away from JPMarkets.

Bonuses & Promotions
JPMarkets do have a bonus associated with using their Android App. Clients who trade using this method will be able to get a 100% bonus. Those who do not have an android phone can still use the online portal and be eligible. Clients who use an iPhone will be able to use the application once it is published by Apple.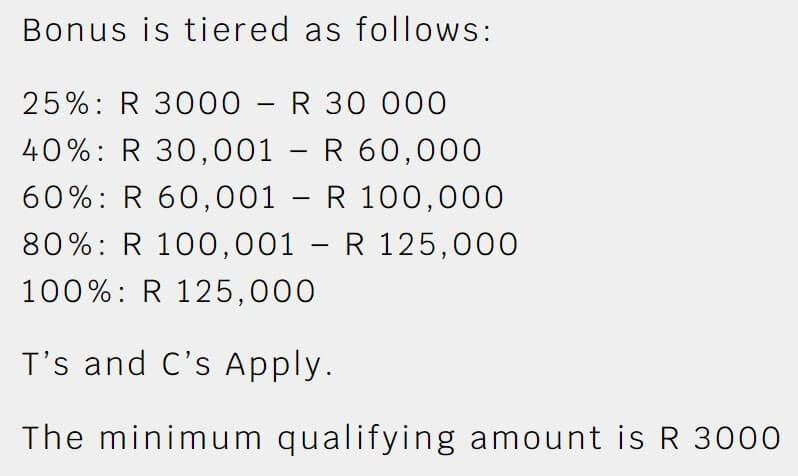 This broker claims to have no tiers or scaling just a 100% bonus on all deposits up to R140,000 or equivalent in USD. The bonuses are applied automatically if clients use the JPMarket portal, so clients should be able to see the bonus immediately upon depositing. The bonus will stay in the account for 90 days and then it expires. One should note that this bonus is not withdrawable, so clients can only use it to trade. The maximum bonus clients can have at any time is 100% of their balance.
Educational & Trading Tools
JPMarkets seem to take education quite seriously as they have a packed educational section on their website. On this page, clients can find a glossary of common trading words and phrases, economic calendar, how-to documents, and a substantial Forex education course. Apart from this, they have a section called Total Trader where one can find a number of interesting articles that new traders might find useful.
They also have a blog section with a number of blog posts regarding forex trading and strategies but it doesn't seem to be frequently updated as the latest blog was published back in March 2019.
Customer Service
This broker can be contacted either via email, telephone or via the chat feature available on their website. We did not locate any Live Chat buttons on their website at the time of writing this review. We also tried to contact this broker via email but after 24 hours no reply was received. Similarly, to their withdrawal methods and conditions, this broker claims to offer superior service to their clients, but online reviews show the exact opposite. Although we cannot confirm whether these negative reviews are based on fact or not, our own experiences show that JPMarkets customer support is lacking in many ways. This is their contact information;
Address: Black River Office Park 2 Fir Street
Observatory,
CAPE Town Gatehouse Building
2nd Floor
Telephone: 087 828 0576
Email: support@jpmarkets.co.za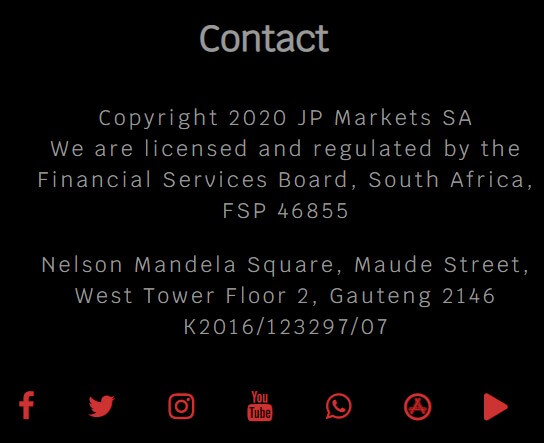 Demo Account
If you'd like to test out JPMarkets' trading conditions, you can use their demo account by filling in an online application form. After receiving the login details of your account, you will be able to start trading with a default total of $10 000.
Countries Accepted
JPMarkets do not accept citizens from the US due to US Securities and Exchange (SEC) rules.
Conclusion
JPMarkets is a regulated, South African broker that supports the MT4 platform. We did find ourselves looking for information that should be clearly stated on their website such as; leverages, spreads, and assets, which is obviously inconvenient for potential clients. This broker does have some commissions applied with 2 of its accounts namely the ECN and the VIP, but the information isn't very clear. Our experience with their customer service left much to be desired as we were not given any answers by their support team.
They do offer an interesting 100% bonus on all accounts, but this bonus can only be reused for trading and not for withdrawing. Although JPMarkets is regulated and the winner of prestigious awards, the number of negative reviews we found online made us question whether they are really reliable or not. If you're interested in becoming a client of JPMarkets we highly suggest testing out their demo account and perhaps going through some of the online customer reviews to get a better idea of what you should expect when dealing with this broker.