KOT4X is owned and operated by an SVG-based company with the name KOT4X ltd. It is registered in St. Vincent and the Grenadines, a popular and well known offshore zone that is frequently used by unregulated brokers. Clients of KOT4X can use the MT4 platform with any of the four accounts offered by the broker namely; Standard, Pro and VAR and MINI.

A wide range of instruments including Forex, Indices, Stocks, and Cryptocurrencies are available for trading and spreads seem to be quite low. On their website's front page, they claim to be a genuine broker made by professionals offering privacy and high growth possibility on a lightning – speed system. If you'd like to discover more about what KOT4X has to offer, keep reading this review as we go through their website to find out more.
Account Types
This broker has four accounts available, the Standard, Pro, VAR, and Mini. All account types follow the ECN STP trading model and all have access to high leverages of up to 1:500. The VAR account is the only one that comes commission-free, whereas the Standard and Pro account has a fee of $7 per lot and $1 per lot for the Mini account. Minimum deposits range from $25 to $500 which makes them affordable to a very wide range of potential clients. All accounts use the popular MT4 platform and their conditions are quite similar apart from the MINI account which has significantly fewer options when it comes to available instruments. You can find detailed information on how to open up a live account with KOT4X on their FAQ page. We've outlined the main characteristics of the four accounts down below: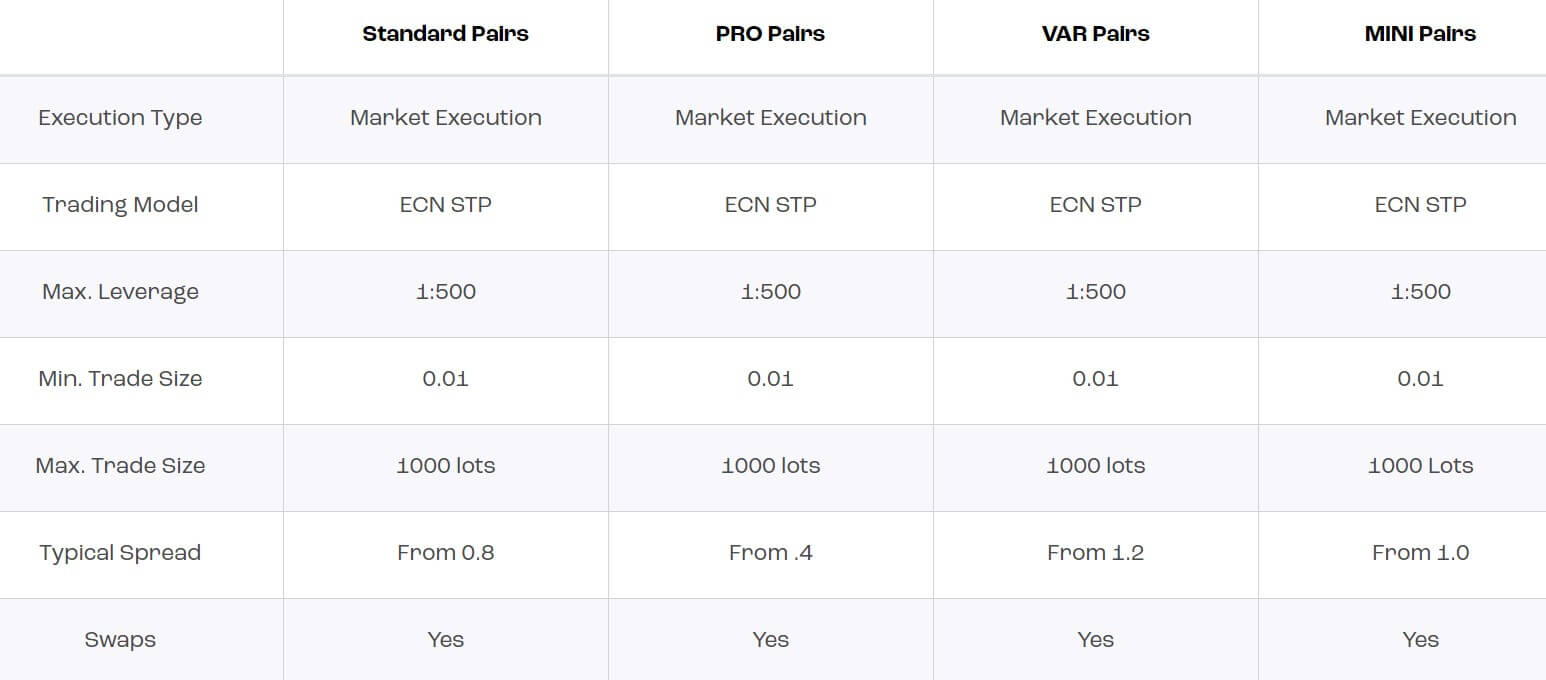 Standard Account
Minimum Deposit – $ 50
Max. Leverage – 1:500
Min. Trade Size – 0.01
Spreads – from 0.8
Swaps – Yes
Avail. Instruments – FX, Indices, Commodities, Metals, Stocks, Cryptos
Commission – $7 per lot
Pro Account
Minimum Deposit – $ 500
Max. Leverage – 1:500
Min. Trade Size – 0.01
Spreads – from .4
Swaps – Yes
Avail. Instruments – FX, Indices, Commodities, Metals, Stocks, Cryptos
Commission – $7 per lot
VAR Account
Minimum Deposit – $ 250
Max. Leverage – 1:500
Min. Trade Size – 0.01
Spreads – from 1.2
Swaps – Yes
Avail. Instruments – FX, Indices, Commodities, Metals, Stocks, Cryptos
Commission – Fee Free
MINI Account
Minimum Deposit – $ 25
Max. Leverage – 1:500
Min. Trade Size – 0.01
Spreads – from 1.0
Swaps – Yes
Avail. Instruments – FX
Commission – $1 per lot
Platforms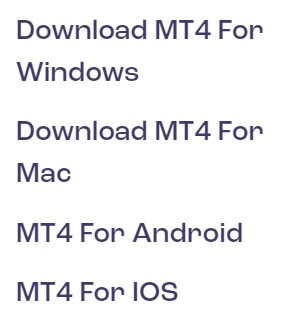 This broker offers one of the most recognized and prestigious platforms around, the MT4. This platform offers trading on a number of devices namely; Windows, Mac, Android and IOS and you can find a download link on the KOT4X website. The platform offers 30 built-in technical indicators with adjustable and interactive charts that enable clients to stay afloat current trading market activities. Some other advantages of this platform include full customizability, Expert Advisors and multilingual service among many others. Although we now have the MT5, the 'bigger brother' of the initial MT4 platform, many traders still prefer the latter.
Leverage
Leverage is the same for every account this broker has to offer, 1:500 which is quite generous. This means that for every $1 that a client has in their account, this broker can trade up to $500, which can result in major wins, as well as major losses so clients, especially those just starting out in the trading world, should be cautious when dealing with such high leverages.
Trade Sizes
The minimum trade size available with KOT4X is similar to most other brokers, 0.01 lots (Micro Lot). They do not state whether there is a maximum trade size on their website, so we asked their support team through their live chat and we were provided with a list of lot sizes available for all the pairs the broker has available at the moment. You can find this information on their FAQ page under the Pairs/Instruments and their Lost Sizes title.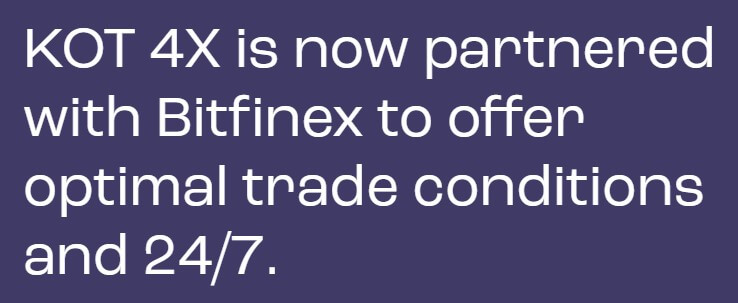 Trading Costs
Three of the available four accounts come with a commission fee of $7 per lot for the Standard and the Pro account, while the Mini has a commission fee of $1 per lot. The VAR account is the only one that is fee-free. We also found a mention of another fee clients may encounter on the broker's Terms and Conditions page. Here the broker states that KOT4X reserve the right to charge a commission for telephone trades, but they do not offer information regarding how much this commission will be.
Assets
KOT4X have quite an extensive list of instruments available for trading including 55 Forex currency pairs ranging from Major, Minor to Exotics, 104 stocks including Apple, Amazon, Facebook, FedEx, Google, and Cisco Systems to name a few, 31 of the most popular Cryptocurrencies including Bitcoin, Dash, Litecoin, Ripple and EOS amongst others and 8 Indices. You can find the full list of available assets on their Trading Assets page.

Spreads
With KOT4x, spreads depend on the account type that you opt for. From their Accounts page, we could see that spreads are quite low, ranging from .08Pip to 1.2Pip. Obviously, potential clients shouldn't take these numbers as factual as spreads are dependent on available liquidity so they are bound to fluctuate.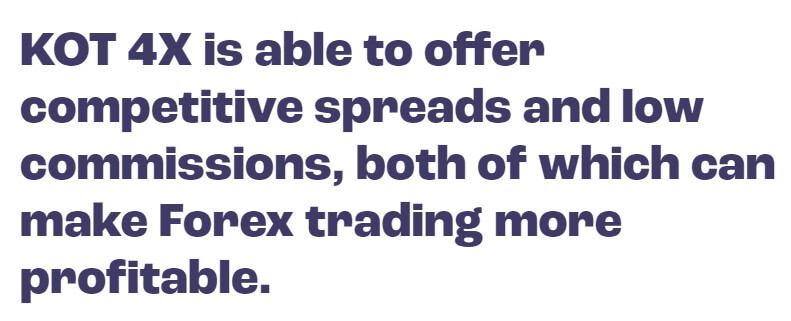 Minimum Deposit
This broker offers a very affordable minimum deposit requirement of $25 for their mini account, which is ideal for clients that are still testing out their trading skills. The highest minimum deposit is that of $500 for the PRO account, which is still relatively affordable when comparing it to other brokers who sometimes have deposit requirements of up to more than $5,000.
Deposit Methods & Costs
At the moment, this broker only offers Bitcoin or Instacoins as deposit methods. In order to do this, clients' accounts must be KYC verified. This broker automatically credits the value of BTC or Instacoins that are received from deposits directly to the client's account without taking any fees. Clients should note that the value credited to their account may differ due to either a transaction fee from the client's own bitcoin wallet provider or because the value of bitcoin may have changed from the time of the deposit to the time the broker receives it.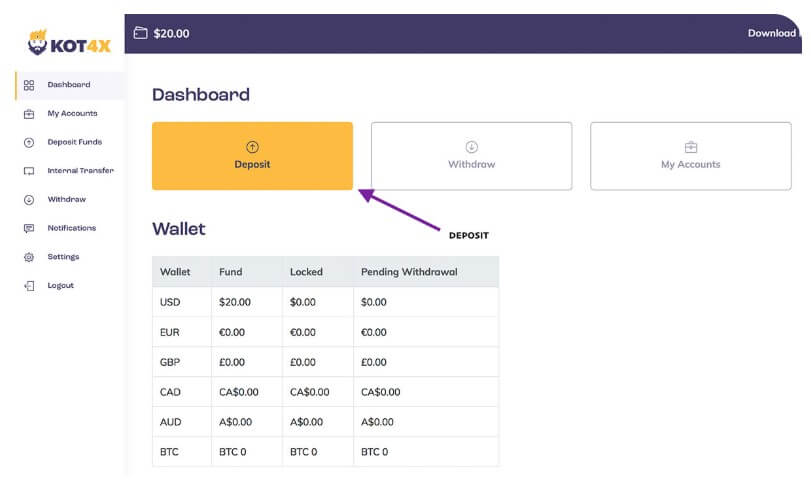 The minimum Bitcoin deposit required is $10 whilst the minimum for Instacoins is $50. There is no maximum amount specified by the broker. The wait time clients should expect is between 1-3 hours as it depends on Blockchain Traffic and deposits need 3-6 confirmations to be processed.
We decided to speak to KOT4X's live chat once again and asked for any available funding options for clients who do not have an e-wallet. They informed us that once clients are verified by KYC, they will be able to use Instacoins with their debit/credit card. In order to be verified, clients must provide certain documents. You can find the full information for this on their FAQ page under the Instacoins Deposit Method section.
Withdrawal Methods & Costs
Withdrawals can only be withdrawn back to a Bitcoin wallet, which makes this broker quite limited especially to those clients who are not interested in Crypto.
Withdrawal Processing & Wait Time
Withdrawals take approximately 1-3 hours as there are multiple confirmations that have to be processed before the funds go through.
Bonuses & Promotions
At the moment, this broker doesn't seem to have any promotions or bonuses on offer. However, this doesn't mean that they won't in the future, so you can occasionally check their website for any updates regarding any promotions available.
Educational & Trading Tools
Unlike many brokers, KOT4X do not have a page dedicated to Education on their site. They do however have an extensive FAQ page where potential clients can find most of their questions answered simply. When it comes to trading tools, it seems as though this broker relies completely on the trading tools available on their platform of choice, namely the MT4, which should have enough tools for beginner traders as well as more seasoned ones.
Customer Service
This broker can be reached 24/7 through live chat or email. We were extremely pleased with this broker's live chat. We were given detailed answers within seconds and the customer support provider was very helpful and informed about this broker's conditions. The support agent also made sure that we were fully understanding their conditions and stayed with us until we had asked all our questions. Here is their info: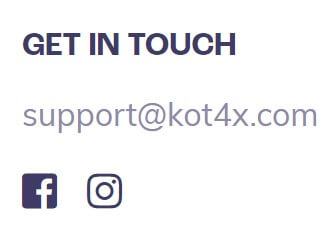 Demo Account
For those that are still uncertain about this broker, and would like to see how their conditions live up to actual trading, potential clients can test out KOT4X's demo account. With this demo clients, will have an unlimited amount of funds and they can also choose leverage of up to 1:500, which means conditions will be identical to that of a live account. This is a great tool for potential clients as they can test out their strategies and get a hang of this broker's trading conditions.

To kick start your demo account you have to fill in a simple form and choose the leverage and the balance you would like in your account.
Countries Accepted
KOT4x have quite a large number of countries that are restricted from trading with them, namely; Bahamas, Botswana, Burma, Cambodia, Congo, Cuba, Ethiopia, Ghana, Iraq, Iran, Japan, Lebanon, Libya, Malta, North Korea, Pakistan, Panama, Somalia, Sri Lanka, Sudan, Syria, Trinidad & Tobago, Tunisia, Vietnam, Yemen, and Zimbabwe. If you are from any of these countries, trading with KOT4x is impossible. This list is subject to change as new regulations come out regarding the trading industry.
Conclusion
KOT4X is an offshore unregulated brokerage registered in St. Vincent and the Grenadines. It provides the biggest platform around, the MT4 with very generous leverage and supposedly tight spreads. The minimum deposit required is also very affordable which could make this broker ideal for those just starting out in the trading industry, but always be cautious of working with an unregulated broker.
The instruments available for trading range from Forex to Cryptocurrencies with clients having a very wide range to choose from, which is always a plus. Their website is user-friendly and they have a very extensive FAQ section that holds many of the usual questions potential clients like to ask. For those people who have questions unanswered in the FAQ section, we had a very good experience when using their live chat.

We spoke to them on two separate days (Saturday and Sunday) and we were given answers within seconds on both occasions. Both customer support providers were polite and well informed about the brokerage. Clients have the option of opening up a demo account which mimics the conditions of a Live Account, this should be beneficial for those wanting to experience what it would be like trading with KOT4x without having to spend any of their money in the process.

Unfortunately, this broker does have a long list of restricted countries, including European Countries like Malta, which makes them unavailable for any potential clients residing in these countries. Another restriction that we felt could hinder potential clients' interest in this broker, is the fact that clients can only deposit and withdraw via Bitcoin, which is quite unusual. Although bitcoin and E-wallets are increasing in their popularity, it is obvious that there are many traders that prefer using more traditional methods to deposit and withdraw. On the plus side, we did not find any mention of withdrawal fees and this was again confirmed by their live chat support providers.
If you'd like to know more about this broker, head on to their website and go through their FAQ page, as it answers many questions, and also have a go at speaking to their Live Chat as we found their response to be efficient and knowledgeable. As we've mentioned before, this broker is unregulated which means there might be commingling which means the broker might mingle together with the finances of the firm and the finances of their clients, which is never a good thing. Make sure to check out customer reviews and try out their Demo account before deciding to start trading with KOT4X.