FXPIG isn't your regular broker. That's the first thing you notice when you go onto their website. They've really taken on their strong Pig brand and this is seen throughout their content on their out-of-the-ordinary site. As it is stated on their Core Values page, FXPIG has pledged to change the serious, boring and most times, unforgiving FX market, into one that is more laid-back and contemporary.
Apart from this, they want to move away from the over-used terms DMA, ECN, STP that are used by the majority of brokers and create a more transparent, and client-centric model. By joining this broker, you would be joining the revolution, so to speak. Now on to the really important parts.
FXPIG has been around for around 10years and it was founded in Auckland, New Zealand. After being in operation from 2010 to around 2016, with a pretty impressive track record, this broker deregistered from NZ and became registered in Vanuatu under a Principal's License for Dealing Securities (Company no. 014578). It is important to note that although Vanuatu is a popular destination for unregulated, offshore brokers, it has already enacted rules regarding financial and AML audits. Then, in April 2017, following the approval of a membership application, this broker became a member of the Financial Commission in Hong Kong.
FXPIG claim to be a completely open and transparent STP broker that will never trade against their clients. Something which makes this broker quite unique is that they do not create their own market in house, which means that all client's trades are pushed into the real transactional FX Marketplace. All client's funds are held in segregated accounts and they are never used to cover company-related expenses. As a non-risk taker broker, they do not trade on their own accounts, they do not run a dealing desk and they also claim to never put company assets at risk at any time.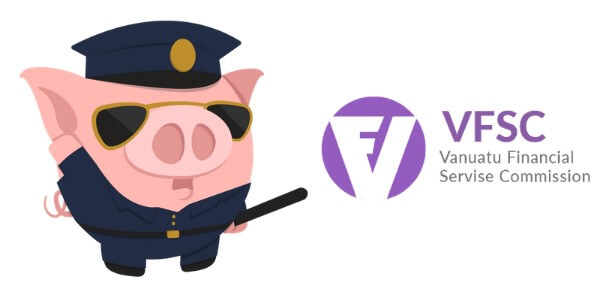 Another unusual piece of information that clients can view on FXPIG's website is the full information about their main-team namely; the CEO, CTO, CFO, and CXO. Clients can read a short description of all members including trading experience and education. We think this is a nice touch that is already setting this broker apart from the rest, as the clients know who they're dealing with, unlike with other brokers are that much more discreet about such information.
Account Types
As you've probably realized already, FXPIG prefers to create their own way, instead of following others. This is definitely the case with their accounts as clients can choose from either a SPA, MPA or Customized account.
The SPA Account (Single Point Aggregation) is a single hub aggregation of leading Forex liquidity providers customized to FXPIG's clients' needs. One can find a detailed explanation of how this works on their 'DIFFERENTIATE' page on their website. They explain that this is a single-flow, prime broker style feed that is completely made up of the top makers in the FX industry. The basics of the SPA technology ensures that no single provider is exposed to more than one hit per individual trade ticket, eliminating what is usually referred to as double-tapping. This ensures a better pricing flow and execution quality.
Apart from this, the SPA account has overall tighter spreads starting from 0.3Pips, filter-free trading, Zero margin hedge Trading, and no dealing desk. This account is open to all traders with a minimum deposit of $500 or equivalent. This account is a great choice for scalpers as they offer quite consistent pricing, tighter spreads, and higher tick values.
The MPA (Multiple Point Aggregation) gives clients direct access to the Forex market where they are able to trade with other traders. One main difference between this and their SPA model is that while the SPA's liquidity comes from banks, MPA is mainly comprised of non-bank liquidity and pending orders initiated by participants within the MPA. This increases the available liquidity pool.

FXPIG states that their MPA Account is a hybrid between MTF (Multiple trading Facilities) and ECN (Electronic Communications Network). This account allows clients to take advantage of the multilateral matching that is the core of MTF, as well as the multiple aggregation that is found in ECN. This model has price filters set at various different levels. This acts as a protection against spread spikes. Its layered liquidity creates larger liquidity pools and it helps in keeping traders anonymous. The minimum deposit required for the MPA account is $500 or equivalent.
One can find a detailed list outlining and comparing both the MPA AND SPA's characteristics on the FXPIG's website.
Platforms
FXPIG offers you a choice of 3 platforms to choose from, namely; METATRADER4, cTrader and FIX API.
Undoubtedly, MT4 is the most popular platform used by traders all over the globe, but apart from the great advantages of using this platform, FXPIG claim to make trading through MT4 even better. They offer real STP on MT4, no b-book, no deal plugins, and no filters. Hedging is allowed on all feeds and there are no limits on the number of open orders clients may have at one time. FXPIG also pledges lean and fast liquidity bridge that is built in-house that processes orders in 5ms. This platform can be downloaded for Android, Windows, and iOS, on FXPIG's site.
If you opt for cTrader as your platform, you are guaranteed a level trading field that will help you to reach your trading goals. The cTrader platform is compatible with FXPIG's ALT, MPA, SFL, and SPA feeds. While other brokers might charge their clients extra when dealing through cTrader, FXPIG gives you the chance of using this platform at the lowest available commission rate in the industry; 2.50 per 100,000 traded. Apart from this cTrader has a number of other worthy advantages such as the ability to trade directly from charts, smart stop-out capabilities, enabling clients to set their own time zones and visual deal mapping on charts. If you're interested in using this platform, you can find a lot of useful information on FXPIG's Differentiate page.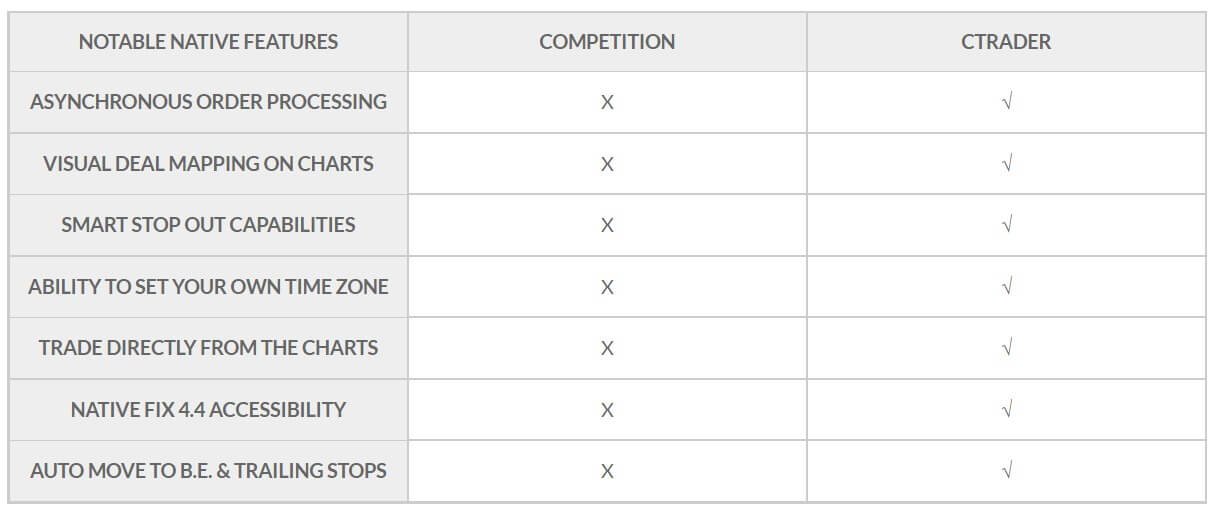 The last platform available by this broker is FIX API which in itself is a perk. This basically means that clients who opt for this platform (which can be accessed through a minimum deposit of $500) will have a direct connection with the liquidity provider executing the orders. This means a much quicker order execution time as this eliminates the added latency that comes along with using any of the other platforms available. This is a great platform for seasoned traders that are aware that in this industry, every second counts.
If you want more information about this platform, head on to PIGFX's website where they simply outline all the info clients need before choosing their preferred platform.
Leverage
This broker, unlike the rest, offer the same leverage for both their main accounts, SPA and MPA, but the leverage offered changes according to the current funds available in the client's account. Since we couldn't find more information about this on their website, we contacted FXPIG through their e-mail and after about an hour, we were sent this information: clients that have less than 1k balance in their account are offered a maximum leverage of 1:100 and for those with more than 1k have leverage up to 1:200. We were told that leverages do go up to 1:400 in some cases, but in that case, the SO level is fixed at 100% of margin consumption instead of the normal 50%. Since leverage offered depends on each client's current account situation, it is best to speak to FXPIG to get more information.
Trade Sizes
Both the MPA and the SPA have a minimum order size of 1,000 units, also known as a micro lot. The maximum order size for the SPA account is 10mio whilst for the MPA, the maximum order size is dependent on liquidity.
Trading Costs
When trading with FXPIGs, clients must be aware of the commissions that are applicable. For both the SPA and MPA accounts there is a 25 per mio commission fee when trading through the MT4 platform as well as with the cTrader platform. On their Differentiate page, FXPIG state that although the normal commission rate for cTrader is 30 per mio, they are currently charging the same rate they offer for the MT4 and FIX API platforms.
Assets
FXPIGS have about 60 Forex currencies to trade as well as a few indices. This broker has a convenient list of pairs available for each account. Within this list, clients can find the available lot sizes as well as the spreads for each pair.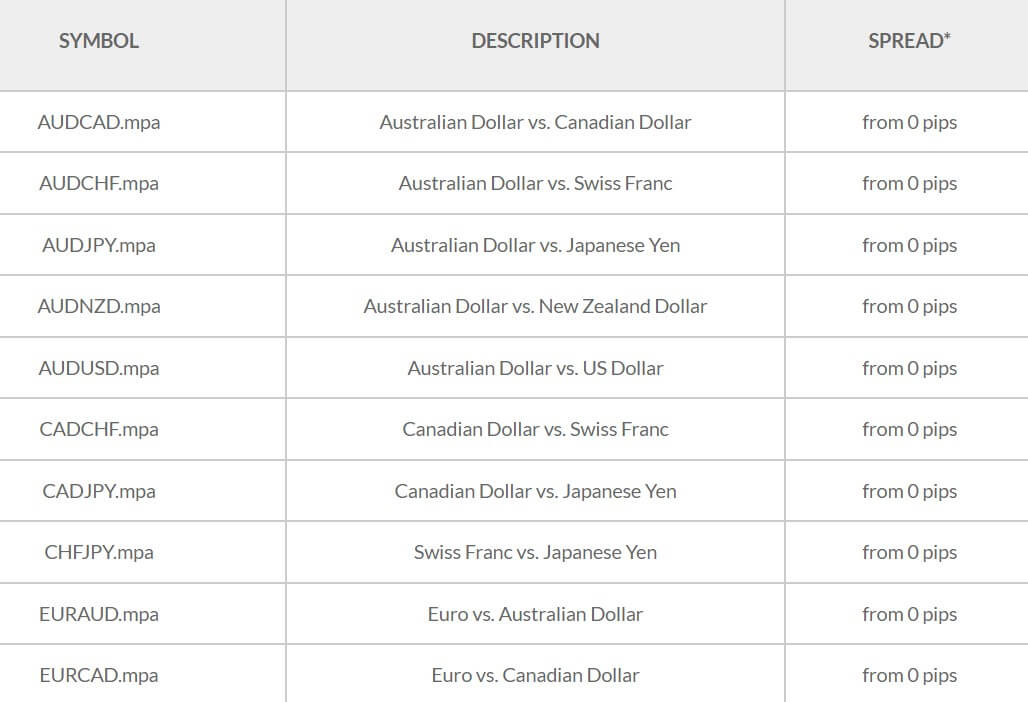 Spreads
As for spreads, FXPIG aims to keep them as low as possible, but they do add that sometimes low spreads come with an equally high slippage rate due to illiquidity. Apart from offering competitive spreads, they also make their client's lives easier by having a real-time spread monitor on their website. While we were taking a look at this monitor, most of the spreads fell between 0.3 to 3 Pips, with the highest coming from the SFL (customized) account.

Minimum Deposit
Comparing FXPIG to other brokers, their minimum deposit is quite high at $500 for every account. This factor might be detrimental to smaller or inexperienced clients that have a lower budget.
Deposit Methods & Costs
If you are looking to deposit money into your FXPIG account, you have 5 choices available namely; Bank transfers, Credit & Debit cards, Neteller, Skrill and Uphold. This broker recommends all clients to deposit funds using Neteller as it is fast and secure. All the methods mentioned above have a commission associated with them as follows:
Bank Transfers – €25
Credit & Debit Card – 3.75% + 0.50 (on all deposits)
Neteller – 3%-3.5%
Skrill – 2.5%
Uphold – $15
It is good to note that while FXPIG does not charge you to move money back to your Skrill or Neteller account, both these gateways charge 1% and 2% respectively. This amount is deducted from your withdrawal.
Withdrawal Methods & Costs
FXPIG claims to have simple and efficient withdrawal methods available. If you want to withdraw money from your FXPIG account you can use any of the following; Neteller, Skrill, EURO SEPA, UPHOLD, ATM and even by moving your money back to your credit card. Neteller and Skrill offer the service fee-free but the rest have the following fees:
EUROSEPA Transfers – €35
Worldwide SWIFT transfers – €50
UPHOLD transfers – $15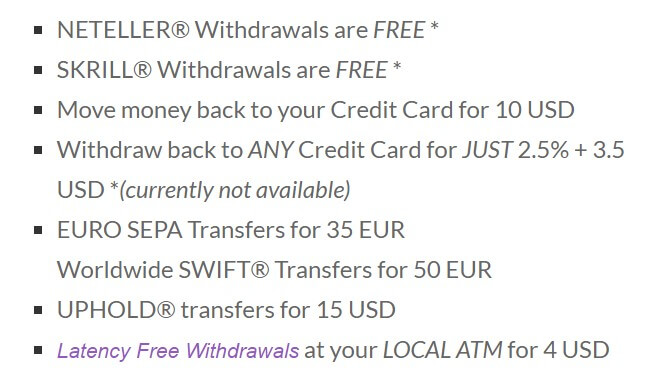 This broker also provides their clients with a great option of getting their own PIGcard which allows them to make instant withdrawals from eWallet accounts. This means a PIGcard is a low-cost alternative to Skrill, Neteller or bank wire, it gives you the ability to have instant and worldwide access to your cash. The PIGcards are conveniently available in Eur, GBP, and USD. If you're interested in getting your very own card, you can order one from inside your MyFXPIG profile. The cost of the card is $20 which includes standard airmail delivery, but if you prefer your card to be sent via courier you will have to pay an additional $50.
Withdrawal Processing & Wait Time
Apart from the fact that withdrawing with a PIGcard is instant, there is no more information regarding withdrawal processing and the waiting period associated with it.
Bonuses & Promotions
After a thorough look through this broker's website, it seems as though there are no bonuses or promotions being offered at the moment.
Educational & Trading Tools
FXPIG has an interesting page dedicated to education on their website. Like the rest of the site, this segment has the PIG brand all over it. From interesting articles to myth-busting videos, this broker has really made an effort to educate their clients as well as drive their strong brand.
They also have an FXPIG COMPANY NEWS as well as an FX MARKET ANALYSIS page that can help clients make their way through the ups and downs of trading. It is nice to see that both these segments are very frequently updated, making the information offered up to date. It is refreshing to see innovative content regarding the forex industry and not the usual standard information that one finds on most other brokers' sites.
Apart from their impressive educational information, FXPIG also has a slippage and average time execution calculator available on their websites. This can help clients make the right choices during their trading.
Customer Service
If you ever wish to contact the pigs at FXPIG you can choose between either filling out a form found on their contact page, sending an e-mail, Skype or via the PIG Messenger (live chat), by clicking on the purple widget at the bottom part of FXPIG's website. When we wanted to contact them, we spoke to them via the PIG messenger and we got a detailed answer after about 30 minutes. Here is their contact information:
Email: support@fxpig.com
Skype: chat.fxpig
Address: Prime Intermarket Group Asia Pacific Ltd.
Level 2 Transpacific Haus Lini Highway
Port Villa, Republic of Vanuato
Demo Account
If you're curious about this broker and would like to test out FXPIG without actually spending any money, you can try out their Demo account. Through their MyFXPIG Portal you can open numerous demo accounts on both the cTrader platform or the popular MT4. You can find detailed information about how to open up a demo account on their website.
Countries Accepted
This broker does not open or maintain accounts for entities or residents who are classified as retail or low net worth clients, based in Vanuatu or the US. Governmental restrictions along with FXPIG's company policies, prohibit it from opening accounts originating from OFAC sanctioned countries. This information can be found in the footer of FCPIG's website.
Conclusion
FXPIG is definitely a breath of fresh air for the Forex industry and will possibly be revolutionary when it comes to the way forward. Their website content is engaging, unique yet still informative. Apart from having up to date information and educational content on their website, they offer decent spreads, deep liquidity pool, own debit card to access eWallet funds and friendly customer service. On the downside we did notice there are no swap-free accounts, deposit fees are quite high and the minimum deposit fee is quite high for many potential clients. If FXPIG has managed to capture your attention, go onto their one of a kind website to find out more.