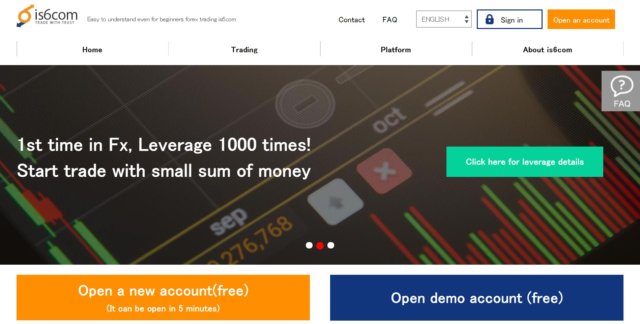 Upon first look at the website, it is difficult to take is6com seriously; what I mean here is that the sheer amount of grammatical and punctuation errors spread across the website, coupled with the visuals, suggest that this website was made by someone who was in a rush, and confined to their back bedroom for a couple of hours. The website is full of mistakes grammatically, and graphically, it is of terrible quality. The whole first look lacks sophistication and professionalism entirely, which is what makes it so difficult to then have faith in their trading services.
Nonetheless, is6com is an unregulated broker, although it is not clear from the website where they are located from. We can, however, see they have been operating for approximately 2 years.

Account Types
Is6com offers 2 account types: Micro and Standard. Both have a minimum deposit of $1 and the same access to the same markets. Additionally, both have the same access to the maximum leverage allowance of 1:1000 as well as the fact they both can be held in a base currency of JPY (Yen) or USD (Dollar). The real differences between the two account types are the minimum trade size requirement and total volume allowed to trade, which we will go into further detail shortly.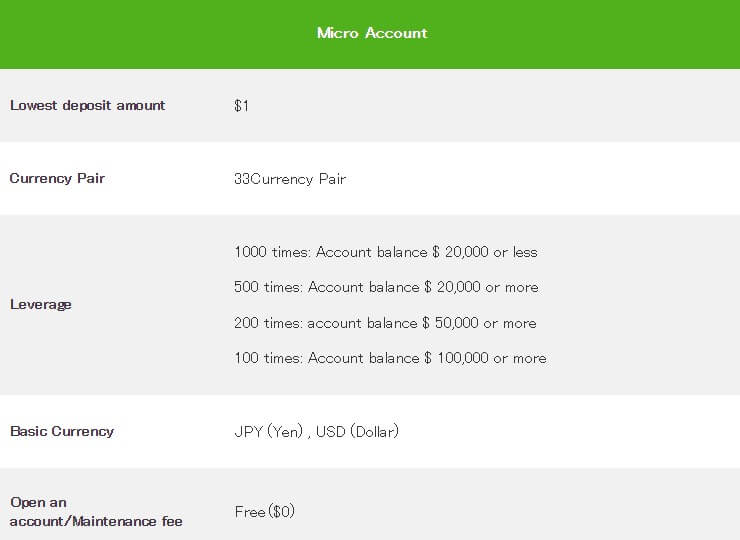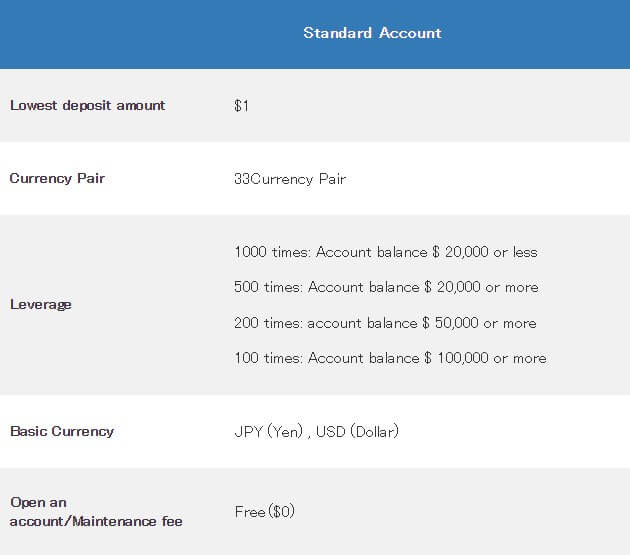 Platforms
Is6com offers an MT4 platform, which is undoubtedly the most reliable trading platform to date. Clients of is6com can trade on both the MT4 desktop and mobile version, either at home or whilst out and about.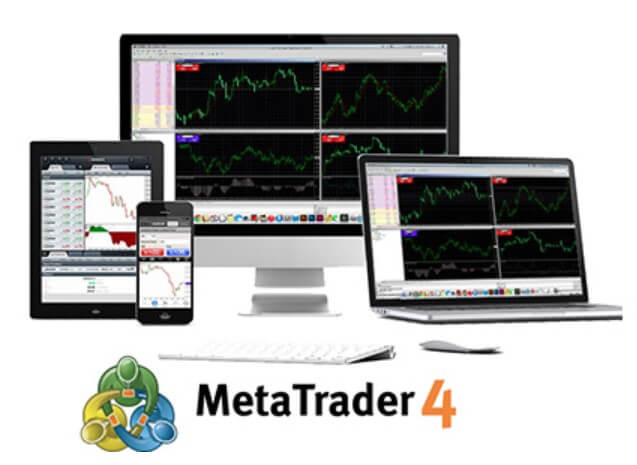 Leverage
Using the FAQ page, I uncovered that the maximum leverage allowed (for both Micro and Standard accounts) is 1:1000. This is incredibly high and although some experienced traders may be able to appreciate the benefits of this, some newer traders could find this quite detrimental. Using leverage this high can be incredibly risky for those who are not overly familiar with how leverage works.

Trade Sizes
The FAQ page is a little disorganized and not entirely clearly structured so pinpointing information such as minimum and maximum trade size requirements were difficult, especially as the FAQ page does not detail any relevant information to this. In addition, there is no Live Chat system for a quick reference to answer this. I then emailed the support team but never received a response. My faith in this broker was very thin to begin with, but with an unhelpful website and an unresponsive customer support team, how can this broker be trusted with client funds?
Trading Costs
The FAQ page has a search feature which did help pinpoint trading commissions effectively. Is6com does not charge any trade commission fees, on both accounts, which means this broker makes their profit from the spreads, which are heavily marked up as previously mentioned, in comparison to many brokers. Of course, not being charged commission fees is a bonus in itself for the clients, however, the cost for the client is then charged via the spread, so it is important to not be fooled by 'no commission' brokers like this when the client trading cost overall is not 0 when you take spreads and swap fees into account.
Assets
Is6com offers a very small variety of tradable assets, 33 pairs being the total. Is6com only offer Forex Currency trading, and nothing else, which is ideal for those wanting to trade just forex, but potentially a bit limiting for those that wish to diversify their trading portfolio.
Spreads
The spreads are displayed on the website for all currency pairs available. Overall, the spreads very high, and do not look competitive at all, with the FX majors standing out as having incredibly high spreads in comparison to the majority of brokers out there nowadays. For example, the spread on EUR/GBP is at 2.9 (fixed) whereas most brokers have it below 1 pip or around 1 pip (floating).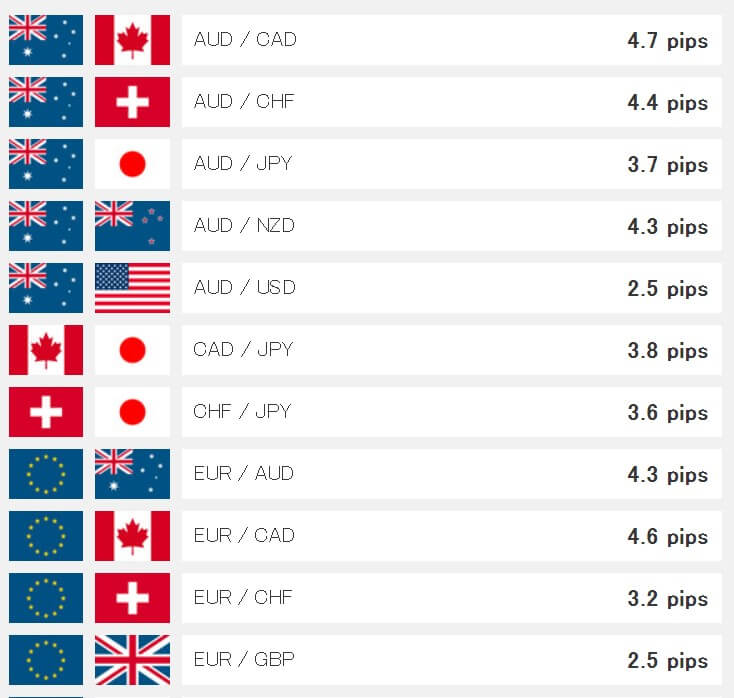 The Micro account has slightly higher spreads than the Standard account, which is, of course, something to bear in mind when selecting the account type you wish to open.
Minimum Deposit
The minimum deposit for both accounts, is actually just $1 so you can start very low, or as low as you wish/can afford. This, of course, is a ploy to increase the appeal to a wide majority of traders, and especially new traders who perhaps are wary about depositing large sums, or shy away from brokers with high specific minimum deposit requirements. Of course, the fact the minimum is left more or less up to the individual means people could be depositing random sums of money, or keeping it super low, and not taking into account the high spreads as being a large cost to the client, which would then require substantial capital.
Deposit Methods & Costs
The two deposit methods available are visa/MasterCard/JCB debit/credit Cared or BitWallet. On the deposit page of the website, it states that both funding methods require e minimum of 50 USD/JPY which contradicts the $1 minimum deposit requirement which is plastered over the rest of the website.

On a positive note, however, Is6com does not charge any fees for either of their deposit methods, and another positive is that they offer BItwallet which is a more modern approach to transferring money, and typically faster than standard centralized banking methods.
Withdrawal Methods & Costs
Clients of Is6com can make withdrawal requests using Bank Transfer or BitWallet. It must be noted here that one transfer (of either method) is free for the client, ONCE per month. After that, clients will be charged a 2% bank transfer fee ($2,000 or below, there will be a $45 fee). These costs are not cheap, so this is another cost clients must consider when depositing and withdrawing large sums from this broker, and frequently since only one transaction per month is free of charge. The minimum withdrawal amount is set at 50 USD/JPY.
Withdrawal Processing & Wait Time
According to the website, the withdrawal processing time for both Bank Transfers and BitWallet transfers can take between 3-5 business days, and after these timescales, funds will credit the client immediately.

Bonuses & Promotions
Is6com do advertise in their 'guidelines-terms of use' that there is a deposit bonus scheme, however, there is absolutely no information attached to it to be found on the website or the FAQ page.
Educational & Trading Tools
Is6com offers absolutely nothing in the way of trading education or training courses. However, they do offer a small handful of useful reading points on a summary of Forex and how it works. But of course, free educational courses are widely available online.
Customer Service
The fact of the matter is, the customer service quality by is6com cannot be sugarcoated; the only customer support method of contact is via filling out a contact form and receiving a response within 3 business days (a response I never received even after this timescale elapsed). The fact there is only one method of contact and a totally unresponsive one at that, is a very poor reflection on this broker as a whole service.

Demo Account
A demo account is available and all should definitely take advantage of this prior to opening a live account as this is the only real way to test if a broker's trading conditions are in line with your trading style, strategies, and expectations.
Countries Accepted
The footer on the website clearly states that is6com does not grant access to their service to people from the following countries: the United States, Philippines, North Korea, Australia, Myanmar, Cuba, Sudan, Siria, Iran, Islamic Republic, and Japan.
Conclusion
This broker is very disappointing in many aspects; the customer support is unreachable, and the website is poorly designed with very poor provision of information, and contradicting the minimum deposit requirement among many other instances. This broker does not reflect any sense of trust into its potential clients and it is a wonder this broker even maintains a client base with its poor conduct overall. Another concerning factor is that this broker is named on many online scam lists, so with that in mind as well as this review, it would be highly recommended to stay incredibly wary if considering signing up to this broker, or better still, avoid entirely and save yourself the fiasco you will inevitably embark on.