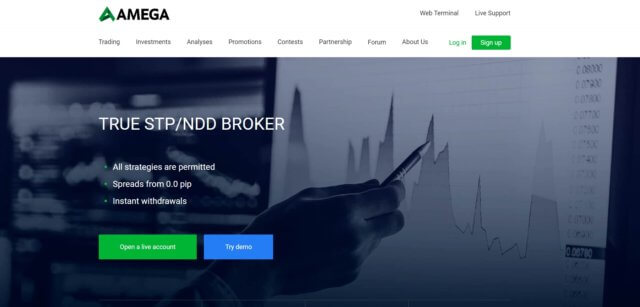 Amega (sometimes written as AmegaFX) is a forex broker claiming to be a true STP / NSDD broker. Stating that they are offering a wide range of trading instruments, great leverage, fantastic promotions, and many other features. In this review, we will be looking into Amega to see if the service that they are offering lives up to the expectations being created and so you can decide if they are the right broker for you.
Account Types
There are a lot of accounts on offer when it comes to Amega, there are 7 accounts in total, we will give a very brief overview of each one to see what is on offer.
Premium MT5: There is no minimum deposit when it comes to the Premium MT5 account, you are able to deposit using either USD or EUR, and as the name suggests, you can use this account with the MetaTrader (MT5) trading platform. It comes with a range of leverage between 1:1 and 1:1000 and in terms of instruments there are 34 currencies, 4 metals, 0 CFDs and 4 cryptocurrencies available to trade. There is a floating spread that starts from 0.5 pips and the minimum lot size is 0.01, The margin call sits at 50% and stop out at 20%. This account is eligible for promotions and bonuses.
Premium MT4: The premium MT4 account is very similar to the premium MT5 account, the main difference being that it uses MetaTrader 4 instead of MetaTrader 5. The base currencies, leverage, and no opening deposit requirement remain the same. In terms of tradable assets, there is a slight change, there are only 27 currency pairs available along with just 2 metals, 0 CFDs and 4 cryptocurrencies. Spreads, margin call, stop out and promotion eligibility remains the same.
Scalper MT5: The scalper account as you can guess is aimed more towards scalpers, due to this, the spread is reduced and now starts at 0 pips (variable). It keeps the minimum deposit at $0 along with the same USD and EUR base currencies, this account uses MT5 as its trading platform and leverage remains between 1:1 and 1:1000. This account has 34 currency pairs to trade along with 4 metals, no CFDs and 4 cryptocurrencies. Due to its reduced spread, this account has a commission added to each trade which is charged at $2 per lot traded. There are no deposit bonuses available with this account.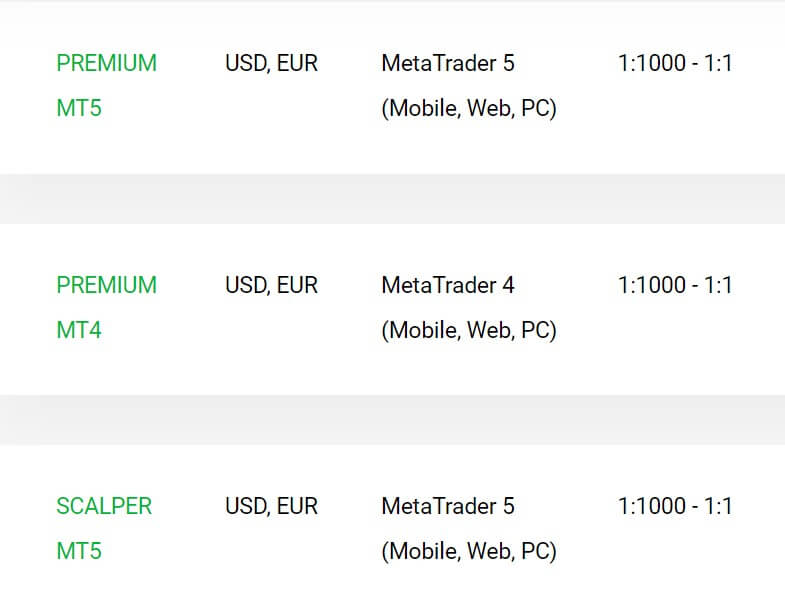 Scalper MT4: The scalper MT4 account is very similar to the scalper MT5 account, in fact, pretty much everything is the same except for the number of assets available, there are 27 currencies, 2 metals, no CFDs and 4 cryptocurrencies. Amega recommends this account over the MT5 account when scalping or using expert advisors.
Swap-Free MT5: The swap-free account is there for people whos beliefs mean they can not receive or pay interest charges. This account works slightly differently and has a fixed spread of 2 pips (starting), deposit bonuses are not available and there is no added commission. Most of the other features remain the same including trade sizes, base currencies, stop out, margin calls, leverage and a minimum deposit of $0. There are 34 currencies, 4 metals, 0 CFDs and 4 cryptocurrencies to trade.
Mini MT5: While not specified on the account page, a mini account is another term for a cent account. The account uses a cent instead of a dollar, so your balance is amplified 100 times (profits are not amplified). Aside from this change, the majority remains the same as the other MT5 accounts except that there are no deposit bonuses and due to the nature of the account, the minimum trade size is the equivalent of 0.0001 lots. Spreads float from 0.0 pips and there is no added commission on this account. This account can only use USD as a base currency.
PAMM Premium MT5: This is for people who wish to run a managed account where you can trade other peoples' money. This can only be done in USD and there is a $10 minimum deposit. Leverage is reduced to 1:1 up to 1:100 and this account uses the MT5 trading platform. Other features remain the same including stop out and margin calls, no bonus, minimum trade size of 0.01 lots and floating spreads starting at 0.5 pips. This is not an account that an individual should use.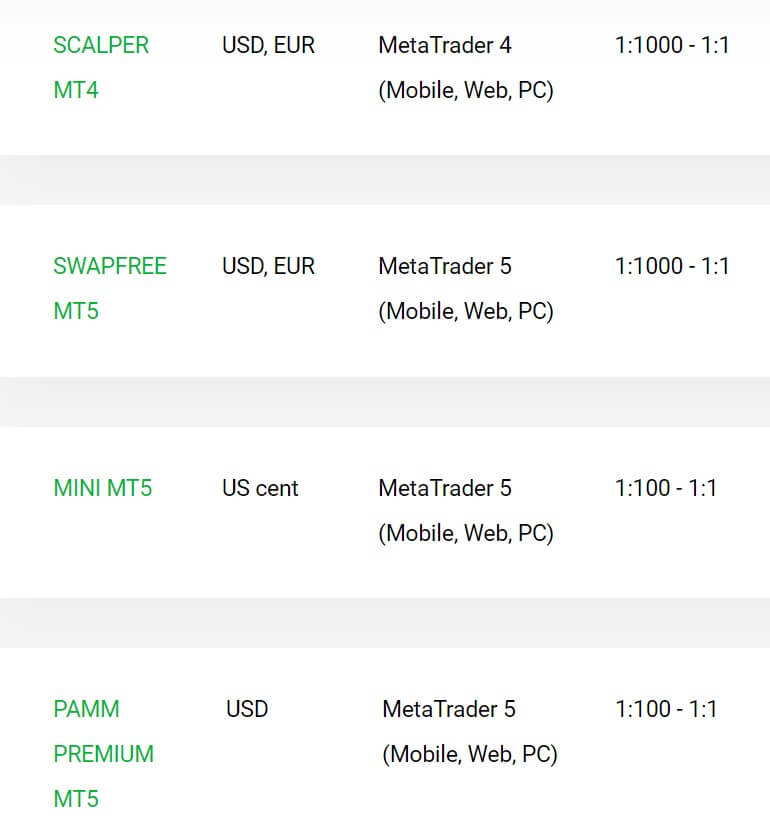 Platforms
There are 2 platforms on offer, we will outline them below for you:
MetaTrader 4 (MT4): MetaTrader 4 (MT4) is one of the world's most popular trading platforms and for good reason. Released in 2005 by MetaQuotes Software, it has been around a while, it is stable customizable and full of features to help with your trading and analysis. MT4 is compatible with hundreds and thousands of different indicators, expert advisors, signal providers and more. Millions of people use MT4 for its interactive charts, multiple timeframes, one-click trading, trade copying and more. In terms of accessibility, MT4 is second to none, available as a desktop download, an app for Android and iOS devices and as a WebTrader where you can trade from within your internet browser. MetaTrader 4 is a great trading solution to have.
MetaTrader 5 (MT5): MetaTrader 5 (MT5) is the younger brother of MetaTrader 4 (MT4)m developed by MetaQuotes Software and released in 2010, MT5 is used by millions and for good reason. Offering plenty of trading and analysis features to ain in your trading. Additional services expand the functionality of the platform making its capabilities almost limitless. MetaTrader 5 offers the built-in Market of trading robots, the Freelance database of strategy developers, Copy Trading and the Virtual Hosting service (Forex VPS). Use all these services from one place, and access new trading opportunities. MetaTrader 5 is also highly accessible with it being available as a desktop download, application for iOS and Android devices and even as a WebTrader where you can trade from within your internet browser.

Leverage
Leverage can range from anywhere between 1:1 and 1:1000, 1:1000 is higher than most brokers would go and we would normally recommend going no higher than 1:500 as the risk increases exponentially the higher you go. Leverage can be selected when opening up ana account and can also be changed on an account as long as there are no open trades at the time of the request. The PAMM account has reduced the maximum leverage of 1:100.
Trade Sizes
Trade sizes on the normal accounts start at 0.01 lots which are also known as a micro lot, they then increase in increments of 0.01, so the next trade size would be 0.02 lots and then 0.03 lots and so forth. There is no mention of the maximum trade size however these normally sit between 50 lots and 100 lots but we would not recommend trading over 50 lots anyway as it can be harder for the liquidity providers to execute the trades instantly.
The exception to this trade size is the mini account which has minimum trade size of the equivalent to 0.0001 lots, we are again unsure of the maximum trade size for this account.
Trading Costs
For the majority of the accounts, there are no added commissions, they use a spread based system that we will go over later in this review. The 2 scalper accounts have an added commission of 0.002% which equates to $2 per lot traded which is pretty low when compared to the $6 that most other brokers are leaning towards.
The only other charges and costs are swap fees which are charged or received for holding trades overnight. These charges can be viewed directly within the MT4 or MT5 trading platform.
Assets
There isn't a complete breakdown of assets available or a list of which ones there are, but there is a small breakdown of how many are available in each category of instrument. For the MT5 accounts there are 34 currency pairs, 4 metals, and 4 cryptocurrencies while for the MT4 accounts, there are 27 currency pairs, 2 metals, and 4 cryptocurrencies.
When comparing to other brokers, the overall number of assets is relatively low and something that Amega should look to increase as the last thing they want is for their clients to run out of things to trade.
Spreads
Spreads vary from account an instrument, looking at the accounts, the premium and PAMM account has spread starting at 0.5 pips, the scalper and mini account have spreads starting at 0.0 pips. While these spreads seem very low, they are variable (floating), which means that they move with the markets, so when there is a lot of volatility in the markets, the spreads will be higher. It should also be noted that different instruments naturally have different spreads so some may always be higher than the stated amount.
The swap-free account has a fixed spread which means it always stays the same, regardless of what is happening with the markets, this starts at 2 pips but can be seen higher on different assets.
Minimum Deposit
It is stated that there is no minimum deposit in order to open up an account, while this may be true, there are of course minimums depending on your deposit type, however, these can be very low such as credit or debit card which would then be $1. To open up a PAMM account you will need a minimum deposit of $10.
Deposit Methods & Costs
There are 130 different methods for depositing, we will list them all out down below, be sure to use the CTRL + F command on your keyboard to search the method you want to use to see if it is available. The list is as follows: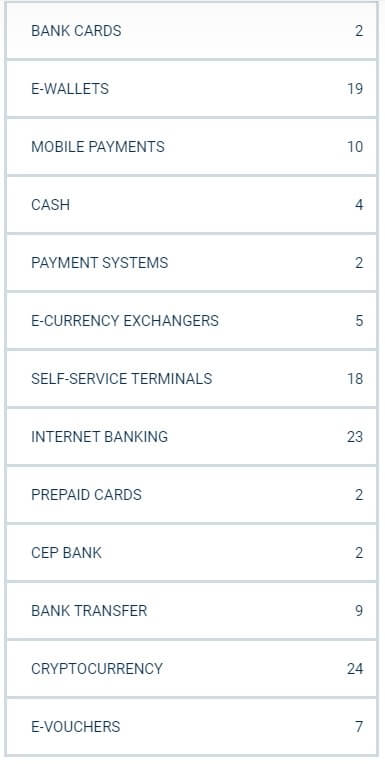 Bank Cards: Visa Credit or Debit, MasterCard Credit or Debit, Maestro
E-Wallets: Qiwi, B-Pay, Perfect Money, Epay, Vcreditos, Jeton Wallet, Paydunya, CUP QR, Dohone, Express Union Cameroon, Cashmaal, FastPay, Sticpay, PiPay, True Money, Emoney, LinePay, TruMoney, Mobpay Wallet
Mobile Payments: Beeline, MTS, Tele2, MegaFon, Airtel, M-Birr, CBE, Siru Mobile, LigdiCash, Raycash
Cash Payments: Svyaznoy, Euroset, Telepay, Amigo,
Payment Systems: ecoPayz, Payeer
E-Currency Exchangers: Быстрый депозит, Webmoney-Qiwi UZ, WebObmen UZ [bot], UzCardWM [bot], Обмен ikassa.net,
Self-Service Terminals: Qiwi self-service terminals, CyberPlat self-service terminals, Trade, and development bank, Kassa24 self-service terminals, e-Pay self-service terminals, Wideup self-service terminals, 2Click self-service terminals, CityPay self-service terminals, EasyPay self-service terminals, IBox self-service terminals, Sistema self-service terminals, GlobalMoney self-service terminals, MMPS terminals, Quickpay terminals, PBCreditos, 24 All-Time self-service terminals, Quickteller, Paynet terminals
Internet Banking: Privat24, Local bank transfer, Red Pagos, Spei, Itau, Banco Frances, BCI, Banco De Chile, Banco do Brasil, Bradesco, Caixa, Webpay, Multibanko, UnionPay Bank Transfer, ECOBANQ, Sofort, GTBanks, Providus Bank, Polaris Bank, FSDH Merchant Bank, Banamex, OXXO, Santander, Pago Express
Prepaid Cards: AstroPay Card, Paykasa Voucher
CEP Bank: QR Code, Hızlı Cepbank
Bank Transfer: HIZLI BANKA HAVALESİ – 7/24, Local Indonesian BT, Local Malaysian BT, Local Thai BT, Local Vietnamese BT, Paytrust88, Anında Banka Havalesi, Hızlı QR, AKILLI HAVALE
Cryptocurrency: Bitcoin, Litecoin, Dogecoin, Dash, Ethereum, Monero, ZCash, NEM, Bytecoin, DigiByte, Bitcoin Gold, Ethereum Classic, Verge, QTUM. Stratis, Ripple, USD Coin, TrueUSD, Paxos Standard Token, Tether, Chainlink, OmiseGO, Basic Attention Token, Tron, Bitshares
E-Vouchers: Pago Efectivo, Pago Facil, Perfect Money e-Voucher, 1x Voucher, Cash on delivery, DisaShop Peru, Vaucherni So'mda
The good news is that there are no fees for any of the deposit methods, but be sure to check with your provider to ensure that they do not add any themselves such as a bank charging for international transfers.
Withdrawal Methods & Costs
There are slightly fewer withdrawal methods, 78 in total. We won't list them all out but the majority of changes are the reduction in self-service terminals, lack of cash or CEP bank withdrawals and a slightly lower choice in each of the other categories.
Good news once again is that there are no added fees for withdrawals, but be sure to check with your provider to ensure that they do not add any themselves such as a bank charging for international transfers.
Withdrawal Processing & Wait Time
Amega will process your withdrawal within 24 hours, once they do different withdrawal methods will take a different amount of time. Bank cards will take between 1 day and 7 days after being processed. E-Wallets along with mobile payments should take around 15 minutes, self-service terminals, internet banking, prepaid cards, bank transfers, and cryptocurrencies should take around 15 minutes after being processed, however, we believe bank transfers will normally take between 3 and 5 days after being processed.
Bonuses & Promotions
There are a few different promotions on offer, we will briefly outline them below:
100% Welcome Bonus: When opening a premium account either MT4 or MT5 you can receive a 100% bonus, the minimum deposit for the bonus is $100 and there is no fixed maximum. The bonus is not withdrawable, however for every lot traded $1 will be converted into real funds which can then be withdrawn.

50% Multiple Bonuses: Every time you deposit with Amega you can get ana additional 50% of your deposit as a bonus, the amount is unlimited. Similarly to the welcome bonus, you can convert these bonus funds into real funds at a rate of $1 per 1 lot traded.
AMEGAMANIA: Get started with $133 for free with no deposit required, we are unsure of any additional requirements as it only links to the general terms which are not specific to this promotion.
MEGABOOM: Refer people to Amega and get $10 for each new sign up that subsequently deposits with Amegha, you can receive up to $1000 for this promotion.
Educational & Trading Tools
There are an economic calendar and some economic news on the site but these are both very basic and far better sources can be found on the internet. There is also a forum but it is not used much and there are not very many active members.
Customer Service
Couple ways to get in contact with Amega, you can get in touch via email and there are several different email addresses available, you can email the customer service, financial issues and payments, affiliate departments, business and collaborations and finally regarding work and careers. If you would rather get a quicker response, you can use the online chat feature too.
The site does not specify the opening or closing time of support, but for the majority of brokers, this is normally 24/5 and closes at the same time as the markets do over the weekend.
Demo Account
In order to open a demo account, you will need to create a live account first, this is a little counter-intuitive but not something massively uncommon. We could not find too much information in regards to how long they last or what the trading conditions are like though.
Countries Accepted
The following statement is present on the Amega FX website: "AMEGA does not render electronic trading services to the residents of the Republic of Seychelles, the EU (Austria, Belgium, Bulgaria, UK, Hungary, Germany, Greece, Denmark, Ireland, Spain, Italy, Cyprus, Latvia, Lithuania, Luxembourg, Malta, Netherlands, Poland, Portugal, Romania, Slovakia, Slovenia, France, Finland, Croatia, Czech Republic, Sweden, Estonia), Australia, Canada, Japan, the USA, and several other countries."
Conclusion
Amega offers plenty that will attract new clients, their trading conditions are competitive apart from the fact that there is a lack of tradable assets. Plenty of ways to deposit and withdraw with no added fees which are always good to see. The bonuses have acceptable terms and make them manageable to withdraw. Minimum deposits are kept low and it is good to see a way to contact different departments depending on your queries.
We hope you like this AMEGA review. If you did, be sure to check out some others to help find the broker that is right for you.