Fortrade is a forex broker located and regulated in the UK by the Finance Conduct Authority (FCA). Fortrade states that it is providing state of the art trading platforms and services in favor of clients. With great support, every day market analysis, efficient informational network, they are trying to be at your service all the time. In this review, we will be looking into the service being provided to see if they live up to the expectations that they have put on themselves and to help you decide if they are the right broker for you.
Account Types
When it comes to accounts, Fortrade makes it very simple, there is just one account called "Real Account". This account comes with the following stated features:
No provision and additional expenses
Up to € 2500 bonus
Free Forex book
Fixed spreads
Deposit and withdraw your funds with ease
Fortrade Meta Trader 4, WebTrader & MobileTrader
12 hours a day support
Daily market analysis
Personal account manager
There is mention of an ECN account in the trading conditions part of the website, however, there is no indication that you can open this account rather than the standard account, so we are unsure if this account is still valid or not.
Platforms
Fairtrade offers two different platforms, one multi-purpose platform in the form of MetaTrader 4 and one custom made a mobile app called Fortrade Trader.
MetaTrader 4 (MT4): MetaTrader 4 (MT4) is one of the world's most popular trading platforms and for good reason. Released in 2005 by MetaQuotes Software, it has been around a while, it is stable customizable and full of features to help with your trading and analysis. MT4 is compatible with hundreds and thousands of different indicators, expert advisors, signal providers and more. Millions of people use MT4 for its interactive charts, multiple timeframes, one-click trading, trade copying and more. In terms of accessibility, MT4 is second to none, available as a desktop download, an app for Android and iOS devices and as a WebTrader where you can trade from within your internet browser. MetaTrader 4 is a great trading solution to have.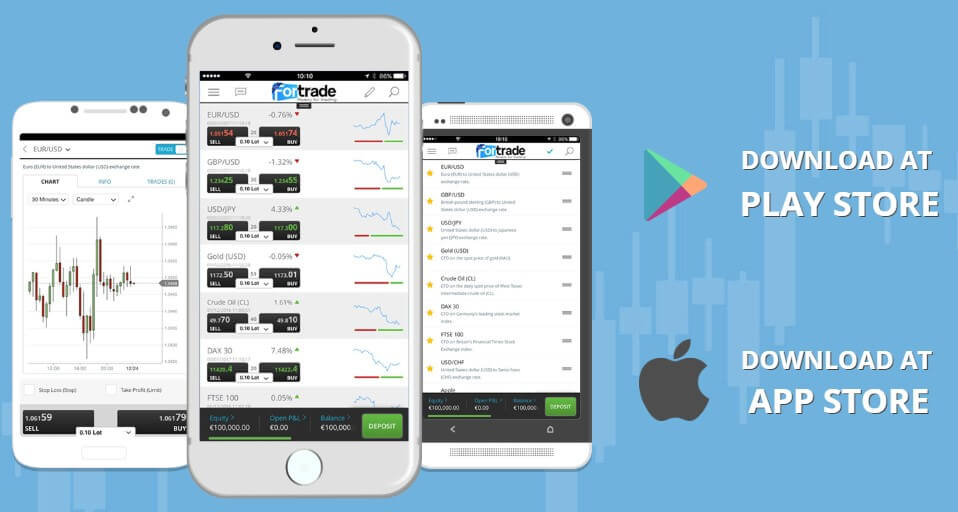 Foretrade Trader: The Foretrade trader is a custom-made mobile app for their clients. It has over 100 different instruments and gives you complete control over your trading. Some of the features include: Create a new trading account, switch from one to another trading account, change the password and personal details directly in the application, deposit funds, send requests to withdraw your funds, use the unique "Double Tap trading" option, close all open positions with a single click, receive information and news directly to your phone in the form of notification, get in touch with Fortrade support directly through the application, full control of your positions and access to the complete trading history, use indicators on charts, change the look of the chart to fit your needs, having access to the latest news from the market and the economic calendar and much more,
Leverage
Leverage with Fortrade is fixed and can not be changed so the account comes with a single leverage which varies by the instrument that you are trading. Some currency pairs are set at 1:20 while others are 1:30. Indicies and some stocks are also 1:20 while indices are at 1:10. If you are able to open up an ECN account then the maximum leverage is stated as 1:200 but we could not find a way to open this type of account.
Trade Sizes
Trade sizes for currency pairs start at 0.01 lots which are also known as a micro lot, they then go up in increments of 0.01 lots so the next available trade will be 0.02 lots and then 0.03 lots. We could not locate information on the maximum trade size, however, no matter what it is we would not suggest trading over 50 lots in a single trade as it becomes increasingly harder for the markets and liquidity providers to execute trades quickly and without any slippage the bigger they get. For other instruments such as commodities the minium trade sizes start at 0.1 lots (known as a mini lot).
Trading Costs
As far as we could tell all trading costs come from spreads and no commission so we will be looking at them later in this review. Swap charges are present though, they can be both positive or negative and are charged for holding trades overnight, these can be viewed directly within the MT4 trading platform.
Assets
Fortrade breaks down its assets into a number of different product categories. There isn't a full list of what assets are available in each category, instead, they offer a simple overview which is not the most informative way of showing off your assets.
Forex pairs are available, there are only 5 listed, those being EURUSD, GBPUSD, USDJPY, USDCHF and AUDUSD, Fortrade state that there are more but they are not listed on the website. Their next category is called Gold CFDs however, in reality, this involves all metals and not just Gold, Silver, Copper and Platinum are also available to trade. Oils are also present with Crude Oil, Brent Oil, Gasoline, Heating Oil and Natural gas all being mentioned on the website.
We then move on to Agriculture CFDs, this includes the likes of Corn, Wheat, Cotton, Soy Bean, and Sugar. Index CFDs are next up, again there is not a full breakdown, instead just a number are listed including USA 500, USA 100, GER 30, USA 30, UK 100. Finally, we move onto stock CFDs, stocks such as Google, Microsoft, Facebook, Twitter, and Apple are all available.
Note: We have now managed to locate PDFs on the website with all tradable assets listed, these can be found in the "Trading conditions" part of the website.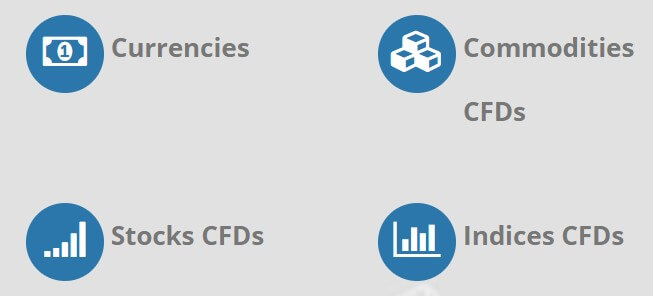 Spreads
Foretrade offers an average spread on its website indicating what different instruments spreads will be. All spreads are variable which means that while they state 3 pips as an example, they will often be seen higher than this as it is simply the starting point, during times of high volatility the spreads will be much higher.
It is also worth noting that different instruments have different natural spreads, while on the Standard account EUR/USD may have a starting spread of 3 pips, USD/CAD will have a starting spread of 4 pips.
Minimum Deposit
The minimum deposit is not actually stated on the website, however, from scouring the internet it seems that the standard consensus is that you require $100 in order to open up an account with Fortrade.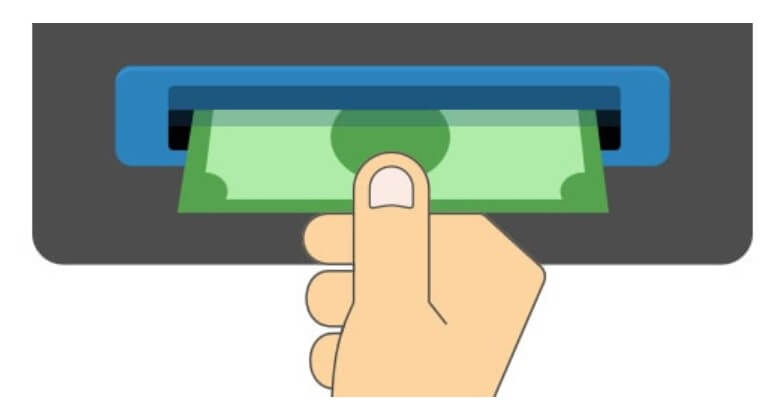 Deposit Methods & Costs
There isn't clear information on the methods available to deposit, there are mentions of Bank Transfer, Credit Cards and E-wallets including Neteller and Skrill. No other method is available so we would be expecting that these are the only ones available. There is also no information on any deposit fees but be sure to check with your own processor just in case they add their own processing/transfer fees.
Withdrawal Methods & Costs
The same methods are mentioned as withdrawal methods, the following information is valid for all withdrawals.
Minimum Withdrawals:
Bank Transfer: No Minimum but charges apply
International Telegraphic Transfer (TT) Fees: No Minimum but charges apply
Credit Card: $50
E-wallets: No Minimum
Charges:
International Telegraphic Transfer (TT) Fees: up to £15
Bank Wire Transfer: up to £15
Withdrawal Processing & Wait Time
Fortrade states that all withdrawal requests will take up to three business days to be processed which is longer than what most brokers are looking at now. They also state that it could take up to 15 days for clients to receive their funds when using a credit card or payment processors.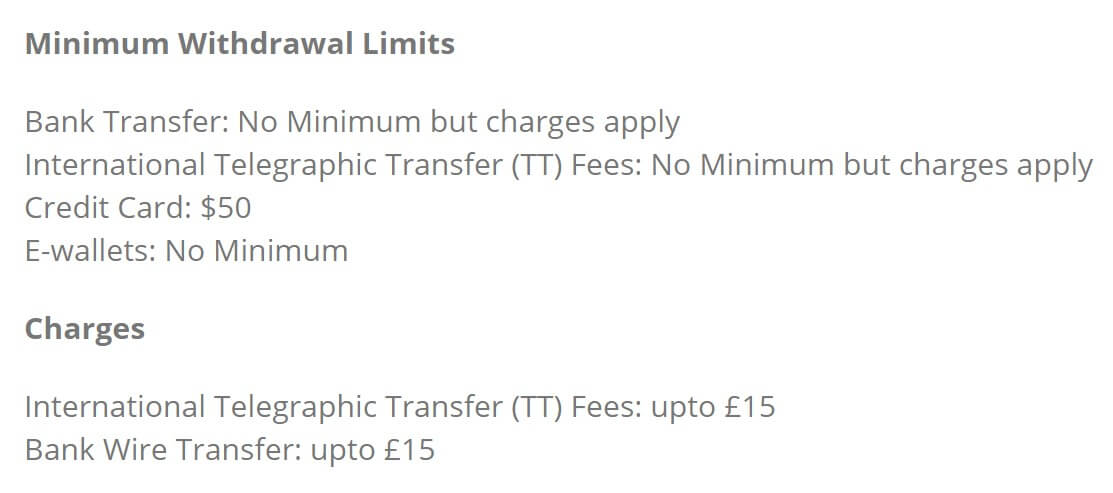 Bonuses & Promotions
The account page states that there is a bonus up to €2,500, however, there is no indication on the website what the terms are like or what you need to do in order to convert bonus funds into real funds (if you can at all). So we can not say if this is a good bonus to take or not. There does not appear to be any other bonuses or promotions active, but be sure to check back regularly just in case any new ones come up.
Educational & Trading Tools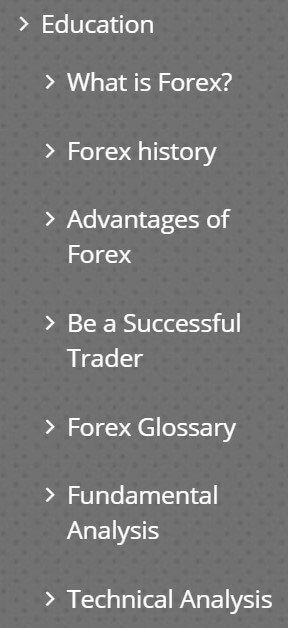 There are two different sections of the website based on education and trading tools.
Education: The education section offers some basic information surrounding different aspects of trading, it gives some simple answers to questions like "What are CFDs" and other basic info like that. There are also webinars available, however clicking on this link brings up a 404 error page, there are also one-day seminars that you can sign up to, however clicking the sign-up button doesn't work either and simply reloads the page, there is also no information regarding what the seminars go over so their benefits are currently unknown. E-books are stated to be available but just like the other sections, these are not currently available either.
Market News and Analysis: This section focuses on news and analysis, there is a simple economic calendar which tells you of any upcoming news events and what markets they may affect. There is also daily analysis on a number of different pairs which is a more in-depth analysis of what is happening in the markets, along with daily analysis there is also weekly and microanalysis which looks at a broader and more specific view respectively.
Customer Service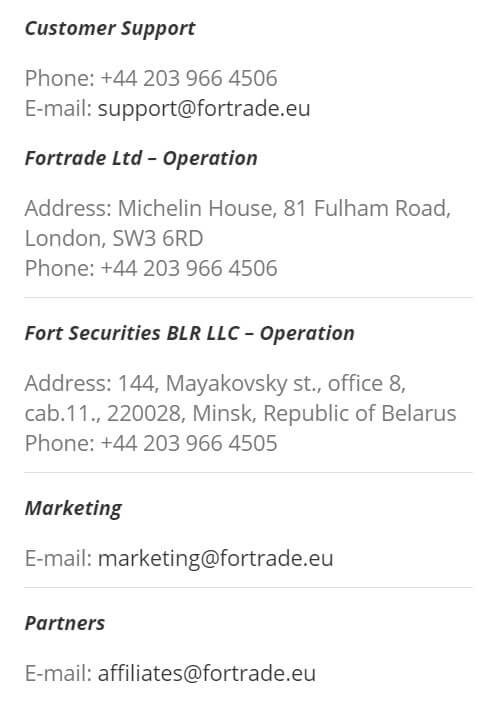 If you want to get in touch with Fortrade you can do so but using the online contact form, simply fill in your query and you should get a response back via email. The customer support section also has an email address and phone number available should you wish to get in touch directly. There is also an email address available for marketing and partners along with an address and phone number for two different departments for operations. So plenty of ways to get in touch should you need to.
The website states that the support team is open 12 hours a day and closes at the weekends when the markets are closed, we are not sure what these 12 hours are though.
Demo Account
Demo accounts are available, the exact trading conditions are unknown but we will be assuming that it will match the conditions that we have mentioned in this review. You can have a balance up to €100,000, and get the same support as you do on a real account. It would be nice if there was more information such as how long the accounts last, just in case they have an expiration time.
Countries Accepted
The following statement is present on the Fortrade website: "The information on this site is not directed at residents of the United States or Belgium and is not intended for distribution to, or use by, any person in any country or jurisdiction where such distribution or use would be contrary to local law or regulation." As always if you are unsure whether you are eligible for an account or not, get in contact with eh customer service team to find out.
Conclusion
It is hard to recommend Fortrade when there is so much missing information, without a full breakdown and easy to access information on deposit and withdrawal methods it is not somewhere that we would want to put ur money, not to mention the confusion around account types and what the trading conditions on the accounts actually are. While Fortrade may well be a great broker, without this vital information it is hard for us to justify recommending them as a broker.
We hope you like this Fortrade.eu review. If you did, please be sure to check out some of the other reviews on the site to help find the broker that is right for you.